Here are the best website builders for small businesses.
Customization of website design is the most challenging task you can ever encounter for your business web page development. Thanks to the best website builder software, it is possible to create some of the most stunningly beautiful websites using professional tools without having to write a single line of coding.
Maintenance is simple and updates are available from online sources that you can incorporate easily according to your needs. This review gives you a brief overview of the most important design and functional features of the popular site builders you can think of having for your design and development tasks.
Best Website Builders for Small Business
1. Leadpages – Best Website Builder for Small Business
Main Features
Leadpages comes with tons of inbuilt customizable ecommerce templates that are designed for multiple business websites. It is mobile responsive and adaptable for all compatible browsers and hardware platforms. You can integrate multiple pages with different template designs using simple tools and controls.
Recommended for
All business websites from startup to those who want to grow brand identity and increase website traffic and marketing leads.
SEO Compatibility: Leadpages has powerful SEO functionality with all the required inbuilt coding. Every page you design with drag-n-drop features comes with complete optimization features. So, you don't need to worry about visibility and web traffic on search engines like Google.
Social Media Integration: Leadpages has been designed with a significantly improved version of ad-builder for Facebook and Instagram with multiple trigger-links for email marketing. It gives you instant notifications about potential marketing leads.
Attractive Landing Page: Use Leadpages's best landing page builder to create your landing page the most attractive with HD images, eye-catching text, and links to multiple pages and videos. All the pages load within fraction of seconds, attracting the attention of visitors.
Email-Subscriptions: Leadpages has a great feature for attracting visitors for email subscriptions within a short time. The average conversion rate will increase substantially within the first few months of design and hosting.
Lead Generation: Inbuilt tools and coding give you the opportunities for generating unlimited leads according to your targets and schedules. Advanced options for integration allow you to link all the pages with "action buttons" that are brightly visible to the visitors.
Pros
Multiple sub-accounts
Options for multiple domain hosting
Multiple campaign types
24/7 customer support
Mobile responsive
Probable Cons
Limited options for free trial
2. Bigcommerce – Best website builder for ecommerce Business
Main features
If you are for a simple website design with multiple inbuilt apps that can create an ecommerce compatible website, Bigcommerce is the right platform. It comes with a vast range of customizable tools and controls for every page you want to design. Moreover it has DDOS protection and other advanced security features that your website visitors will come to trust.
Recommended for
Bigcommerce is mostly recommended for startup and small businesses who want to create a brand niche and grow out of competition with increasing leads and conversions.
Customizable Apps: Multiple types of inbuilt apps are available to design and develop every kind of online business from online stores to complete ecommerce sites. SSL security rating allows you to integrate online payments and transactions with complete freedom from threats.
Business Connectivity: Bigcommerce gives you instant connectivity to commerce portals like Amazon, eBay, and plenty of social media platforms. The inbuilt control panel is customizable to meet all your business needs and much more.
Instant Store Creation: Bigcommerce allows you to create an online store within a few simple steps. All you have to do is follow the Wizard that guides you through from the first step to the final step. You can choose any online store of your choice and the store is ready for customization.
Pros
Vast inbuilt apps
Complete SEO
Drag-n-drop design
Dependable support
Mobile responsive
Probable Cons
Could be slow on legacy (old) systems
Read Bigcommerce website builder review
Get Bigcommerce 1- Month Trial
3. Sitejet Website Builder
Main Features
Collaboration of design, functionality, ease-of-use, faster turnout time, and real time integration with SEO and marketing and analytical tools is the main feature of Sitejet.
Recommended for
Sitejet is recommended for all types of small and startup to growing businesses for reaching out to increasing number of leads and conversions.
Complete Automation: Automation tools that come with Sitejet allows you to integrate all possible services from reserving a restaurant table to travel, ecommerce, marketing, ad-campaigns, social media, Google-analytics, and much more. All it takes is a drag-n-drop onto the web page of your choice.
Multiple Editing: If you are a pro or a person with knowledge of HTML, CSS, or Java-Script, it is possible to showcase your talent for making your web pages the most customizable features. Even otherwise, you can use the drag-n-drop features to create stunningly stylish pages.
Analytics and Tracking: Sitejet gives you multiple tools for analytics and performance tracking of your web pages at any time. It also gives you a vast range of tools for performance improvement of your web pages.
E-mail Templates: With Sitejet you can customize not just the web pages, but also your emails for marketing and ad campaigns. You can mix-n-match using your own ideas and get inspirations from the inbuilt templates infinitely.
Pros
Ecommerce ready
Google ready
Dynamic content management system
Client-side CMS
SSL security
Mobile responsive
Probable Cons
Too many options could be confusing
Read Sitejet website builder review | Sitejet coupon codes
4. Constant Contact Website Builder
Main Features
Constant Contact is the right platform, if you wish to start designing your online store from the logo to the complete integration of ecommerce and SEO. It also connects your website with multiple social media sites for boosting your target audience reach.
Recommended For
Constant Contact is highly recommended for the design and deployment of startup and small-size online stores that want to grow in reach and profitability with time.
Logo Design: The first step to create a brand identity is the business logo. A vast library of customizable and contemporary logo templates is available just for you. You can edit the logo using the simplest of drag-n-drop tools to shape it the way you want. Unlimited options are available for fonts, colors, background, fore-ground, and other customizations.
Online Store Templates: Now, you are free to choose from multiple online store templates that match perfectly with your business, brand, and products. The system lets you manage all your product listings, inventory, traffic-tracking, email-marketing and campaigns, online-payments, and much more.
Unlimited Marketing Tools: Unlimited email templates, Google-ads, ecommerce integration, and social-media integration with options for automation are the most powerful features you can enjoy from Constant Contact.
Pros
Versatile business plans
Customizable CMS
Complete knowledge base
Marketing and ad-campaign templates
SEO and API integration
Mobile responsive
Probable Cons
Could be slow on old (legacy) browsers and platforms
5. Ionos – Best free website builder
Main Features
If you are a novice and still love to design professional website for a startup company that can attract website traffic, Ionos is the right platform. It comes with a vast range of customizable design templates for covering your type of business and brand.
Recommended For
Ionos is recommended for every novice and expert designer, looking to design SEO compatible websites for startups, freelancers, small-business, and other upcoming entrepreneurs.
Build Stores and Websites: With Ionos, you can design and build anything from a simple website to an online store and ecommerce portal within simple steps. Easy to use templates and themes are available are available that match with the customer centric approach of your website for every page.
Ionos Starter Kit: If you are completely new to the world of website design, there is plenty of option to learn and put things into action. The starter kit has all the tools and controls to integrate the advanced features of an online commerce website using the simplest of tools and controls.
Marketing Integration: Ionos allows you to integrate all your online and email marketing and campaigns within the Search Engine Optimized web pages that it has to offer. A centralized control panel lets you use the tools and options to the best of your needs.
It is possible to increase the traffic for your website based on the customization of your landing and subpages in any order of your preference. Integration of images, text, and links to videos give you [plenty of options to make your website rich in features.
Online Support: Ionos gives you plenty of online support with the help of guides and wizards to keep it simple and effective.
Pros
Fast loading pages
Engaging design templates
Mobile responsive
SEO integrated
Customizable marketing plans
Ecommerce to enterprise cloud integration
Probable Cons
Cloud integration could be complex
6. Bluehost – Best free website builder for artists
Main Features
Bluehost comes with complete WordPress inbuilt features for simplifying and streamlining all your design and customization of every page on your website. I also has multiple hosting options from shared to dedicated and VPS. WP-Pro and ecommerce compatibility make the designs professional and profitable to the core.
Recommended For
Bluehost is recommended for designing of single to multiple online stores with the integration of secure online payments and transactions. If you wish to have unlimited SSD storage features, Bluehost is the perfect platform.
Ecommerce and WooCommerce: Bluehost has all the integrated tools and controls for ecommerce and WooCommerce website. Vast range of flexible designs can help you to set up a professional online store within a few simple steps. If you are comfortable with HTML and CSS, the level of customization can be infinitely high. Even otherwise, there are plenty of drag-n-drop tools to make your design simple and sophisticated.
Store Management Tools: Complete online store management tools let you control everything from inventory to sales, visitor traffic, visitor behavior, taxations, marketing, and ad-campaigns.
High bandwidth: Bluehost gives you high bandwidth that is compatible for all the platforms from the legacy systems to the most modern mobile and compatible devices. Site loading is fast and customer retention rate is always high.
WP PRO Integration: WP Pro integration gives you unlimited options and controls for SEO, email-marketing, performance improvement, and design of scalable web pages. Use the daily-backup options to secure the data and critical settings for ensuring absolute site safety.
Pros
Completely SEO ready
Real time ad-management
Video compression tools
SSL security
Mobile responsive
Probable Cons
No significant cons observed
7. Siteground Website Builder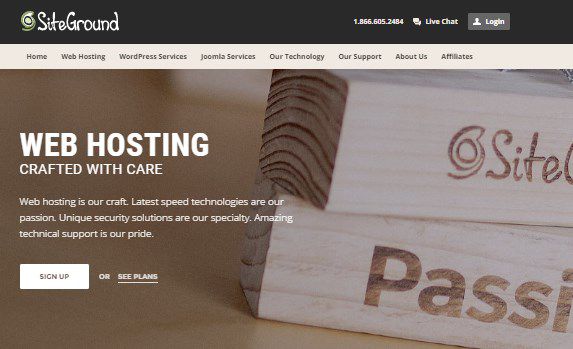 Main features
Simple and sophisticated page templates with multiple customizable tools and controls for complete design and development is the key feature of Siteground. It lets you use all your creativity and imagination for transforming your web pages into the most stylish and professional platform to attract and retain target audiences and to convert into customers.
Recommended For
Siteground is recommended for all the websites and online stores that want to have WooCommerce and cloud integration using a vast range of themes and also WordPress themes.
Scalable Designs: Siteground gives you plenty of options to integrate scalable features onto your web design and development. Completely managed hosting options are available for every kind of online store and business from startup to established brands.
Ease of Use: Siteground comes with a vast range of tools, controls, apps, and inbuilt features for ease of use designs. If you are a professional with experience in coding and WordPress, it is possible to create wonders with the customization of your WooCommerce and cloud based websites and portals.
Global Data Centers: Global data centers across continents are here to help upscale your business website to the international level. Now, it is possible to transform your website and business to the enterprise level within a short time after starting.
Pros
SSL security
Multiple scalable hosting
WooCommerce Migration
CDN across 190+ nations
SSL security
Mobile responsive
SEO integration
Probable Cons
Best Website Builders: Conclusion.
Now that you have an overview of the best website builders for small business at your fingertips, it is possible to make your choice and start exploring in detail. It is obvious that you will come to choose the best website builder software that will match with all your design, functional, and marketing needs.