Here is my BigCommerce website builder review. Know the actual pros and cons of this website builder software.
BigCommerce is an eCommerce website model that provides accurate and real-time solutions to all businesses in the form of online store design, development, and deployment. It comes with a vast range of templates for all the pages on the website that are customizable to any extent.
There is also a wide range of plug-ins, tools, and other utilities that help you to add innumerable features to your website.
Bigcommerce Website Builder Review
Who Can Use Bigcommerce Website Builder?
Bigcommerce is a professional web design platform that is flexible and easy to operate. You could be a skilled designer, professional developer for ecommerce themes, or even a novice who has only the basic level of knowledge of eCommerce tools and software.
Bigcommerce Website Builder Templates
The platform has easy to use tools which you can use for designing the web pages that work as user interfaces. They are basically the templates and themes that come in handy for designing purposes. There are three categories of templates, namely all, free, and paid.
Template Optimization
Bigcommerce website builder allows you to optimize the templates for its dimensions, background, foreground, font, colors, and images in the back and foreground. You may choose large images that fill the entire page or small images that cover part of the page.
Choosing the templates is a simple process. All the categories and subcategories are listed on the left menu and the right section displays a list of templates in different styles. Click on a template and you end up with various styles of that template. You can choose any of them and insert into your web design model.
Responsive Design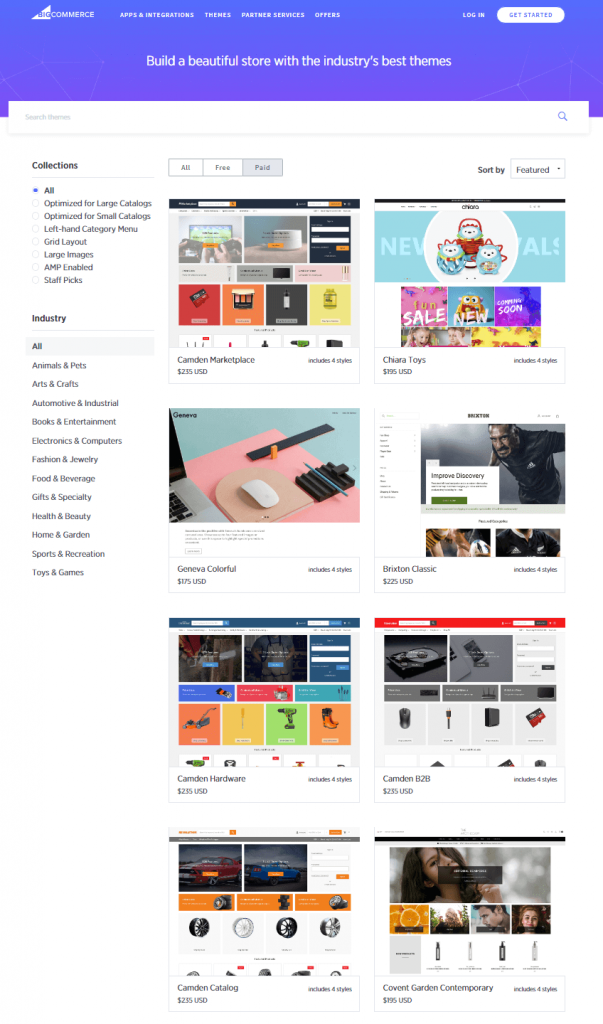 One of the biggest advantages of choosing Bigcommerce is its responsive design template. You can optimize it for all models of smartphones, tablets, and other mobile devices. Text and images can be zoomed in and out to any extend for enabling an accurate and clear view.
Bigcommerce web builder has many inbuilt features like smooth navigation, easy scrolling, image zooming, text zooming, text marking, as well as streamlined reading. The biggest problem faced by the users is the lack of features to read large volumes of content on mobile devices, especially the product reviews and technical descriptions.
Bigcommerce has simplified the process by allowing the users to read text, view videos, and analyze Infographics data accurately.
The high-resolution image is something your audiences would love to view on mobile devices. Even a scaled-down version of the image will show all the details to the core. It is one feature that makes your online store attractive to the visitors.
Search and Filter Products
Most of the online shop customers find it difficult to search for products after setting a filter. For example, a washing machine buyer may want to set filters based on the model, brand, size, capacity, color, and other custom features. So far, the platforms allowed a maximum of or three filters. Custom filters were limited in functionality.
Bigcommerce has changed the entire concept of setting filters by introducing the features of multiple filters with an advanced custom setting. Customers can view product listing based on their convenient filters and search options. It is a feature that can surely attract and convert many visitors into potential customers.
Product Suggestion Options
As a designer and developer, you can suggest products to the visitors based on multiple parameters. For example, you can set filters for the most bought, most popular, most viewed, and the most reviewed products. When a visitor chooses a specific product, the list of your suggestions also appears on the page.
Sidebar Menu Design
The menu on the sidebar can now have multiple layers with main and submenu options to the level of your choice. The main advantage compared to the traditional menu is that the viewer can see all the submenus and sub-sub menus of the main menu on a single click. It is a time-saving feature that most of the visitors love to have.
Slideshow Options
Bigcommerce comes with a vast range of slideshows for the home/front page of your website. You can use it to display the technical and functional features of multiple products using a combination of images and Infographics. Many of the visitors with little product knowledge can get interesting insights.
The key benefit of showing slides is to initiate the viewers for making real-time decisions for product purchases. I have seen many of the potential buyers doing it repeatedly when the slideshow was impressive enough for them to get the accurate product details.
Bigcommerce Website Builder Technical Features
Product Add-to-Cart Feature
I have come across many eCommerce websites that have a complex system of adding products onto the cart. The users will have to navigate back to the product display page every time they want to choose a new product and add to the cart. It consumes a lot of time and the customers may lose interest halfway through.
Bigcommerce has made things simple by listing out all the latest viewed products at the bottom of the chosen product on the shopping cart. The users find it easy to add more products to the caret without having to navigate back to the products page every time.
Functionality Integration Features
Bigcommerce comes with connectivity and compatibility for multiple online platforms and applications that are external to the system. Some of the apps are related to
B2B integration
Marketing apps
Multiple SEO Integrations
Secure online payment
Online books
Shipment of products
Merchandising
Social median extension and integration etc
The most interesting feature is that you can integrate all of them onto your Bigcommerce website template at the click of a button. Of course, many drag-n-drop features help you to make the integrations simpler and faster.
Range of available Apps
As a Bigcommerce designer, you may use the free and paid apps for integration with your website. The system also has a feature of constant updates to the apps which list out the most advanced features required for your online store.
Click here to view all bigcommerece apps
Real-Time Customer Data Analysis
Customer data analysis is a real-time app that gives you tabular and graphical information on the number of visitors who came into your website and performed specific actions. For example, some of them may have reached the products page, while the others purchased the products. Many visitors go out of the website abruptly at some point without any meaningful actions.
The data analysis apps can give you the numbers, date, time, and types of actions listing in the text and graphical forms. So, you can know what further steps to take for attracting the attention of visitors who may drop out halfway through.
The conversion ratio is the other important data you may get from the Bigcommerce apps. You can connect the data with the other integrated apps for making useful decisions possible within a short time.
Real-Time App Data Integration
As I said above, Bigcommerce website builder allows you to integrate the data from multiple apps to make your eCommerce site complete. For example, connecting the analytics with marketing, campaigning, and related apps can let you develop a complete marketing strategy for your online store.
The integration of accounting and tax apps with the shopping cart will allow the system to import all the tax data as and when it gets updated. So, you don't need to worry about the taxman who may keep troubling you for missing out on tax updates.
Bigcommerce for All Businesses
Bigcommerce website builder comes with a vast range of themes that are applicable for your specific online business. Sometimes you can use them without having to make any changes at all. I have seen many small and medium scale businesses using the themes by just drag-n-drop options. It saves you a lot of time.
Bigcommerce can solve almost all the backend database problems because it comes with an inbuilt database system that can host large volumes of product and business data. The integration of analytics apps will let you expand the scope of data analysis, evaluation, and interpretation. The apps can perform multiple types of calculations and evaluations based on criteria like
Target audience demographics
Customer conversion rate
Visitors Vs buyers ration
Dropout visitors
Product pricing
Taxes
Discounts
Profits
Marketing options etc
There are many more advanced features which the Bigcommerce website builder can give you for making your online store a powerful ecommerce site. You can explore all the options and learn new features for real-time integrations.
BigCommerce Pros and Cons
Pros
Speedy app integration
Vast range of business themes
Completely customizable
WooCommerce compatibility
Large backend database
Complete data analytics
Customizable Infographics
Cons
Some features can be difficult to understand for designers at the initial stages. Requires time to learn
BigCommerce Website Builder Review: Conclusion.
As a designer and developer, I have been using Bigcommerce successfully for my client satisfaction and contentment. Of course, I am a freelance web designer and developer with a small team of content creators and marketers. We have found the system to be extremely useful for all the needs and wants of our customers.
Many of our customers are startups who want to establish and sustain their business as a brand within a reasonable period. Since Bigcommerce supports SEO, it is easy for us to work across several search engines to make our customer websites frequently visible and highly ranking also.
Bigcommerce website builder review
Pricing

Builder Features

User Experience

Support