There are tons of infographic websites that accept submissions from users and most of them do not give what we want like traffic, backlinks, etc.
Keeping that in mind, I'm sharing the best infographic submission sites in this post. The websites mentioned below have the best features like traffic, backlinks and social sharing that match what you want.
What is Infographics?
Infographics are graphic illustrations that use collection of imagery data to present information in a clear and concise manner. They can be used for marketing and educational purposes to tell a story or define a product using visual using pie charts, graphs and texts which makes you easily understand about a topic and easy to remember.
Infographics have become increasingly popular due to their ability to help communicate complex concepts in an engaging way. Additionally, they can be shared on social media platforms like Instagram with ease so that others can learn from them too!
What is Infographics Submission?
It is a process of creating a high-quality graphic which is in 663 x 2000 pixels or 8.5 x 14 inches and should be designed in JPG, PNG and GIF formats. And submitting them to various infographics sites to get clicks and views and bring visitors to your website.
Also, good infographics will get reused on other websites where the author of the site uses your infographic when creating a blog post relevant to your infographic design and gives you credit by linking to your website. By this way you will earn quality backlinks and also your infographic will become trending more and popular on the internet.
Benefits of Submitting your Infographics
The best infographic will be featured on the homepage for a week.
Infographics can be a great way to communicate your ideas and content in an easy-to-read format.
Greater exposure for your brand
Increased website traffic due to higher search engine ranking.
Increased social media shares and likes from Facebook, Twitter, Reddit.
You can market your business to a web audience from which you will target customers.
Free infographic submission sites list with High DA PA
Here are the best infographic submission sites with high domain authority, and you can get backlinks from news and directories.
Flickr
Flickr is a photo and infographic sharing website with 400 million photos and more than 3 million images uploaded daily. You can also make money from Flickr by uploading your photos on the site.
Over 112 million users
Founded by Stewart Butterfield and Caterina Fake
Submit here: https://www.flickr.com/
Mashable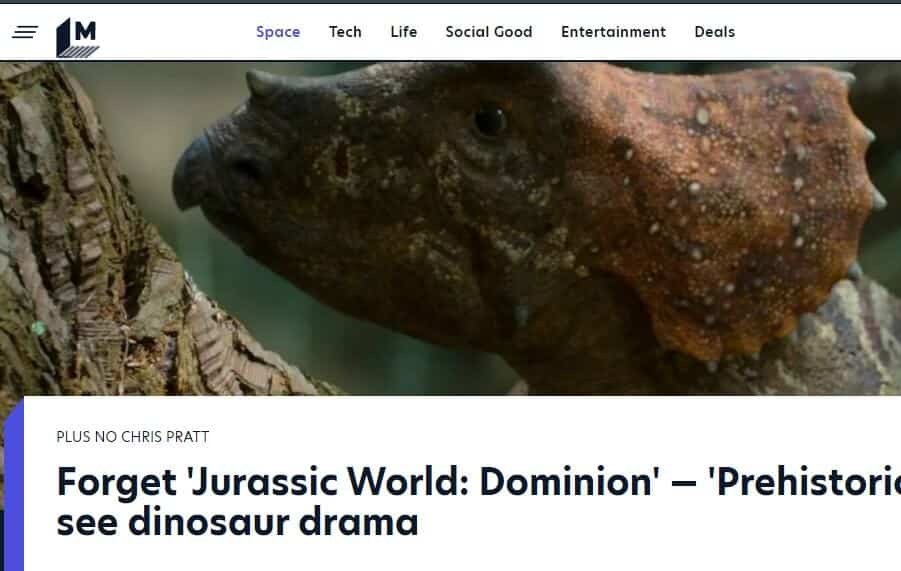 Mashable is a news and lifestyle website that publishes articles from fashion to technology. It is also the best site to submit your infographic design, but you must give a well-designed and sophisticated infographic design for them to publish in their article.
To submit your infographic visit this link : https://mashable.com/contact-us
Over 9 Million Users Per Month
Founded by Pete Cashmore
Slideshare
Slideshare is a content sharing platform that allows you to upload videos, documents, PDF, presentations, infographics for free and share them online.
You can keep your files privately or publicly using this service.
Over 70 Million Users
Founded by Rashmi Sinha.
Reddit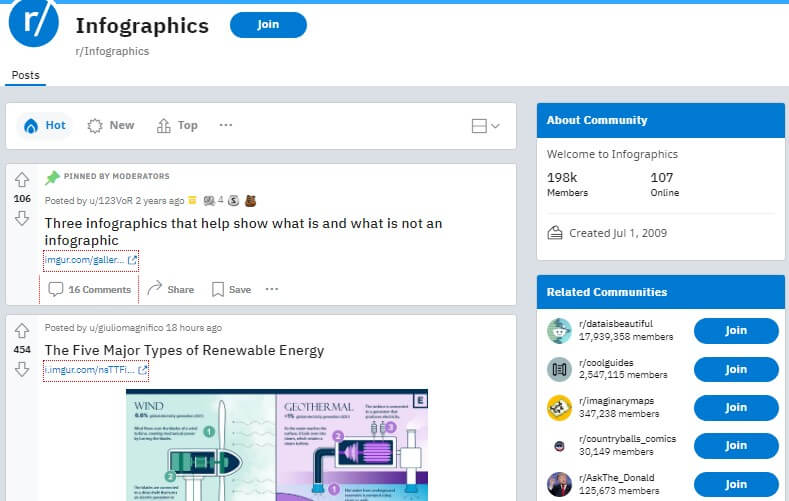 Everyone knows about Reddit, which is one of the best social sharing sites and has millions of Subreddits in all categories with active users around the world.
With 50+ million daily users, Reddit is the free infographic submitting website and the best way to get huge traffic when your post becomes popular, it will get thousands of social shares.
Submit your link here and tell others https://www.reddit.com/r/infographics
Pinterest
Pinterest is an image sharing media and has 400 million monthly users and continues to grow rapidly. It allows users to share images and infographics in Fashion, Health, Wealth, Interior Design, Food & Drink, Travel, Home Decorating, etc.
It has huge domain authority so if you are looking to rank your infographic, then Pinterest is the right place for your design.
Create a stunning infographic with interesting information and post it on your website and share the link on the Pinterest platform. Once your pin gets viral, you will receive thousands of visitors to your website.
URL : Pinterest.com
Tumblr
Tumblr blog is a popular blogging and social media site where users can submit photos, videos, documents, etc. As an online platform, Tumblr lets you share your infographics with your followers and the submission process is very simple and quick.
Create an account using your email address and share your design on this URL : https://www.tumblr.com
Infographic Bee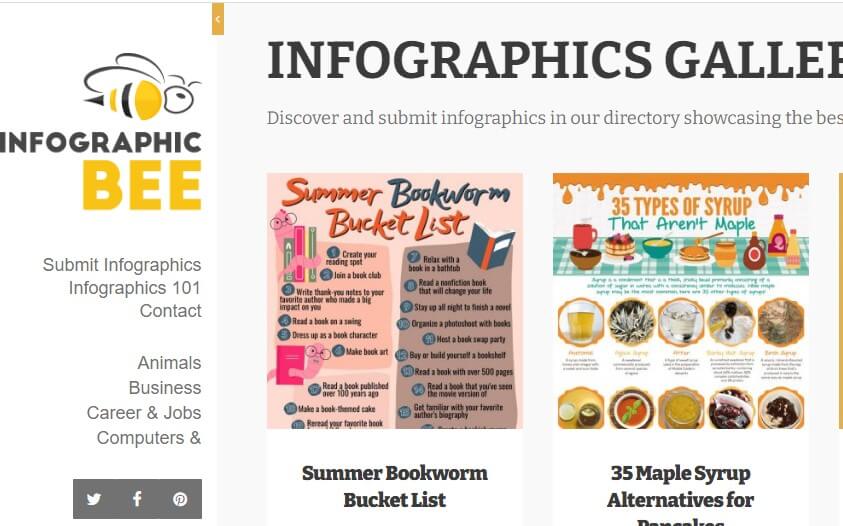 Infographic Bee covers and showcases the best infographics from the world. It lets you submit and share beautiful infographics with others, but they are charging $11.95 for express review and publishing your infographics.
For posting, here is the submission page link : https://www.infographicbee.com/submit-infographics/
Cool Infographics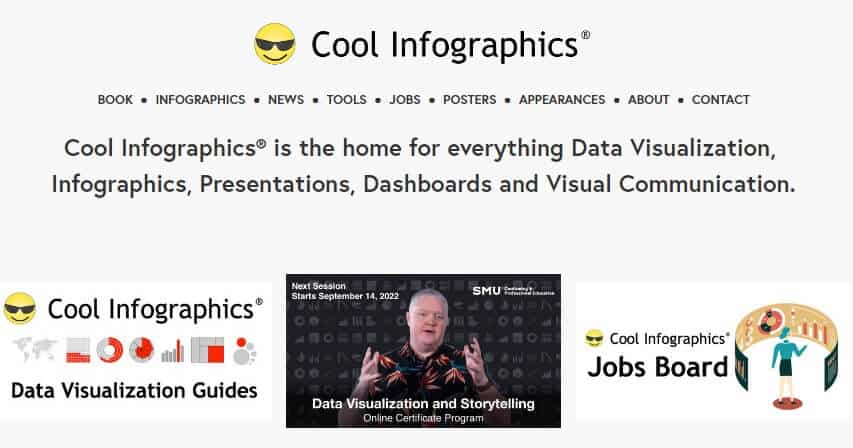 Cool Infographic is one of the best sites in the information design industry, and it's another recommended site for submitting data visualizations and infographics. It's a free submission service to share your designs, and it will be reviewed manually and posted on site if your design got all the information worth sharing.
Cool Infographic is not a hosting site so don't send them your attachments but send them your blog link that contains infographics.
Submit your link here : https://coolinfographics.com/contact
Infographic Plaza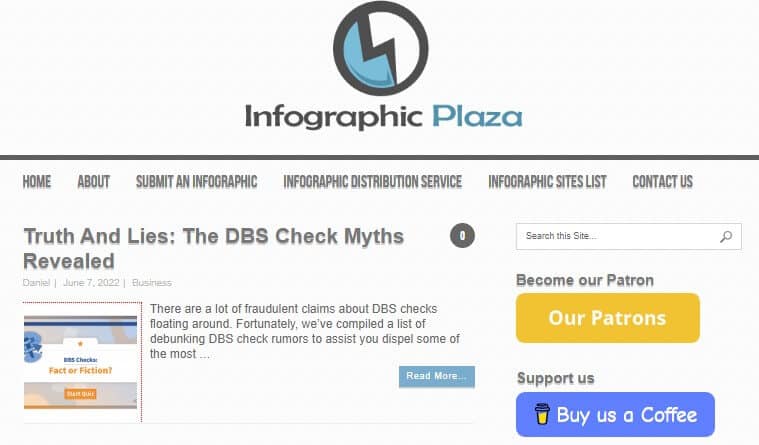 Infographic Plaza is another design community where you can share your data visualizations and infographics on their website, and they will review your design professionally and approve your design.
Even they have a paid promotion service to post your design on big infographic sites. They have free and paid services for Tumblr promotion.
You can submit your eye-catching design here : https://infographicplaza.com/submit-infographics/
Infographics Archive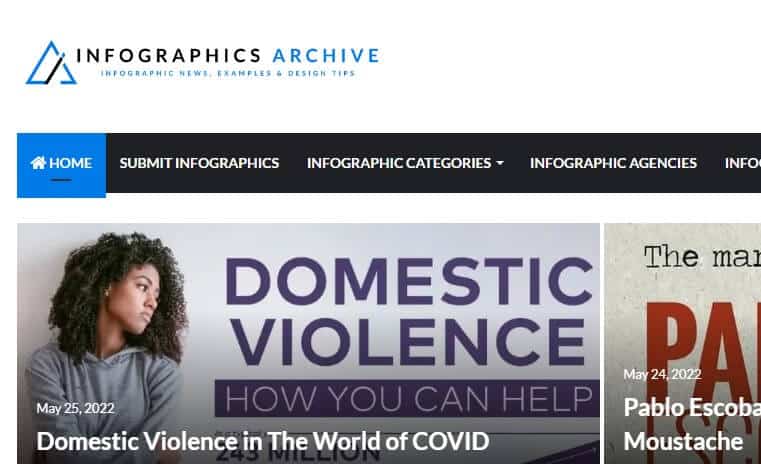 The Infographic Archive is a free infographic submission site, and it contains visual contents on education and e-learning modules.
This website contains all types of news in the format of infographic design and lets you submit your visual content too. Infographics Archive is one of the best places to submit and share your infographics in an infographic format.
The site has a big audience from around the world where it publishes free new designs every day in all categories, so it's quickly growing more active members. They are also giving free and paid services to submit your infographics.
Submit your design here : https://www.infographicsarchive.com/submit-infographics/
Daily infographic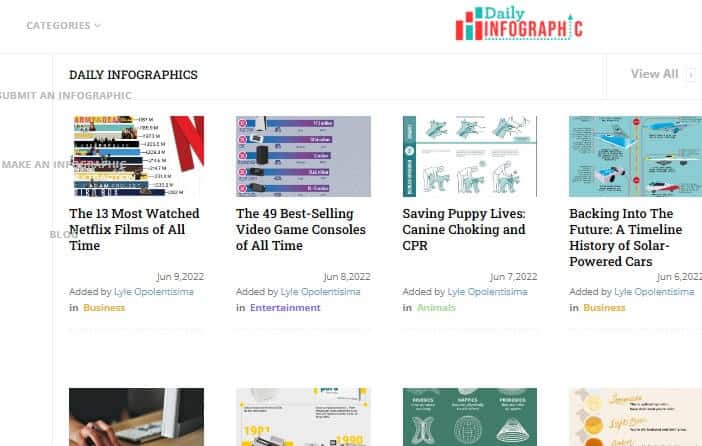 Daily infographic publishes all types of data designs related to world news, sports and politics. There are genres like Humor Graphics, Technology Infographics and Sports infographics on their site that contain visually appealing content.
You can submit infographic types like Media, Health, Food, Digital Marketing, Ecommerce, Social Media, Tech, etc. They have free and paid services to submit your design.
Here is the link: https://dailyinfographic.com/submit
Infographic reviews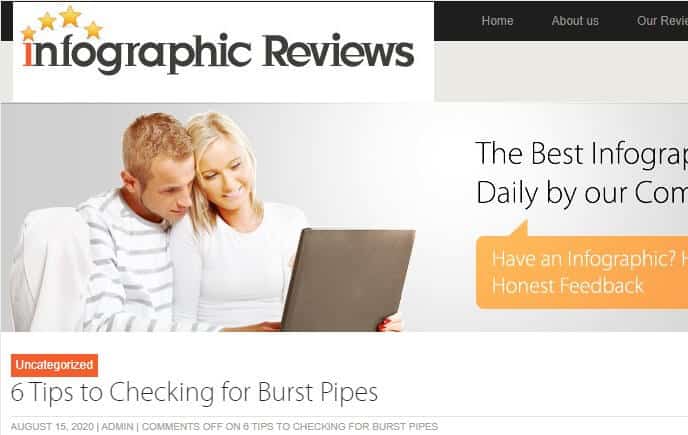 Want your infographic to get reviewed by experts and get real feedback? This is the best place to submit your infographic and get awarded a number of review points.
Because a minimum 60% of infographics found on Google and other search engines are not well-designed, and they lack quality, so sites like Infographic reviews help designers and bloggers to get real feedback from experts to improvise their works.
You will also get 2 SEO friendly dofollow links to your website that will improve your website ranking.
https://www.infographicreviews.com/submit-your-inforgraphic/
I've shared the most popular infographic submission sites list and below you will see other sites to submit your art.
Other Dofollow Website List to Submit Info Graphics
| | |
| --- | --- |
| Info Graphic Site | http://infographicsite.com/ |
| Submit Infographics | http://submitinfographics.com/ |
| Best Infographics | http://www.best-infographics.com/ |
| Fast Company | http://www.fastcompany.com/infographics |
| Ingographics Generator | http://infographicsgenerator.com/ |
| Video Infographic | http://videoinfographic.com/submit-infographic/ |
| Infographicas | http://www.infographicas.com/ |
| Infographics Showcase | http://www.infographicsshowcase.com/submit/ |
| Cloud Infographics | http://www.cloudinfographics.com/submit-infographic/ |
| News I Like | http://www.newsilike.in/submit-infographic/ |
| Infographic Post | http://www.infographicpost.com/submit-an-infographic |
| Style and Flow | http://www.styleandflow.com/submit/ |
| Infographipedia | http://infographipedia.com/submit-infographic-4 |
| OMG Infographics | http://www.omginfographics.com/submit/ |
| Infographic.co.za | http://infographic.co.za/submit/ |
| Best Infographics | http://www.bestinfographics.info/submit-infographic/ |
| iinfographic | http://iinfographic.com/submit-brilliance/ |
| Infographic Gallery | http://www.infographicgallery.com/contact/ |
Sites to create quality infographics
Visual.ly (Paid)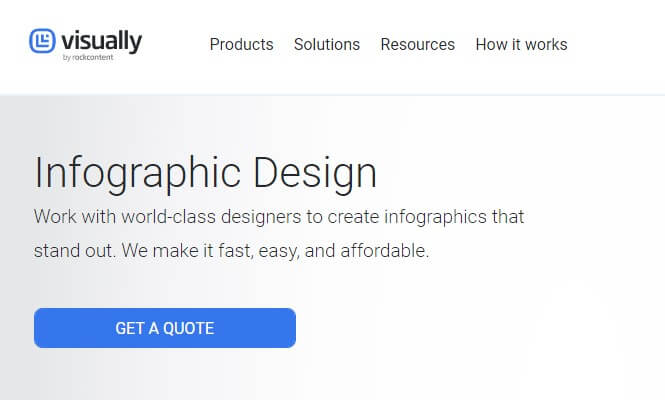 Visual.ly is a premium content creation platform for marketers and content creators. They are doing various services like
Product marketing
PR services
Infographics Creation
and much more
Visual.ly got world-class designers to produce a beautiful info graph for your business. It is a premium service, and you will be charged a fee.
Canva (Free)
Canva is a visual design platform created by teachers and students for freelancers, startups and online business owners to help you create engaging graphics and infographics.
Canva is having the best infographic maker tool which lets users insert photos, maps and charts right into their designs in a simple way. It is 100% free to use. At the end of creating your design, you can download your design in different file formats like SVG, PSD, PDF, PNG, and GIF.
Piktochart.com (Free)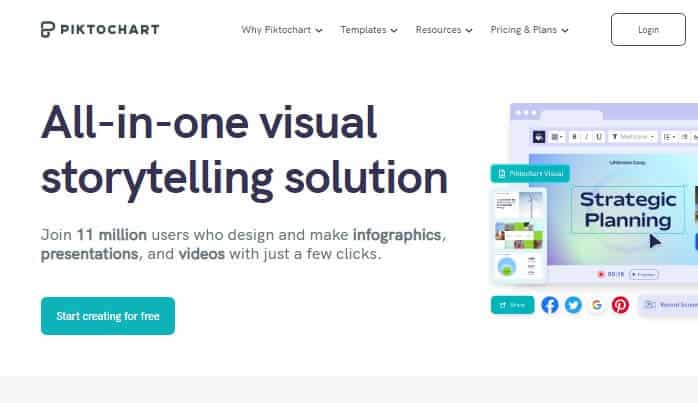 Piktochart is again my recommended free tool to create infographics. It will turn your data into eye-catching design quickly. It has a simple user interface and has thousands of free templates that make it a perfect tool for data visualization and communication.
Hot to Submit infographics Online?
To submit your infographic online, you can visit the infographic submission sites listed above.
It's been cool learning this process to submit
To do this go to any of the above sites and check for the menu that says "submit your Infographic" and click the button.
And fill in the required information and upload your infographic on the site on click the submit button.
Normally it will take around 1 or 2 days to publish it and some sites will ask for money to publish your infographic instantly.
Conclusion
In this blog, I've discussed some of the best infographic submission sites that make creating and submitting quality infographics easy and hassle-free. By using these platforms, you can easily upload your infographic, specify the details about the infographic, and submit it to the selected submission site.
I recommend checking out these platforms if you're looking for an easy way to submit your infographics for publication!
Infographics Submission FAQ