So many Web Hosting Companies around the web then how to find the best WordPress hosting  for your websites?
The easiest way to find the best one is through investigating the WordPress hosting one by one by some criteria's.
Since I have been actively participating on the popular web hosting forums and discussing various hosting companies, I know the pros and cons of many hosting companies.
From the lot of discussions and roundups from the popular web hosting experts.
I'm giving out now the best WordPress hosting company vouched by the hosting experts.
All the best-managed WordPress hosting mentioned below are truly based upon customer reviews, pricing, support, and hardware.
Best WordPress Hosting 2020
The best and top WordPress hosting brands which gives you reliable hosting experience with 99.99% of Uptime hosting and website loading boost and handles any amount website traffic.
Hosting Name
Visits Per Month
Uptime
Domains
Price
1. Siteground
(Recommended)
100k
99.9%
Unlimited
Check Price
2. Bluehost
Unlimited
99.99%
Unlimited
Check Price
3. WP Engine
Up to Millions
100%
Unlimited
Check Price
4. FastComet
Free Domain For Lifetime!
Unlimited
99.99%
Unlimited
Check Price
5. A2 Hosting
Unlimited
99.9%
Unlimited
Check Price
6. Ipage
Unlimited
99.9%
Unlimited
Check Price
#1. Siteground – Top WordPress Hosting Provider
Siteground is the top awarded hosting solution for managed WordPress websites and also  officially recommended hosting by WordPress.org.
When WordPress itself officially recommends Siteground means, then you can imagine the level of performance Siteground delivers to all their customers. That's why WordPress loves Siteground hosting.
Currently, more than 1,000,000+ WordPress websites are hosted on Siteground servers.
What makes Siteground so special?
The no #1 reason is the official choice of WordPress hosting from WordPress.org team.
Affordable hosting plans for all types of WordPress blogs.
Fast customer support system, they pick up the calls and respond to chats immediately.
Fastest page loading speed > 2 second which means your website will load under 2 seconds.
Siteground Response Time
Features of Siteground WordPress hosting:
You will get SSD drives for all plans which will increase your website performance by 1000%
NGINX web server caching to speed up the loading time of the web content, also available for shared and cloud plans
It provides amazing Supercacher to boost your website loading speed up to 4x faster loading speed.
Another super feature called Memcached, now Youtube, Facebook, Amazon, Wikipedia uses this same feature to boost their site loading speed.
Latest core feature like HTTP/2, PHP 7 and HHVM.
Siteground Offers
Free site transfer
Free Website builders
Free Cloudfare
Free Let's encrypt SSL and HTTP/2
Unmetered Traffic
Unlimited bandwidth and MYSQL database
Free automatic daily backups
Price: $3.95 Monthly | 30 day Money Back Guarantee
Trust Us! We only recommend the best product after using it, and we are using SiteGround for our niche blogs, and the performance is excellent!
Visit Siteground.Com + 67% Offer Now
2. Bluehost – Second Recommended WordPress Hosting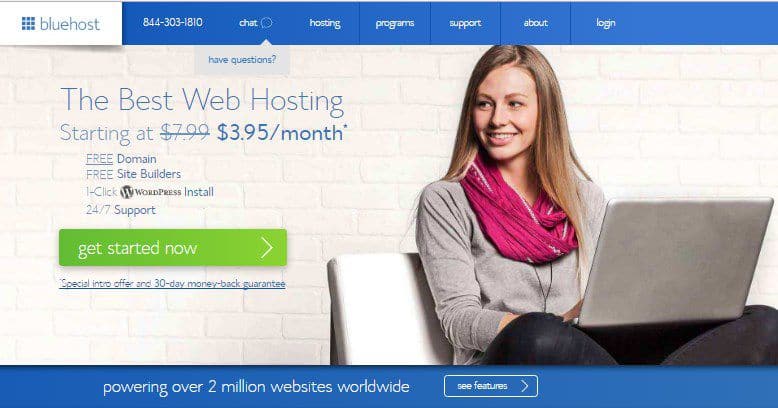 WordPress.org officially recommended hosting provider is Bluehost Hosting, it the best optimized hosting for WordPress blogs.
Bluehost is the world's best WordPress web hosting service which got positive reputations from all over the world. More than 2 million websites are currently hosted by them and thousands of WordPress websites are hosting on the servers daily.
What makes Bluehost so special?
A vast majority of web hosting experts purposely suggest Bluehost for their customers and readers to use it. Because they truly experienced the reliable hosting performance.
Another reason behind the success of  Bluehost hosting services;  they provide fast customer service, secure and manageable hosting platform, affordable hosting plans which entice visitors to buy and host their blogs quickly without any worries.
Bluehost delivers fast Loading website Speed which helps your website to get higher ranking in Search engines.
Bluehost Response Times

Same website loading test for Bluehost and the result is same as Wpengine.
The performance grade is A+. Bluehost loading speed from all countries is great.
Features of Bluehost WordPress hosting:
Built on best VPS platform for extreme speed
MOJO marketplace for installing scripts, plugins in just one click to enhance your site.
Sitelock security, Sitelock WAF, and advanced CDN to secure your website from hackers.
Enhanced CPanel for managing all of your websites.
Automatic daily backups to protect your data's.
Update CPU, RAM and SAN Storage in just one click in case you need to upgrade.
Up to 8GB RAM
Bluehost Offers
Free SSL certificate
Free Domain & site builders
Free $150 marketing credits from Google Adwords, Bing, and other search engines to grow your business.
Price: $3.95/monthly | 30 day Money Back Guarantee
Related
Visit BlueHost.com + Get Offer Now!
3. WP Engine – Elite WordPress Hosting Provider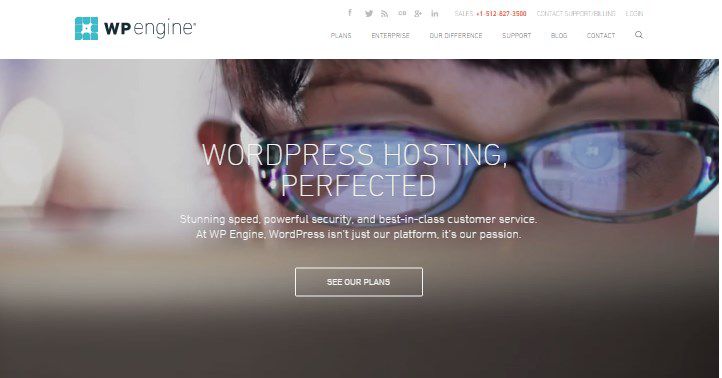 WP Engine is the premium managed WordPress hosting service provider with A+ qualities and at least 5% on the online world visit Wpengine every day the true fact.
WP Engine provides the best-in-class customer service to its users and I have seen more than 60% of hosting experts suggested WP Engine as the best WordPress hosting provider as the answer.
What makes WPengine so special?
While other WordPress hosting providers giving false promises like assuring unlimited visitors per month, WP Engine is pretty open about their plans and they limit the visitors per month.
For 25k visits per month, you can use Personal plan
For 100k visits per month, you can use Professional plan
For 400k visits per month, you can use Business plan
In case your website hits high traffic they have Premium and Enterprise Grade plan.
If your website exceeds the allocated monthly visiting limit, the account will be upgraded automatically without suspending.
WP Engine Response Times

A website hosted on WP Engine is taken out to test its website's Speed from 7 countries.
Each server took less than 1second to load the website and the performance grade is A+.
WP Engine website loading speed is excellent.
Features Of WP Engine:
Evercache caching feature to load website superfast and scalable.
Superfast Nginx-based system
Fully managed CDN to serve your content from all data centers available.
Best security protection with advanced technology challenging anyone to hack the websites. (It's Impossible)
Install PHP 7 for site performance and optimization.
Regular software updates.
Wp Engine Coupon
Bloggersneed only gives 25% discount for it's readers to get offers check this WP Engine Coupons and purchase any plan and get first two month absolutely free.
WP Engine Offers
100% Uptime
Best customer support
Free SSL certificate
Fixing hacked websites for free.
Free website migration.
Price: $35/monthly | 60 day Money Back Guarantee
Know More: WP Engine review
Get 4 Months Free – Visit Wpengine.com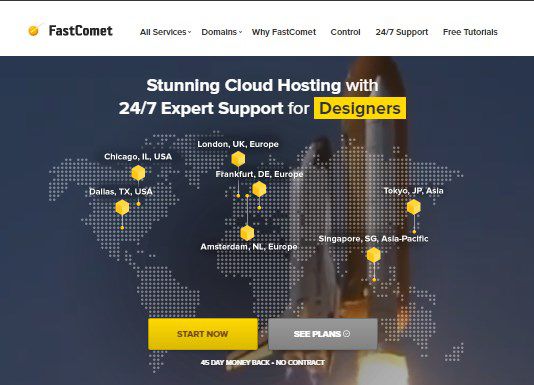 FastComet hosting the best WordPress hosting has been in the hosting business for more than 7 years.
Having more than 11,500 customers from 70 countries. The FastComet hosting now known as one of the best WordPress hosting provider.
FastComet Response Times
By the Fast SSD storage, the loading speed of FastComet is A+.
FastComet Features
Seven Datacenters for maximum power load and security.
FastComet SpeedUp Rocketbooster
WordPress SSD cloud hosting gives up to 300% better performance.
Autominify feature to minify CSS, JS and HTML files to reduce page size to increase load time.
Latest CPanel versions.
Daily & weekly backups.
Multiple PHP versions 7.0, 5.6, 5.5, 5.4, 5.3
Unlimited MySQL databases
Up to 6 CPU cores and 6 GB RAM
FastComet Offers
Free Domain for life time
Free SSL certificate
Free 24/7 priority support
Free Cloudfare CDN
Free Virus Scan & malware protection
Free website transfer
Price: $3.95/monthly | 45 day Money Back Guarantee
Read this: FastComet Hosting review
Visit FastComet.com + Free Domain For Life
#5. A2hosting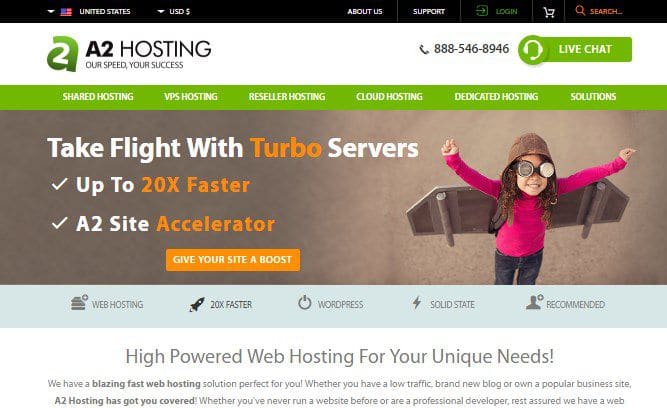 This web hosting company founded back in 2003, from that onwards the company started to gain customers by providing fantastic features and upgrades.
A2hosting hosting is absolutely the fastest WordPress hosting and I am sure about it.
The reason is A2hosting use SwiftServer platform turbo servers which optimize websites to load 20x faster.
A2hosting is the cheap hosting for WordPress compared to other hosting provider rates.
The only hosting provider that gives much importance to site speed and page loading time is A2hosting.
A2hosting Response Times

By associating A2hsoting with Turbo servers, the loading speed performance grade is A.
Features Of A2 hosting:
High-performance SwiftServer platform for peak site performance.
Turbo servers to load websites up to 20x faster.
It supports PHP 5.3, 5.4, 5.5, 5.6, 7.0 or 7.1.
3 Datacenter locations
Best guru crew support to respond all your queries.
A2hosting Offers:
Unlimited database, transfers, and storage.
Free http protection
Free SSL & SSD
Free site migration
Free HackScan protection
Free DNS management
A2 Hosting Discounts
If you really love to try A2 Hosting then luckily I've got some coupon codes for you. Visit this A2 Hosting Discount Landing Page to avail huge offers for all kind of hosting plans.
Price: $3.92/monthly | Anytime Money Back Guarantee
Read this: A2 Hosting review
#6. Ipage Hosting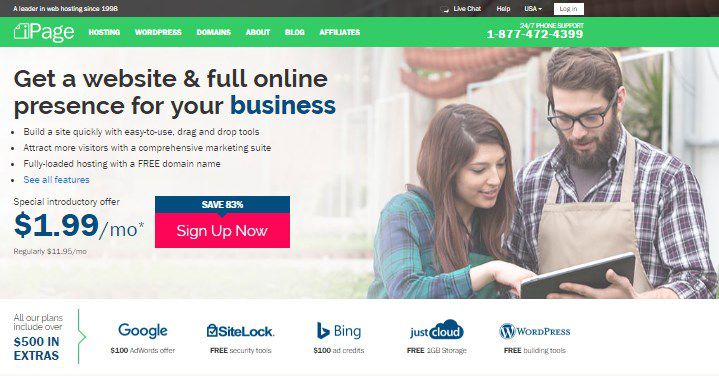 The web hosting company in the hosting business since 1998 is Ipage hosting.
One of the best WordPress hosting company is Ipage Hosting, and many individuals successfully started their online business by hosting both their domains and hosting in Ipage because of their Cheapest hosting services.
Ipage is also the best domain registrars to buy all kind of domain extensions.
By comparing with other WordPress hosting providing service, Ipage is absolutely another cheapest WordPress hosting provider.
Ipage Response Times

Features Of Ipage:
Super speed up to 2.5 times faster by CDN, Low-density servers, and multiple caching layers
Unlimited Bandwidth, MySQL databases, and disk space.
Highly secure Datacenters for website security
Cisco routers using BGP4 protocol
Visitor statistics/site traffic reporting
24/7 phone and chat support
Bandwidth & disk usage monitor
Secure FTP & URL redirect tool
Ipage Offers
Free domain for 1 year
$100 Google Adwords credit
$100 Bing search credit
Free website listing on yelllowpages.com
Free security tools
Free 1 GB Storage on Justcloud.com
Free WordPress site building tools
Price: $1.99/monthly | 30 day Money Back Guarantee
Read this: Ipage Review | Ipage hosting Coupon
7. Cloudways
Cloudways is good managed Managed WordPress hosting company where an individual or team can manage their applications securely.
The Cloudways hosting service doing a great service since it was started. With the high-performance platform, with one single click, you can do many operations such as backup, restore, cloning, etc.
Features
Top IAAS Providers: This the best thing you can ever get from cloudways. You have the option to choose cloud hosting from DigitalOcean, Google, Amazon, Linode, and Vultr.
60+ Data Centers option to choose your nearest Datacenter which makes your website to load much faster.
HTTP/2 will make your website to react faster by increasing the speed of the communication between server and client.
Hourly automated Backups
Multiple PHP versions
SSH and SFTP Access
1-Click Backup & Restore
Cloudways Offers
Free WordPress Cache Plugin
Free Magento Full Page Cache
Free SSL Installation
Free Website Migration
Server Response Time Test Results
To find the best and Fastest WordPress hosting provider for our users, we did server response test for 3 best hosting companies.
BlueHost Vs WPengine Vs FastComet Server Race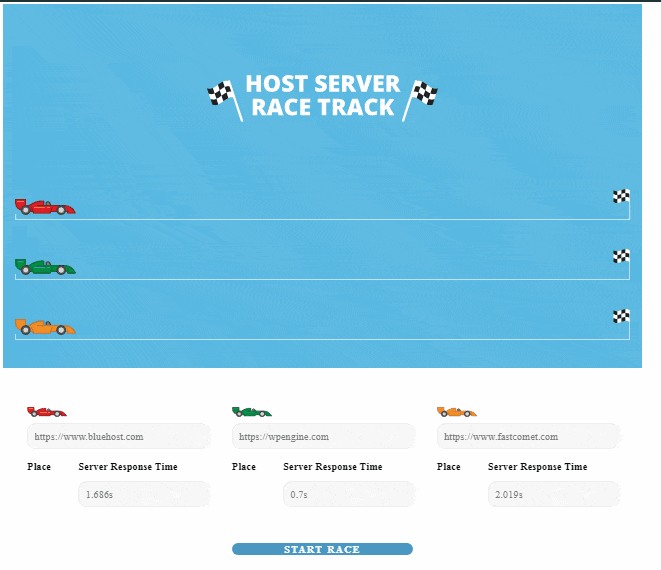 Server Race Results
1. First Place 
Wpengine – 1.56s – Amazing Speed | Visit Wpengine.com
2. Second Place
Bluehost – 1.808s
3. Third Place
FastComet – 1.974s
How to Choose the Top WordPress Hosting Company?
You should be careful when choosing the best web hosting for WordPress for your business and it is complicated to find the best WordPress hosting.
There are some criteria's you should look to find the better WordPress hosting.
24/7 Support Team
The support team should be always available to solve our problems instantly.
The support team should be expertise in handling situations.
Open (No Hidden Works)
The hosting provider must always be open to ourselves in terms of price, features, promises, etc.
Some web hosts will charge some hidden fees, will renew automatically without intimating to us.
So always join the best WordPress hosting who are always open about their promises and policies.
Latest Software/Hardware
The hosting company must have the latest software/hardware and upgrade regularly.
Fast Speed
No one will look the slow loading websites so you need the web hosting who can assure to give fastest loading website speed.
Uptime Guarantee
Uptime is the important factor for every websites and your website has to be in upstate always.
So buy hosting from the hosting company who guarantee 99.99% of Uptime.
Auto Backup Services
Website content is important and it is duty for every web Hosts to protect our contents.
A good web hosting company should always backup our contents automatically.
The web hosting provider should be able to give our backups at the time we need it.
Secure Billing System
The most important and the final criteria are the billing system, Of course, we buy hosting with using our PayPal, credit or debit cards.
There are many ways from one can steal our information's so it is always advised to buy WordPress hosting from a secure hosting provider.
Wrapping It Up
More than thousands of WordPress hosting company launching daily and every host is excellent.
But finding the best WordPress hosting company among the crowd is difficult as I said before.
So I made this list.
I am sure that I gave you the best and fastest WordPress hosting and I bet that you won't find a better one than what I gave you.
So join in anyone of the web hosting I have given, and they are best of best.
So Which Hosting Should I Join?
My final thoughts of Top WordPress hosting.
1. Siteground (Visit Site) – My top Recommendation
Up to 100k Visits per month
#2. BlueHost (Visit Site) – My 2nd Reccomendation
Choose $3.95/mo Plan for Normal blogs
(Or)
Use $19.99/mo plan to get 100 Million visits monthly  (Best Plan Click here ) Best for high traffic websites.
#3. Wpengine (Visit Site) – My 3rd Recommendation
25k monthly visits for $29/mo
Best managed wordpress hosting if you don't mind to pay high.
#4. FastComet (Visit Site) – My 4th Recommendation
25k monthly Visits for $3.95/mo
Best & cheap wordpress hosting and suitable for medium level blogs.