First Of all, thank you so much for visiting this blog, and I am Abdullah Prem Founder&CEO of Bloggersneed.com.
About Me (Abdullah Prem)
I am from Chennai the most beautiful and busiest city of Tamilnadu famous for Marina beach, amusements, Beautiful girls, shopping malls, and street foods.
To say about me, I did my school nursery school in AMHS, Finished my secondary and primary studies in SDA(Seventh Day Adventist) from 6th to 12th.
I must say about my friends they are everything to me especially from 6th to 10th batch friends I learned a lot from them and they taught me about life, happiness, Love, it was the time where I learned money isn't everything.
My friends are (Mani, Deepan, Vasanth, Vasantha Kumar, Sathish, Mubarak, Arul, Sudersan, Raj Kumar, Moses, Ezhil, Gettha, Umar basha, Sabeer Ahmed, Sridhar) Macha sorry da for the one who isn't on this list. I love you all.
The reason to mention to everyone is they are everything to me and close to my heart and years passed, and some of them got married, and some of them might wait for the right girl to continue their remaining life with them.
We were now with our beards and bikes but still the same fellas with ball and ball gathering every Sunday's on the ground. (But I am the one whom you miss on the field.)
Why?
There is a reason behind that.
I am worst playing cricket. LOL
Cricket isn't the only game we play here, but there are other two sports famous in our area(Pulianthope&Vyasarpadi)
Football & Boxing
I am National Level Gold winning National Level Boxer won several competitions, and I was on the right track to represent my country in Olympics but my dream shattered, and I quit boxing due to some reasons. ( I prefer not to say it. Sorry, it's personal.)
Now playing football for some teams on a contract basis because I love football and I will play soccer every day from 6 pm to 8.30 pm, and it keeps me actively to focus on my work in blogging.
My advice for bloggers is to exercise at least 20 to 30 minutes a day. (Do It)
I'm not a topper neither weak student in studies but will pass with average marks. And I am a backbencher with 100% requirements of last bench students.
My College Journey (I Discovered Who I Am)
Before getting in, please note that I've already started to make money online on +1(2010) itself by doing CPA and affiliate marketing (From Adscendmedia through Blogger.com)
I've pursued my B.E in Agni College Of Engineering in the field of E.C.E (Electronics Communication and Engineering) from (2009- 2013).
I am attaching our group photo can't mention the name because of the huge list. (I am Standing behind)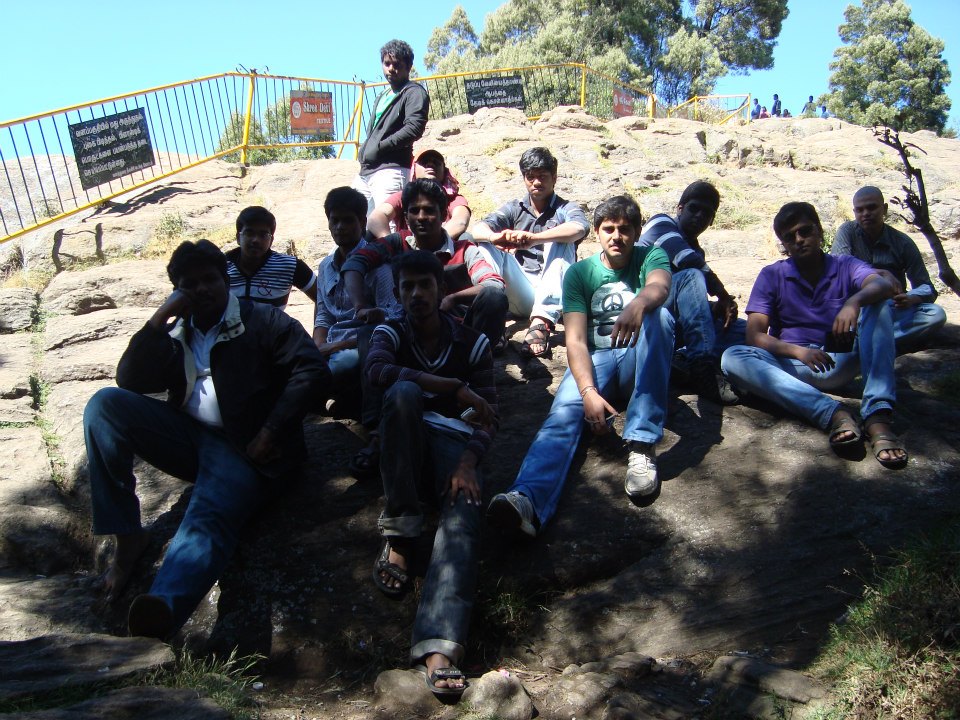 It was the first year of my college when one of my friend from I.T department named Rajesh who came to my house wearing some white shirt and black pant.
I was like Dude "what happened to you" why are you behaving like this?
He started his speech and end of that I was like I am the billionaire tomorrow.
Yes!! No more engineering shits and all. Planned to quit my studies. But God had some other plan… (Yes it's Internet Marketing)
I joined that MLM business, and soon I gave several presentations and seminars.
I am the only guy in my college who was traveling Noida, Coimbatore, Pondicherry, Noida to attend several workshops, meetings about Multi-Level Marketing.
Managing engineering and business at the same time is literally very hard, but entrepreneurship is flowing in my blood pushed me to do that.
I worked hard grown my team produced some silvers and taught them about MLM, and they soon started to earn.
To say proudly I am the only one to earn via Affiliate Marketing and Multi-Level Marketing at the same time.
On the second year of my college(2010), I started some Blogspot blogs to write about money making skills and Multi-Level Marketing.
I wasn't active on blogging due to my studies and business but wrote sometime but inactive most of the time.
If you work hard obviously, you will achieve, and I too sailed on the same boat, but due to some problems, I quit again my dream shattered again. (It's Personal I would prefer not to say).
On my final year(2013) I quit MLM and finished engineering with 17 Arears. Yes, I am VIP. 🙂
When I am alone, I'll ask myself " Dude Too many problems what's next?
I'll answer myself like "Every legend has crossed the line of failure, and so should I am."
This is the only mantra I always repeated and found leadership and entrepreneurship qualities inside me.
Rise Of Bloggersneed.com
On 2011, the Second year of my college I started a blog named (dezidime.com) Yes it was like the copy of desidime.com Soon karma fucked me and closed that blog.
Then some blogs and again karma knocked my door to close that blogs.
A student with 17 arears I don't have to say my situation you are educated enough to know my situation.
If you laughed after reading above line, then you are 100% right.
It took six years to finish my engineering, and I cleared and got my degree.
It was the toughest time for me to take the decision whether to continue working online or 9 – 5 job?
This time I don't want to give up my dream, so I want to start my online work again.
Computer with Internet needed to start again.
But I sold my whole computer 3 months ago on OLX just for 1550 INR.
After knowing my situation, my friend Venkatesh gave his government laptop (Amma Laptop), and I must thank him because without his help I'm not here.
Stared again did some freelance jobs and earned huge income from online.
My classmate Mohanraj from Bloggingio.com he encouraged me to start blogging again.
I started this blog because of him and we competing for some keywords. (He is my competitor now.) Ha!Ha! Lol
But I can't outrank him because he is good in SEO than me.
In bloggersneed, i write articles about blogging, Making money Online, Web Hosting, SEO, WordPress related products(themes and plugins), Social media.
What You Can Learn In This website ?
This website Includes Every method of earning money by online ways
How to choose your niche sites
How to create a niche site.
How to Generate Traffic To your Website
How to earn money through your niche website.
How to earn money in both offline and online.
How to earn money Through social media.
How to earn Money From Google Adsence.
How to earn money From Yahoo Answers.
How to earn Money From Cpa Websites.
My Source Of Income
Affiliate marketing ( I love it)
Game Testing
Beta Testing
CPA
Ads like Infolinks, Google Adsense
I am also accepting guest post, paid posts, Product Reviews, Advertisements. Reach me by Contact Us Page.
My Social Profiles
Let us connect with each other 🙂
Facebook : Check Now
Twitter : Check Now
Linkedin : Check Now
Quora : Check Now