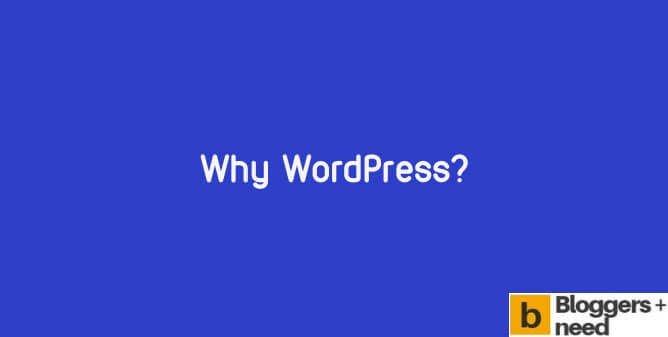 Why use WordPress?
As a blogger and someone who's daily activities are focused mainly on producing and publishing written content, you need to have the best content management system (CMS) at your disposal.
The process of turning your ideas into written content, then presenting it to those who might be interested in reading it is in itself complex and demanding. If you don't use the right CMS for accomplishing what you've set as a personal goal, you won't get very far. This is why you need a quality, trustworthy, and reliable CMS such as WordPress.
Why use WordPress
WordPress is the world's leading CMS with thousands of bloggers, entrepreneurs, and business owners using it to get their message across. If you're not sure why you should choose to use WordPress in your content management strategy, just keep reading. Below, you'll see 11 important reasons why use WordPress should do it.
Here's what makes WordPress the best content management system today.
1. Super-Easy to Set up
Starting from scratch, there's one thing that makes WordPress such an impressive and widely used CMS.
Since not every writer, blogger, or business person is great with programming and technical skills, WordPress is a great option. This is because you need absolutely no coding skills to set it up.
In addition, you don't have to hire a professional to do it for you.
All you have to do is find a tutorial or how-article about setting up a website yourself and follow the easy steps which include:
finding a hosting company
registering a domain name
installing WordPress
doing the final setup
Anyone can do it in less than half an hour and start working content creation and management.
Therefore, you can do it too, with no trouble at all.
Read: Best WordPress hosting for bloggers
2.WordPress Themes
Another majorly important WordPress benefit is the availably of hundreds of ready-to-use themes, to make your content stand out even more.
There's a theme for everyone's taste and you can choose the one most suitable for your needs.
Find and use best WordPress themes for blogs which agree with your brand images, colors, and fonts and give your content a personality and a voice.
All you have to do is:
lookup free WordPress themes
try out different ones
choose the one you like the most
It's that simple. You don't need to hire any designers to do the job for you.
In addition, you can choose to use one of the premium themes which aren't free but offer a whole lot of options, designs, and choices.
Therefore, there's something for everyone's pocket and there's no way you won't be able to find what you're looking for.
Read: Best WordPress themes for blogs
3.Theme Customization
For those of you who don't like to do much work apart from the actual writing, a theme you choose is more than enough.
Still, if you want to make certain changes and adjust the theme to make it more suitable for what you need, you can do it easily.
Theme customization lets you make changes in terms of:
Theme colors
site icon
images
menus
add or remove page blocks
insert or remove visual elements
Depending on your skills and needs, you can customize the selected theme and make it unique and more according to your specific needs.
4.Page Building
If you're really into the whole customization process and want to create a website that's truly unique and special, you can turn to some of the best page building plugins that WordPress has to offer.
Page building plugins make it easy for you to completely customize the visual aspect of your website using the drag and drop technique.
This means that you choose between elements you want to add to your webpage and test how they fit on the go.
Here are some of the best page building WordPress plugins you can use:
Both of these offer a smooth and simple editorial workflow. You can add and remove elements looking at an instant preview.
They're suitable for almost all WordPress themes and they give you absolute control over the way you handle your website design.
5. Cross-Device Responsiveness
For people online, it's important that the webpage they're trying to reach is being portrayed in a quality manner without any errors or deficiencies.
In other words, the responsiveness of your website across all devices is of utmost importance.
Luckily, WordPress offers themes and designs which are responsive for:
desktop devices
mobile devices
Whether people are looking at your webpage from their widescreen monitor, tablet, or mobile phone, the design needs to be impeccable.
WordPress allows you to preview your cross-device design and see whether you're achieving the desired effect.
You don't what to lose your readers just because your design isn't responsive. This can hardly happen with WordPress.
6. SEO Friendliness
The art or the science of SEO is what everyone online needs to be familiar with. Mastering the skills of SEO require time, experience, and thousands of words written and published online.
However, for those of you who might need a hand with handling your SEO strategy, WordPress is giving you the opportunity to create SEO friendly content, without much trouble.
Here's what WordPress will help you do:
create SEO friendly HTML pages
create permalinks containing the target keywords
add effective titles and heading tags
optimize images using ALT tags
There's no way you create a page that isn't SEO friendly, and with a little practice, you can master this skill perfectly.
In addition, you can use the Yoast SEO plugin which will help you further improve your content and make it even more SEO friendly. Read about it in the next section.
7. The Yoast SEO plugin
For more advanced SEO options, WordPress has to offer one of its most widely recognized plugins called the Yoast SEO plugin.
Using this plugin, you can further improve your Google ranking and ensure everything that you publish is SEO friendly.
The plugin analyzes your content before you publish it and gives you a detailed insight into:
its readability score and how to improve it
optimizing your keywords and keyphrases
checking the keyword frequency and proper placement
help search engines determine what your content is about
By using this plugin, which comes in a free and premium version, you'll be able to publish high-ranking content that will reach more people and help you expand your audience immensely.
This is a great thing if you're into affiliate marketing and need an as wide audience as possible.
8. Content Localization
If you're planning on making your content recognized world-wide you need to be thinking about content localization.
Localization is a way of adapting your content and making it suitable for people in a foreign market that you're targeting.
This includes content translation.
WordPress allows you to localize your content using one of its multilingual plugins such as:
These plugins make it easy for you to translate your entire content from one language to another. All you have to do is:
install the plugin
choose the target language
add the language icon to your webpage
This will save you the time, energy, and money you would otherwise have to spend on localizing your content yourself or hiring a professional.
In addition, you'll be able to attract more people, improve your ROI, earn money online, and raise brand awareness.
Read: Best SEO content writing tools
9. Editing Your Text
As a blogger, writer, or someone who produces a lot of written content, you need to find a way to edit your content quickly and efficiently.
Word Press is a great CMS since it offers tools and plugins which can help optimize your entire editorial workflow and make it better.
You can use a text editing plugin such as:
Tiny MCE Advanced
This plugin will allow you to create and customize a toolbar according to your own needs and preferences. You can add and remove buttons in up to 4 rows and choose between options such as font size, font colors, tables, etc.
WP Smart Editor Another great WordPress plugin that can optimize the way you edit your text is this one. It comes with management tools for tables, styles, files, and buttons. You create your own toolbar and make it fit for your needs.
Text editing is made super-easy with these WordPress plugins and you'll find yourself much more productive and inspired to write.
Naturally, you'll have to handle proofreading yourself, but this too can be made simple. Use best content writing tools or services such as Pick Writers or Grammarly and you'll have no trouble at all.
10. Editing Your Images
Images are a necessity if you want to make your content more visually appealing. Most of the time, people focus on the visual aspect of the website before reading any of the written text.
Still, if you add too many images and stuff your content with visuals, you can slow down the speed of your website. And you don't want to do that.
If your website takes more than a couple of seconds to load, you'll be losing tons of impatient visitors.
Luckily, WordPress offers you image editing plugins you can use to optimize your images and make them less harmful for your content.
Try out the EWWW Image Optimizer which makes it easy for you to:
convert images to different file formats
optimize the size of new images you upload
optimize the size of existing images
This way, you can add visuals without worrying about them doing damage to your website.
11. Security
Regardless of the nature of your website or blog, you want your data to be safe and secured. WordPress allows you to back up your data and protect it from unwanted threats.
WordPress enables you to keep your data safe. All you have to do is find and install the following plugins:
WordPress Backup Plugins
You need to be able to restore your data in case someone attracts your WordPress website. Of course, a professional hacker with a lot of experience might still be able to irreversibly destroy your data but let's hope that won't be the case.You can use a plugin such as Updraft Plus, Jet Pack, or BackupBuddy.
WordPress Security Plugins
To protect your data, you can use a plugin that keeps viruses, malware, and other threats away from it. You can try out Malcare or Word Fence or Defender and keep your data safe.
Security is an extremely important element of your content management strategy so you need to pay special attention to it. WordPress makes it easy for you to do it.
Read: Best WordPress security scan plugin
Let's Review
To answer the initial question of why you, or anyone else, should be using WordPress in their content management strategy, we've put together the above list of features, characteristics, and available options that are at your disposal.
WordPress allows you to:
set up a website on your own
use a given design or customize it according to your needs
ensure your content is responsive to all devices
improve your SEO and rank higher in Google searches
translate your content easily
enjoy the editing process
protect your data and information
The best part is, you don't have to invest a lot of money to make it all happen. In most cases, the themes and plugins are completely free of charge.
So, not only that is easy to use, efficient and provides professional options, it's also quite cheap.
Why use WordPress: Final Thoughts
If you've read the above guide in detail, you must have realized how great WordPress as a content management system is. It offers everything you need to run a successful website. Whether you're into blogging, entrepreneurship, startup businesses or something else, WordPress is the way to go.
Use the above list as a reference for your future WordPress ventures and start enjoying the process of content management more. Turn to tools, plugins, and themes you need or like and create a unique website your visitors will want to come back to.