Do you want cheap moosend coupon code? Then you are in the right place.
Email marketing services are getting costlier year by year and still there are some services like Moosend that provide super ultra solution with cheap price.
With these moosend coupons and discount, you will get 10% off for the first three months on all monthly subscription plans.
Cheap Moosend Coupon Code
Moosend is the cheap email marketing provider that works on full automation, and they have the best features like drag and drop email builder, automate webinar reminder, abandoned cart reminder, personalization, tracking, lead generation and analytics.
Moosend agreed to give a special offer for Bloggersneed users and this is a 100% working promo code, and you can apply it on the checkout page.
Here is the exclusive promo code: Bloggersneed10
Click this coupon code link and apply the code: Bloggersneed10 to get 10% discount.
This is a limited time discount and by using this moosend promotion code you will get 10% off for the first three months. This offer is valid for the monthly plans.
There is no offer for the moosend annual plans.
How to Apply Moosend Discount code to get Promotion Offer?
Bloggersneed is proud to offer the best deal to get a 10% discount for buying Moosend email marketing tool. To redeem the moosend discount code link you should properly follow the below instructions.
Step 1: Visit moosend.com, and it will take you to the homepage of the website where it will show the features, pricing, and the product details.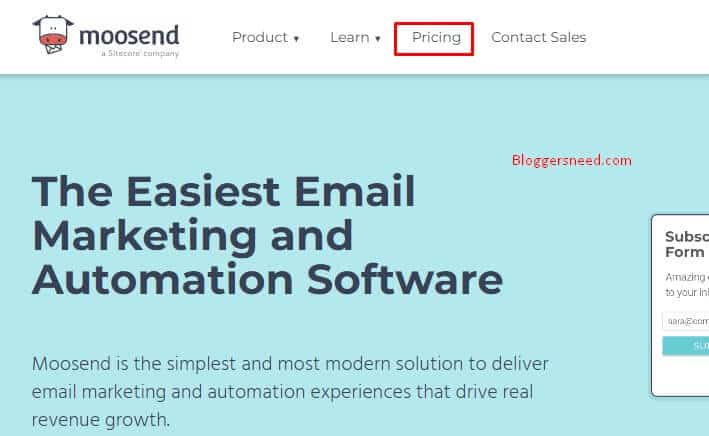 Step 2: Click on the pricing tab and select the plan you would like to purchase. With moosend free trial, you get a pro and enterprise plan free for 30 days. For this tutorial I am selecting the pro plan and choosing the 5001 – 1000 subscribers plan.
And click the "Start Trial" button.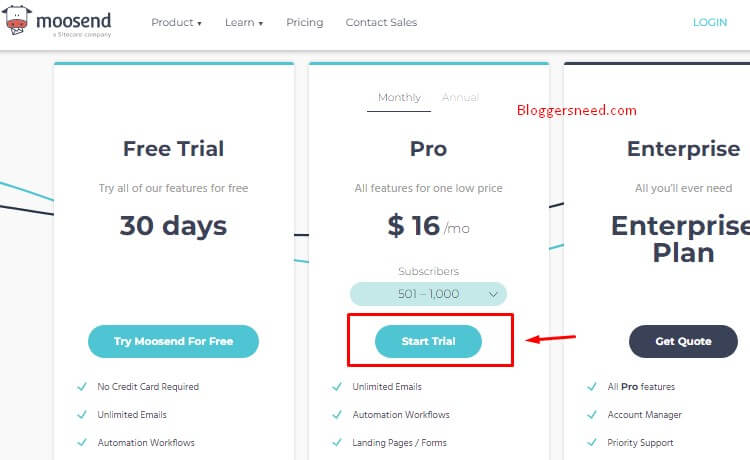 Step 3: Now you will see the below screen and enter your business email address and click continue.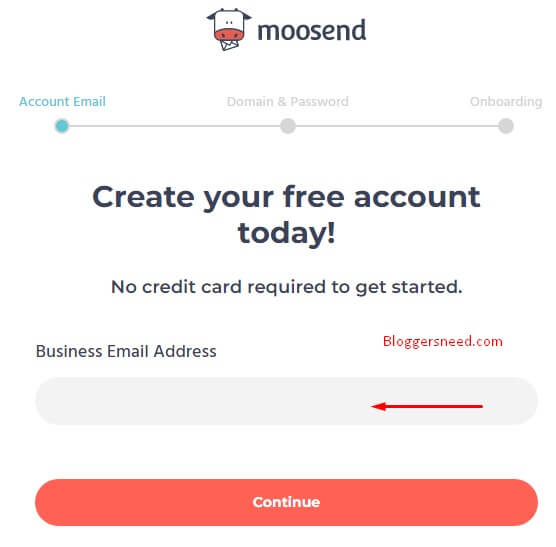 If you don't have a business email address no problem, enter your Gmail address.
Step 4: Now it will ask you to enter the subdomain domain. For this tutorial i am entering Bloggersneed as login domain name. Enter a strong password or use Google's password suggestion to generate strong password and finally agree their terms by checking the box and clicking register.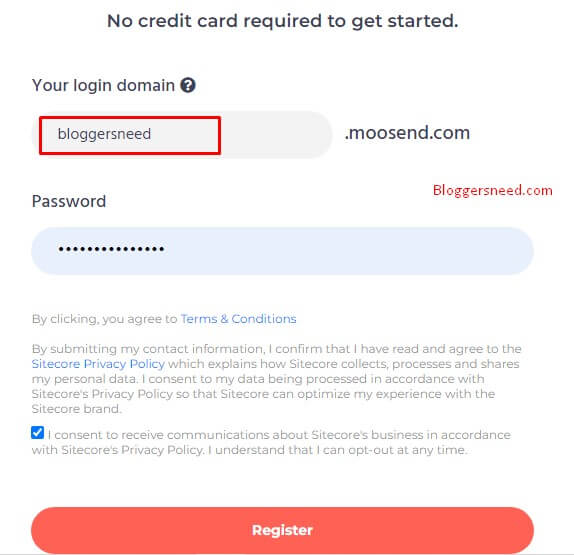 Step 4: Now enter your first and last name and click continue and on the next screen it will ask you to enter your business name, address, etc.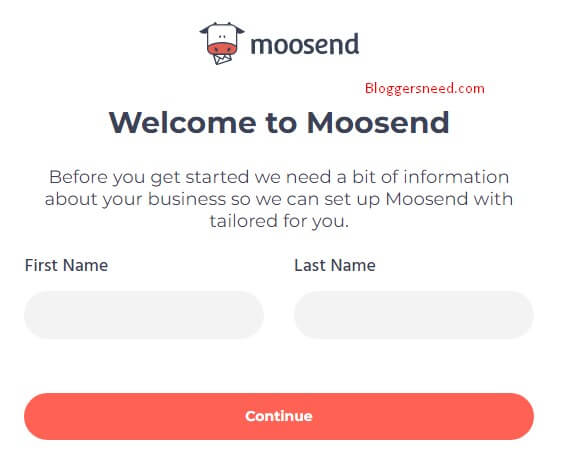 Step 5: On this final setup screen it will ask you to enter your business information, enter the right details and click continue to create your moosend account.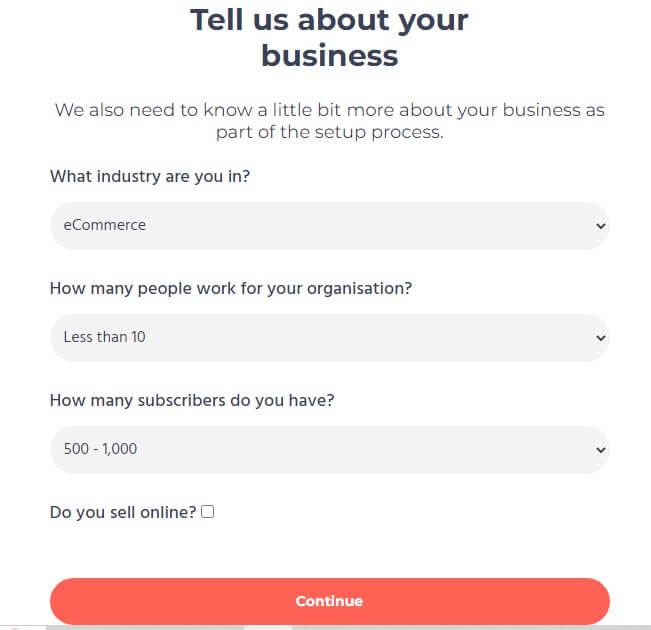 Step 6: Now it will begin to create an account and after 1 minute you will receive one link on your email address. Click the link to activate your moosend account.
Step 7: Now it will take you to the account dashboard and on the right side of the screen you will see the Upgrade account notification link. Click on the link, and it will take you to the billing page.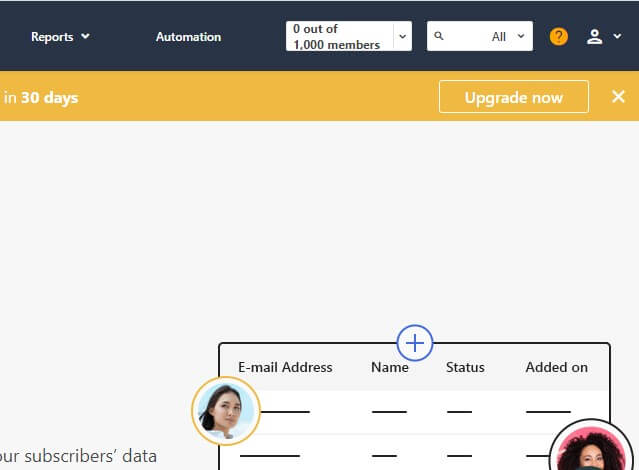 On the billing page, select the number of subscribers, select the monthly plan and click the purchase button.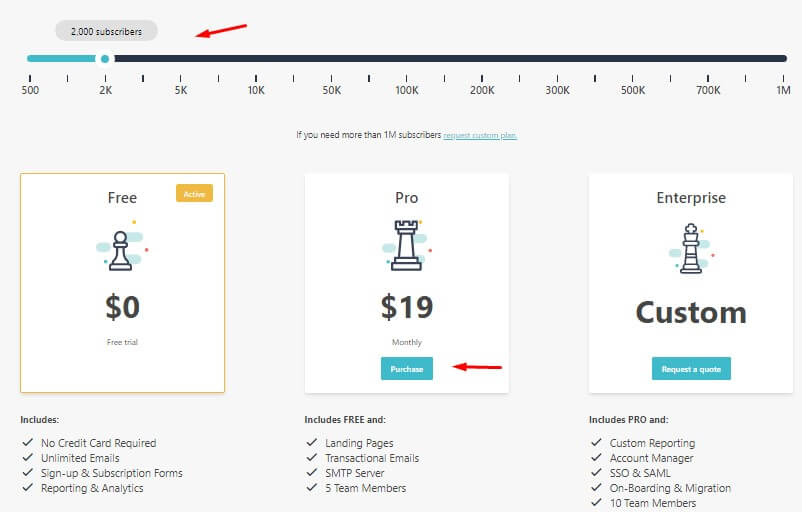 Step 7: On this screen, it will show you the option to enter the moosend coupon code. Copy Bloggernseed10 and enter it in the coupon box and click Apply.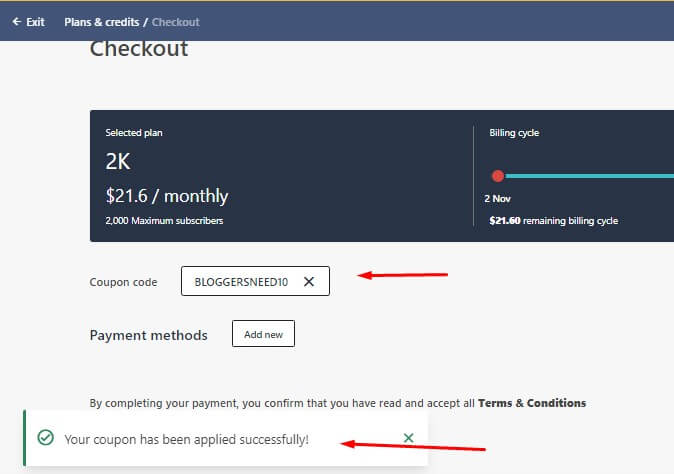 Step 8: Now finish the purchase by using your credit/debit card or using PayPal.
Now you have successfully redeemed your moosend promo code, and you can start using your moosend pro account without any limitation.
Moosend Free Plan
If you're not confident about buying moosend means, then you can use moosend free trial for 30 days and try all of their features. If you're convinced, then upgrade to any plan you like and if you don't like then move to other email services like constant contact, Omnisend, etc.
The Free plan includes
Unlimited emails,
Reporting and analytics,
Subscription forms and sign-ups
much more.
What i like about moosend is they won't ask your credit card when creating an account. All they ask is your email address, password and name.
Features
Here are the features you get from moosend email marketing tool.
Landing Pages: Moosend allows you to create landing pages for email marketing. This means you can quickly and easily create a page that sells your product or service.
Subscription forms: Moosend has subscription forms built-in. This makes it easy to collect leads and sign up customers.
Campaigns: Moosend gives you the ability to create campaigns that send email newsletters, email ads, or email marketing campaigns.
Email Lists: Moosend allows you to create email lists. This means you can collect email addresses and send them marketing messages.
Segments: Moosend allows you to create segments based on email address, location, or other criteria. This makes it easy to send marketing messages only to interested customers to make leads and sales.
Reports: Moosend gives you the ability to view reports that show how your current email campaigns are performing. You can also see which elements of your marketing campaigns are working best to delete the underperforming campaigns.
Automation: Moosend offers powerful automation capabilities that allow you to set up and run your email marketing campaigns automatically. This means you can spend less time worrying about marketing and build triggers to send emails to your subscribers at the best time to promote your services, ecommerce products and affiliate products.
Moosend Coupons: Conclusion
That's all you have successfully activated the moosend coupon code to purchase the monthly pro plan. If you used my moosend discount code then you're lucky.
Because the moosend promotion code will be active for the first 100 users, and later it will get expired. So don't miss this best deal.
View Other Deals