Reverse auctions are easy ways to sell out the products you don't use any more. A reverse auction website can be a source of earning as well. While you can hold auctions regularly, you can introduce a membership feature and charge some amount as a membership fee.
If you are looking for an easy way to set up a reverse auction site, the themes and plugins are your options. Here, we have brought a list of the most popular WordPress reverse auction plugins and themes of the year. Go through the list, hope you will find at least one suitable for your needs.
What Is A Reverse Auction?
A reverse auction is an auction process where the sellers decide at what price they want to sell their goods. Unlike the traditional forward auction, in this type of auctions, the buyers place a request for a product. After that, the sellers start bidding for the amount they want to receive for their items. The seller who bids for the lowest amount wins the auction and his items get sold.
5 Best WordPress Reverse Auction Themes
1.Woo Auction
Woo Auction software is a responsive WordPress theme that helps you to set up simple, forward and reverse auctions on your WordPress website.
It offers you lots of customization options. You can easily adjust the bids, schedule the auctions manually and revoke the closed or unsold auctions.
There are custom currency options and multiple currency support. The theme is WooCommerce multi vendor compatible.
Features
Create and manage unlimited auctions
Assign categories to auctions
RSS feed for auctions
Relist closed auctions
Auto bid increments
Price – $47
2. iBid
iBid is a simple and responsive WordPress auction theme designed for marketplaces. It helps you to create stunning auction websites with your eye-catchy design and impressive landing pages. It comes with a multi-vendor auction demo.
You may choose from real estate, heavy machinery, auto, books, art, and charity. The theme supports all drag and drop page builders and WordPress auction plugins. It allows you to add testimonials from users to your site. It is WooCommerce ready and cross-browser compatible.
Features
Automotive auction
Electronics auctions
Countdown auctions
Real estate auctions
Numismatics auctions
Collectible auctions
Price – $69
3. Adifier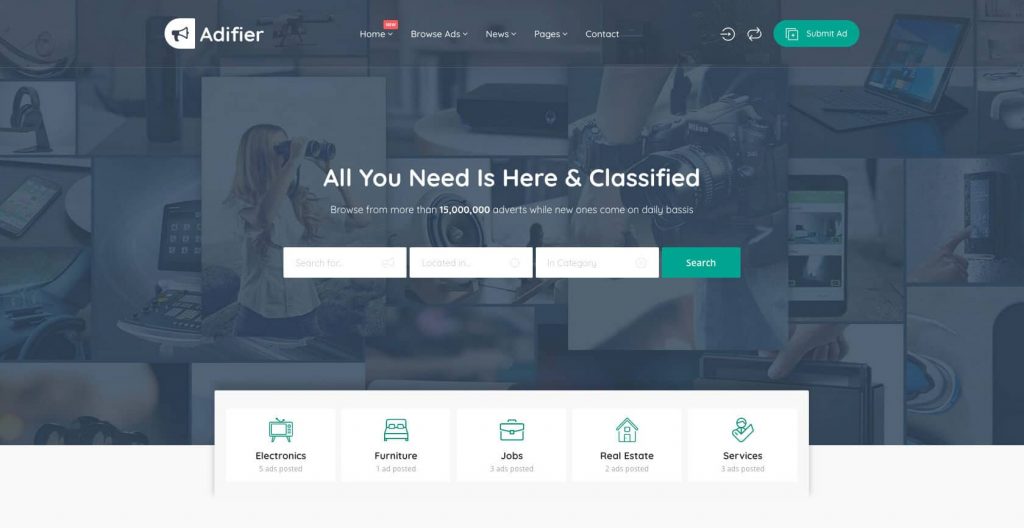 Adifier is an advanced WordPress theme for auctions classified ads. It offers you 14+ readymade demos. Each one has its own layout styles.
There is a calendar picker with a start and end date range. It helps you to schedule your auction as per your choice. Apart from this, there is a review button which the users can use to write their reviews.
The reviews can be displayed on your site only after your approval. Viewers may filter the reviews based on buyers' or sellers' types.
Features
Customizable auction
Ajax bidding
Support for multiple currencies
Chat & email messaging system
Multiple payment methods
Price – $49
4. Essential
Essential is a responsive auction and eCommerce theme for WordPress and WooCommerce. It comes with a flexible page layout, built-in Google fonts, and a user-friendly theme options panel. You may choose between two different homepage designs.
The theme has sidebars in widget areas and Google map on the contact page. It allows you to slide anything anywhere with the parallax effect. It is easy to install and customize.
Features
WooCommerce simple auctions
WooCommerce bulk discounts
Compare and wishlist
Custom login and register page
Custom checkout page
Price – $59
5. Auction
Auction is a powerful WordPress WooCommerce theme for car auction and listing. It helps you to set up an auction with a mobile-first design.
The rich editing features allow you to customize the theme as per your choice. You can change the site design with a few simple steps.
The smooth scroll makes the texts more readable. It improves user experience. The theme is responsive and cross-browser friendly. You can translate it into any language.
Features
Customizable auction
Easy bidding options
WooCommerce compatible
Enquiry forms
Twitter Feeds widgets
Well organized option panel
Price – $49
5 Best WordPress Reverse Auction Plugins
1.Woo Auction Software
WooAuction Software is a powerful yet user-friendly plugin to create forward and reverse auctions on your WordPress site.
It comes with a handful of special widgets to promote your auction. You can feature new, upcoming and ending soon auctions. There are secure user registration features.
Only registered members can place their bids. You can schedule your auction. It ends at the scheduled end time and the bidder with the lowest bid wins the auction.
Every auction item carries a "Buy Now" price. A member may directly purchase an item by paying this price without participating in the bidding process.The plugin is well documented and works well with all the WordPress themes.
Features
eBay style auction
Escrow Payment
Relist Auction
Bid Watchlist
Email notification
Price – $49
2. YITH WooCommerce auction
YITH WooCommerce Auction is a simple and easy to use WordPress plugin to set up an advanced auction system quite similar to that of eBay on your Woocommerce shop.
It allows you to sell refined products without affecting their market value by setting a minimum start price for increasing the profit. The plugin has options to create auctions with auto or manual bids.
It even lets you set secret auctions with hidden bids. There are hundreds of widgets, blocks, and shortcodes to showcase your auctions wherever you want on your site.
Features
Create auctions with "Buy now" option
Set the star price for the auctions
Set the start and end time for auctions
Add countdown for each product
Change the countdown style for all auctions
Price – $109
3. Auction Nudge
Auction Nudge is an advanced WordPress auction plugin. It lets you display eBay auction data live on your website. After you install this plugin, all the features automatically update and display all the recent eBay auction information on your screen.
You may sort the display order and select the display style of the listings. Users can filter display information by category ID and Keyword.
You can show only the items that are listed in a keyword category or match any keyword query. The plugin is not owned by eBay. It is a member of the eBay partner network.
Features
eBay listing
eBay profile
eBay feedback
Many theme options to choose from
Lots of shortcode and widgets
Price – This is a free plugin
4. WooCommerce Simple Auction
WooCommerce Simple Auctions is a feature-rich auction plugin for WordPress. It lets you control all the aspects of auctions on your site. You can display your auctions the way you want.
There are thousands of custom widgets to promote your auction. You may easily see the auction history in your WordPress admin. The plugin has an option for filtering the product list. It is fit for all the latest versions of WordPress and WooCommerce.
Features
Normal, reverse and simple auctions
Proxy or auto-bidding
Ability to verify credit cards and payment details
Supports any payment gateway
Set start and ending time of auction
Price – $29
5. Ultimate WordPress Auction
Ultimate WordPress auction is a modern yet simple WordPress auction plugin. It lets you create an auction on your site within a few minutes.
It allows you to show auctions in your time zones and reactivate the auctions that are expired. You can set a countdown timer for your auctions.
There are lightbox features to showcase auction images. You may add multiple product images and set a reverse price for all your auction items. The plugin is LocoTranslate compatible and PayPal integrated.
Features
User registration with credit card
Automatic, proxy and silent bidding
Live bidding without page refresh
Add auctions for future dates
Users can add auctions
Price – $79
Best Reverse Auction Themes: Conclusion.
A perfect WordPress auction theme is the easiest way to set up a reverse auction website. A plugin will allow you to add additional functionality to it. It will make it more attractive and engaging.
All the Reverse auction plugins and themes we talked about are well documented and user friendly. You can try any of them and build your auction site without taking help from anybody.
If you liked the article, please share it with your friends on Twitter and Facebook. Leave your reactions in the comment section. We would love to hear from you. If there is any question, please feel free to share it with us. We will get back to you soon.