Here is the article about the Best Divi Footer Plugins.
When designing the layout of your website, the footer area is an often neglected yet important section that enhances the visual appeal of your site.
To add a standard Divi footer to a WordPress website, you can use a footer widget.
However, while using footer widgets, you will have to restrict yourself to using the aesthetics delivered by the child themes layouts you're using. If you want to customize the Divi footer bar yourself, a Divi plugin (like the theme customizer) can come in handy.
Divi page builder is the topmost WordPress theme and the ultimate WordPress page builder that delivers exciting and convenient Divi footer layouts. Divi library page builder has some top-notch custom footer designs and layouts that can enhance the quality of the user experience.
It lets you build a hassle-free custom Divi footer bar without any fuss.
This article has compiled for you the best Divi footer plugins and default footer designs for your pages.
But wait, why do we need a custom footer?
Why is a footer section necessary on your page?
Often, users straight navigate to the bottom of the page, and in the absence of any navigation bar, leave the site in frustration. The user behavior is why we need to include well-designed footers in pages.
Also, It marks the end of the page, which incorporates the critical elements of the Divi website.
The Divi footer area is usually filled with necessary elements such as social media icons for social media accounts, a navigation menu, and links to related content.
Besides, it might also include the copyright details, logo, recent posts, blog posts, links, area to add comments, post, contact details, search widget, and so much more. You may even add an option to pin it on Pinterest.
Users know that the footer contains specific information, and they can directly go to it. Hence, you ought to create a Divi footer in the front-end design of your website.
You can enhance your custom footer using a Divi plugin and the Divi library. Additionally, you can design global custom footers for your entire site using the Divi builder.
Divi is the registered trademark of Elegant themes inc. It isn't just a page builder but a theme customizer and website design system.
Let's take a look at some of the best Divi layout plugins to enhance your website's visual appearance and style.
Best Divi Footer plugins For Your website
With the Divi plugin, you can build an engaging custom footer for your Divi website, one that will include hyperlinks, icons, a logo, and other important information.
1. Divi Footers Pack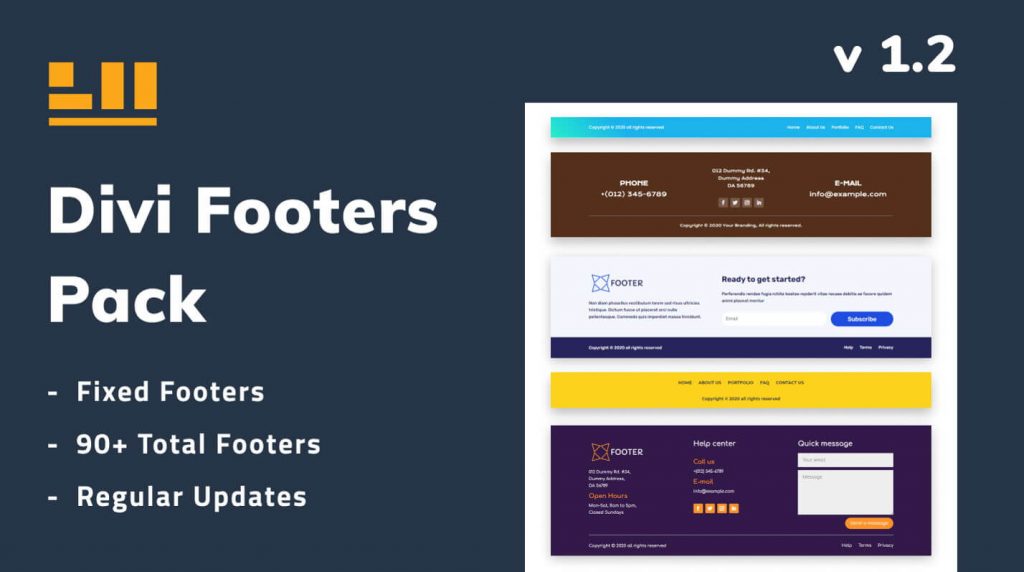 The Divi Footers Pack provides around 90+ of the Divi footer. They are flexible with the website functionality and fully customizable with the visual Divi builder.
Features
Shows useful links with the menu module: It will be a menu link to your "About," "Contact Us," "Pin it on Pinterest," and other pages to which you might want the user to navigate.
Provides 90+ full custom footer bars which work with the Divi theme page builder: You can customize them accordingly with the theme customizer.
The Divi footer design will be responsive, which means the design looks perfect on all kinds of screens, from mobile to desktop.
Imparts 45+ footer designs for your website
Provides fixed footer for the front end of your website: This means the custom footer will be set at the end of the page and hidden. When the visitors scroll down, it will show up.
Update designs regularly from time to time.
2. Divi Flexile Footer Layout
The Flexible footer layout plugin provides custom Divi footer templates and widgets with ultimate flexibility for your site. These templates offer elegant themes and improve the overall visual of your Divi website.
Features
Provides efficient and fast 30+ custom footer designs and widgets for your website
Templates are customizable. You can customize them according to your requirements and provide links in the
Divi footer using the theme customizer.
The footer layout is highly responsive. The Divi builder lets you use its templates with ease.
The pack comes with regular updates to enhance the visual of your website along with the trends. Divi builder updates all the default footer designs, which allow you to provide the users an ultimate experience.
3. DiviWP Footer Sections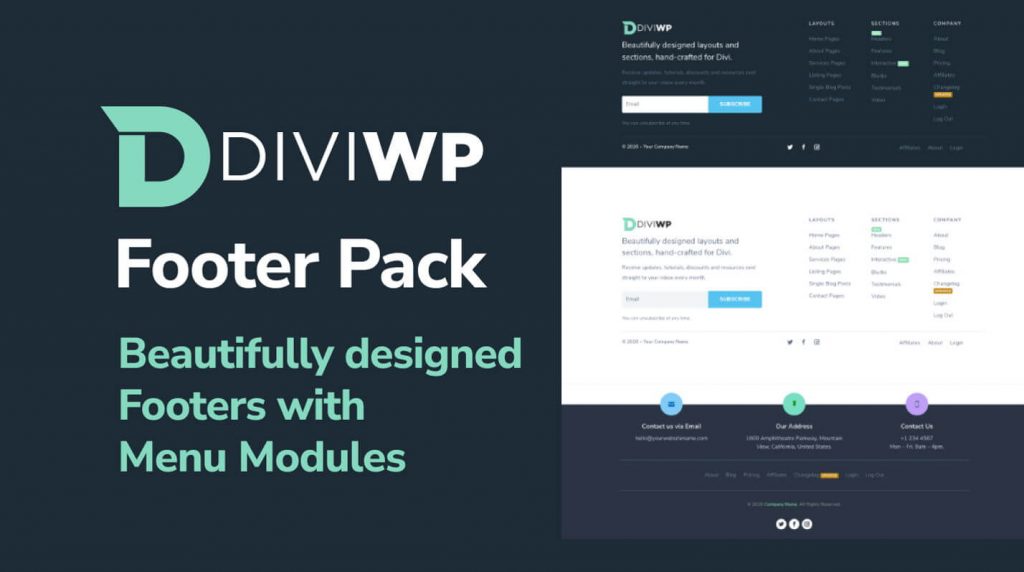 The DiviWP custom footer sections impart beautifully designed default footer templates with menu modules and a column. The footer also has built-in images, blurb, text, and social media modules.
Features
Includes custom code modules that ensure menu modules stay in place
Contains light and dark footer design themes for websites
Allows you to create sleek menu lists where each list item is a link to other sections and pages on your website
Permits to style the 'NEW' and 'UPDATED' pills used beside any new addition in the menu
Includes the 'Newsletter' widget wherein user feeds in email and subscribes to weekly/monthly newsletters
Includes Blurb modules that beautifully style your custom footer
Moreover, you can contact Divi to guide you with using the footer.
4. Divi Footer Layout Bundles
This ultimate footer bundle comes with over 115+ ultimate styles and a custom footer to improve your website's visual appeal in a unique yet elegant manner. It also provides an option to add custom themes, icons, a logo, and a widget.
Features
Provides global custom footer templates and elegant themes that are easy to use and set up.
Footer designs are fully responsive.
The documentation provides all details to set up the footer.
The installation is free.
Provides modern and clean footer designs for your WordPress website
Divi charges a one-time fee.
They lend lifetime support services to the users. You can contact Divi to guide you with installation activity.
5. Instagram Footer Design
The Instagram pack contains 14 minimalist global footer designs for your website. The footer combines the Instagram style with other elements such as forms, contact details, logo, widgets, and many more.
Features
Provide unlimited license to use designs over and over again for your blog posts
Each design comes with a black and white theme. You can choose a theme that goes with the surrounding color.
Using Divi controllers, you can change the typography and custom design your footer. The code is flexible to edit, and you can play around to customize the layout with the theme customizer.
The Instagram footer design is highly responsive that adapts well on any screen.
Why Divi Page Builder?
Check out our Divi builder review to fully learn about this theme.
Divi theme/page builder is a standalone WordPress plugin from elegant themes that allows users to build websites without knowing the nitty-gritty of development languages. Divi library has much to offer besides footer designs and ultimate elegant themes. It also provides beautiful child themes and you can buy this theme at 20% lifetime discount through this coupon.
You can customize an entire website using their intuitive visual controls.
Moreover, each of their Divi theme and default Divi footers is responsive in the blog posts. It gives you control over how the front end of the website looks. It imparts dozens of unique and free default page layouts that help you design its front end.
Who can use the Divi builder?
Divi builder is suitable for freelancers, agencies, and website owners. You can use Divi builder to build and customize a website on your own. It is easy to use and makes building faster.
To sum it up, Divi builder is for everyone.
However, note that the website you'll build will not be affiliated with nor endorsed by elegant themes.
Best Divi Footer Plugins: Final Words.
Divi is a registered trademark of elegant themes inc. The Divi plugin and Divi builder let you customize the header, Popup, Divi footer, and other content of your website. Besides, it contains various packs and child themes that amplify the style of your page.
You can choose any suitable and best Divi footer plugin, child themes layouts, and pack to improve the visual experience for your website visitors.