Do you want to make your Divi site more engaging? If the answer was a resounding yes, the Divi popup plugins are the perfect choice for your blog. Elegant Themes, the Divi product, provide you with best features such as Divi popups that you can add to the Divi overlay on your website.
So, be it a simple contact form, a video, or even text, the popup builder plugins for Divi has it all covered! Today, we will tell you about the five best Divi popup builder pulgins that will enhance the look of your website.
Some of these plugins come for a price. However, others are free. Take a look at these popups for Divi themes to make your WordPress site so beautiful.
Best Divi Popup Builder Plugins
Do you want to make your WordPress Divi site more appealing and user-friendly? In that case, a Divi builder plugin might be your knight in shining armor. Designed by elegant themes now lets you create popups on the Divi overlays through Divi popup plugins.
Users trigger the box using multiple trigger types, such as hovering over particular features on the WordPress page with the Divi theme. So, are you ready to create popups? Take a look at the following popup builders that will give your WordPress website a great appearance!
1. Divi Modal Popup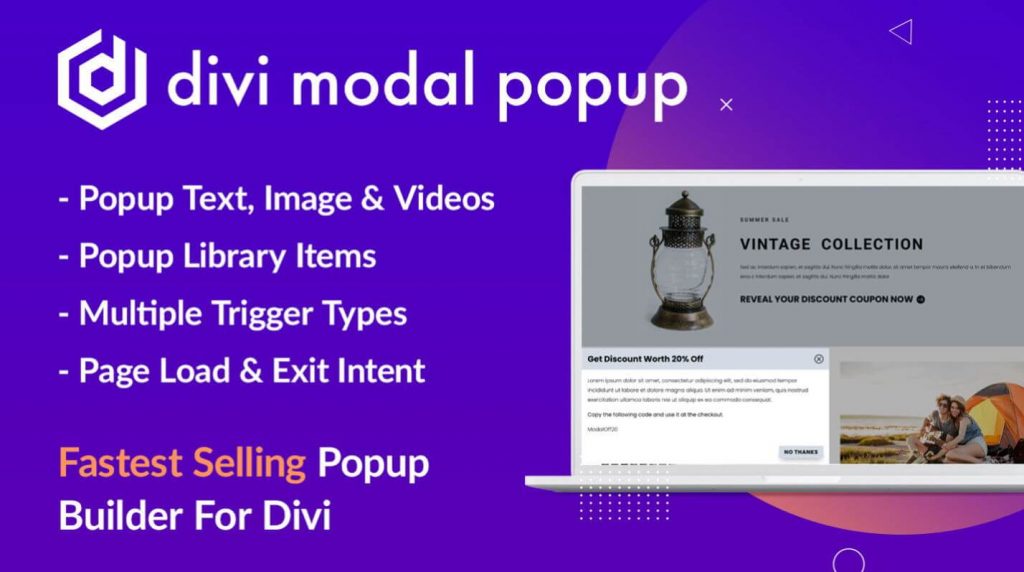 The Divi Modal Popup allows you to create a beautiful and engaging Divi functions. You can create lightboxs and multiple pop-ups on your WordPress website with the help of this modal plugin.
This modal plugin is one of the best WordPress plugins as it comes with numerous triggers for different popup types. Some of them are – time-delay, on-page load, and elements. This modal comes with varying kinds of triggers.
You can trigger this feature by clicking a button, image, form, or icon. A text trigger option entails a text trigger to open the popup if you click on the text. The trigger can also take place if any element has a CSS ID.
Divi Modal is one of the best popup builder for Divi because it comes with additional features like animation effects for the website. This modal plugin offers extra features such as custom styling options for the close button and trigger button.
This popup is not free and is valued at $29 with one year of support and updates and unlimited sites (usage), along with a 30-day money-back guarantee.
2. Divi Overlays Popup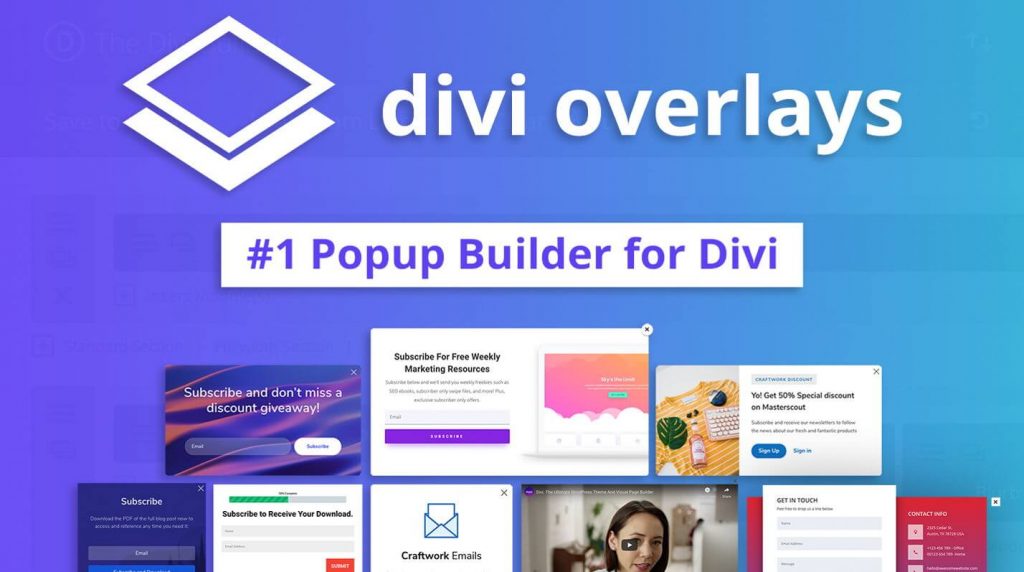 The Divi Overlays is known as the ultimate Divi popup builder. The Divi Overlays makes use of the Divi builder that allows you to create a full-featured Divi styles, Divi overlays, and much more. You can create any kind of popup that you want with the help of Divi builder.
Using the Divi builder is relatively easy as you are already familiar with it through your experience on WordPress. The Divi Overlays Popup offers loads of trigger types, including automatic and manual.
Some of the most common automatic triggers are timed delay, exit intent, scroll delay, and URL triggers. Divi Overlays also includes some eye-catching features such as animation, customization tool for the close button, and much more. Truly a great plugin, isn't it?
The Divi overlays popup is not free. However, it is currently priced at $55.30 after a 30% discount by Elegant Themes. It comes with unlimited sites usage on WordPress and a year's support and updates, along with a 30-day money-back guarantee.
3. Divi Slide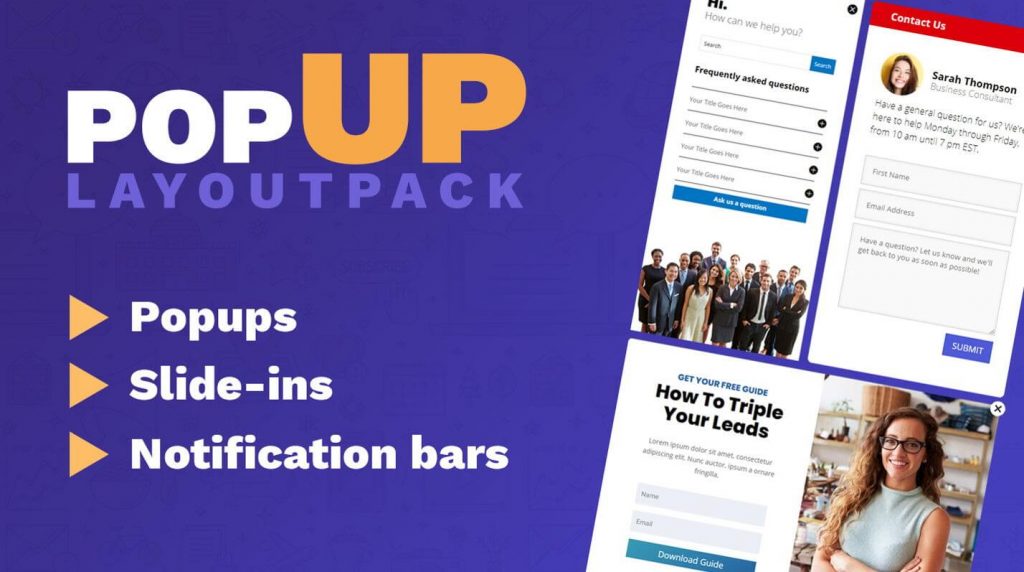 The Divi slide layout pack offers popups, slide-ins, and notification bars for your Divi theme on WordPress. You can customize all the on this pack within the visual builder. This layout pack, along with the visual builder, allows you to trigger the popups with a link, label, exit intent, or scroll.
You can easily use this add-on in the theme visual builder and use all placement options available. This layout pack is a great plugin as it lets you use any Divi module and customize the pop-ups. In this layout pack, you get five positions to show the new popup, including left, right, top bar, bottom bar, and full screen.
The great Divi Popup Layout Pack, which uses the visual Divi builder, is not free and is valued at $29 unlimited sites (WordPress) usage and a 30-day money-back guarantee along with a lifetime of updates.
4. Owl Video Section
The Owl popup video section makes using the Divi theme extraordinarily convenient and easy. In this plugin, Divi supports adding videos from your mobile or PC to the Divi overlays. This plugin allows you to customize and add custom colors to the buttons and background.
As a video section is essential for most WordPress websites, the Owl Popup Video Section publicized on Elegant Themes is a great solution to put videos on Divi overlays very smartly. You can customize all features in this plugin.
The Owl Video Section is not free but comes for a small amount of $4 with unlimited site usage, a 30-day money-back guarantee, and a year's support and updates.
5. Popups for Divi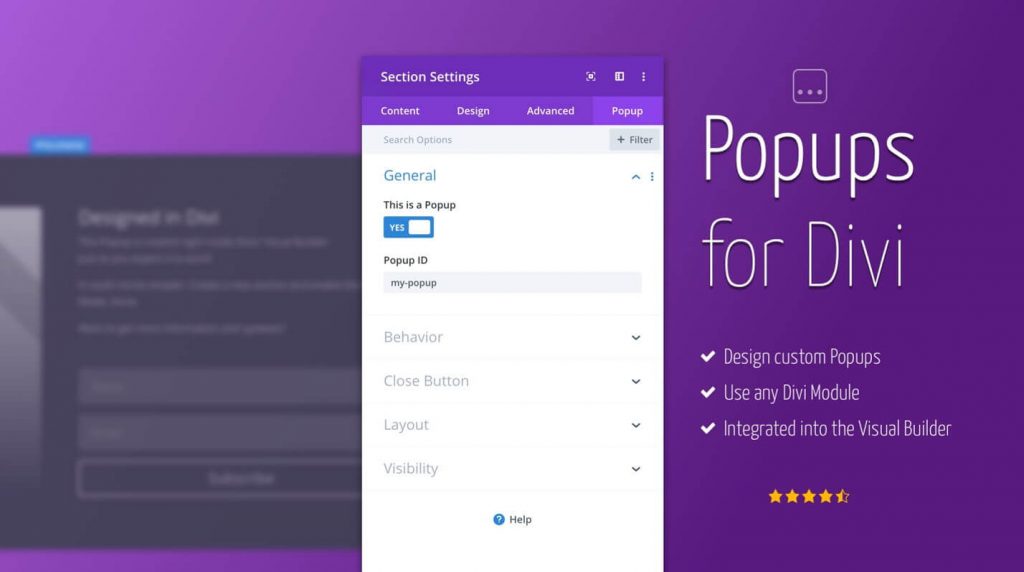 When using the Divi overlays by Elegant Themes, you can easily make any section of the Divi overlays appear more appealing. Among the many available templates, you can choose the best popup plugin Divi that supports your WordPress page.
The Popups for Divi plugin lets you trigger popups via links or buttons. You can even customize the close button. All these features are extendable by a professional JavaScript API.
These features, such as pop-up templates, customizing the close button module the custom background, don't require a professional. You can perform these functions on your own by installing this plugin without configuration. The plugin is readily available on the Elegant Themes website.
This plugin is free and offers unlimited website usage.
Best Divi Popup Builder Plugins: Conclusion.
The lucrative Divi popup templates with great features available for Divi overlays on the Elegant Themes WordPress website are truly helpful. You can also use this plugin Divi supports on Divi child themes on WordPress.
These Best Divi Popup builder plugins let you create a different appearance for the first popup and a separate one for the last one on your Divi page on WordPress. Not all plugins for Divi overlays are free.
These Divi plugins continue to showcase their impeccable features while you use them, even on child themes. You can easily trigger these popups, and their features as each Divi plugin offers a different trigger type.
If you require any form of assistance regarding the modules for WordPress Divi overlays, you can always contact professionals through contact forms given on the Elegant Themes website on WordPress. So, what are you waiting for?
Give your Divi page on WordPress an appealing look with the help of the fantastic features of popup plugins for Divi overlays.
Also Read: