Here is the article about the Best Divi Header Plugins.
Are you a WordPress user? If you answered a resounding yes, we are sure you already know what a Divi header plugin is. In case you don't, we are here to tell you all about it. Divi is one of the elegant themes product that are the most widely used on WordPress.
If you happen to be an Elegant Themes member, you can use the Divi layouts for a custom WordPress dashboard. The Divi theme comes with a wide range of pre-built websites. It even has its very own drag-and-drop page builder called the Divi Builder.
To extend the flair of the Divi theme, you can insert third-party Divi plugins into the site. These third-party Divi plugins let you enhance your website by adding features such as stylish layouts, hover effects, icon, logo, footer, etc., to the theme and the page builder (Divi builder).
Some of the plugins are created by Elegant Themes, who are the people behind Divi. The third-party developers design and create the rest of the plugins.
Take a look at this wisely curated list of header plugins for divi for your Divi space!
Special: Want to buy this plugin at 20% off? Then you should check this discount immediately for a great offer.
5 Best Divi Header Plugins
Elegant Themes has made it extremely easy for you to create custom websites with appealing hover effects, a child theme, a unique logo, custom headers menus, and different overlays through third-party Divi plugins.
You don't have to be a tech guru to know what plugins for a Divi theme are. A Divi plugin works in the same way as a regular WordPress plugin. These third-party plugins are installed into WordPress and work with a Divi theme to add new features to the website.
The Divi page builder allows you to create a fantastic and brand-new website without making a lot of fuss. Be that as it may, the Divi theme comes with unique features such as a theme customizer for your WordPress theme.
Some third-party plugins are available for free, while some are premium and come for a price. These plugins come in various sizes and shapes. A plugin allows you to create and customize your Divi website.
You can easily create custom features on your website while using the Divi builder. We have collated a list of the five best plugins for Divi headers to enhance your website. Take a look to find out!
1. Divi Headers Pack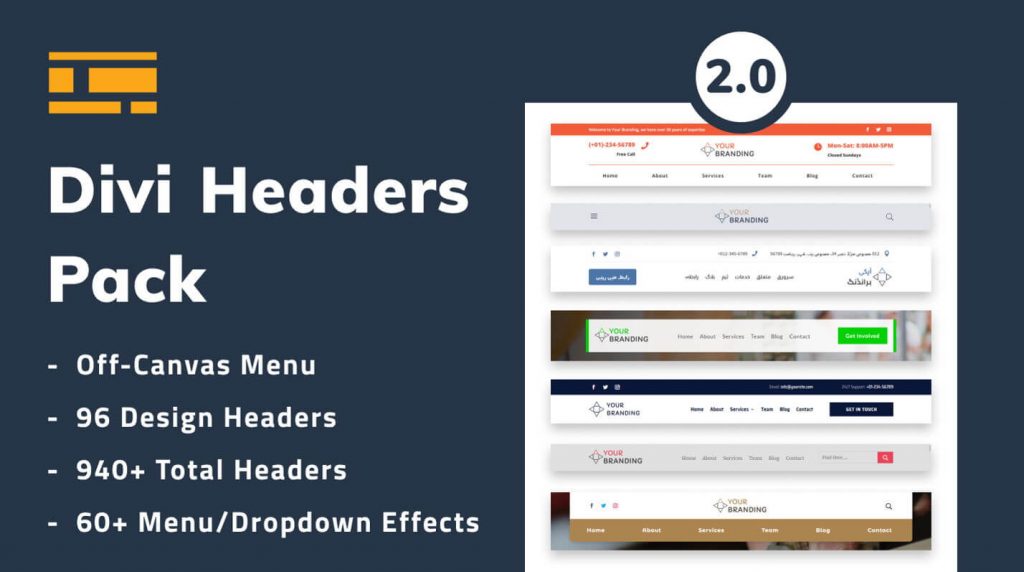 The Divi Headers Pack is a third-party plugin created by Dope Design. It is available on the Elegant Themes website as it is a trademark of Elegant Themes. It is one of the best Divi header plugins.
This Divi plugin comes with 920+ modern and creative header layouts and custom headers' menus. It allows you to customize your Divi website by choosing any layout. So, you can create custom layouts that match your WordPress theme.
The Divi Headers Pack is built with native Divi modules and comes with other lucrative features such as an off-canvas menu. Undoubtedly, it is a mighty header menu maker. It is responsive on all devices, including a mobile phone or the full screen of a PC.
It also offers 30+ menu effects. You get new headers each week with the Divi Headers Pack. Using Divi with this header pack ensures that your site is appealing to the visitor.
All you have to do is customize the layouts available per page and use either Divi's theme customizer or the Divi Builder to make your website look stunning.
One can purchase this plugin for a price of $39 with the unlimited website usage, lifetime updates, and a 30-day money-back guarantee.
2. Header Layout Pack
The Header Layout Pack is one of the best plugins Divi supports. The features offered in this plugin are something you can't miss. This plugin for Divi offers a collapsing mobile menu for all headers on Divi.
Guess what? You can easily customize these headers through the visual builder as per the Divi theme you use. This plugin ensures that anyone can view all the titles on the select page on a full screen and a mobile phone.
The recent update added ten new headers to the Header Divi Layout Package with the recent update. This plugin comes for a price of $9 with lifetime updates, unlimited usage, and a 30-day money-back guarantee.
3. DiviWP Header Sections
The DiviWP Header Sections plugin is an excellent Divi plugin. This layout offers incredible headers menus. This plugin provides great new features, including social media buttons. The built-in Divi Menu Module for menu and logo functionality is used for the header sections.
Button and blurb modules along with social media handles are also combined with the logo and menu functionality. The plugin for Divi has significant fade-in mobile menu transitions. The plugin is mobile-friendly.
The DiviWP Header Sections plugin offers a search icon to customize or switch off in the module settings. This plugin comes with Divi mega menus and support for the same. This plugin is also a mighty header menu maker.
It comes for a price of $19 with a 30-day money-back guarantee and lifetime updates!
4. Divi Flexile Headers Plugin
Divi Flexile headers are one of the best Divi header plugins because they offer features such as rotated and vertical menus, off-canvas slide-in menus, and a total of 50 different Divi header layouts. This plugin is compatible with any mobile phone, tablet, or PC.
With each update of this plugin, you will receive more headers and menus to keep your page trendy with different layouts. This plugin comes for a price of $19 with updates, a money-back guarantee, and unlimited usage.
5. Divi Headers Layout Pack
The Divi Headers Layout Pack might be the best header plugins that Divi supports if you're looking for more features. It is one of the best plugins for Divi because it offers excellent features and ensures that it is easy for you to use Divi. You can smoothly import the layout by using the Divi portability feature.
The layouts in this pack are responsive on all devices and are relatively quick as well! This plugin makes it very easy to change any image and content. One can purchase the plugin for a price of $25 with updates, a money-back guarantee, and unlimited usage.
Best Divi Header Plugins: Conclusion.
Agreed, a lot of thought goes into creating a website. But you don't have to know web design if you want to create websites or enhance your WordPress theme by adding a Divi header. You can easily create a website (including Divi) through plugins for Divi and by using the Divi builder.
So, don't worry if you are a novice at web design. Elegant Themes has done most of the work for you.
The difference between the multiple Divi plugins is the price variation that comes with each option. Many people use Divi on WordPress because of its robust features like adding overlays or a logo through the Divi builder or the theme customizer.
However, adding more appealing features through plugins to the Divi theme on WordPress makes using the Divi builder much easier. You can even store your favorite layouts in your Divi library or Divi space, which is the ultimate toolkit you will require.
With the list of Best Divi Header Plugins given above, we hope you can give your website on WordPress the beauty it deserves!