Here is my WP Legal Pages Review.
Running a website involves lots of challenges. On one hand, you have to be careful to match the expectation level of the potential customers, on the other, you have to make sure that all the features function well. Amidst all these, it is really difficult to keep an eye in the legal requirements of the site. It demands extra attention, time and effort. But, compliance with the cyber laws of the countries you have a business presence in is an obligation for you. Failing means penalty.
That's where WP Legal Pages comes into the picture. It is an advanced privacy policy WordPress plugin. Even if you are not a technical person, with this plugin, you can generate privacy policy and other legal documents on your sites within a few minutes.
In this article, we will review the WP Legal Pages plugin. We will take a deep dive into its features and examine all of them in detail. At the end of this article, you will be able to find out why you should go for the plugin and how it can be advantageous for you.
WP Legal Pages Review: An overview
WP Legal Pages is an elegant and powerful WordPress privacy policy generator plugin that helps you to create privacy policy and attorney level legal documents on your website. When starting a blog you can create your legal documents on your own without any difficulty within a matter of just a few clicks. It offers you tons of automated templates that you can import with a single click and create your document in minutes.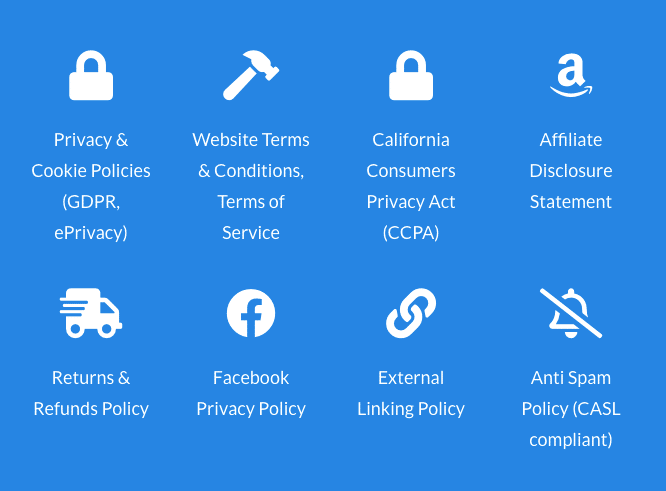 The plugin integrates well with the popular WordPress form builder addons to let you create your own contact forms, like Ninja Forms, Gravity Forms, Contact Forms and more.
You can display your privacy policy links next to the checkboxes of the WordPress form builder plugin you wish to use.
With over 10000 installations on WordPress.org, this WordPress Privacy Policy Generator is available in both premium and free versions. There are three different pricing plans available for the premium version –
Single Site – $39
5 Sites – $79
10 sites – $99
Important Links
Free Privacy Policy Generator Plugin
Pricing & Licenses
Documentation
Email Support
Installation & Activation
Here are the steps you need to follow to install and activate the free version of the plugin WP Legal Pages –
Download the plugin zip from WordPress plugin directory or Wordpress.org
Go to your WordPress dashboard
Navigate to Appearance -> Plugins-> Add New
At the top of the page, you will find the "Upload Plugin" button. Click on it.
Look for the "WP Legal Pages" zip and upload it
The installation process will start
After the installation is over, click on the "Activate" button to get the plugin activated
Create GDPR & California Privacy Policy now
To set up the pro version, you need to buy the zip from the official website of the plugin, club.wpeka.com. The free version needs to be installed first if you want to go for the premium version. Here are the steps you need to follow to activate WP Legal Pages Pro –
Go to your My Account section and download the zip folder under API Downloads.
Upload the zip folder and to your WordPress dashboard and enter the API key and Product ID that can be
found under the API keys section in your My Account area.
And Voila! You have access to 25+ legal templates.
1-Click And Generate A Templates In WP Legal Pages
WP Legal Pages is one of the best WordPress premium plugin comes with 30 readymade legal templates. All the templates are designed after consulting expert lawyers. You just need to import the templates, add your details, and publish it. The easy editing features let you edit the details of the published pages any time you want. Here is a partial list of the templates that the plugin brings along –
Free Templates
These are the templates you get with the free version of WP Legal Pages –
Privacy Policy
Data privacy is a major concern for every single person today. The privacy laws all over the world mandate a website to publish a privacy policy to make sure that they value the safety and privacy of the users. The pre-designed templates of WP Legal Pages covers websites and apps that collect or store user data and run Google Adsense Ads or Google Adwords.It also helps comply with GDPR and CCPA (California Consumer Privacy Act).
DMCA
Digital Millennium Copyright Act is a copyright law of the US that is a mandatory document for you if you deal with the residents of the US. It addresses the difficulties faced by the internet service providers of the US. WP Legal Pages lets you design a DMCA appropriate for your business.
Refund Policy Generator
If you run an eCommerce shop on your website, it is always a good practice to have a refund policy. It saves you from unnecessary claims and legal issues. WP Legal Pages plugin offers you readymade templates for digital goods refund policy. It is meant for downloadable products or steaming services.
Terms and Condition
Many times because of the misconducts of the users, the owner of a website faces many hazards. Often because of these issues, they end up losing some of their customers. To get rid of this problem, you can go for a terms and conditions policy. The plugin has a premade template for terms and condition pages. You can customize the design as per your choice.
Premium Templates
The premium version of the plugin comes with 25+ of pre-designed templates. Here are the major ones –
Cookie Bar Banner
Cookie bar banner is a legal requirement if you use cookies on your site. Privacy laws, especially GDPR, mandates a website to use cookie policy if it sends cookies to users' sites. You must obtain consent from a user before sending cookies. WordPress GDPR plugin lets you create cookie consent notices in no time with its readymade templates.
Create Affiliate Disclosure
If you participate in an affiliate programme, you must publish an affiliate disclosure. The purpose of it is to make it clear to your users that you will get a commission on a referred sale of the products you mention in your blogs. With the premium version of WP Legal Pages, you get a pre-designed and well-crafted affiliate disclosure template.
Medical Disclaimer
The medical disclaimer template is specially designed for health-related websites and apps that states in a clear and precise way that the tips website or the app offers are not to be used without consulting a doctor. It also makes it clear that the owner of the site or the app will not be accountable if anything happens using its advice. It saves you from numerous legal issues.
Anti-Spam Policy
The anti-spam policy is a must-have for any website. It ensures better security. WP Legal Pages anti-spam policy is especially for the websites that offer mass email and other messaging services.
External Links Policy
You must have an external link policy if you add links to or from other websites to your WordPress site. Since you have no control over these third-party links, the external links policy saves you from many hazards. WP Legal Pages is one of the rare plugins that offer you a premade template for external links policy.
Some Exclusive Features Of WP Legal Pages
Guided Wizard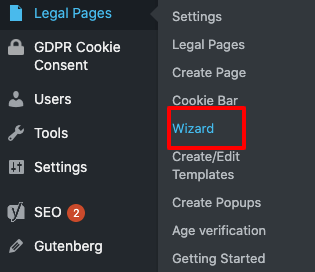 The speciality of WP Legal Pages is its guided wizard that lets you create and customize your legal documents without any difficulty. The contextual help that you get in the wizard section of the plugin helps you to design your pages exactly the way you want. It lets you match your legal documents with the requirements of your niche and tone of your website.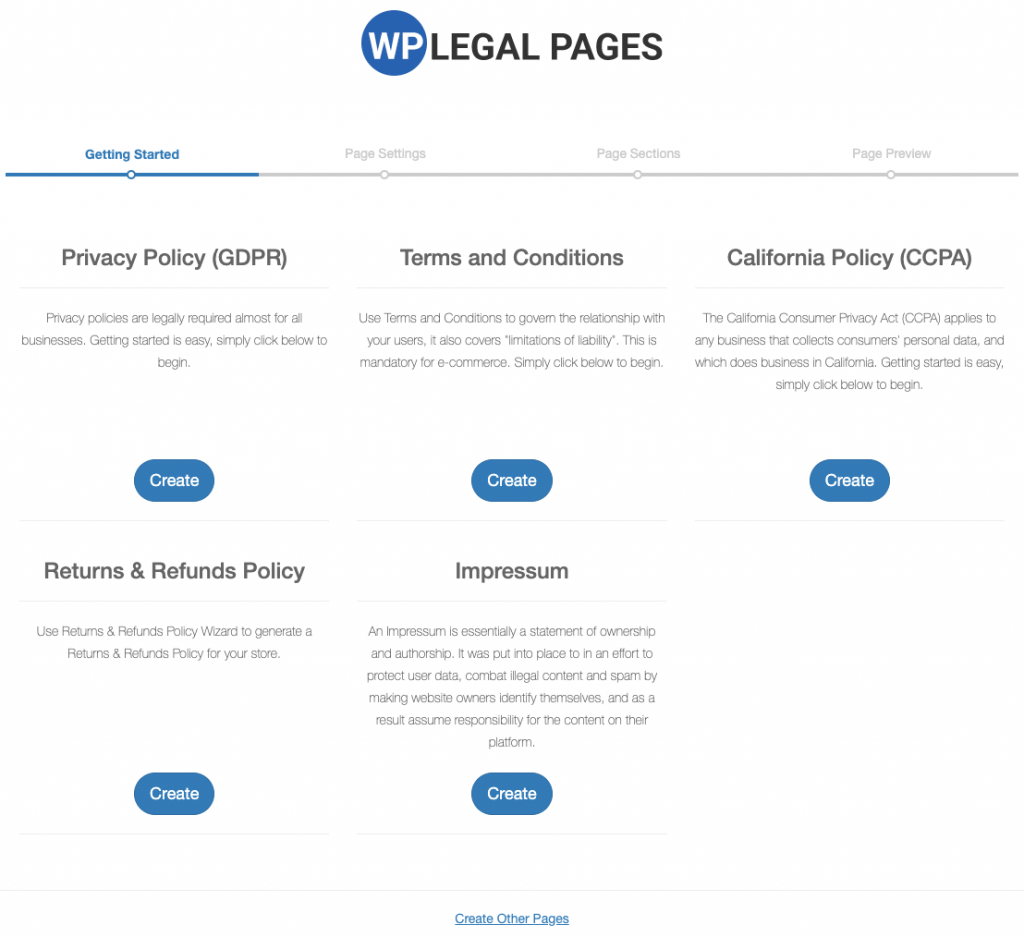 All you need to do is go to the wizard tab, select the policy template you want to create, fill in the details and click Create page. That's it! Two simple clicks and publish.
Here are the some legal template that you get with WP Legal Pages –
Privacy Policy (GDPR)
General data protection regulation is the new privacy law of the EU. The legal framework requires some specific sets of information in the privacy policy pages. WP Legal Pages wizard offers you a readymade draft. You just have to fill in the necessary information. Then you can directly publish the page.
California Policy (CCPA)
California consumer privacy act is a Californian legal framework. It protects the personal data of the Californian citizens. It mandates all the for-profit websites operating in California to publish a privacy policy. The requirements of CCPA are very different from GDPR. WP Legal Pages offers you a wizard with readymade fields designed specially to make your site comply with CCPA.
Terms and Conditions
The requirement of every website is different. As each organization deals with different sets of customers, the terms and condition policy needs to be created in a different way. But there are certain things which every business requires. The plugin brings along a term and conditions wizard with some generic fields. However, you can edit the details as per your requirements.
Returns and Refunds Policy
Every eCommerce store has its own refund and returns policy. You need to draft your policy based on your needs. With WP Legal pages you get ready to use wizards designed to suit all businesses. You can edit the details to make it suitable for your business.
Creating An Impressum
An Impressum is a legal requirement if you offer your products and services to the people of Germany. Creating an Impressum is mandatory and is not limited to your business presence within the German territory. The Impressum page carries all mandatory ownership details of a website. It adds more transparency and authenticity to your website.
To create an Impressum on your website with WP Legal Pages, you just need to go to the Wizard section. You will find the Impressum option there. Select it and add your business ownership details. Review the information and publish. Here's a short video to walk you through the steps-
15% Discount on WP Legal Pages
Create Legal Policies In 6 Different Languages
If you wish to cater to the global audience, it is better to add more than one one language. If you can deliver contents to target groups in their language, it will make your image in their eyes better. It will not just increase your traffic but also boost up the chances for conversion. The greatest advantage of using WP Legal Pages is it allows you to create your legal documents in 6 different languages – English, Spanish, French, Italian, German and Portuguese.
Generating a legal document with this user friendly plugin is a matter of just a few clicks. When you are all set to create your document page by visiting the wizard section, after choosing the document type, you will get an option to select the language in which you want to create the page. Just click on the drop-down menu and select your language. And, you are done. Fill up your data in the required field and click on the "Create Page" button. You will be able to come up with a page in your local language.
WP Legal Pages Review: Final Thoughts
WP Legal Pages is undoubtedly one of the best privacy policy generator plugins available for WordPress in the market. Hardly there is any other option which brings you such a long list of features designed specifically to cater to your different legal needs.
Once you install the plugin, the guided wizard helps you create legal documents with a few clicks without any hassles. Furthermore, there are lots of pre-designed legal page templates designed for different purposes and all the features are exclusively documented. This makes it exclusively beginner-friendly and easy to use.
Another interesting fact about the plugin that I must include in this WP Legal Pages Review is that it is well documented and has a free version for the beginners. It comes with all the necessary features that a small business site requires. Budget is a primary concern when you take any purchasing decision. You may begin with the free plan and then upgrade to any of the premium plans based on your needs.
So, if you are looking for an easy option to create privacy policy or any other legal page without taking help from any lawyer, WP Legal Pages Pro is your option. It is an all in one solution for your legal requirements.
WP Legal Pages Review
Pricing

Features

User Experience

Support