Here is the article about Best Divi Menu Plugin.
Familiarity with Divi and the Divi builder are both great aspects of your journey to blogging freely.
But what if we are to tell you that using the Divi builder along with a feature such as the Divi Menu plugin will better everything you do on your WordPress blog? Are you not surprised?
In that case, today, we will introduce you to the concept of the Divi Mega Menu plugin. What is this Divi Mega Menu that we're talking about? A Mega Menu is a website menu that appears on the front of the website as an extensive drop-down menu.
This menu helps you navigate through the different links that are available on your Divi website. A mega menu is likely to include icons, images, forms, WordPress widgets, tooltips, etc.
However, an essential feature of mega menus is that they display all the menu link options collectively in one place. This enhances your experience of using the Divi website altogether.
The unique feature of a mega menu ensures that visitors of the website don't have to scroll to the end of their screens on their mobile phones or desktop. They even work on a child theme Divi page!
Let's take a look at the five fantastic and best Divi Menu plugins for all themes that will lure visitors to your website.
5 Best Divi Menu Plugins
Whether you are using a Divi theme on your mobile phone or desktop web browser, creating a menu that eases navigation is always better. A Mega Menu plugin ensures that your blog or website features are available within a single drop-down menu.
Let's look at the five best mega menu plugins that Divi supports! and if you're looking for the divi mobile menu plugin free download here, you can't find any because these are premium plugins.
1. Divi Menus
Divi Menus by Don Divi is a powerful menu builder that offers you some of the most fantastic designs and popups that you can add to your Elegant Themes Website.
The menu you create on your webpage or site through the Divi Menus plugin can be used as a custom layout creator, grid, menu, or button within an image or a video.
The Menus is undoubtedly the most creative plugin which helps you create mega menus using the Divi builder. You can easily customize menus without being a coding guru.
With such multiple amazing features, this Divi Mega Menu plugin does not come for free. It is valued at $49 with the unlimited website usage, a year's support, updates, and a 30-day money-back guarantee.
Using this promo you can buy this Divi mega menu at 20% off.
2. Divi Mega Menu
The Divi Mega Menu enhances the design of your site by providing you with a more excellent and more accessible format for menu navigation. Using the Divi builder along with the mega Menu plugin elevates your efficiency as a Divi user.
The modules that help you along the way while you use Divi builder and the Mega Menu are mega drop-down and vertical tabs. The Mega Menu does not use any external javascript libraries as this bloats your site.
You can use the Mega Menu and let the Elegant theme builder create great mega menus for your websites. The desktop and the mobile menu are upgraded when you use the Divi builder and create mega menus.
The Divi Mega Menu is one of the great Divi products publicized on the Elegant Themes blog.
It is not free and comes for $49 with unlimited website usage, a 30-day money-back guarantee an entire year's worth of support and updates.
3. Divi Mad Menu
Divi Mad Menu is the most advanced Divi menu module. You can use the Divi Builder and the Mad Menu together to create headers on your page.
The plugin offers you seven header elements, including the desktop menu, logo, mobile menu, search, button and two, and a cart.
The Mad Menu plugin ensures that you don't have to create different layouts for different devices. The header layout you create through the Divi Mad Menu plugin for your desktop will look great on the web, phone, and PC.
The Mad Menu module is not free.
It is currently available at a 25% discount and is valued at $29.25 with unlimited website usage, a 30-day money-back guarantee, and one year of support and updates.
4. Divi Super Custom Menu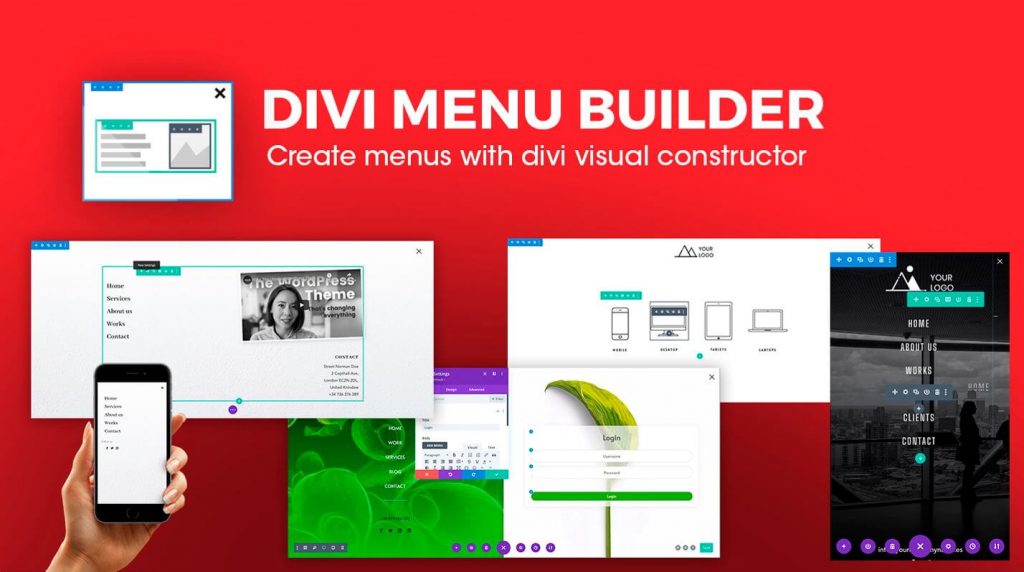 The Divi Menu Builder, like the other plugins mentioned above, is featured on the Elegant Themes blog owing to its great features.
If you want to create a custom menu with the help of Divi builder, the Menu Builder plugin is a great match for you. All you have to do is create a new menu and add any feature you want to it!
The Divi Menu Builder operates as a full-screen Divi menu and allows you to change the page's background as per the theme. This plugin also lets you add images and links to your mega menus.
The Builder module comes with amazing features such as different custom templates. These great features for your site don't come for free.
The Menu Builder plugin is one of the great Divi products and is valued at a small amount of $20.
It comes with a responsive support team for a year, unlimited site usage, and a 30-day money-back guarantee.
5. Divi Restro Menu
With gleaming reviews and a feature on the Elegant Themes blog, the Divi Restro Menu is genuinely a great plugin. This plugin makes it effortless for you to create a menu for your Restro business in no time.
With the help of the Divi Restro Menu plugin, you can easily create a restaurant menu with filter support. The Divi Restro Menu offers you two food menu layouts.
One layout lets the customer view the thumbnail alongside the description of the food, while the other describes the food below the thumbnail.
You can create multiple restaurant menus with the Divi Restro Menu plugin, such as a pizza menu, juice menu, menu for an ice-cream parlor, and many more!
You can use this plugin for much more than a Restro business. You can purchase this plugin for $39.
It will come with unlimited site usage, a year's support and updates, and a 30-day money-back guarantee.
Best Divi Menu Plugin: Conclusion.
All the Divi Menu plugins mentioned above have great reviews and a responsive customer support team. The team will ensure that all of your issues are resolved immediately.
Additionally, these best divi menu plugins work even on the child theme Divi site.
Many times, great mega menu layouts are found on Pinterest.
So if you find an inspirational mega menu layout, you can always pin it on Pinterest and recreate that layout with the help of the plugins we just told you about!
Also Read: