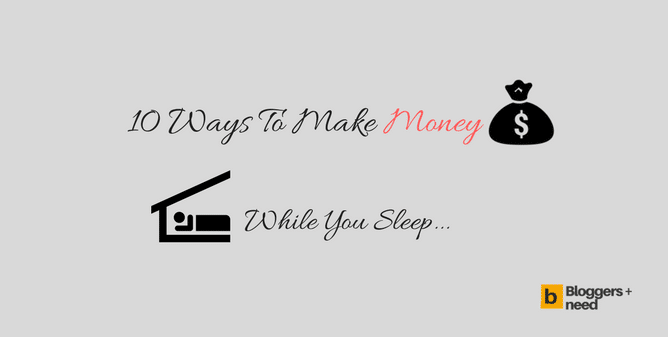 "If you don't find a way to make money while you sleep, you will work until you die."

Warren Buffett
I love this quote!
If being financially independent is your goal but, you do not want to invest much time and hard work then, internet is the key to your success.
Doesn't matter if you are a student or you already have a job and want some part-time income, through this article we will tell you about a few sources to genuinely get paid without wasting any time.
But before we get into it, you need to remember that a lot people try to find easy ways and often end up getting nowhere.
If you truly want to be successful, you want to be willing to work hard and add value to whatever that you are doing and then, these ways would definitely help you earn money online while you are asleep.
So without wasting the time, here are 10 excellent ways to earn money while you are asleep!
Make Money While You Sleep in 10 Ways
#1. Start a blog
Blogging is the best way to make money while you sleep.
To start a blog you need a computer and an internet connection and setting up a blog for free in itself is quite easy.
You can easily start blogging simply by registering with blogging platforms such as WordPress, blogger, Tumblr, etc. but before that you need to choose a niche that is easy to monetize and decide on a domain name.
Once you have opened a web hosting account, you can write on absolutely anything you want. In the beginning, you will require to build up your blog by investing time and putting in some efforts to bring in traffic.
Once you have successfully established your blog, you can earn through Google AdSense, affiliation, paid reviews or even direct advertisements.
Yes! Earn through it, even while you are asleep.
#2. Dropshipping
At a first glance this term appears to be quite complicated, but it's actually not. So what is dropshipping?
Through drop-shipping, you make money online while you sleep without putting away money from your pocket or holding inventory of any kind. In this process, you host a service wherein you drive the traffic to various ecommerce sites. Here you act like a middleman between the direct consumers and wholesalers.
You can purchase products from a wholesaler through e-commerce websites such as eBay, amazon, etc. The customer can find the product that you are selling on your website or can even find you on your ecommerce accounts, the only difference is that in this price you have added your profit.
Once the supplier has your product, they directly supply it to your customer. Your customer purchases the product or commodity in retail price, whereas you get it in wholesale price .
Throughout this entire process, you do not have to touch a single piece of inventory neither do you have to pay the shipping charges.
#3. Flip Websites
Here, you earn by selling your website to a buyer who is on a lookout for a well-built ready-made website.
You can either build or buy a website in order to sell it to the potential buyers. If you want to start from the scratch then, Initiate by creating your own website based on the niche of your choice.
You can even take a short cut by hunting down for for a website that is already generating revenue. The idea is to buy such a website for less than it's worth and then maybe work on it a little and sell it at a higher value.
You can easily sell your websites or domains on sites like flippa.com, empireflippers.com, etc. Once your website has enough traffic, you can even earn through google AdSense.
#4. YouTube channel
Setting up a YouTube channel is easier than rocket science!
You can start by creating a YouTube account and then starting a channel on it. You need to add valuable content to build that channel up. Once you gain a decent amount of subscribers to your account, then you can earn a great sum through it.
You can monetize your account. You can even run affiliation, referral programs, and sponsorships or even sell your own merchandise through your YouTube account. You can make up to 1$per 1000 views and up to 30$ through sponsorships and affiliate programs and it is one of the ways to make money while you sleep.
#5. Peer To Peer Lending
Everything thing can be done online today, and this method of easy returns is one such classic example.
Here, you can earn by becoming a direct investor and lending money to people. This is great for the borrowers but even better for the investors. This offers a great rate of interest to the investors. Way more than what you could make through your savings bank account!
In order to become an investor, all you need to do is fill out an application with online lending platforms. It's that simple!
#6. Affiliate marketing program
Have you ever thought about earning money by referring people to e-commerce websites by Affiliate marketing programs?
If you take a look at the e-commerce sites in India, you will definitely find a link to become an affiliate with them somewhere on the site. Let's assume that you have become an affiliate for Amazon, then, once you start bringing people to their site, you will get a commission.
But, how to get people to such sites?
When you sign up with them, you will get an affiliate link. You need to promote that link through your website or other social media platforms. When people click through your link to go to the site, you will get a commission.
And the best part about this is that you will get paid even if some other product is purchased through your link. How easy is that?
#7. Referral Programs
Even though the basic idea between affiliate and referral programs might seem similar, it really isn't!
Through referral programs, you can refer various websites or apps to your friends, family, or people who might have a closer connection with and get paid in credit points per referral. If someone signs up through your referral link, then you will get paid for it.
Unlike the affiliation program, here you don't have to wait for a purchase to get a commission.
#8. Create An Online Course Or An e-book
If you have a great idea or you have a particular set of skills, you can easily earn by creating an online course or an e-book.
You can sell your e-book directly online through your website or use third-party sites like Amazon.
If you have created an online course and published it, it is then automatically available for people to buy. You can sell the course on your own website or publish and sell it on market places such as Teachable.com, Educadium, etc.
This is a great source of passive income.
For example take George Brown he sells Google Sniper E-course Online money making course by that he makes tons of money. The course is legit and great way to make money through Clickbank.
#9. Sell Your Licensed Photos Online
If you love photography and you are an internet addict then, this is a win- win for you.
You can earn by selling your photos to different websites like Shutterstock, Fotolia, Bigstock, etc. By selling your photos to such websites, you can get a royalty every time your picture gets downloaded.
It's a great long–term income!
#10. Invest In Stocks And Shares Online
The easiest and the cheapest way to buy stocks and shares isn't the traditional way anymore! You can do it all online.
Once you have created an account with an online trading website, all that's left is choosing the broker, and then you can start investing.
However, you need to carefully study the market before investing.
Make Money while you sleep: Conclusion
In conclusion, there are ways to make money while you sleep. You can start a business, invest in stocks or cryptocurrency, affiliate marketing or do drop-shipping. No matter what route you decide to take, make sure you do your research and consult with professionals to get started. With a little effort, you can be making passive income and enjoying the benefits of financial security.  
It may sound like a fairy tale but after trying our steps above you might be surprised with your earnings. There are lots of ways that can help you start making money immediately (especially if you already have some extra cash on hand). Now go and try one of them to earn more!
These above-mentioned ways will definitely make you a lot of money while you are asleep!