Are you looking for an affiliate referral program with high conversion or up to $50 per signup?
What if say that you can earn $150 per signup by referring others through your referral link?
Yes, Shareasale Referral Program is giving $150 for each merchant signed through your link and also giving $1 for affiliate signed with your referral link.
For bloggers, Shareasale is one of the best affiliate programs to promote products online, so it is not tough part to promote Shareasale affiliate program.
You can earn money more than Google AdSense program.
Tips: Want to learn affiliate marketing? Then I highly recommend joining Affiliate Lab, the No #1 best affiliate marketing course on the internet. Click here to get 100% free training.
Are You Ready To Make Money Through Shareasale Referral Program?
So What's next?
The first thing is to create an account in Shareasale affiliate program.
Step 1: Creating account
Visit Shareasale.com and click "I want to promote This Merchant On My Website".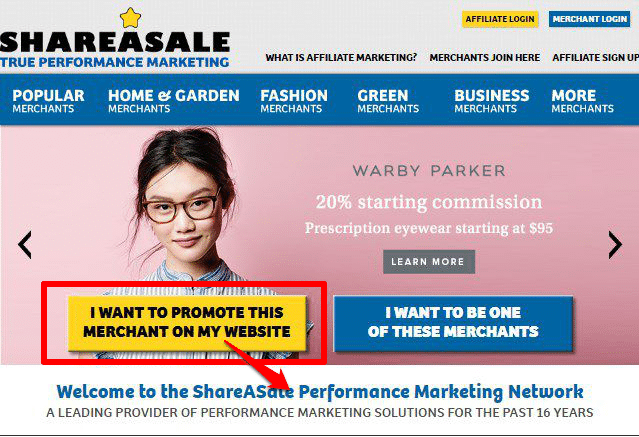 Step 2: Account Creation
After Step 1# you will see this screen and follow the instruction and fill the boxes with required information in the "Affiliate signup progress bar" and click "move on step 2″ and the process will complete after moving to Step 5 and accept the term and conditions and click submit.
#Note: Please fill the registration form carefully without any mistakes and fill with original information.
ShareAsale Team will review your Application and it will take 2-3 days to approve your account. Once the application has approved move on to step 3#
Step 3: Account Approval
Once your shareAsale affiliate account has been approved.
Go To ShareAsale.com and Login with your "USERNAME" and "PASSWORD". Once you logged in you will see affiliate account Dashboard.
Step 4: How to Get ShareAsale referral link?
To get ShareAsale affiliate account referral link follow this step and also provided with screenshot.
Click – LINKS – GET A LINK/BANNER and it will show you some search boxes to look for an specific merchant etc.
Don't do anything just set as like what you see in the screenshot and click "APPLY." Since your account is new to use and by default ShareAsale referral program is approved to all affiliates and merchants, it will show you only ShareASale referral program as approved merchants programs.
To get your shareasale program referral link. Click – "Get Links"
Your Shareasale referral link will be like " http://shareasale.com/r.cfm?b=232144&u=1329547&m=47&urllink=&afftrack= "
Actually this is my shareasale referral program link
http://shareasale.com/r.cfm?b=232144&u=1329547&m=47&urllink=&afftrack=
The above affiliate link looks ugly right?
To make the shareasale referral link even good or to look natural i use Thirsty Affiliates link Cloaker Plugin to cloak the affiliate links.
It cloaks the affiliate link inside and convert in to pretty links.
After using the Plugin the link looks like
https://bloggersneed.com/go/shareasale
After converting the affiliate links into custom domain links then move on to final step to make money online by promoting your Shareasale referral link to merchants by opening merchants account in ShareASale merchants programs.
Tips To Earn Money Through ShareASale Referral Program.
Place referral banners or links anywhere on your site or you can even send emails to your friends attaching the referral link with it.
Avoid sending spam emails.
Adults sites are not allowed so don't use this referral program on the adult site.
Or you can write an honest review about Shareasale referral program and place the referral link in the post.
When Will I Get Paid?
Once your account reaches the minimum threshold of $25, or more, you will receive a commission.
To open merchant account in shareasale.com
Merchants have to pay $650 one-time fees to get started.
$550 for one-time network access fees and $100 as a minimum deposit
CREATE AFFILIATE ACCOUNT CREATE MERCHANT ACCOUNT
ShareASale Referral Program: Final words.
So Hi, buddies by this ShareASale referral program post I have covered all about how to open an account and how to find your ShareASale referral link and additionally also taught how to convert the ugly link into the good looking custom link.
Next step, is yours follow this post step by step and mean time gather some ideas and start making money.
How much can you earn through ShareAsale Referral Program?
5 signups = $150*5= $750
10 Signups = $1500
20 signups = $3000
30 Signups = $4500
It is just a glance earning amount, and there is no stopping point or no limit to making money online with Shareasale referral program.