Is affiliate marketing legal? This is the question that comes to mind when you think about starting an affiliate marketing business as a part-time job.
Not only you, but everyone in the whole world thinks the same as you think.
It's not your problem because everyone who has less knowledge about the Internet will surely worry about it.
In fact when I heard about money making online by doing affiliate business, even I doubted the same. 
But after becoming a full-time affiliate marketer, I knew whether it was legal or not.
Let's begin 🙂
Is Affiliate Marketing Legal?
Affiliate is absolutely legal when it is done ethically. Here is something you should follow to run your affiliate marketing business legally and safely.
FTC Statement
According to the Federal Trade Commission, doing affiliate marketing is absolutely fine and a good way to promote a product or service when the product ad is truthful and not misleading.
But in rare cases marketers try to scam people by using false information and products that even exist.
So be always careful about what you promote and who you are promoting it to.
Companies allow affiliate marketers to promote their product on
social media like Instagram, YouTube, Facebook, Twitter, etc.
Blogs
Websites
Forums like Quora, Reddit.
If you're going to do Affiliate marketing, then you must follow these Affiliate marketing laws.
Affiliate Disclaimer
If you promote affiliate products on your website, then you must disclose this relationship to your readers.

For example, you might write in your disclosure: "This post is written by an affiliate partner of this website." or "The products mentioned in this post were provided free of charge by the affiliate sponsoring this blog."
You must say that "if someone buys product by clicking your affiliate link then you will receive a commission"
Every website will have an affiliate disclaimer, and even I have on this blog, check this page.
Trademark
Trademark is a serious issue, and you will get sued for using the other website assets without informing them.
If you are a beginner starting an affiliate website you will use the company logo, product pictures, their colors, everything. Using this is clearly illegal, and you will be removed, and your affiliate account will be suspended if your affiliate manager or related company notice it.
Some affiliate networks allow you to use logos and assets, but you must get approval from them.
Domain Copyright
You should not use a domain name which is already used by a company.
If you are using the same domain name as another affiliate program, then you will get sued.
If your website is removed or suspended by an affiliate manager because of trademark issue, copyright issue, use of a duplicate domain name.
For Example: If you are promoting hosting from wpengine.com then you should not use a website that has the word WP Engine in it.
Wpenginereview.com
Wpengine-discount.com
WPEngineproscons.com
If you use this type of domain to promote affiliate products then you will most likely get suspended or removed from the affiliate program.
Privacy Policy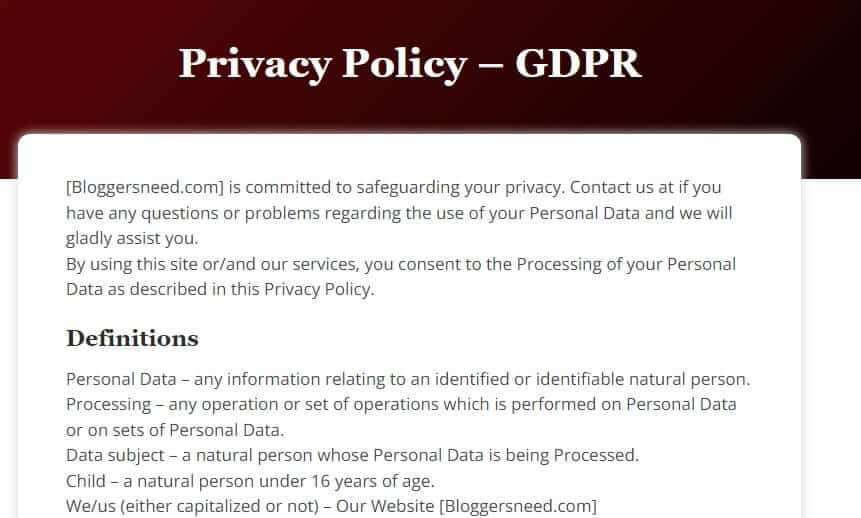 The privacy policy of an affiliate website should be clear and concise.
You should state that your website will not sell, rent or share your personal information with any third-party.
Some important points you should mention in your privacy policy are:
Who will have access to the data you collect through affiliate programs? -Will you share any of this data with third parties without consent?
What happens if we decide to end our partnership with an affiliate program at some point in the future?
You can find many good privacy policies here.
If you want to have privacy policy for your website, then just do a Google search for "affiliate privacy policy" or "affiliate marketing privacy policy" and you will find tons of articles.
Or check this article on how to add privacy policy to your WordPress website easily.
In addition, you should also state what data is collected from visitors and how it is used. You must also provide a way for visitors to opt out of having their data shared.
And finally, you should state what measures are taken to protect visitors' personal information. These are the information you must provide on your website in order to run affiliate marketing legally.
CAN-SPAM Act
The CAN-SPAM Act requires you to provide clear and brief information about how visitors can unsubscribe from your emails that you collect via opt-ins.
For example, you must state the address where visitors can send a request to unsubscribe from your email list.
You should also provide instructions in the form of a blog post on how to do this unsubscribe easily.
These are to be done when you are planning to sell affiliate products via email marketing platforms legally.
Website Mirroring Technique
Website mirroring is an old technique where the affiliate marketers will design a website that looks exactly like the original store.
If a user from a search engine sees this website for the first time, they will think of this website as the actual website and click the order now button that will contain the affiliate link.
When users click the button, it will take them to the original website, and after they bought the product, the affiliate will receive the commission.
This is absolutely illegal. It is not legal to copy the entire website or any significant portions of a website and use them on an affiliate marketing campaign.
Bidding Brand Keywords
Brand bidding on Google Ads or Bing or any search engine is absolutely fraud.
In this method, affiliates will bid on the brand name of the product by paying to Google. By doing it, Google will rank the website at the top of search results.
For Example: If you are promoting a product called "His Secret Obsession", you will bid on the term "His Secret Obsession" and hope to rank for that keyword.
However, this is an illegal practice as Google does not allow you to promote products using competitors' trademarks or logos without their explicit consent.
Doing so can lead to lawsuits, damages, and financial loss for you as well as your business. If you are caught doing this, it could result in serious penalties including a potential suspension from Google Ads.
Is Affiliate Marketing Legal: Conclusion
In the above I've cleared all your doubts about whether affiliate marketing is legal or not?
And I've said some important things that you should avoid running your affiliate marketing business legally.
So avoid those black hat methods always!
In short, in order to run affiliate marketing legally you must.
Follow the affiliate terms and conditions
Don't bid on brand keyword
Don't use product image, logo (Ask your affiliate manager to get advertisement ads)
Don't spam affiliate links on subscribers' emails
Use Affiliate disclaimer and Privacy policy