There are plenty of ad spy tools available in the market and some are good and some are worthless, some are cheap and some are costly. In that case, if you're looking for the best ad spy tool in the market then this BigSpy review is definitely for you.
BigSpy Review: The Biggest Problem Faced By Advertisers
According to the Statista report, the ecommerce worth is grown by 3.53 trillion us dollars and it will increase to $6.54 trillion dollars by 2020. This means the industry is booming right now and you are on the right track to success.
But it all depends on the first step which is picking the right product you choose if you choose the wrong product and wrong audience.
Then the following problem will occur
You will pick the wrong audience
Your ad budget will exceed
You will get zero sales or less conversion
You will close your ecommerce store
BigSpy Review
In my experience of social media advertising choosing the winning product and right audience is so much important and that's why I use BigSpy tool which makes my work more comfortable and a lot easier.
I will show you exactly how BigSpy tools work in this review. Let's begin.
What is BigSpy Tool Actually?
BigSpy is the ad spy tool that actually finds the top-performing ads that run on Facebook, Instagram Youtube, Twitter, Pinterest, and Yahoo. This fb ads spy software now has more than 650 million ad creatives and is used by 300,000 Internet marketers around the world.
In Fact, BigSpy has the largest ad creatives and intelligence database compared to other ad spying software.
In short, I will say who can use BigSpy tool, if you're in
Ad agency
Media buying
Social media marketing
Market niche analyzing
Product finder
Internet Marketing
Digital Marketing
And this tool will do the wonders and you will see in this BigSpy review, let's begin.
11 Pros I Found in BigSpy Tool
1. The dashboard
The first thing I liked about BigSpy is the UX design means the user interface of the tool. As you can clearly see the dashboard image which has the options to search for ad creatives.
The filter option lets you search for an ad by category, Country, language, device types, etc.
2. Check creatives inspirations from the daily updating database
Being a full-time affiliate marketer I sometimes struggle to create ad materials and copywriting texts. But thanks to BigSpy for having the largest database.
The database updates daily with inspiring ad materials that are performing well in all countries.
You can find daily ads based on countries, categories, and languages. Awesome right?
For this BigSpy review, I'm going to check ads that are running on twitter right now. Let's find ad creatives about ads about "education" which are running for the past 30 days in the English language.
Look what I found.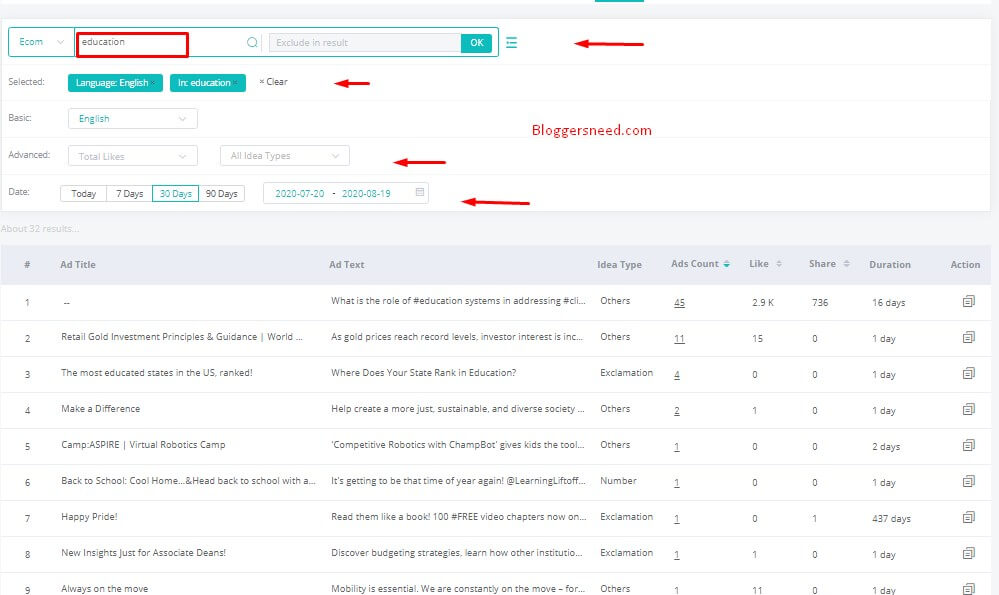 After searching the result I found thousands of ads running about education on twitter right now. To check ad creatives I clicked one of the ad accounts and I found more than 44 ad creatives.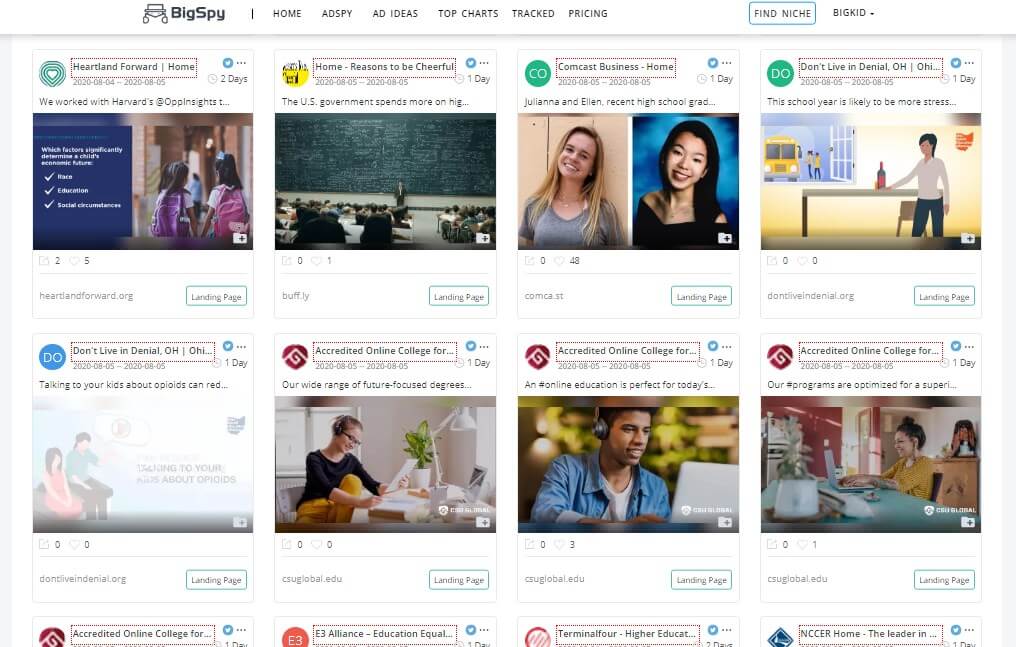 After clicking one of the ads shown it gave me the detailed structure about the ad and also it has the option to save and download the ad image.
3. Find Paid Ads Running By Affiliate Platforms
If you're an affiliate marketer and want to find ads running from different affiliate companies. BigSpy has the option to select affiliate platforms and you can check which offers are currently running by affiliate marketers like me.
To do this go to BigSpy and in the filter option and choose any one of the affiliate networks.
For this BigSpy tutorial, I'm going to find offers that are running on Clickbank and Maxbounty. The reason to choose these networks because I'm currently promoting offers from these two platforms and earning a decent income.
Now let's find out
Find ads creatives that promote Clickbank offers
To do this I'm selecting "Clickbank" from Affiliate network option
These are the setting I choose
Affiliate Network – Clickbank
Country – Australia
Language – English
Device Type – IOS, Desktop, Andriod
All Creatives- Image, Video, Carousel
Date – 7 days
BigSpy found the top converting offers, see the below image.
As you can see there are currently 4 Clickbank ads are running on Facebook right now and they are promoting Yoga burn and Lost book of herbal remedies.
Now I'm going to check Lost book of herbal remedies by clicking Detailed analysis option.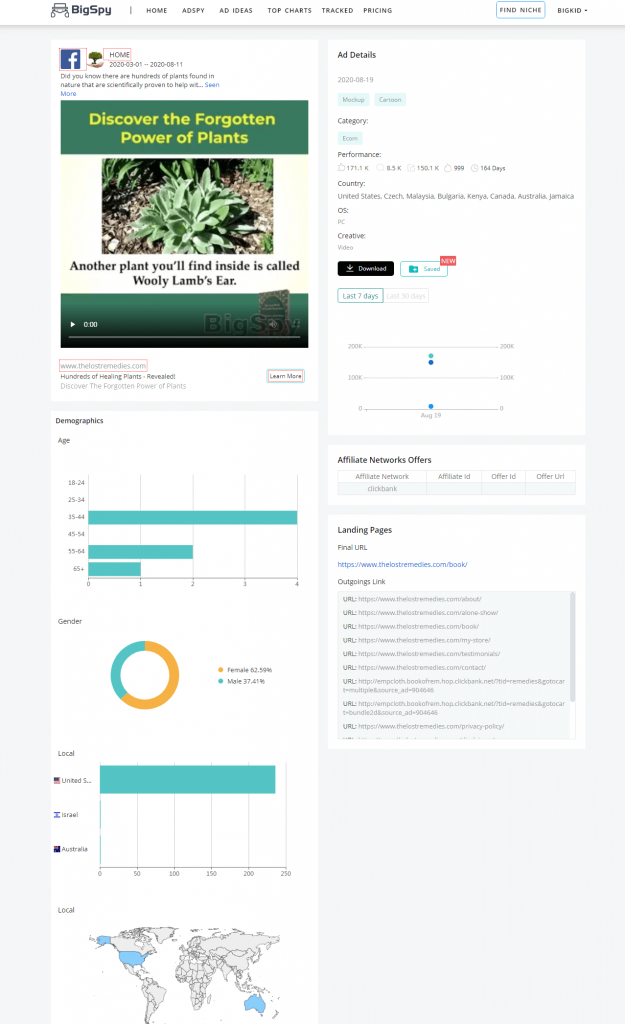 Now I got the demographics, ad creatives of this ad in detailed structure so I can duplicate this ad and run a campaign on Facebook and earn the affiliate commission.
So easy! Isn't it?
Likewise, I will find ads that promote maxbounty offers on Facebook or any other social platforms and promote it.
4. Track your competitors and spy on their ads performances
BigSpy has the useful option to track your competitor's ads which means now you are able to see the performance of their day by day like how many views, shares, comments, and clicks they got.
Here is my BigSpy ads tracker
As you can see in the above image the ad tracker shows the performance of my competitor ad which is helpful because I can decide whether to promote or not by using the user engagements.
5. Find out the demographics of targeting audiences
In this BigSpy review section, I'm going to find the demographics of ads on social media platforms such as Facebook, Twitter, Instagram, Pinterest.
Finding target demographics is pretty easy using BigSpy, all you need to do is put the product name or brand in the search box and hit enter.
Then ads will appear then click the ad and in the below section you will see the "Detailed insights" button just click it and it will show you the detailed picture of target audiences.
Facebook Demographic Example
6. Download ads materials for ads inspirations
BigSpy lets you download ad materials like image, video, and carousels easily by a single click.
You get the original quality of image without compressing ad image quality. You can keep these ad images for reference or you can use the same creatives for your ad too.
To do this click go the ad and click the download button.
7. Millions of ads ideas for your perfect ad texts
Are you struggling to find the best products or you need to see live examples of ads to get an idea?
Then BigSpy will search and generate an ongoing million live ads which are running on all countries across social media platforms.
To do it click the Adspy tab and type your niche or product on the search tab and click enter.
Within 10 seconds it will show you multiple ad ideas for your campaign.
I'm going to search for copywriting and selected language as English.
Within one click it showed me 1872 ads that are currently running on Facebook.
Facebook (1872)
Instagram (10663)
Youtube (13)
Admob (951)
Twitter (72)
Pinterest (88)
Yahoo (0)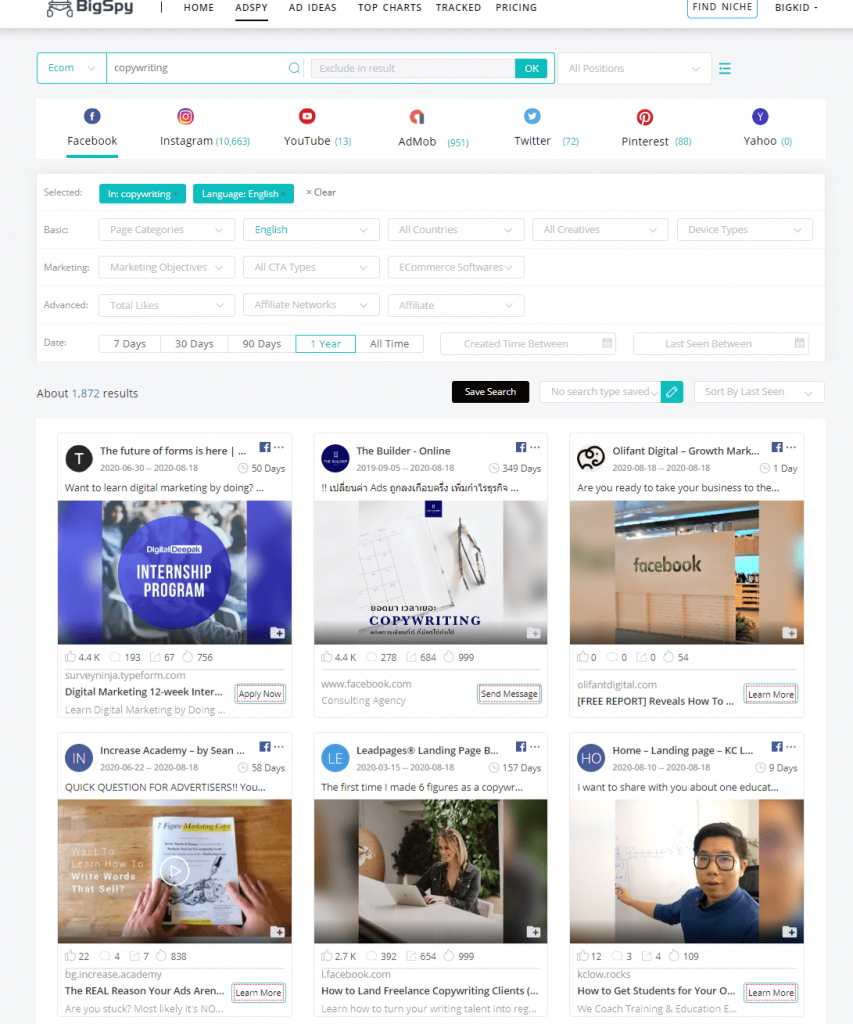 8. BigSpy Top Charts
This feature only available to the Elite plan users of BigSpy, If you're running a media agency or generating a minimum 4-figure income daily from affiliate marketing then you should test this plan.
Basically, this feature spies top-performing ads worldwide and shows exact ads running and industry ranks.
By using these top charts you can spy competitor ads and get their trending ads to duplicate or to make an ad like that with some changes.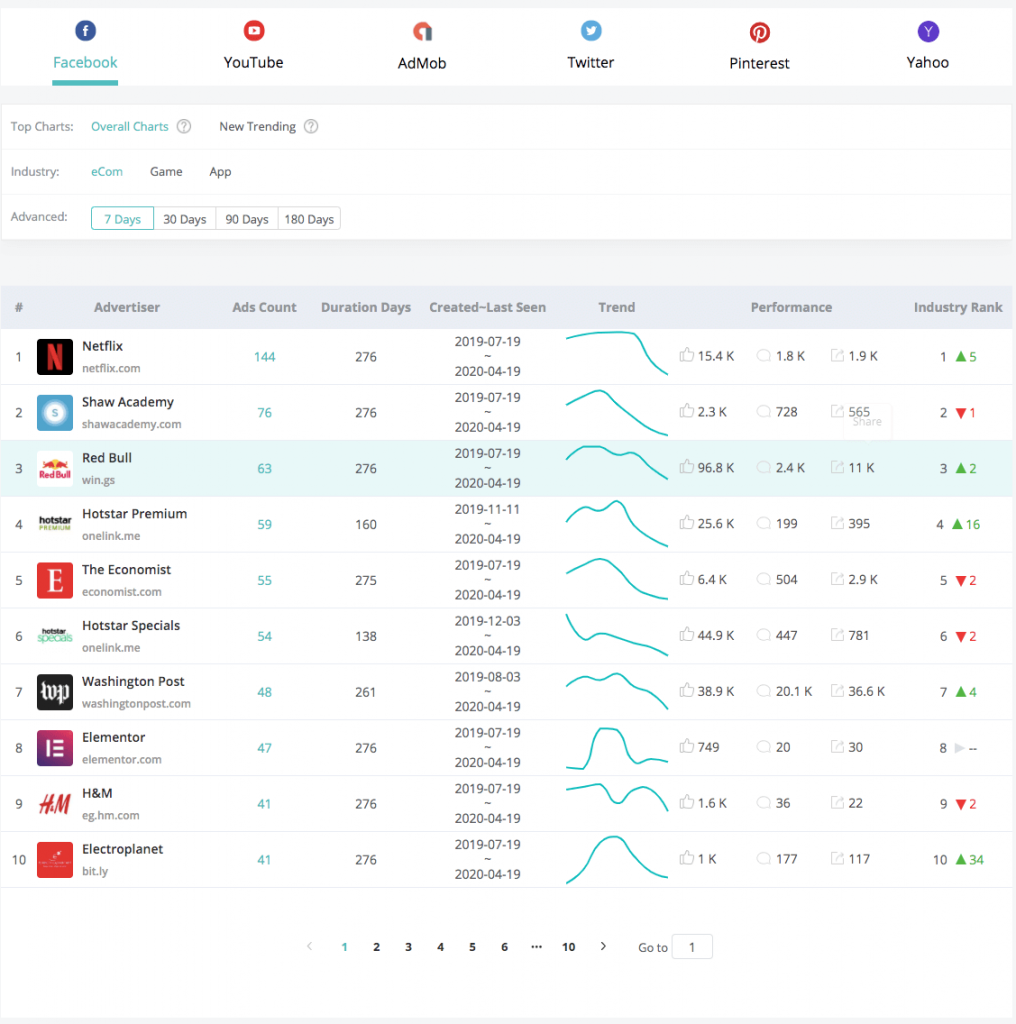 9. Self-track advertising performances
When you research your competitor ads you can save and track their ads and monitor the tracked ads up to 30 days to see their performance.
10. AdSpy in 1 Click – BigSpy Free Chrome Extension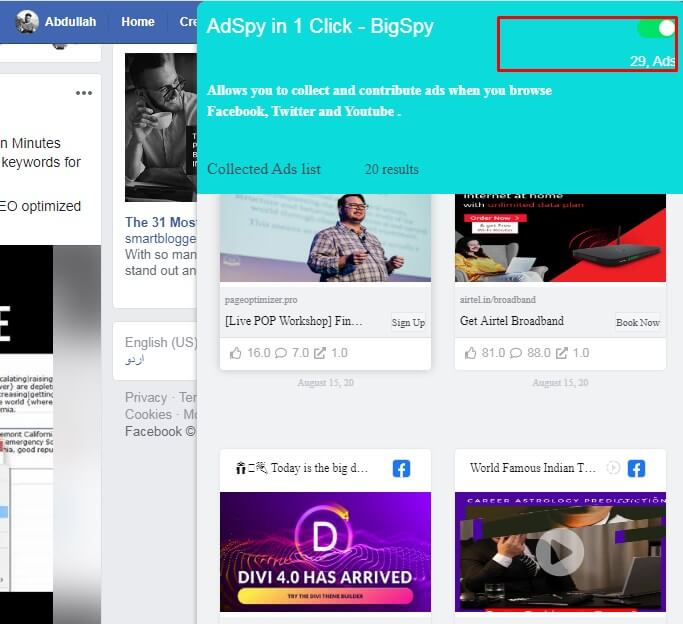 This ad spy extension finds and automatically saves the ad that comes when you browse on Facebook. Twitter and Youtube.
This tool basically collects ads that appear on your social network and sends the ad to their database.
You can enable or disable this option in the spy chrome extension tool.
11. BigSpy Pricing
The tool has 4 plans
Free
Basic – $9
Pro – $99
Elite – $399
These are the monthly charges you need to pay to use BigSpy tool.
Want to test this tool? Then give a try by using BigSpy free account or going to buy a pro plan then use our special BigSpy coupon code: Bloggersneed to get a 30% discount on all plans.
BigSpy Review: Conclusion
I took more than 6 weeks to closely analyze this ads spy tool to write this epic BigSpy review to tell my honest opinion about this ad spy software.
After trying Anstrex and Adspy, I can say that BigSpy is a good competitor ad spying tool with various features.
I have been using this tool for ad research for the past 3 months and I'm ok with this paid ad spying tool.
Now I understand why Neil Patel and other internet marketers recommend this tool to everyone.
BigSpy Review
Ad Database

User Experience

Features

Pricing

Customer Support