Having a website with medium traffic and looking to join best affiliate programs to make money online and when comes to join there are more than a ton of affiliate marketing programs live around the world.
Too many affiliate programs too much problems because I have seen some of the worst affiliate programs where they won't give you the commission for the sales by your website or blog.
So many affiliate programs! Which one do I need to join right now?
Guess what? You are in the right place to find out some of the best affiliate marketing programs already used by pro bloggers and digital marketers and also some of the top affiliate programs which I mentioned here are I am using right now to promote online products.
10 Best Affiliate Programs For Bloggers 2022
These best affiliate marketing programs are free to join, and you don't have to need to spend a penny to join this best affiliate programs.
1. Shareasale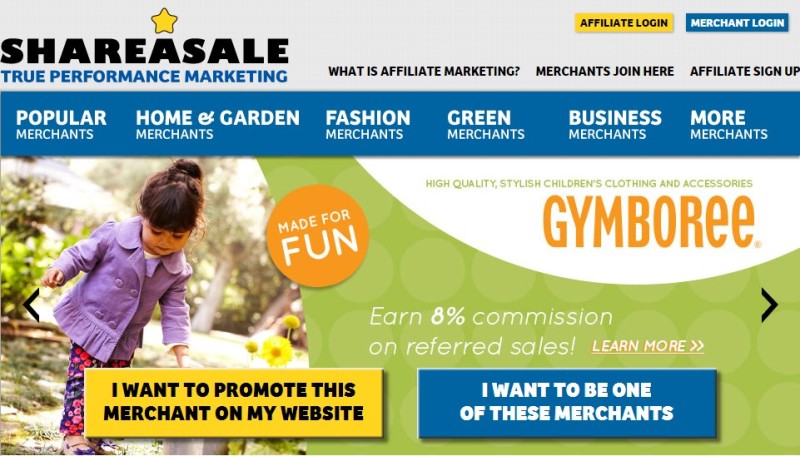 Shareasale is a Chicago-based company, and it is the No.1 best affiliate programs and most popular affiliate network with highest pay commission to all publishers and affiliate marketers.
Why I rank share sale as NO 1 because it has a large selection of boutique CPS offers over 3800+ merchant partners and a wide range of products covering every niche's so whatever your niche is you can easily find products based on your niche.
And affiliates use ShareASale to find products and promote them to make commission through it and use shareasale referral program to make decent income.
Pros:
Heavy discounts and offers on holidays and events.
With great deals with coupons and offers you can easily make your visitor buy the products.
It's a user-friendly program and easy to use.
Pay per Lead and pay per sale both programs are available.
Cons:
It is possible to join these best affiliate company if you have a medium traffic unless think before you apply to it.
Best know for: Blogging, Clothing, and Fashion, Food and Fitness, Technology, Dating, Book Publishing, marketing, etc.
Bonus: $7500 Commission Affiliate Program
Do you want to earn up to $7500 for one sale ?
Then Click here to join Now .
2. CJ – Commission Junction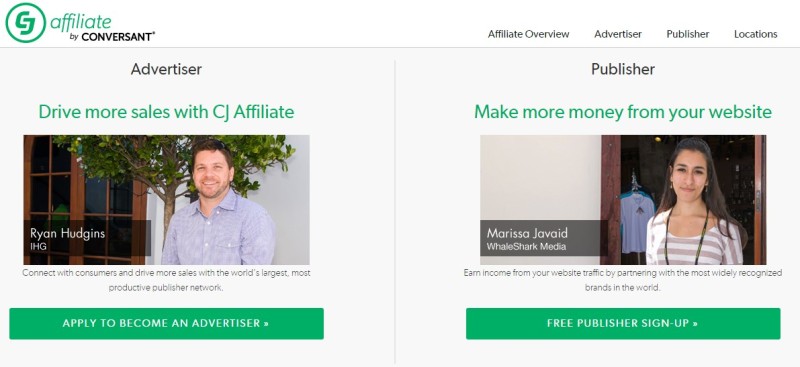 CJ has more than three thousand merchant partners and another best spot for bloggers especially those who are looking to promote web hosting on their websites. You can promote best web hostings like AsmallOrange, Bluehost, Inmotion hosting and there is around 60+ web hosting merchants in it.
If you are a fashion blogger, CJ got favorite fashion merchants looking for advertisers to promote their products.
With massive networks, it is considered to be one of best affiliate networks.
Best thing in CJ is you can quickly sign in as an affiliate marketer if you own a Blog with an average of 100 to 200 visitors daily.
Affiliate commissions are good and also uses 60 days cookies tracking policy.
Payments are monthly minimum $50 sent to the bank and $100 if you need by Check.
Pros:
CJ is a user-friendly program and it easy to use.
Cons:
Technical support is weak, or it is tough to get a response within a time.
Best Known For: web Hosting, Blogging, SEO products, Dating, Food products, Technology, etc.
3. AccuWeb Hosting

AccuWeb Hosting is a USA-based web hosting company providing a wide range of reliable hosting services at a low price globally. With over 18 years of experience, AccuWeb has emerged as a leading brand.
Their hosting services include Shared hosting, Reseller hosting, Cloud hosting, VPS hosting, WordPress hosting, Dedicated servers, Forex VPS, and many more.
Their web hosting affiliate program must be on the list of any affiliate marketer looking to earn a high income. They offer a multi-layer commission module where the minimum commission is $25, and the maximum commission is $200 per sale. In addition to that, they pay their affiliates a PPC commission per visitor transferred.
Affiliates can sign up for the affiliate program for free and access all the marketing materials such as attractive banners, text ads, text links, email links, etc.
They also provide training videos and knowledgebase articles to help beginner affiliates start their affiliate marketing career and help experts find new marketing strategies.
Whether you are willing to promote your affiliate links via your website, YouTube, social media, emails, or any other platforms, AccuWeb Affiliate is the best choice for you.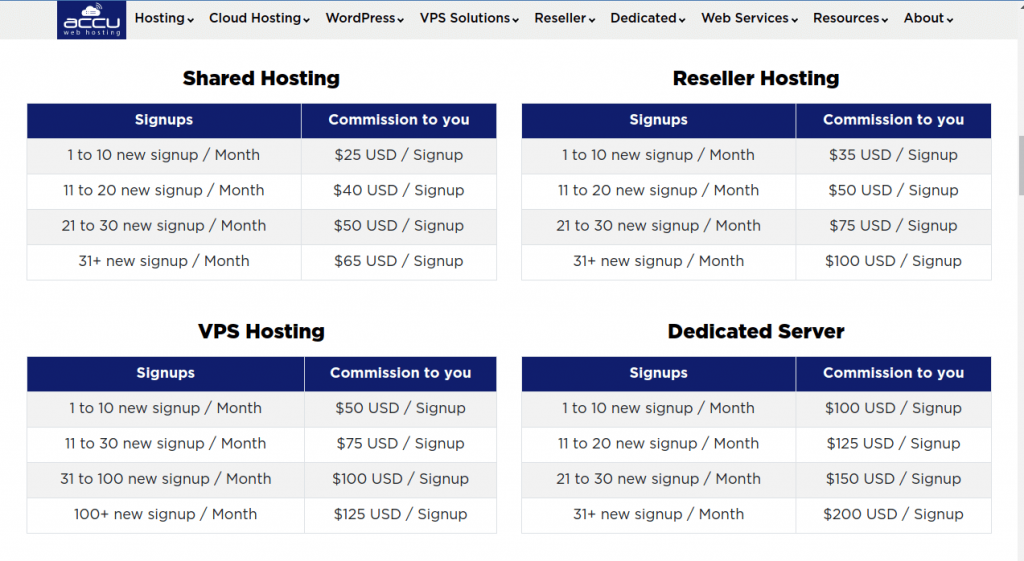 Pros
High commission rates of upto $200/sale
PPC commission
Marketing and Training materials
Extended cookie life of 90 days
Easy-to-use dashboard to track performance and earnings
Supportive affiliate team of experts
Cons
Competitive web hosting niche
4. Impact radius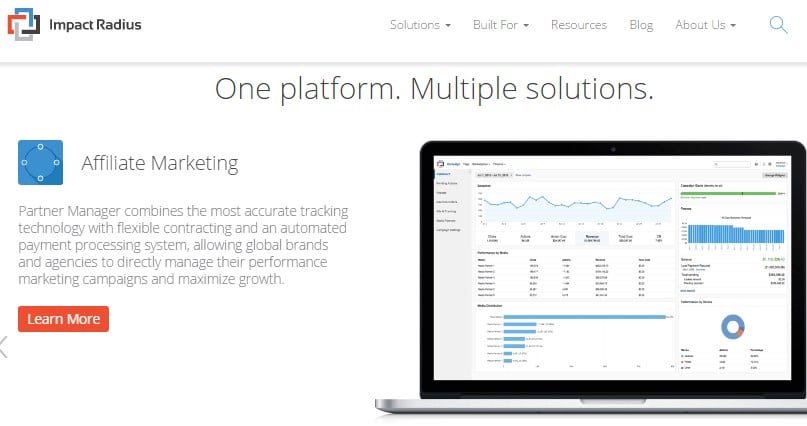 Imoact radius also the best affiliate program you need to join and it was founded in 2008 and become much popular because of its superb support to its users both merchant and affiliates.
Impact radius run by veterans who got the most knowledge in affiliate marketing networks and has more than 3000+ merchants
Pros:
Better support than Commission Junction
Automatic payment and auto monetization.
Friendly SEO links and banners in every size.
Commission rates are good.
Cons:
I don't see any cons to write about it.
Best known for: Cosmetics, financial services, Insurance, loans, sport, supplements, women, pets.
5. Avantlink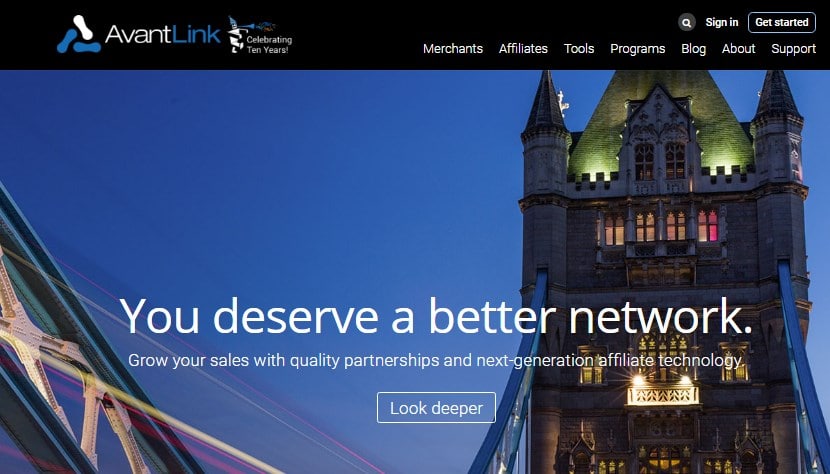 It was launched on 2005 and also the best source to take advantage of your website traffic by monetizing with Avantlink the best Affiliate program.
Yes, you can make your visitors into dollars by these best monetizing platforms, and there are lot amount of both small and big merchants who are ready to shake their hands with you.
Pros:
small and big merchants are available to sign with them.
Lots of features
Ease to use (simple affiliate tools are available to use which make your work simple and great kick start for beginners)
Robust features to maximize your affiliate earning.
Cons:
Customer support is the only thing lacking no other things.
Best known for: online services, dating, clothing, cosmetics, websites, marketing, etc.
6. Neverblue – Globalwide Media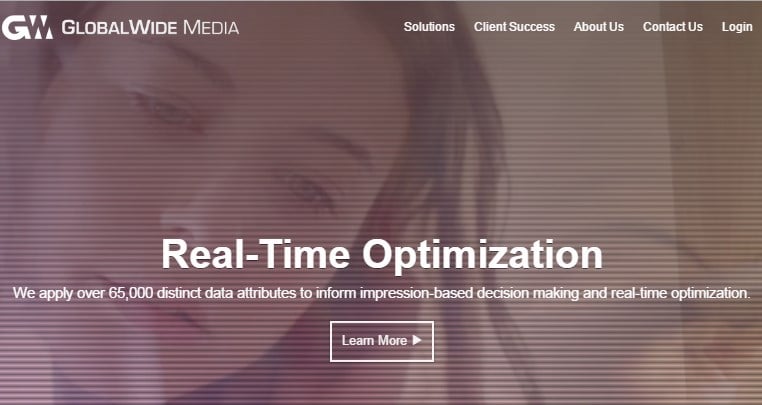 Neverblue it is one of the best affiliate networks famous for CPA, CPS, CPL programs and it is in top 10 list of best CPA networks and provides quality offers to its users of affiliates that's why you should join this best CPA networks right now and most trusted affiliate
With tons of mobile offers each day and If you are looking to promote CPA offers on your website it's a must recommended affiliate company to sign in.
Pros:
Sign up process is simple with a simple question asked by them to get in.
It has personalized tracking system to prove that they are the best affiliate organizations around the world.
Affiliate managers always available to support and help you to make the best revenue.
Cons:
I don't see any cons with them sorry.
Best Known for: Tons of mobile offers to promote (CPA, CPS, CPL)
7. Clickbank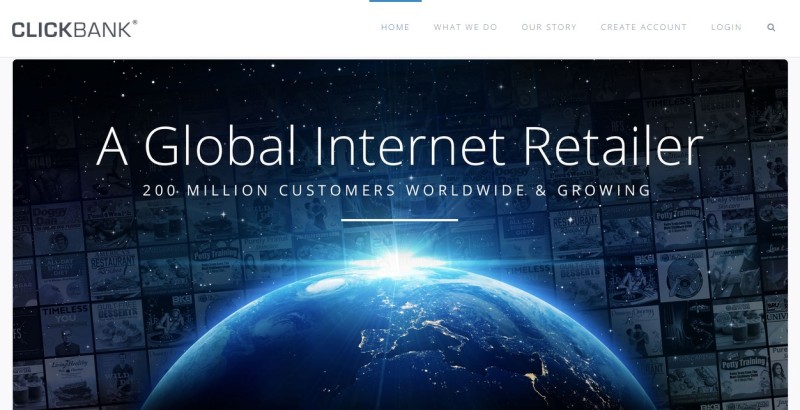 Here comes the best friendly affiliate network and every blogger and digital marketers would have been joined this best affiliate program at first.
To speak out the truth, this was my first affiliate program which I joined with some months of blogging.
Clickbank was founded in 1998 and has six million clients and distributors around 190 countries and labeled as one of the top affiliate companies in USA.
I am promoting Google Sniper from ClickBank and getting huge commissions from each sale.
Pros:
Easy to join within a day and user interface is good.
Has more than 50,000 individual products to promote.
Cons:
The worst part in Clickbank is fraud merchants or fake products
Many issued a case against Clickbank because after buying the products they see nothing but the scam.
Support also a big issue.
They will deduct a small amount from your commission as an admin fee which will break your heart.
Best known for: Health, Gym products, mobile, Parenting and Families, Home and Garden, Politics and current events, ebooks.
8. Linkshare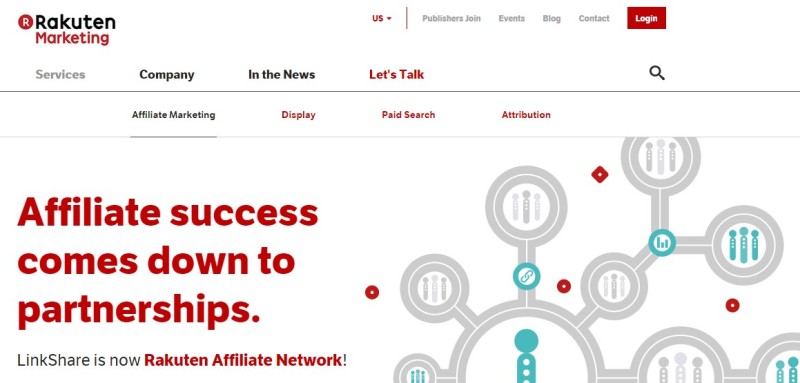 Linkshare also Rakuten affiliate network founded in 1998 and titled as one of the largest pay-per- performance affiliate marketing network also one of the best affiliate programs to enter as an affiliate marketer.
It has a lot of professional advertisers to sign with them and easy to use.
Bentobox is one of the unique features in Linkshare
It provided lots of varieties to users in their applications and designed to increase traffic thus increasing commissions.
It allows creating a tracking link with a just click of a button it will take visitors to advertiser's site.
Bentobox another feature is to create coupons which allow publishers to offers coupons for specific advertiser's again more sales so more commissions.
Pros:
You can easily get into it
User-friendly admin panel, robust support documentation.
Cons:
irregular payment schedules and merchants are very less.
Less offers for advertisers 
Best known for: ebooks, finance, business, health, financial services, Games and Toys, Gift and flowers, career, clothing, and computers.
9. Amazon affiliates program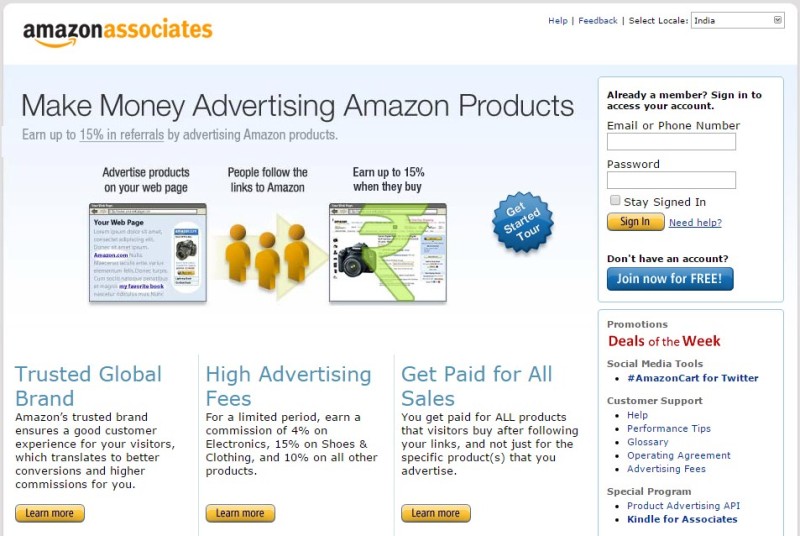 The most popular and best advertising program of all time you can make money advertising Amazon products on your web or blog.
If you are looking for awesome stuff like gadgets or music to promote your website go for Amazon affiliate program and their affiliate program pays you up 15% of commission of the sale depending upon the product.
To make money from Amazon affiliate program join Amazon affiliate program from here.
Amazon affiliate program currently available in these countries
USA Join here
United Kingdom click here
Deutschland click here
France click here
Japan click here
Canada click here
China click here
Italy click here
Spain click here
India click here
Brazil click here
Mexico click here
Pros:
It is one of the trusted affiliate networks in the world and has greater no of merchants and products which I can't count and day by day the advertisers also increases.
You can promote virtually anything.
Easy to join and user-friendly interface
Live traffic report and detailed analysis.
Cons:
Many affiliate marketers do not use probably because of their less commission rate compared to other affiliate programs.
For some niche, their commission rates are high but keep in mind I would not prefer Amazon affiliate program for all type of niches.
Best known for: Flood amount of categories covering all brands.
Read: Make money by selling Amazon products Using Facebook Page
10. Jvzoo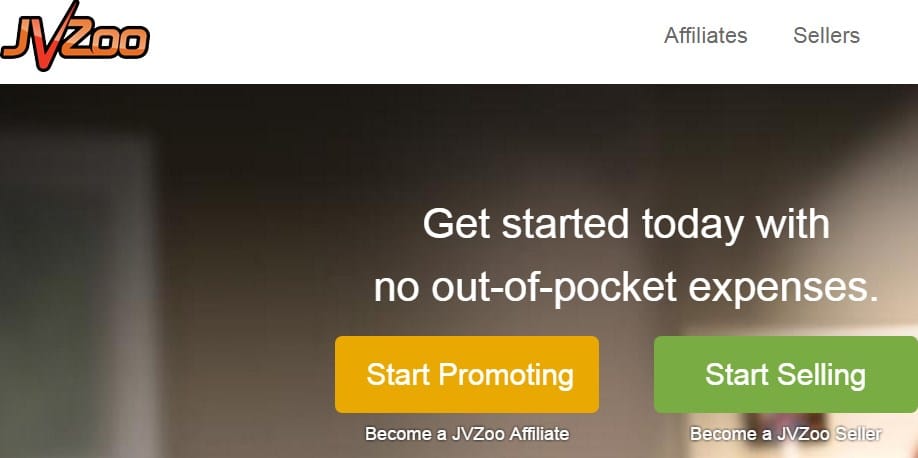 Jvzoo one of the best affiliate program for beginners and it is the best way to start your affiliate programs it currently offers many attractive products to promote with them.
I am a regular affiliate marketer in Jvzoo, and you can see many useful features in JV zoo and why would I recommend to you?
Pros:
Jv has a great resource that's fairly to start with and easy to use.
Becoming jvzoo publisher is very easy
Lots of tools extremely useful.
Payments are sent through Paypal where many affiliate programs don't have!
Instant payments.
Fast Customer support.
Cons:
The products are not categorized correctly in the user base sometimes I see "weight loss niches" in "cooking" category that's unfair.
Commission amount is fair.
Best known for: Business, Cooking, Education, Employment, Health and Fitness, Gambling, Internet Marketing, Software, Sports, writing and speaking.
11. Clickbooth

Clickbooth is an internet marketing company which works from Florida. It sells online advertising in both CPC and PPC formats.
It is also one of the fasting growing affiliate marketing company in the United States.
Pros:
Best CPA networks to join with and has elite partners you can work with.
Payments are regularly sent without any worries.
The Best affiliate program for mobile traffic.
Cons:
Joining is one of the serious issues, and if you are new to affiliate marketing world I would prefer to avoid this affiliate network because chances are less to get in.
Elite advertisers always look for elite users.
Without a lot of traffic don't apply to their affiliate program they will not accept your application.
Best advice is to increase your website traffic and then apply.
Best known for: mobile offers, email and zip submit offers, dating and financial offers.
12. LiveAgent
LiveAgent is a powerful multichannel help desk software, also rated as a #1 live chat software for SMB in 2021. It provides a ticketing system with a universal inbox, live chat, built-in call center, integration with social media, customer portal, knowledge base, and many other features and integrations.
LiveAgent also gives you the opportunity to use gamification features, spam & fraud protection, detailed analytics, various filters, SLAs, availability to use LiveAgent in 39 languages and others…
Affiliates will claim a $5 commission just for signing up for our affiliate program. It is always paid out in their first payout of earned commissions. They can earn a 20% commission from the initial payment and also a 20% commission of all recurring payments. The average conversion is 1:66. Commissions are computed from 92% of the total order amount because there is an 8% average fixed cost from every transaction. LiveAgent also provides you plenty of various affiliate links, banners, tips, and content materials. Payouts are made every month on the 15th and the minimum payout is $100.
Example:
1. A person signs up for our LiveAgent trial.
2. The person is visible in our system under your name.
3. Person upgrades her/his plan e.g. after 30 days with 5 agents on All-inclusive plan.
4. You will receive your commission = 5 agents x 39$ = 195$ – 8% of costs = 179,4$ x 20% = 35,88$.
5. The person keeps using LiveAgent for 2 years.
6. Your overall income is výsledok z 35,88$ x 24 months = 861,12$.
The average lifetime of LiveAgent users is more than 30 months.
13. Post Affiliate Pro
Post Affiliate Pro is a #1 rated and most reviewed affiliate software that runs your entire affiliate program from top to bottom. Post Affiliate Pro provides an intuitive dashboard for both merchants and affiliates makes it easy to navigate and manage your affiliate program. Businesses can manage their campaigns, commissions paid to affiliates, get detailed reports and much more.
Affiliates will claim a $5 commission just for signing up for Post Affiliate Pro affiliate program. It is always paid out in their first payout of earned commissions. They can earn a 20% commission from the initial payment and also a 20% commission of all recurring payments.
On average, every 66th visitor of Post Affiliate Pro website makes a purchase. Commissions are computed from 92% of the total order amount because there is an 8% average fixed cost from every transaction. Post Affiliate Pro also provides you plenty of various affiliate links, banners, tips, affiliate manager and content materials.
Example:
1. A person signs up for our Post Affiliate Pro trial.
2. The person is visible in our system under your name.
3. Person upgrades her/his plan e.g. after 21 days on Ultimate Plan.
4. You will receive your commission = 197$ – 8% of costs = 181,24$ x 20% = 36,25$.
5. The person keeps using Post Affiliate Pro for 2 years.
6. Your overall income is výsledok z 36,25$ x 24 months = 870$.
The average lifetime of Post Affiliate Pro users is more than 25 months.
Wrapping It UP
Dreaming of making money online is a good thing, and affiliate marketing is one of the crucial ways, and there are tons of best affiliate companies to join now.
But what if I say that proBloggers like HarshAgarwal(Shoutmeloud), Kulwant Nagi(Bloggingcage), Pradeep Kumar(Hellboundbloggers) are using these best affiliate programs and earning their revenue daily.
So it's up to you to make a perfect decision by joining these top affiliate programs.
And I thank you all for reading this post and wish to have a successful journey in affiliate marketing world.
If you know any best affiliate programs please comment in the comment section to include your choice in future.