FastPages landing page builder has been the biggest and fastest platform to push my business and brand at a speed that I never thought about. It gives you an edge over winning leads, outsmarting the competition, and to keep pushing the Return on Investments (ROI) constantly upwards. It is loaded with lots of creativity, business intelligence, and the smartest way to generate sales.
The primary reason for me to choose FastPages is to create a strong impression on my audiences about my brand and business. It is destined to remain forever as well as keep growing and spreading. The system uses an amazing technology that just keeps improving, every moment.
FastPages Review & Why i Choose it?
FastPages is one of the best landing page builder to build any type of pages and websites. By using it you can build a single-page website, portfolio, service website, training page, personal blog, etc.
In 2019, when I was surfing Facebook at midnight I saw an ad about FastPages lifetime deal where are they are selling a plan which allows connecting 5 domains and unlimited pages with 20k visits per month.
The deal was so awesome which I couldn't neglect and I bought it for around $50. Below you will see my subscription details of the plan I'm using it right now.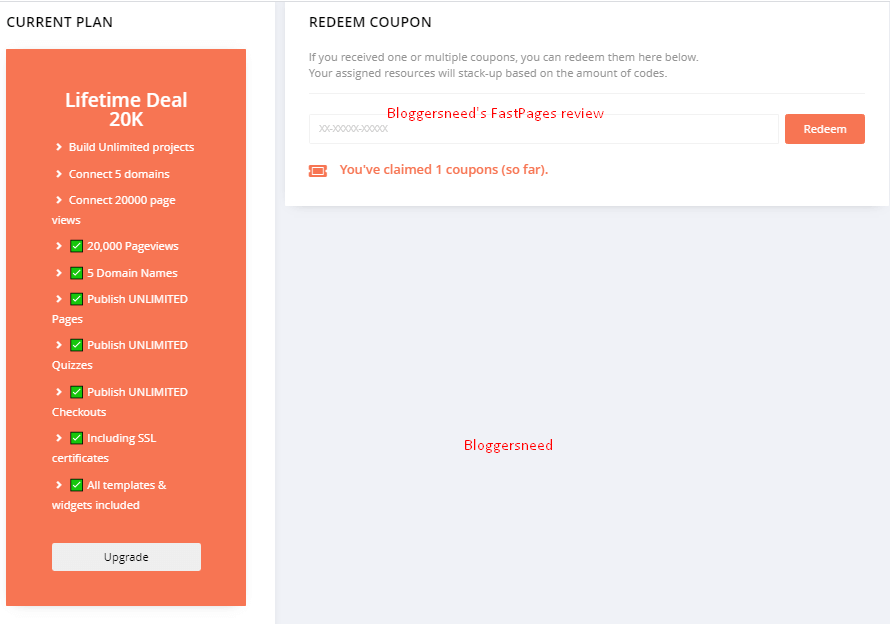 Another thing to use FastPages is, the price of the builder is so cheap compared to other landing page builders. Below is the price comparison between FastPages and other tools.
By looking it you can see the worth of purchasing this tool. And another good news is now they are giving 100,000 page views monthly with lot of new features and pre made templates.
You can check the FastPages coupon codes here
Grab FastPages Lifetime Deal now
FastPages Pros and Cons That Matters
1. Ultimate User Experience – Speed and Superiority
Landing page loading is not only the speed but also the initial visual impact on your audiences. FastPages create an unbeatable feeling of "wow" among your audiences which makes them stay on and continue to explore.
What I have seen among my audiences is an inclination to match their expectations with what the landing page offers. It comes from a deeper sense of connectivity, relativity, practicality, and simplicity. Some of the other notable features I have observed in FastPages are
Easy navigation
Greatest appeal
Create a sense of belonging
Clear understanding
Enhanced decision making (for the audiences)
Versatility is the other feature that makes FastPages to create an impressive user experience across multiple business domains. My domain has been photography and 3-D printing. FastPages has given me a solid platform from where I can make every campaign a success.
Below are my landing pages created using FastPages landing page builder and I get lot of benefits.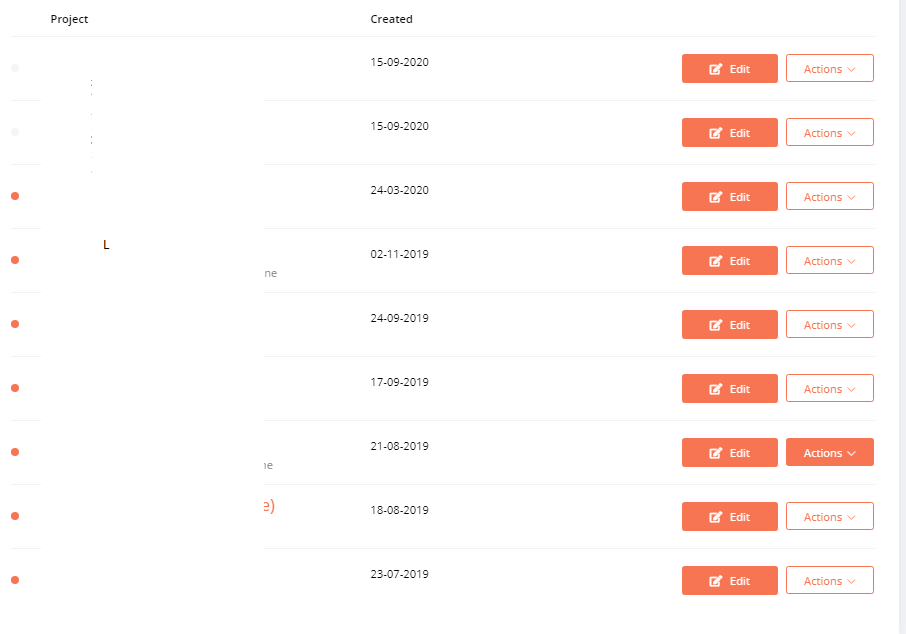 The visitors who came to my website have always come back for more. Not only that, but my site is also getting new visitor traffic, thanks to FastPages templates that have created a great user experience.
2. Versatile Business Support – Designed Just for Your Brand
Right now, you may be sitting and worrying about how to make your brand visible, familiar, attractive, popular, and sellable. Your brand could be associated with a product, a service, etc. FastPages website builder come with custom-designed templates for
Your specific business domain
Matching the needs and wants of your audiences
Improving website traffic
Creating opportunities for leads
Analyzing audience behavior and lifestyle
Delivering attractive web page designs and much more
As a professional blogger, I have found FastPages io to be highly flexible from the design of landing page template to content management, image positioning, page-navigation, and influencing audience behavior in all possible aspects.
I am sure you can find the best website builder at FastPages for fulfilling the aspirations and expectations of your audiences. This in turn can satisfy all your business needs, from the stage of boosting traffic to higher conversions and improved customer relations.
3. FastPages Templates – For Every Startup and Established Website
Templates are the lifelines of the web pages. You get an idea about how to choose the right kind of template that suits your business and brand. When I wanted to design my review website, these templates gave me the perfect picture with a professional touch.
The most striking feature I found in the FastPages template is its ability to capture the attention of the audience within a few seconds. Maybe it is the reason for the phenomenal increase in visitor traffic to my website within a short time.
The themes that relate to your website at FastPages are simple, yet powerful. Some of the features I found to be attractive are
Sensible background
Fine-tuning of back and foreground colors
Highly responsive design
Clear visibility of content
Close-up image views
Extra-space for captions
Placement of social icons is very important if you want to get the maximum possible links to the social-media. FastPages gives you a personal touch to the design and placement of these icons based on the structure and content of the landing and other web pages on your website.
4. FastPages Landing Page Editing – Perfect Professional Touch
The biggest advantage of using this website builder is you can edit the template design by yourself. It is simple, professional, and fast. You know, it comes with a vast range of tools for the text, image, custom-HTML, shapes, lines, color-schemes, background, foreground, layout, and many more things.
Editing the images and photos needs expertise. Sometimes you may find it delicate and confusing. FastPages offers you a whole range of photo editing options from cropping, color-editing, object-selection, optimization, lighting, etc. As a professional affiliate marketer, I have found many tools that can help in
Image and text integration
Enhancement
Orientation
Frame editing
Adding overlay
FastPages gives me the freedom to edit my web pages by adding special characters, full-page writing and editing, HTML and other code integration, multiple toolbar types, integration of multiple themes, etc. The FastPages also has many shortcuts for making editing simpler and faster.
5. Cross-Platform Integration – Accurate Adaptability for Mobile
FastPages.io are completely compatible with the PC and mobile platforms. It is responsive as well as adaptive in design and construction. So, it is Google friendly as well as user-friendly. Screen resolution is very clear and makes things accurately visible to the minutest details.
The key feature of responsive design is its ability to zoom the text in and out without affecting the pixel quality. For example, you may wish to display a longer text for the user just beneath the image. What happens if the readers are unable to see the text on the Smartphone? They will simply move on to the other pages or other websites!
FastPages has enhanced the text visibility and kept the image resolution at the highest level, no matter on which device the readers access them. When you zoom-in/out the text, it gets divided into several readable sections. So, reading becomes simple.
6. Mobile-First Approach – Faster Decision Making
Your audiences who access your website on mobile devices are the most potential customers. They need to have a buying decision within a few minutes and make a sale go through. So, it is very important to navigate them to the right page at the right time, but how?
The navigation features of FastPages are so effective that the visitors get to see the flow of navigation. For example, consider the stages like overview->product features with images-> videos-> testimonials-> product comparison-> product selection-> move to the order/purchase page-> online payment page.
This is a simple and effective flow, isn't it? When this is integrated with other pages on your site, it becomes the most powerful marketing method. You can be sure that every prospective and potential buyer reaches the right page on the mobile and other latest devices. Some of the key features of this approach are
Easy browsing
Product visibility
Listing of technical features
View products in action
Quick comparison
Faster decision making
7. Search Engine Friendly – Faster Page and Site Ranking
Today's web world is controlled by the search engines like never before. They are powerful, influential, and they control the flow of visitor traffic to your website. With the explosion in website growth, they have become stricter and more user-oriented. FastPages comes with all the features that the search engines demand. Some of the tests they (like Google) conduct on your web pages are
Mobile-friendly features
Keyword quality and density
Compatibility for multiple devices
Design and Content quality etc
FastPages offers you all the tools and technology which can make your landing page pass all the tests. It is a continuously improving system that is adaptable to the latest technologies recommended by Google and other search engines.
The threads of FastPages are designed to integrate seamlessly with the web-crawlers, search-interfaces, databases, snippets, research-tools, index-rankers, etc. Once you have the FastPages templates in place and integration on, it is possible to move up the Google Ranking within a short time.
8. Fast Publishing Features – Traffic Boosting Techniques
So far, you might have come across many tools that make publishing easy and fast. FastPages goes many steps further. It can integrate the power of publishing with the speed of an increase in website traffic. When I heard of the feature, I was initially a skeptic. But my experience with the following features made me a fan of FastPages.
Enhanced user experience
Optimized page design
Enhanced load capacity
Improved security
Integration with analytics and other tools
Custom integration with plug-ins
It is possible to edit your web pages in real-time and re-publish it time and again without delay. The search engines capture the changes in real-time and update them.
With continuous improvement in the integration, it is possible to drive-in more visitor traffic with time. So, you can experience a definite (sometimes the process could be slow), increase in potential leads, and conversions into sales.
FastPages.io Drawbacks – How They Can Influence
1. Limited Undo Action – Takes Patience to Learn
Editing is simple, but undoing an action could be limited. For example, you can't expect the undo action to work as a word processor. Here, the unto button works only for a limited number of previous actions.
You may find the feature annoying, especially when you are a novice in editing. So, you have to be very careful while making changes to the existing template, especially on the images and photos. In my experience, I have found undo actions related to the complex shapes, lighting effects, and sizing to be complex.
Of course, it is possible to learn the techniques, but it may take time and effort. I had problems with the undoing of Call to Action Buttons. Sometimes the resizing tools get slow and your actions could be faster than them.
Then you may end up doing many things before the first editing is in place. I have found this to be sometimes highly annoying.
2. Difficult to Edit from Phone – Takes Effort
The first time I tried the FastPages editing tools from my phone, I found many practical limitations. For example, I was unable to get a complete view of the editing tools while working on the background image and design.
Since the phone has no "mouse", clicking and dragging of shape borders and lines could be slow and painstaking. It is more complex when it comes to adding visual effects for the background and foreground objects.
Some of my friends have questioned my logic behind trying to edit using a phone. They have shown me many other tools that have more serious limitations than FastPages when it comes to editing from my phone.
However, I think that FastPages should integrate more number of features for phone-based landing page editing. They could help professional bloggers like I who are always on the move. Sometimes it may not be possible to carry laptops with me when I go to remote places.
3. Image Replacement Slow – Have Some Patience
FastPages.io has an integral feature for replacing the template images with your own, but it takes time and patience. I have found practical difficulties when it came to resizing the new images to fit-into the place of old ones.
Resizing becomes slow with FastPages when a larger image has to be inserted in the place of a small image. It is because I have to consider the layout of the text and other objects around the image. If there is a small error, it could push out the existing text and make them out of bound.
The other risk associated is the possibility of shrinking the text too much. So, the readers have to miss out on the text or find the images to be smaller. However, you can master the art if you have the required patience and persistence. Once you have mastered editing, it is possible to overcome the limitations, though some of the options can't be extended.
FastPages Review: Conclusion
I have written this FastPages review based on my personal experience of working with this page builder for my affiliate product websites. As you can see, the lists of advantages which I am having are much better and improved. One reason for which I can recommend FastPages is the continuous improvement feature. It ensures you are always up with the latest technology.
FastPages io review
Landing Page Speed

User Experience

Features

Pricing

Support