Here is my in depth SerpCloud review.
The biggest work for SEO is ranking Keywords. How many of you agree with it?
It involves On-Page SEO and OFF page works and most importantly monitoring the movements of the keywords from that you can know whether your SEO method works or not.
To check your website keywords position you need to have the best SERP ranking tracker and that's why I'm going to show Serpcloud one of my favorite tools I'm using nowadays. My Serpcloud review will show you some of the advantages of using this tool which you'll never see on any other tool. 
Serpcloud Review: Tool Overview 
Serpcloud is the powerful rank tracking Software for webmasters and SEO agencies. The tool lets you track your keywords on major search engines like Google, Yahoo, Bing, and Youtube. Like other services Serpcloud lets you pay on monthly or yearly as you wish.
Who Should Use This Serpcloud Tool?
If you're a blogger and affiliate marketer like me then you should use this tool to closely watch your daily keyword position changes. Serpcloud also helps SEO agencies to check the position of their client websites in bulk. That's why serpcloud is always in their SEO tools list.
I bought this tool to track my website positions mainly on Google, Bing, and Youtube. The main purpose of buying this tool is to track the Youtube position because I've Youtube channels and this tool seems very useful and best for my business.
First Impression
The UX of Serpcloud is very neat and clean as you can see the dashboard of this tool this section satisfies all my needs at one place.
As you can see my dashboard it shows you the no of projects I maintain now and highlights all the keywords that went up in green color and keyword that went down in red color.
Even you can import and export all your projects in Excel .csv format.
Daily Notifications
I don't know whether any other tool has this feature or not?. Serpcloud notification feature shows me the update of every keyword position movement along with time and date. By this feature, I can guess whether my SEO techniques truly work on not by checking SERP movements and I will stop my link building or On-page work when I see huge drops on my keywords.
Search Engine Rank Tracking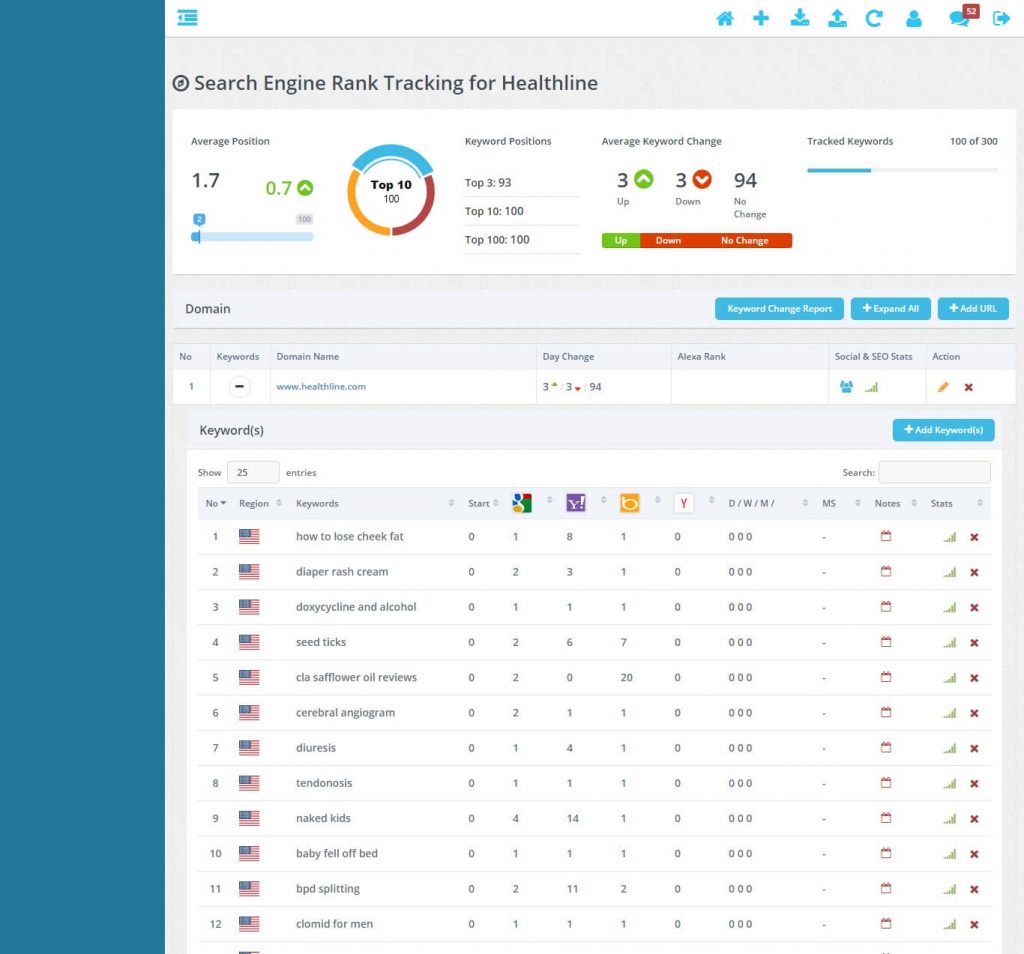 I'm using Plus package which allows tracking 300 keywords. For this Serpcloud review, I'm tracking Healthline website keywords, the reason to track another website is that I don't want to show my website to anyone.
As you can see the image, it shows all the position of the keywords on all search engines like Google, Yahoo, Bing, and Yandex. You can see the ranking of your website by using categories and tags.
It also allows taking notes on keywords to carefully watch the change in keywords. For example, If you are doing link building like Guest posts, social bookmarks and social signals then you can take note of it to know whether your link building boosts the keyword or not.
Also, you can export the keyword change report to send it to your clients. Think about it.
I love Youtube Position Monitoring
I know many popular rank trackers but they never have the option to monitor Youtube ranking position to monitor all your video position. This is one of the best features I love about the Serpcloud tool. Their personal plan tracks from 10 to unlimited keywords and their professional plan allows tracking from 1000 to unlimited Youtube videos position.
Integrated Google Analytics
Some times when using rank trackers I felt that the data provided by these tools are not so accurate compared to Google data. To avoid this confusion Serpcloud now allows connecting Google analytics to compare the position of the keyword of both tools and find which keyword went up and down.
Another best part is you can also check how many visitors visiting your country and from which country they are coming from. Awesome right?
SerpCloud
Reports
You can see and download all your reports in PDF, CCV and JPG format. And another special thing about this feature is they even give the public key in the form of URL that you can share with your clients and they can check their website ranking and reports without logging Serpcloud.
Check the below image of the see the public share URL.
Let me tell you another best thing about Serpcloud rank tracker email reporting where you can enter your email and it will send the ranking reports automatically to your email address. You won't find this feature anywhere else.
Some of the other features of Serpcloud are
Unlimited API access to users to control their accounts and get what they want to.
Social status to check their keyword status on major social platforms like Facebook, Youtube, Twitter, Pinterest, etc.
Serpcloud Pros & Cons
Everything I said above is the comes under pros and some of the pros are;
Good customer support: They replied to my Gmail account within few minutes.
Accurate Keyword ranking position and updates regularly.
Now let's come to the cons that I felt while using serplcoud.
Even though is said about the Youtube rank tracking feature they still giving out only 10 Youtube keywords to track for the basic plan.
Special Offer From Our Side
Serpcloud plan has a Personal plan and Agencies plan and the costs vary according to the plan you choose. I know you're going to try Serpcloud but I know you wish to buy with huge discount. Isn't it right?
So here is the deal…
I can you give up to 45% discount on all plan. To get the discount use this SerpCloud coupon code: Bloggersneed at the checkout and get instant discount. 
Serpcloud review

:

Conclusion

.

There are so many SERP keyword trackers are available in the market and they are good too but Serpcloud seems good when it comes to features and Youtube keyword tracking feature is what makes it so special among others.

So use Serpcloud to monitor your website keywords and many of you after reading this Serpcloud review asked for any lifetime deal but currently, there aren't giving any kind of deal. But if you're willing to pay one time and use for the lifetime to track unlimited keywords on unlimited websites then you should check SEOpowersuite Rank Tracker.
Serpcloud
Features

User Experience

Support

Pricing