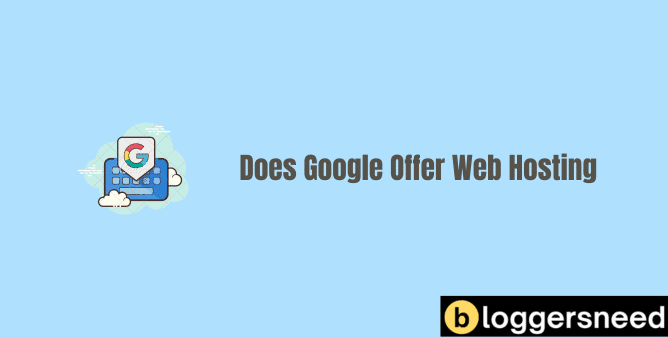 Have you ever imagined that you could host your website on the world's most powerful search engine?
Well, it's true! Google offers an incredible hosting service that will revolutionize the way you look at web hosting.
Get ready to experience lightning-fast speeds, unbeatable reliability, and comprehensive customer support.
With Google web hosting, you get the ultimate web hosting experience at an affordable price!
Table of Contents
Google Web Hosting
You can use Google's web hosting services to host your website. The Google Cloud Platform offers a range of cloud web hosting services, from static hosting to cloud computing.
Their high performance and uptime are well known, and pricing varies based on usage and resources.
Google also offers $300 free credits to first-time users, helping to make it an attractive choice for those looking to host their website.
Whether you need simple static hosting or a more complex cloud hosting solution, Google's web hosting services have you covered.
With its reliable performance and scalability, Google's web hosting solutions provide a great way to get your website up and running.
Types of Web Sites You can Host
You can host a variety of web sites with Google's web hosting services, including rich media sites, data-backed sites, ecommerce sites, blogs, and simple websites.
For dynamic websites, Google offers cloud web hosting services, cloud deployment manager services, and cloud load balancing services.
Commerce web apps can also be hosted using Google Cloud Platform.
Their cloud services offer scalability, reliability, and security to ensure that your website runs smoothly, no matter how much traffic it receives.
Google's web hosting services are best for top to medium traffic websites.
With Google, you can easily find a web hosting solution that meets your needs.
Features of Google Hosting
Discover the features of Google Hosting that make it an ideal choice for your website.
Global data centers: Google Hosting has data centers located around the world, ensuring that your website can be accessed quickly from anywhere.
Advanced security: Google Cloud Platform offers advanced security measures to protect your website from cyber threats and data breaches.
Scalability: Google's web hosting services can easily accommodate the growing needs of your business, so you won't have to worry about outgrowing your hosting provider.
Google Cloud Platform also offers additional features that enhance its hosting capabilities.
Reliable backups and disaster recovery: Google provides reliable backup and disaster recovery solutions to ensure that your website data is always protected.
Cloud apps and hosting pools: Google offers cloud apps and hosting pools, allowing you to easily deploy and manage your applications.
Cloud healthcare API solutions: Google provides healthcare API solutions that enable developers to build applications for the healthcare industry.
Cloud SQL and Cloud Cod: Google offers Cloud SQL, a fully managed relational database service, and Cloud Cod, a cloud-based development environment.
All of these features are backed by Google's infrastructure and expertise, providing extra assurance that your website is secure.
With its scalability, Google's web hosting services can accommodate the ever-growing needs of businesses, so you won't have to worry about outgrowing your hosting provider.
Ultimately, Google's web hosting services offer a great combination of security, reliability, and scalability.
Pricing
You can expect to pay between $0.001297 and $4.170175 per hour for Google's web hosting services, depending on the type of machine, RAM, vCPUs, SSD, and location.
Google's cloud hosting services offer a range of resources and tools, including Cloud IAM, Cloud Build Service, Cloud Console, and Cloud Architecture Center.
All of these features contribute to the total cost of hosting with Google.
Additionally, you can use Google's Cloud Console to customize the pricing of your plan and make sure it fits your budget.
With these features, Google provides an efficient and cost-effective way to host your website.
Google's Web Hosting Alternatives
Find out what alternatives to Google's web hosting are available.
Being in cloud computing I know some of the better alternatives for Google web hosting, when searching for cloud web hosting services, one should consider five reliable providers.
Here are the best web hosting companies:
WP Engine – Best For medium to high traffic Ecommerce website.
Bluehost – Suitable for medium traffic website
Amazon Aws – Best for high traffic websites
A2 Hosting – Best for medium level blogs.
Cloudways – Good hosting for Affiliate websites.
These options provide the necessary scalability and flexibility for a successful data cloud.
They also offer cloud build services to help users manage their projects.
With these alternatives, users are sure to find the web hosting solution that best suits their needs.
Conclusion
Google's web hosting offers a range of features and service levels to suit any budget. It's a great choice for those looking for reliable hosting with plenty of options.
With its robust platform, Google web hosting is an excellent choice for hosting a website, blog, or e-commerce store. Whether you're a novice or experienced user, Google's web hosting provides the flexibility and reliability needed to host a successful website.
With its competitive pricing, Google web hosting is an easy choice to make for your business or personal website.
So, don't wait any longer, and make the move to Google web hosting today!