This Host1Plus Review is written after examining its performance for months using one of the websites hosted on their servers.
The Host1Plus web hosting are basically different and unique as compared to the remaining of cloud hosting companies.
In present days, you need to be very particular when choosing a particular hosting service that delivers high performance. It is known that your online business may get affect if you make the wrong choice in this matter.
The Host1Plus hosting plans like cloud servers have built a reputation of becoming one of the most flexible and reasonable hosting and cloud service providers, providing a wide selection of reseller, web, and VPS hosting locations globally.
Below, you will know details about the company, Host1plus features, pros, cons, plans & pricing, Host1Plus review, etc.
Also Read:
Host1Plus Review – About The Company
Host1Plus was established in the year 2008 through their first data center located in London, UK and after that, the company have been supplementing new data centers. This establishment of new data centers just suggests that the company has been on a constant growth path. It is known that the company owns its data centers spread over different parts of the world via Amsterdam, London, Frankfurt, and Los Angeles.
It was after some time that this company began adding new services such as cloud hosting, dedicated hosting, and VPS hosting. Since the year 2008, the company was wisely built to make best web hosting services as well as true long-term relationships with its supporters and clients.
Its customers deeply rooted the values that the company holds presently– tolerance, reliability, partnership since many years of fruitful collaboration. The company presently possess 5 server locations situated in Germany, Brazil, South Africa and the United States.
Its team continuously strives to assure perfect network stability, high server reliability and outstanding customer care. Initially, the company was started in the form of a small European web hosting company in the year 2008 and has presently developed into a global player which is concentrated on cloud computing and digitalization.
Host1Plus Features
The cloud servers of Host1Plus are powered by KVM which stands for Kernel-based Virtual Machine. As it is an outstanding hypervisor, you can imagine enhanced performance and scalability.
You get the choice between Windows and Linux servers.
There is a dedicated IPv4 address for your website which suggests that you would be capable of gaining access to the website at any time of the day. This will even avoid you, as a user, from the misuse consequences whenever you are transferring emails.
It makes use of the modern hardware infrastructure and to boost up their hosting and cloud service further; it implements the fastest networks. The major fear of the website owners presently is downtime, and through such features, Host1Plus would assure that you need not to get stress about this anymore.
Through Host1Plus, you would gain improved control over the cloud server as they are functioning on an API which makes it possible. It is important to note that this is about to be their in-house API, hence you would surely have something extra when you choose Host1Plus.
After you approach the company and clarify your hosting requirements, it would present you a plan which is tailor-made as per your needs. Consequently, you can be assured that you are getting precisely what you need and need to pay only for that.
Host1Plus Uptime Report & Server Load Test
If you are stressed with the past website downtimes, this Host1plus Uptime report will give you relief to forget all your worst conditions.
To make this Host1Plus review more valuable, I did some research for the past months and monitored one of the websites already hosted on Host1Plus and gathered Uptime results and Load Test from Uptime Robot website monitoring company.
June/July Month Uptime report – 100% Uptime
August/September Month Uptime report – 100% Uptime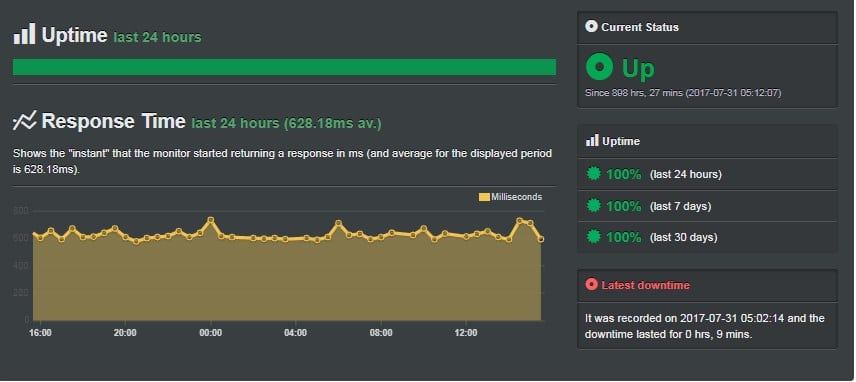 You can check the uptime report received from Uptimerobot monitoring service, and there was no downtime at all.
Now you're happy I guess? 🙂
Now continue the test with checking the website with different locations from various countries to find the page loading time.
And here is the Server and website load test report.
The website and server load test took from China, United States, Germany, United Kingdom, Italy, Netherland, and Switzerland.
On each location, the website took less than 1 second to load.
Host1Plus Plans And Pricing
Host1Plus Has 4 Hosting plans, And Each Plan Has Many Levels.
Check all the plans here
1. VPS Hosting
The VPS Hosting has 6 levels ranging from $2.25/mo to $85/mo
And the most plan on this level is the silver plan which cost $10/mo and has 2 CPU cores, 2 GB RAM, 80 Gb Disk Space and 2000 GB of bandwidth.
2- Cloud Servers
Cloud servers have Windows OS and Linux Os to choose for your necessities.
In Windows OS Server the most popular plan which I go with is WIN4 level, it has 2 CPU cores, 4 GB RAM, 100 Disk Space, 6TB bandwidth.
In Linux Os the most super plan is LIN2, it got 2 CPU cores, 2 GB RAM, 40 Gb Disk Space, 4TB bandwidth.
3 – Web Hosting
This plan got 3 levels like Personal, Business, and Business Pro plan.
The popular among them is Business Plan for $10/mo with unlimited disk space and bandwidth, 3 Add-on domains and 5 sub-domains.
4 – Reseller Hosting
The reseller hosting contains 4 packs are Starter, Personal, Business, and Business Pro plan.
Among these pack's Personal plan is popular which you can get for $25/Mo, and you can get 75 GB Disk Space, 750 GB Bandwidth, Unlimited Hosted Domains and Sub-domains, Unlimited Databases with free Dedicated Ip.
The only thing which I feel they are missing is shared hosting plan, But FastComet web hosting will help you in case you are planning to use shared hosting. Check FastComet review to know more about FastComet web hosting company.
Host1Plus Web Hosting Pros And Cons:
In order to have a more convenient and unbiased assessment of this Host1Plus review post, below listed are their advantages as well as not-so-strong sides. This will actually help you to get the clear vision and decide whether to go for it or not:
Pros:
The main advantage of Host1Plus is its value for money: provided the service offers which are not at all lesser as compared to other leading providers.
Its pricing is very competitive, for instance, the majority of cloud hosting packages are more reasonable as compared to their close analogs. It gives the confidence that your hosting will maintain a pricing benefit even when you begin scaling up.
It has competitive pricing for every hosting kind, particularly cloud
Every major kind of developer-tailored hosting is included below one roof
It has friendly and accessible client support
There is accessibility of extensive knowledgebase and learning resources
It has long and stable company track record
The pricing plans are different, so you can conveniently choose and also it has various payment option
It has globally located data center
Cons:
It charge little higher price if you add cPanel and extra care support
There are few server locations obtainable for cloud hosting at the instant
There is no provision for live chat with customer support
Host1Plus Customer Reviews
Honest Host1Plus reviews from the customers.
Many users who have used this have found that the Host1Plus offers the complete package with updated hardware, convenient pricing, and outstanding support. Through a network that is spread over 8 data center locations globally, users always found that it delivers the best services. Some have expressed that one more thing that lets Host1Plus stand-out among the competitors is its selection of upstream providers.
Most of the users are satisfied to be working with Host1Plus because they verified to be consistent, flexible as well as responsive to the needs as a cloud server provider. Moreover, they even tell that it helps them guarantee the service with the fastest VPN tunnels as well as stable connections, and there is no option left to ask for more as every required thing is provided.
Host1Plus Coupon
Host1Plus Coupon especially for reading this Host1Plus Review from the start and by this coupon you will get 20% Off discount for all hosting plans.
To avail, this 20% Off discount Click this Host1Plus Discount Link and apply code H1P20 order any hosting plan and enjoy.
The Coupon code is already inside the coupon link, so you don't need to enter any Host1Plus Coupon code.
Host1Plus Review – Conclusion
Finally, thanks for spending your time by reading this honest Host1plus review and I hope you got more information about this web hosting company.
Overall, if you are searching for a world-class web hosting service having a stable reputation and maintenance regarding not being overcharged, then Host1Plus certainly justifies your attention.
Its technical support team is so courteous and proficient while working that it will support you to solve cloud servers related issues or any other related technical issues.
It is found that its plans are under-priced as compared to many well-known cloud service providers. Moreover, they have a very helpful FAQ section and tutorial section situated right on the company's website itself.
If you are looking for modern hardware infrastructure to be implemented in cloud servers with fastest turn-around time then go for Host1Plus.
I'll be updating this Host1plus web hosting review regularly after getting more information about them.
If you have any information about good and bad about this company kindly comment them below. So I can add it to make this review about Host1plus more valuable.
Host1Plus Review
Features

Loading Speed

Pricing

Ease of Use

Reliability & Support