Are you searching for WoomHost Unlimited Web Hosting and their features and thinking about connecting your website with this hosting network?
Then this article is only for you and in this article I'm going to tell you all the pros and cons of this WoomHost.
What is WoomHost?
Well WoomHost is the web hosting service provider and the company located in Iowa, USA. WoomHost offer domain registration and web hosting solutions that can help you get started on your web development journey.
Their hosting products and services include shared, cloud, VPS and WordPress hosting plans. If you're looking for an affordable choice with high-quality service,
they have
VPS hosting
Cloud Hosting
Shared Hosting
WordPress hosting
These are the basic information about the company, and they don't give any information on their about us section.
Their about us section is blank and all they have is irritating and a bunch of Google Ads. That's it
So if you are thinking to choose this company then please rethink because there are many other better options available in the market like A2 Hosting, Cloudways, etc., and you can check this list of top web hosting companies.
WoomHost Pros
Free Hosting
WoomHost promises to give free hosting for Cloud and VPS hosting plans. You get unlimited bandwidth for these hosting plans. Their shared plan gives you 750 MB disk space and cloud hosting gives you 500 MB disk space.
If you have small and medium project websites then you can use this hosting plan at your own risk If you want more space than you should buy their premium hosting plan which costs around $4.99 per month.
WoomHost Unlimited Hosting
Unlimited hosting is the hosting plan that gives you unlimited bandwidth, disk space and server resources. This hosting plan costs around $4.99 per month and if you want to get their full features then you should buy their premium hosting plan which costs around $4.99 per month
Pros
You can use this hosting for small and medium project websites without any risk
You can get unlimited bandwidth for the shared, cloud and VPS plans at a very cheap price Cons
The free hosting is not enough to run a big website
Free Domain Name .com
If you buy the Woomhost premium plan which costs around $4.99 per month you get a free .com domain for one year with .com is one of the most popular domain name extensions because it's easy to remember and spell, has a high google search ranking and provides good SEO benefits.
You will not get a free domain for the free web hosting plans.
Unlimited Add-on Domains
Like free domains, Woomhost is giving unlimited domain names for plan plan users. When you buy the $4.99 plan, you get unlimited domains for a year. You can register a domain name from any hosting provider like GoDaddy, Namecheap or Dynadot and get your hosting account activated with just one click.
Woomhost Cons
Like pros, every will surely have cons and Woomhost has several issues and I will discuss all the disadvantages of this unlimited hosting one by one.
No, About us,
I have never seen any hosting provider miss their company information on their About section. When I checked their about use page they are filled with Google Ads and no information provided about their company, I didn't see their founder, team, chat support, everything.
This is the clear warning that the company is not at all active and purchasing WoomHost unlimited web hosting is surely a risk.
Annoying Google Ads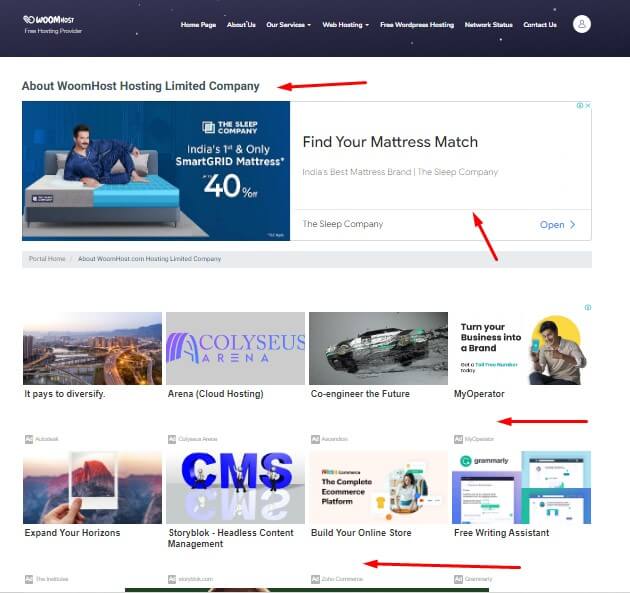 Monetizing the Woomhost website is ok, but they should have placed ads on 4-5 places on their websites like widget, footer, header, etc.
But when you visit their about section you see that page is filled with Google Ads and a reputed company will never do this.
No Information about Data Centers
Woomhost doesn't state where their hosting servers are located. So, you don't know if they are in the United States or Europe for example. This could be a potential problem because some countries have stricter data retention laws than others and hosting your website on potential servers might not be advisable in certain cases.
Fake Live Chat Support
This is another worst behavior of Woomhost, they promised to give live chat support for the premium customer but when I clicked their live chat support button it redirects to the contact page. I don't know whether they will contact you or not.
When you face any worst scenario, and you need live support, it is better to go for a hosting provider who provides quality and customer service 24/7.
No Refund Policy
I think the motive is to earn money and not to give quality hosting service. They have no refund policy for the premium plan even though you can downgrade your plan anytime.
This shows that they are only interested in making money and not providing quality hosting services to their valued customers.
Conclusion
So these are the major disadvantages of woomhost unlimited web hosting and I would not recommend this hosting provider to anyone who wants a hassle-free experience with their web hosting services.
Overall, woomhost unlimited web hosting is limited in terms of company information, user experience, customer support and most importantly domain name management.
If you want a cheap hosting with the best support and features, then I would recommend you choose A2 Hosting or Ipage hosting.