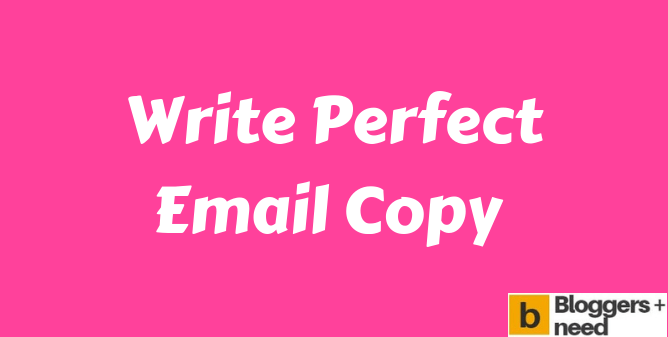 Writing good email copy will ease your work and increase email open rates and link click-through rates.
Many don't realize just how important writing is for email copyrighting campaigns. Not only is it one of the very few pieces of modern marketing that solely relies on words, but it's also one of the most effective marketing practices.
However, we aren't all experts to write email copy for all marketing campaign. Even those of us who are great at writing, don't know the tactics to make a great email campaign.
Every single email you send out risks drowning in the spam folder or promotional emails.
Write Email Copy For A Campaign That Sells: Our Top Tips For
Why should you use email marketing?
It might not be a piece of marketing that you've considered. However, email campaigns are one of the most effective ways to grow your mailing list and gain new leads.
When performed correctly with right Email marketing apps , they have valuable benefits. Ranging from a connection to your customers, promoting services, and reaching out to potential clients.
Email marketing and campaigns are increasingly becoming more popular. Especially since we can all check our emails on our phone. On the commute to work, or in the queue for Starbucks – we could be looking at amazing new deals on clothes or flights.
Email marketing shouldn't be overlooked. However, if you don't use the best writing tips, your efforts could be wasted. Follow the up-to-date tips below, and you'll be sure to be onto a winner.
1.The Subject Line is Significant For Email Copyrighting
The subject line in the email copy is the first thing your receiver sees. It's usually the difference between the automatically trashing your email, and opening it. You don't want to lose your chances before they even open your email.
In email copyrighting, writing your subject line correctly is crucial. Think of it a bit like a headline – your user won't click if they're not interested.
Put a lot of thought and effort into your subject lines. In the same way that journalists spend hours thinking of a headline. The general rule of thumb is to spend half the time you did writing your copy. For instance, if it took you 3 hours to write your email, spend 1.5 hours writing the subject line.
Here are a few things you need to consider when writing your subject line.
The length Of The Content – Research has proven that subject lines are most effective when they're short. For this reason, you should keep them between six to ten words long.
Make it personal -Using names in your subject line can really catch the eye. It will undoubtedly lead to a higher open rate. You can use tools to help with this – make sure you have names in your mailing list, though.
Choose your words well – Using action words in your subject line is a crucial tactic. Check your promotional tab on your email; do you see the action words. Things like "Hurry!", and "Don't miss out," all create a sense of urgency for those receiving the email.
To summarize – don't ever overlook the subject line. It's equally as important as the email body itself.
2. Get Personal With The Reader
Another absolutely crucial part of an email marketing campaign. You have to make it personal if you want to convert it to sales.
It can be difficult to write email copy, especially if your mailing list has hundreds or thousands of people on it. How can you make such a widespread email seem like it was made for one person?
Simple, keep it completely conversational. Make it feel like you're just writing to a friend about a fantastic new deal you found. It'll convert, you just have to practice your writing technique.
You could also use storytelling in this sense. Everybody loves a story – it convinces all those around you to make a sale, too.
For this technique, you do have to know your market too. Dive into your target audience research, and find the best way to make conversation with your customers.
For instance, what works for a young fashion brand, won't work for a brand that's selling walking frames to the elderly. It's a different vibe and language entirely.
"One of the best ways to make your email personal is by addressing them on a first-name basis. Tools and platforms enable you to do this, with no problem at all." — Lora Dunning, senior writer at Trust My Paper.
3. Don't Forget About The Preview Text
Have you seen the little preview text, that is available for most emails? Obviously, this shouldn't be ignored either. It could be the first time the receiver considers opening up the email properly.
The key to making the preview text successful – make it interesting and appealing, but don't give too much away.
If you're confused about what the preview text is, take a look at your phone – you'll see a certain number of characters below each email.
Basically, if you write email copy with an obvious level of sales-like messaging, your email will be deleted.
Make it conversational, and don't give too much away. This will make the user have little reason to fully open your email.
Don't forget, if you make a promise in the preview, make sure you follow up. Don't just lure them in, to just let them down – that will (rightly) lead to them unsubscribing from your mailing list.
Use it as a little taste to what's inside the email. If it's interesting to them, they'll click on it.
So, choose your words well, make it conversational, and offer them something that they can't resist.
4. Make Your Email Template Short But Sweet
Have you ever opened an email that's, basically, an essay? We hope you haven't.
Well, if you have, you'll know how fast you cross off an email like that. It's too hefty and can cause a lot of stress. Especially if the said email is from a company that's selling you something. Why would you read through thousands of words, just to be told to buy something?
It also makes no sense to split up a heavy email with images. It's still too much to process, and can often take too long to load or download.
People only skim their emails, and so, you need to get straight to the point. Let them know exactly why you're emailing them, what you have to offer and why they should be interested.
Huge chunks of text will make a reader cross of your email, quickly. Break it up with white space. You can do this by using headers, bulleted lists, and questions. However, you need to get your point across – do it concisely.
A perfect email fits all the information in, in just a small amount of words. If you're writing several hundred words, you're doing it wrong.
5. Avoid Jargon At All Costs
Your emails are not the place to show off your knowledge. In fact, readers really don't want that popping into the inboxes.
Entirely skip any industry jargon, unless it is absolutely necessary. Use real terms and real stories, that every day, people can read and feel connected to. That's the key to a successful email campaign.
Yes, this also includes investment firms and lawyers – every single industry should avoid using buzzwords and complicated jargon. It isn't the right place.
We urge you to take a trip to your own inbox. How many emails sitting in there contain a significant degree of jargon? Very few, right?
For the same reason as the point above, readers want to have an easy read when it comes to emails.
You should focus on the selling points while writing email copy. What can your company do for them? Don't boast about your industry knowledge and expertise.
6. Choose Your Words Well
We've mentioned this briefly. As well as being conversational, you have to choose the words you use correctly.
Keeping in line with the personal aspect, address the reader in the first person. So, using "you" and "your" throughout. This gives your reader's confidence that the email is about them and nobody else.
As we just mentioned, too, don't use jargon. In fact, try to be as least technical as possible. Focus on your benefits, what you're offering, and why it's important.
There are now many services and tools that can help you write a compelling body for your emails. You can use both human-operated services like Grab My Essay, Grammarly and Hemingway, which are Machine Learning operated services.
For the most part, don't use your email campaigns to just talk about your company. That's something that users go on your website for. Stray away from talking about various features and focus on the benefits.
By using your emails to highlight all the benefits of your product or service, they'll know that the email centres around them. They know that they've subscribed to a company that genuinely considers them.
As you'll agree, most reader's want to know how something will enrich their life. If they're not informed, they won't be interested.
It's also important to consider your design with emails. It works in the same way that you create a great website. The visuals and design should complement the text perfectly.
If you don't find this balance, your efforts could be futile.
7. Make Sure You Have A Clear Objective
What is your realistic goal from sending out this email? Is it to sell more, bring new traffic to your site, or promote an event? Whatever it may be, make sure you're aware of it yourself.
Whatever your goal, it's more than likely to create a change in the reader.
Before you hit the send button on your email, ask yourself "what do I want them to do?", Re-read your email, and critically asses if your objective will be met.
There are two possible outcomes; either they respond or act. For instance, "which leggings do you prefer?", will get a response, whereas "Here are the best leggings for your body shape," will cause the reader to act.
If you're not expecting any type of variation of those two responses, don't send the email. It'll be treated as clutter and won't benefit you.
8. Make The Email Relevant To The Reader
I've seen many email copywriting examples and Not every bit of information is relevant to everybody. That's the harsh truth.
You shouldn't send the same email to every single one of your subscribers. These general types of emails are just annoying – making your emails personal and relevant will be tonnes more beneficial.
Break your subscriber email list into segments, or categories. This should be based on their age range, shopping habits, and their past buys. It'll make the results much better for you, and the emails more enjoyable for the reader.
Airbnb has perfected this tactic perfectly. By sending specialized emails about a certain location – it can advertise accommodation and itineraries.
9. Get Directly To The Point While Writing
Don't make your reader work through tonnes of text, just to find out what they're looking for. This could put them off opening emails from you in the future.
All you need is two or three sentences to explain what the email is all about. For example, if you're offering a coupon code for free delivery, just say:
"Hey, we've decided to give you free delivery off your next order, to say thank you for being a great customer. The coupon code is FREE2019."
This gives the reader what they were looking for and an incentive to go onto your website.
10. Don't Forget A Call To Action
A single, simple, and appealing call to action is necessary. Don't be tempted to include more than one call to action in your email – you only need the one. If you give your readers too many links and opportunities, they won't take any.
Clearly, state what your user should do. Write email copy in the conversational tone and actionable words that we mentioned before.
11. Just Have A Chat With Them
In a world of technology, your typical sales like email don't work anymore. You need to build meaningful connections with your readers, and one way to do this is through blogs.
By creating blogs, you have content to email to your subscribers. Just make sure you have all the right tools to start blogging and start creating a relationship with your reader.
Just have a conversational chat with your reader, talk about your new blog, advertise your product – your emails will convert to sales easily.
12. Make Sure It's Mobile-friendly
Make sure your email campaigns are mobile-friendly, too. The majority of people check their emails on their phone while on their commute. So, ensure your design, preview, and images all work beautifully on every single device.
Most platforms and tools will automatically ensure this. However, we recommend sending out test versions, just to be safe.
If your email campaign isn't mobile-friendly, it will, without a doubt, end up in the trash.
Write email copy: Conclusion.
Email marketing is one of the best ways to dive into content marketing. Remember, content marketing isn't implicitly just for selling a product – it revolves around engaging and promoting. Every email you send out should be discrete and informative.
The crucial key to an effective email campaign is just knowing your audience and writing good email copy. Being completely aware of what they want, and how you can help them, can bring in an array of new visitors.
Emails are personal – and you should treat them as such. If you're lucky enough to have somebody's personal details – make the most of it.