ClosersCopy is a unique AI writer to generate short and long SEO-friendly blog posts within minutes using gpt-3 API. And in this post, I am going to give the Closerscopy lifetime deal coupon code to save money on your purchase.
This post explains how to apply the Closerscopy discount code and get a 22% offer for all Closerscopy plans.
Closers Copy Lifetime Deal Coupon Code
Early the Closerscopy partnered with Appsumo and pitch ground to give lifetime Closerscopy accounts to their audience and many of them purchased it.
Now you will not able to find a lifetime deal of Closerscopy on any of the third-party websites. Luckily they are giving the lifetime deal and monthly deals on their website itself.
Closers Copy Lifetime Coupon
Get 22% off for their Lifetime deal
Coupon code: 2YEARS
Closers Copy Monthly Coupon
Get 22% off for their Recurring deal
Coupon code: 2YEARS
Why Should I use this Closerscopy Lifetime Deal discount code?
The answer is simple if you check the lifetime deal on the Closerscopy website the cost of the superpower solo plan is $297 with this option you will get an I user account.
Using this SoloPower plan you will get:
Unlimited AI writing
Unlimited SEO audit
Unlimited future updates as well
and many more features
By using the 2YEARS Closerscopy lifetime coupon code you will save a $65 discount and only pay $231 as a one-time fee and use the tool for the lifetime.
And it has other 3 plans for a lifetime as well
Power Plan: 2 seats, Costs $397, which gives 300 AI runs per month, 50 SEO audits, and limited updates.
SuperPower plan: 3 seats, costs $497, which gives you unlimited AI runs per month, unlimited audits, and unlimited updates.
Superpower squad plan: 6 seats, costs $697, which gives unlimited AI article generation, Unlimited audits, and updates.
You can save a 22% discount on these plans too. To get use code: 2YEARS on the checkout page.
What about the Closerscopy monthly plan, can I get a discount?
Apart from the lifetime plan on closerscopy, they have the monthly plans and you can get a 22% discount on the closerscopy monthly plan.
The monthly price of each plan are
The power plan cost is $49.99
Super Power cost is $79.99
Super Power squad plan is $99.99
You can get these plans too, Apply the closerscopy monthly coupon code: 2YEARS on the checkout page. You will get an instant discount on all plans.
What you'll get after buying Closerscopy AI writing software?
Upon purchasing/installing Closerscopy AI writing software you will also get some of the bonuses.
This bonus is that after installing closerscopy, they'll email you details on how to use its features and what it offers. The tool takes care of all your needs to start creating unlimited quality content, their guide shows exactly whom it will benefit.
For example, they are having a Facebook group with more than 11,000 members, where they discuss a lot about the tool and ask questions about the closerscopy tool and they will get instant replies from the group admins.
Secondly, their YouTube channel shows a lot of videos uploaded by the creators, it has 40+ Youtube videos alone. In each, there are at least 30 seconds to 20 minutes of video reviews on different features like SEO audit, Longform, Templates, Frameworks, Insights, Workflows, etc for creating high-quality content in the best way possible.
Closerscopy offers and features are quite unusual because even with its competitors there doesn't exist such a feature that lets you call their editorial team anytime from anywhere easily. With this tool, you'll get so many advantages
After purchasing the tool you will get
Closerscopy lifetime subscription
Lot of video courses about AI writing with Frameworks
How to work with frameworks with real time examples
How to create custom frameworks for your projects
How to do copywriting for your email subscribers
Writing sales copy
Easy shortcuts to use the Closerscopy tool
Choosing a language for your projects
And there are many more features that are waiting to come in the next updates.
How to apply the Closerscopy Lifetime deal coupon code?
Step 1: To activate the coupon code you need to visit the Closerscopy.com/litetime official website
Step 2: Now on the plan and price screen, click Get Started button.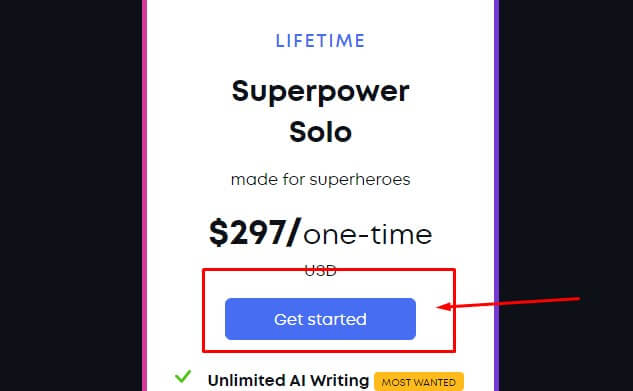 Step 3: To apply the coupon you must create an account on the closerscopy website. Enter you name, email address and password and click "checkout now" button.
Step 4: After creating your account, it will ask you to enter your Country and Pincode and click Continue button.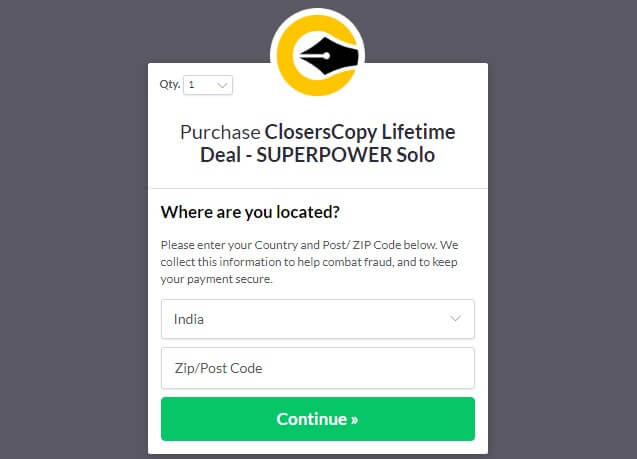 Step 5: Now it will show you payment gateways like PayPal, Credit/Debit card and Wire transfer. On that screen it will show option to add coupon and add GST number. Click Add Coupon button.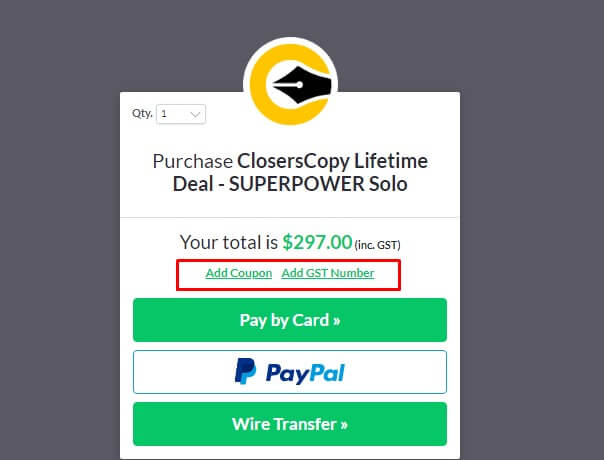 Step 6: Now enter the Closerscopy lifetime coupon code: 2YEARS and click Add Coupon button.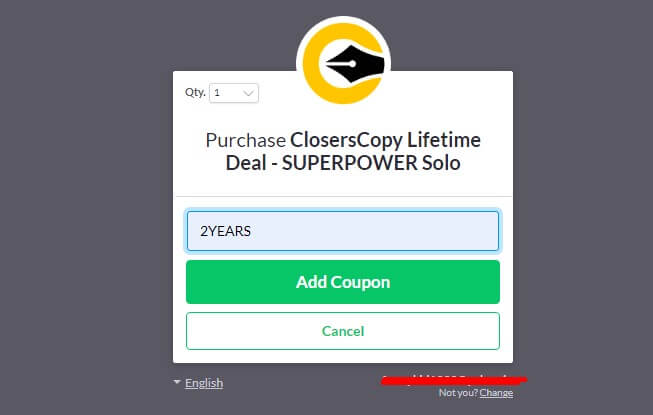 Step 7: Now you will get 22% offer for lifetime or closerscopy recurring plan. On the checkout pay the price using your card, PayPal or Wire Transfer and purchase Closerscopy tool.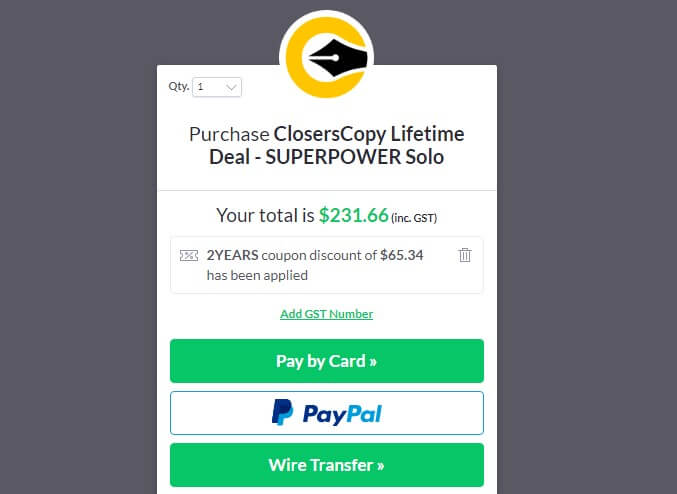 Closerscopy lifetime deal: Conclusion
By using this Closerscopy lifetime deal coupon code you will get unlimited lifetime access plan for creating content for your website. And if you're a content writer you can use this tool if you stuck while writing content.
This is a limited opportunity to buy this tool and will be ending by this month. So be quick and use this tool for creating killer content that ranks on Google and other search engines.
In case you bought and don't like this tool, they have 14-days money back guarantee to pay you back without any deduction. So use this deal now
ClosersCopy Discount Code FAQs
Does Closerscopy provide a free trial?
No right now the company not providing a free trial for any plan. To use closerscopy you need to buy their monthly recurring plan.
Does Closerscopy have a plagiarism checker?
Nope, they don't provide a plagiarism checker but you can connect your Copyscape tool inside closerscopy software.
Does closerscopy always provide lifetime discounts?
Unfortunately, this offer will be closed by the end of this month and you won't get any offer. So use this one-time offer.