Is it Profitable to Sell On Amazon FBA? Here is my opinion.
When we talk about ecommerce, one of the first firms that comes to mind is Amazon, since we can undoubtedly consider it as one of the great winners of ecommerce due to its popularity and large volume, as for business profitability is quite debatable due to the losses or low annual profits generated by its sales volume (in case you are interested, here you can see its economic data).
When looking at which ecommerce platform to choose for our online business, one of the first options that arise is to see the possibility of selling our products on Amazon or any other similar marketplace. If Jeff Bezos has made a fortune, maybe we can make it too.
When I created my online store I looked at the possibility of selling on Amazon, but in the end after a little analysis as I show below, I realized that it was not profitable for my business. Maybe for you it is, you just need to look at the following aspects:
Is it Profitable to Sell On Amazon FBA?
1. I want to sell on Amazon
The reasons why I wanted to sell on Amazon were:
The most popular marketplace in the world, I am not able to find out the exact number of monthly visits it receives in search engines and in the Alexa ranking for is located in position 5 only surpassed by Google itself, Facebook and Youtube.
It is quite easy to incorporate the products, I didn't have to worry about buying a domain, or looking for a web hosting for an online store, or even worry about the corporate design.
If you ask any friend or acquaintance used to shopping online, almost all of them will have ordered from Amazon.
Although it was not my case, you could also sell on Amazon your products to other countries in Europe: UK, Germany, Spain ….
So I went to their website to find out the necessary conditions to become a seller in their commercial gallery. It was as easy as registering and seeing that your item was not in any of the prohibited categories (cell phones on contract, magazine subscriptions, food products, tobacco, alcohol, adult toys, gift vouchers, prescription drugs, weapons).
To continue with the product analysis, I will take as an example that I have a mountain retail business and I want to sell a 4-person tent like the one in the image below.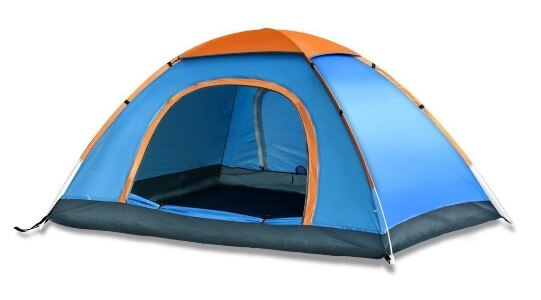 2. How much does it cost?
Before starting to register products, the logical thing to do is to see the cost that I will have to sell on Amazon. In your pricing plans you indicate that there are two options:
Individual plan (which would be the one I would have chosen to start) where you can offer up to 40 products per month, and only pay the commission if you get a sale.
Professional plan: where for 39$ per month you can put your entire catalog without any limitation.
So far everything seemed not bad, registering 40 products, pay only 1 $ per item sold, in short it did not look bad.
But you continue reading and start to emerge more concepts that will charge you for each sale made:
Referral fee: which would be the sales commission that Amazon takes. Obviously they are leaving you a place in their mall, so it is logical to pay them something, but when you see the table of commissions for your sector you begin to see that if you are not dedicated to computers, electronics, video games, or you have a lot of profit margin on your product, it will be little what you are going to earn.
In addition in the case of books, music, videos or DVDs they apply an additional cost of 0'45$ but as in this case we are selling a tent, they would not apply it.
As we see that in the example stipulated shipping costs of 9'99$, the total that we would enter to sell our article would be 119'49$ once discounted everything that Amazon takes.
Well, it seems that it does not look bad to sell on Amazon, since apparently it is just a little more than $10 which I will earn less.
3. How do I present my products?
The next step is to see the chances that I will have on Amazon that my product can be sold, because surely I will not be the only seller to offer this item.
So it's as easy as performing a direct search for your product. In our example, the first thing you can see is that we are competing with 636 references, and in the first screen only 16 results are shown, so another important aspect will be to know how to appear in the first positions of the Amazon results.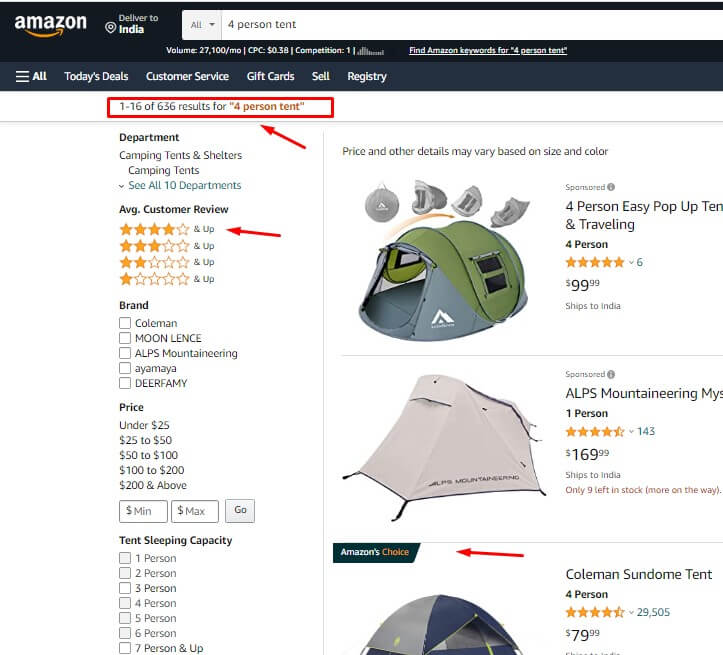 Well, if you have noticed in the previous image, my illusions to sell on Amazon were already beginning to disappear. The first 9 results are products sold directly by Amazon and therefore have a special presentation:
They are available for their Premium customers, highlighting a fast delivery time.
Their products have reviews with very positive ratings.
In principle it will be difficult for a user to notice my tent at first, since it is also one of the most expensive ones in terms of price. And to top it all off, at the bottom of the page there are two more products with the sponsored label.
How can I know that the first 9 results are products sold directly by Amazon? It is as easy as entering the product sheet, it informs us that it is sold and shipped by Amazon. On top of that, it is possible that you are buying from one of my suppliers (who will surely sell at a lower price). And to top it off, I see that Amazon offers a 20% discount coupon on the product, so on top of that the consumer will find it cheaper to buy their products.
Then I get curious and I enter the two sponsored products, basically is that the seller has paid to appear on the first page (the operation is similar to the cost per click of adwords), and it turns out that this bidder also has its products managed by Amazon's own logistics, so how can Amazon not have special interest in selling this product before mine!
After seeing how the products are presented, I begin to fear that it will be complicated to sell on Amazon because:
It shows those that Amazon itself sells, which on top of that can count on the same suppliers as my business.
Puts special interest in making more attractive the offers of those businesses that use their sponsorship or logistics services.
And in the last place of preference, it places the advertisements of the rest of sellers.
4. Is it profitable to sell on Amazon?
Even so, imagine that you are still interested in selling on Amazon, the next step you should do is to analyze the profitability that you could get with this Marketplace.
The first thing would be to know how much it has cost you directly to buy this tent from your supplier. In the following table you can see that depending on its cost the gross profit after that sale varies considerably.
Let's assume that the commercial margin (the difference between what it costs me and the Retail Price) is at 50% which would be the usual in a retail business. As we have seen before, after the charges that Amazon will apply to us, the gross profit for selling that tent is just under 33$ which is 25% of the RRP (and that we have put a supplement of 9'99$ for shipping costs).
Those 32'83$ is what I would earn after selling one unit of this product that I have put as an example. Let's be very optimistic and let's think that I can sell 25 units of this product on Amazon.
So the gross profit would be 820$, which would not be bad if I did not have to deduct the indirect costs of any business:
Proportion of fixed costs: taxes, supplies, subcontracted services, warehouse rent, etc….
Person who must be in charge of managing incoming orders to prepare and ship them.
Time that we must use to manage incidents, returns or queries that come to us through this sales channel.
Is it Profitable to Sell On Amazon FBA: Conclusions.
In my case I did not see it profitable to sell my product catalog on Amazon (although their commercials keep calling me to do it) since I find my suppliers are already selling directly to this giant, I doubt that my references are well positioned in their extensive results, and the only option I would have to compete would be via price. So for not earning anything, I think it is better to dedicate myself to something else.