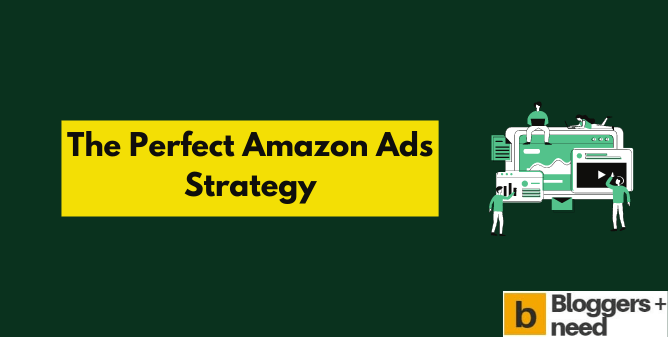 The perfect Amazon Advertising Strategy and tips for sellers to grow your Amazon store.
Amazon Advertising is the platform and tool that the marketplace makes available to its sellers and suppliers to, among other functions, plan, execute and follow up their ppc campaigns.
From our blog we have already talked about Amazon Ads, its possibilities and potential on more than one reason, in this case we will talk about when it is interesting to use this tool within our amazon advertising strategy.
Amazon Advertising Strategy.
Main campaigns
For those who are not so familiar with the platform I would like to make a brief summary of the two main PPC offers that currently exist on Amazon, if you want to delve into the different types of promotions in Amazon Advertising we recommend this post, since not all advertising formats work the same and therefore should be applied in different situations and with different objectives.
Sponsored Products
Ads are displayed on the first page of search results or on product pages of other ASINs.
Control your investment by setting a budget and setting a bid.
This type of ad is focused on increasing sales.
We can include this type of promotion in strategies with sales or profitability objectives.
Sponsored Brands
They are shown in the results pages.
You must select those search terms associated with your brand and bid for them.
It is important that you have an elaborate store to redirect potential customers to.
The main objective is to create brand awareness.
We must include these promotions in campaigns with awareness and consideration objectives.
When and how to use Amazon Advertising campaigns?
It may seem a very concrete question but its answer is not, my answer would be "it depends", on what, mainly on our objective, are we looking for awareness because we are in a launch phase, or are we simply trying to increase our sales as much as possible?
Depending on the moment and the situation in which we find ourselves, our objectives will be different, thus varying the type of campaign we should use.
Brand Awareness
Launching to sell on Amazon or other marketplaces may seem like an easy task, you upload your catalog, you have access to a huge mass of customers who will see your brand and buy your products.
I'm sorry to tell you that it is not so, if anything has led Amazon to reap the levels of traffic it generates is, among other things, the huge existing supply in the channel.
We can try to rank on Amazon organically, optimize our product cards, create a brand store etc.. but the level of competition is such that in many cases this is not enough. That is why in the launch phase we can rely on Sponsored Brands.
Why?
As we have already explained, these campaigns do not allow us to send traffic to an immersive shopping space of our brand, the Brand Store. Bidding on search terms related to your products or your target will allow you to gain visibility for your brand.
Increased Sales using Amazon advertising strategy
Now that we have launched our awareness campaigns, we have started to generate traffic to our products and we are already generating sales on a regular basis, or not, it is time to ask ourselves, what now? It is important that we identify the best opportunities among our catalog to generate the most profitable growth possible. To do this, it is essential to know how our products are performing organically.
The main metrics we should pay attention to are:
This information is visible in Amazon Seller from different reports, we use our tool for control and reporting of marketplaces, Tandem Tech. In the optimization section we put this data together in the same picture to make this task easier.
Taking into account this data we find several types of products that could benefit from Sponsored Products campaigns.
Products with high traffic and high conversion: We could call them our star products. They are the products that convert best with a high number of visits. If our margins and our stock allow it, it is likely that the higher the visibility of the product, the higher its sales will be.
Converting products: We refer to products that capture an average traffic but nevertheless register a high conversion ratio. This means that they are references that once the customer accesses their product sheet, it is convincing for the purchase, but for some reason, we are not managing to generate organic traffic. An increase in the visibility of the product through Sponsored products would be positive. Once we activate campaigns with these products, it would be especially interesting to monitor their Click Through Rate (CTR).
Promising Products: This is a variant of the converters in which the traffic is irrelevant. The first thing to do in this case would be to try to review our semantic content, the keywords on which we are pushing or the quality of our product page in general. On the other hand, it would be very interesting to implement Sponsored Products campaigns that are displayed on the product cards of top sales references of our competitors.
What are Amazon Product Display Ads and how to make the most of them?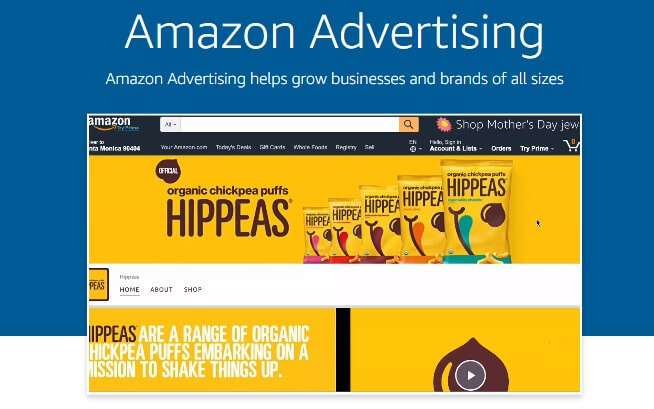 Do you want to make your products or business popular in your Amazon marketplace? Selling on the great eCommerce giant is simple and relatively fast, but standing out from other sellers or differentiating your brand in some way is a task that requires specific actions. We are referring to the advertising possibilities offered by Amazon, including Product Display Ads.
Amazon's Product Display Ads are graphic ads that will help you put yourself in the eCommerce showcase and give visibility to your products in a certain category.
That is, if a user searches for items by categories or products, it is possible that they will find yours if you advertise them through these amazon advertising strategy. While other Amazon advertising options are based on keywords, Product Display Ads focus on certain audience interests. We take a closer look.
How Amazon Product Display Ads work?
We explained it above. Amazon's Product Display Ads focus on certain consumer interests. As an advertiser, you will have to choose a series of interests or products related to those of your audience to build the campaign.
In this way, the user will be able to find your items on, for example, a competitor's product detail page, specifically on the right side of the page under the shopping options. But also on the product detail page, in the Amazon search results or on the review pages of other users.
This advertising model, which is based on pay-per-click (CPC), penetrates in a less direct way and with even lower conversion options than other types of ads, but it has clear advantages for your business:
It will help you gain presence on Amazon gradually but surely.
You will be able to build a brand image and increase brand awareness.
You will boost traffic.
You will increase your sales in the long term.
In general, Product Display Ads are suitable for a long term strategy, with the purpose of building brand and becoming a reference for the marketplace customers. If what you want is quick notoriety, then Amazon offers other options much more suitable for this purpose, such as Sponsored Product Ads.
How to get the most out of Product Display Ads with Amazon advertising strategy?
Now that you know how this type of ads work on Amazon, it is interesting that you learn how to get the most out of them to succeed with your strategy in the long term. Here are some keys:
Choose the products you want to advertise. It is important to choose the most notable products, with more sales or better ratings. Amazon Product Display Ads can also work well for the launch of new products that you want the customer to know.
Select the products that yours should target. Once you are clear about the products you want to promote, it is essential that you do some research to find the best of your competition.
Ideally, you should advertise your product in a list where you have a chance of winning the sale or where you can outperform your competition. Not doing so would be a waste of time.
Choose the interests of your audience. Take time to analyze your target and what their interests are. The more specific you are, the better. For example, if you sell a surfboard, you should include more focused interests like "surfing" or "water sports", and not more generic things like "sports and outdoors".
Work on your ad copy and image. Product Display Ads allow you to customize text and images. Take this into account and create a copy that surpasses your competitors', for example by highlighting the strong points of your products or generating a need in the potential customer.
Choose the form of exposure of the ad and the duration of your campaign.
Amazon Advertising Strategy: Conclusion.
In summary, you will have seen that this type of Amazon ads are a very interesting alternative to gradually gain presence on the network and also reputation.
Therefore, it is recommended to include this option in the amazon advertising strategy. If you have doubts about it, the ideal is that you always consult with media professionals like us. Write to us and we will be able to advise you and help you with whatever you need.