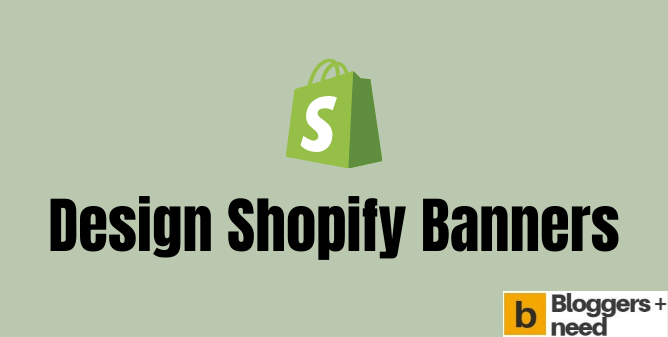 How to create a good-looking Shopify Banner Design?
How you present your E-commerce store is one of the keychains behind the impression your brand carries. Visitors who land on to your site mostly make the image of your brand in their heads by a mere glance on your site, so you need to understand that it is very important to make sure that whatever you choose to place on your site, be it colors, texts and images, it must be a treat for the eyes of the visitors. They must like what they see!
So, it is one of utmost importance to make sure that your site looks attractive, apart from providing quality services. Let me tell you that full-width banners and sliders are one of the most popular features in the Shopify themes.
However, no matter how renowned and how presentable it may make your website appear, but the most challenging part is managing the Shopify banner design standpoint.
It means that only if you know the tricks to design the full-width banners, it is then only that you can utilize its benefits to the fullest. First, let's talk a bit about the images that play a very important role in any site.
There are so many devices like laptop, desktop, tablet, and smart-phones in which people can visit your website, so it is very important that the images that you select for your website can expand and shrink to fit in any kind of screen that you open in it.
To be honest there is a little control over the fact that how the images in the site are placed, cropped and scaled. So, understanding how complicated it can be for some of you guys out there, let me brief down the tips to a perfect Shopify banner design.
So, let start!
Shopify Banner Design: How to Create Perfect Image?
As I have already told you that it carries a lot of weight, what kind of image you select for a full-width banner. If you choose the wrong one, it will not only make your site look bad, but will also push away the visitors. It is in your best interest to ignore any images that have a specific focal point, go for images that have more background to it.
Here are the top two reasons, why a picture with a focal point can be an issue:
The visitors mostly decide whether they want to buy a certain product or not, by mostly looking at the picture of it.
The prospective buyer must get the full image, without any kind of cropping. If the visitor does not get to see the full and clear image. They will have doubts regarding the product.
They have no idea how it will look at a full screen and whether they will like what they see.
When it comes to the text, again it is very important, where you place it because it may end up looking great in one device and may cover the image on the other device
Having that said, it is not important that any image that you select need to have a background image necessarily. All I am saying here is that make sure that they do not have a key focal point, to do better work!
The best ways to generate amazing ideas for such kind of images that work well in all kind of screens is by thinking about the product line and then take a back seat and give a thought to the imagery and environment associated with it.
Let me present you some of the examples that will make your work easier:
Outdoor gear store: A panoramic landscape photo.
Clothing line: close-up shots of fabric and designer wears, or going the other way around a wide view of your store, along with images of people using your products in everyday life.
Jewelry store: Again, close-up shots of gems, diamond, gold, or other Jewelry or close-up shots of a woman wearing the Jewelry.
Pay Close Attention to The Themes As Well
However, it is not important that you need to put the pictures related to your product in the banner. You can expand your creativity here instead of putting out your store name, brand image, random colors, or simply a message that you want to convey to the visitors.
Like say for example, that your brand is related to physical fitness like gym or yoga, you can use the pictures of punching bags and Gloves.
On the other side for Yoga, you can use pictures of candles or water-droplets. Trust me, these pictures in itself are enough to make the visitors aware of your products and the message that you want to convey.
As I have already told above, that to make sure that the full-width banner pictures are perfect and clear to all the visitors, no matter in which device they open it, it is important to understand that whichever picture that you use, should be an extreme close-up. For the yoga-like brand, you can use the pictures of seaside waves and seashells, which is a representation of nature.
So, these images will depict the close connection between yoga and nature, and the mental peace that you will attain with it.
Next Is What?
Ok, having talked a lot of images, now you must be thinking that this is it! But setting a perfect full-width banner is not that easy. It is not a cakewalk and there is more to it.
So, now let's talk about another important stuff that comes after images, for creating a perfect full-width banner image and that is color and text!
When it comes to colors, let me tell you that bright and contrasting colors can become a point of attraction for the visitors, especially if it carries a special message all along with it, like SALE or Discount banners at Shopify store.
Choosing bright colors also to some extent eliminates the issue of image scaling. Keep in mind that in some of the themes you need to create a strong color along with the images to create that impact.
You can also work great with the textual background if you know exactly what you are doing. Yes, you heard it right! Let me put you up with an example, say you are promoting a holiday, tour, or something of that short, you can go for snowflakes, a suitcase, or an airplane pattern in the background.
Edit the Shopify Banner Images And Make It Attractive
No matter which-ever image or number of images you select for your website, it is necessary to do much fine-tuning in order to make it presentable. It works better on full-width banner. So, these are the things that you need to consider regarding the color, screen and images.
Consider adding a dark or a light screen in addition to the pictures, so that it appears to be contrast. It will make the text more clear and readable. As I have already told you that it will also attract attention, as weird things are interesting.
If you have chosen to flaunt your company's name in the background, adding a slight blur can make a contrast effect as well.
Pay attention to the size of your image. Say for example that you want to make your banner appear long and narrow, make sure that the images are at least three times wider than it is high, for a larger, blockier image that occupies more of the screen's space, keep the height and weight roughly equal or at a maximum ratio of 2:1 ratio.
Let's Take A Look At The Text Challenges
A lot of effort in making the design of Shopify banners. You have to pay attention to every small detail. So after pictures and colors, it's time to talk about the texts. The type of text that you present on your site's screen has a lot of impact on the final look.
It also depends on the fact that how you want your site's screen to appear. Say for example that you want to display text over your full-width banner to add a little more context or for a call of action.
Both of which the strategies are great. Better keep in mind that positioning that requires custom coding and also then it becomes challenging to accommodate too many pictures with different sizes.
As I have already told you before in the article, if you want to use less text, you can use a background style image that makes the positioning of text, less important. It is a beneficial trick as it makes your design more flexible.
However, here are some of the things that you must keep in mind, on how to use the text smartly!
Keep the text short and sweet
At the end of the day you want the image to stand out, so keep it the text short as much as possible. It also helps in improving the readability, especially if the visitor is watching your site on the small screen.
Don't use long words
Before you make finalize your text, make sure to test it on small screens like the mobile phone. See that if you have used any long words, they do not break the layout. One of the most common issues is that longer words do not fit in one line and break down into multiple lines and it leads to breaking of the layout.
Don't add text directly to the Shopify Banner images.
If the images get cropped into a smaller size, you may lose the important information, and let me tell you that SEO should keep any text as the actual text.
Anticipate the alignment of the text
Yes, you heard it right! You need to align your text to create the space for the image. For example, you can consider to off-set the image to the right or blurring or darkening the spot where the text will go.
Test Please!
Before you finalize your Shopify Banner image size and text, make sure to text in on various screen sizes like desktop, tab, and smartphone.
Let me tell you an easy way so that you can test it. All you have to do is to grab the right side of the browser window and then drag and click to resize it into smaller and wider.
It is a good idea to refresh the page and preview each new size of the image. When you are doing this, also make sure to keep a close eye on things reflow and how the layout is affected.
Let me tell you that it is a great way to indeed cross-check how your site will appear on different screens and not just the popular ones.
As laptops and desktops have larger screens, it is also important to keep in mind that people do not use full browsers anymore and the smart-phone is also one of the common surfing devices, so make sure to test your site on small smart-phone screen as well.
So, Lastly, I would say that there is no better way to cause any errors or irregularities in your site than to browse your sites in all the different devices and see what it looks like.
Here Is An Alternative!
If your design ends up require precise control over the placing and cropping of the full-width banner, you will require investing the custom codes that easily accommodate itself to the variety of screens size and devices.
Let me tell you that though it may sound simple it can be a quite expensive process, so before you consider this process, it would be indeed a great idea to look for the alternatives.
Many of the themes with the full-width banner image offer the option to "crop Mobile banner image", which makes it possible options to display it on the smaller screens properly, without the need to crop it.
So, these are some of the amazing tips that you can use when it comes to getting a perfect full-width banner for your site.
Please let me know what you think about this article! Suggestions will be appreciated!