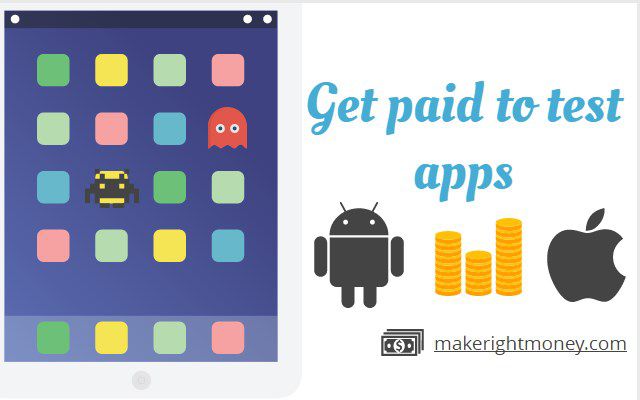 People Often use apps, but nobody knows that they also could get paid to test apps.
But how? And where to get that kind of projects?
Possibly you could know by going through this post.
By this technique, you will not only use apps but also get paid of it.
You can make money by testing Android, IOS, and Windows apps.
Really Can I Get Paid To Test Apps ?
Yes there is a way you can get paid to test apps for testing android apps. 🙂
Do you know that? Through App testing jobs the testers are earning more than $1500 month.
More than millions of apps are being created, so it is necessary to test apps before launching them officially and to test those app developers are hiring a team app testers to test their apps.
Earning money through online is one of the best ways to make extra income and getting paid to test apps is more easier than ever.
#How Do Apps Make Money?
Most of the apps get lost in the crowd so there are a lot of apps which needs to get higher ranking in Google play store, and they need some quality review or suggestion about the products to improve their quality.
Recent days there are lot of Android apps releasing in app stores and probably all are not using same apps.
Everyone loves a great app, and all are downloading which got most installs in app stores, but there are a lot of other apps which has great features and better quality compared to other Android apps.
So recently mobile app developers looking for some quality testers to test their IOS and Android platforms.
So here is the concept now trending worldwide which almost got a high positive response and what is that?
"Android apps that pay you to use them" – Of course a different way of earning.
Get Paid To Test Apps – Easily
I will say this is an enjoyable and easiest way to earn some additional income because all are spending more than 10 -15 hours a day with their smartphone or tablets.
Can't you spend 15 – 20 minutes daily to get paid to review apps?
The concept of testing mobile apps and writing some reviews or suggestions.
Mobile App developers are at your doorstep to give you reward through cash for testing their apps so you can easily get paid to test apps.
You can only search in Google, and there are a lot of Android apps that pay you to use them. But most of the android apps are not up to remark or in another word most companies after completing the work, they delay our payments and sometimes they won't send you the payment at all.
So I am giving you the authorized website to get paid to test apps
Where Is The Website?
Appcoiner – No #1 Source Play and get paid to test apps.
Appcoiner is worldwide, so it accepts members from every country in the world for getting paid to test apps.
Getting paid to test apps with Appcoiner is simple as 1, 2, and 3.
Step 1. Choose an app to test
• Go to Appcoiner.com
• Create an accoun
• Install Appcoiner from Google Play store on the phone or tablet.
• Log in to your account
• Select an app from app review from database and test it on your phone or tablet
Step 2. Write Your Reviews.
• Pick an app to take your time
• Test the app.
• Speak your mind and write an honest review get paid to test apps on the Appcoiner review website.
Step 3. Get Paid
• The more app you test and more review you write the more money in your bank account.
Visit the Appcoiner website now
Appcoiner FAQ's Section
Who Can join?
Appcoiner is worldwide, so it accepts members from every country in the world for getting paid to test apps.
Any age restrictions? You are eligible to become a member of the Service if you are over 18. It applies for both male and female.
Working Time?
Appcoiner is a freelance job to get paid to test apps. Choose your best time to test apps and get paid, work at any time.
If you ask me, I prefer to test apps in weekends and mostly at night time in my bed.
Can I Create Multiple Accounts?
No, u can't create multiple accounts. Appcoiner records your IP addresses when creating or Logging in your account. To prevent you from creating duplicate accounts.
How Much Can I Earn?
There is no limit in earning we are happy to give as much we can the more app you review, the more money you can make.
Payment Gateway ?
PayPal is our primary method to send payments.
Other Information's
Security
This website has the security measure to protect your information that you provided to us. We take serious responsibility to protect your data's from preventing unauthorized access to this website by hackers or spammers.
Termination
The company would have the right to terminate your account if we learned that you provide false information or misleading registration information or violating any terms of our service and also we additionally remove all contents and reviews you submitted without noticing to you at any time.
Refund Policy
If you are not satisfied with our product, you cancel at any point within 60 days of the purchase of the product. You can receive 100% refund guarantee
To request refund contact: http://helpdesk.appcoiner.com
After receiving the request, They will process your 100% refund within 3 days.
Get Paid To Test Apps: Wrapping It UP
Would no one reject the free money right? And neither do i. So then why shouldn't you give a try?
To achieve something you have to risk yourself and nothing come quickly.
And this job is not hard one at all. What you are going to do is to pick any mobile apps and review it and add a suggestion to improve it and find the bugs and report it. That's all
You can easily get paid for app testing (Android, IOS and Windows apps)
Also Read