Animoto Review: Do you have an interest in creativity and in animation? If yes Animoto is the best animation creation software that you can use to communicate your feelings.
It is whereby you make professional videos through forming a slideshow. You can add music of your choice to the background to make it more enticing.
Add titles and description to provide the information on the video. Use either your phone or computer.
Today people communicate through graphics and videos. It is amazing that Animoto is used even in schools to educate students and it is also one of the best resource for Bloggers and YouTuber's.
It is very interesting hence they participate without being pushed. Images are easier to remember than notes, especially during exams.
Don't miss! Check this Animoto Black Friday & Cyber Monday Deal to get up to 35% discount. Order now!
Limited offer: Get 35% discount on annual Animoto plans.
This post contains affiliate links and we may receive compensation when you click on links and purchase the product. This commission comes at no additional cost to you.
Animoto Review – Best Online Video Making Software
I'm currently using this amazing tool for making videos for my YouTube channel and for this Animoto review, I've included all the pros and cons as well! Check them below and also use my discounts to save your money. Animoto video maker heavy discount coupons are given below.
About Animoto Company
Animoto Company was formed in August in the year 2006. It was founded by Tom Clifton, Jason Hsiao, Stevie Clifton and Brand Jefferson.
They had one goal in mind. They desired to enable people to create classic video despite where they are located. The user only needs to download the app or to open an account. They can access it even from the comfort of their home and make a video in few minutes.
Brand Jefferson is the CEO of this company. It was registered under the internet software sector. Its headquarters are in New York City
The offices are strategically located in Francisco. They have an outstanding conference room that was made by employees who were professionals in that sector.
Many of the employees who work in this company are professional. They do an excellent job of helping all people who are interested in creating the videos.
Animoto Company has been ranked as the best place to work in New York for several times. They are well known for being honest that's why they got postive Animoto reviews among the users from all over the world.
The staffs are given the freedom to express their creativity. This makes them perform well because they are not under pressure.
Customers and Reviewers are encouraged to give their views about the company and to rate it.
People who are creative and would like to work in Animoto Company are encouraged to apply. When there are no vacancies they are encouraged to wait for the upcoming ones.
Behind Animoto's Success – The UX Researcher
Animoto video maker works very well. It does not take a lot of time to make the video. It provides a good opportunity for you to work with professionals in designing, animation and creativity.
Engineering department works closely with the management to ensure that production takes place without hitches.
This company has a partnership with UX researchers. This helps a lot because they research on the solution for different challenges that customers face. It helps in solving the differences between the customers and the staffs.
Customer's issues are solved in time. This makes the customers be more satisfied hence advertising the company to his friends.
One satisfied customer tells ten people about the company. One unhappy customer tells it to a hundred active and potential customers.
Once Animoto video maker tool has new designs they share them with shareholders and other elegant designers. This helps them to identify where they should improve. As a result, they are able to satisfy customers fully.
They provide unique compensations that are rarely given by other related competitors. This includes the medical cover on dental and eyes checkup.
The company holds an event once every year to bring its staffs and customers together. Every Friday Animoto company does a presentation on its product.
Lunch is offered for those who attend. This attracts many people to attend. They always keep customers interest as a priority.
The videos help people to express their feelings and views concerning certain issues.
Do You Know The Kind Of Video You Can Create With Animoto?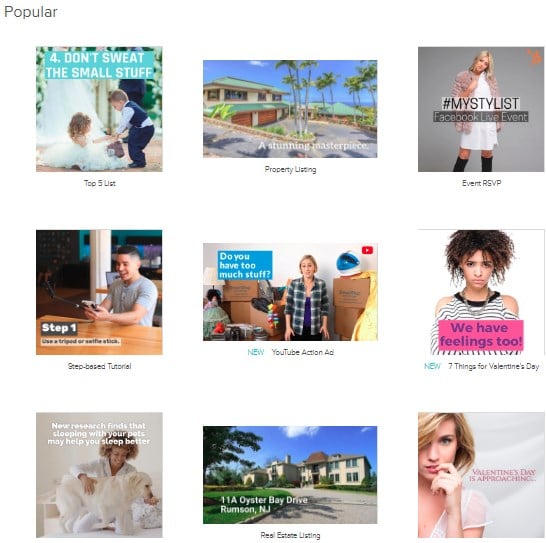 Have you ever posted your best photo but you find that there are only a few people who liked it?
We all wish that we would get many likes and good comments. This does not happen automatically. You need to work on it.
It might be a beautiful picture but people may overlook it. You need to start making a slide show for your photos to attract more attention.
Put a beautiful song on the background, it will entice those who will be viewing. There is a wide range of videos that you can create using this technology.
Steps To Make A Video Tutorial
Let us briefly discuss how you can make videos with Animoto video maker software in the Animoto Review.
Step 1: You need to Log in. Suppose you do not have an account with them, stay calm and don't panic. It will take you very few minutes to register.
Step 2: Once this is done, you will get started by clicking the create button. Choose the video style of your choice.
The style you will choose will be determined by the purpose that you are creating the video for. For example, it can be for education, personal, photography or for business.
Step 3: Put video clips and photos. On the left side, there is a sign written 'add video and photos'. It will give you an option to add photos from various sources.
This includes Facebook, desktop, and album among other places.
Step 4: At this stage, you are required to organize your photos by dragging them. Start with your best photo so that it will attract the audience.
Ensure that you add titles. This gives a guideline to people who are watching. They will be able to follow and understand the message you desired to communicate.
Step 5: The last step is to check how your video looks like. Click a button written 'preview video'.
You need to add other information like date, title, the name of the producer and a short description.
When you are satisfied with how it looks press a button written 'produce'.
Step 6: On the right side press the share button. Go to Facebook. Select where you want to share it. For example share with your friend or on another page.
Once you are decided to release it. You may end up posting on the platform if you post directly from Animoto.
Pros And Cons Of Animoto Video Maker
Here are some pros and cons I would like to say in this Animoto review to give additional information about this product.
Animoto is outstanding amongst its competitors. The close competitors include iMovie and magisto. The work almost the same as Animoto does.
You can use Animoto video maker to create amazing videos from your photos. Their videos quality is beyond just the norm. It looks professional and very attractive.
Animoto matches the others out because it is very easy to operate.
It has been made in a way that it can be accessed through Android. It is not a must you be having a laptop or a desktop for you to access it. You can use your smartphone.
It has different styles to choose from. You are not restricted from changing the style of your choice. This help in making your work unique from others.
It produces high-quality videos of HD type. Many of its competitors do not offer this quality.
You can enjoy unlimited video upload. You will be required to pay for you to have the freedom to upload as many videos as you want.
It works perfectly for coaching students. Illustration of a certain study sticks better in the mind of students when it is done through images.
It gives you the freedom to upload your music. You can either opt to go through their music and choose from there or you add your own.
It is versatile. You can use it for varies purposes. For example for teaching, for business and for fun.
Does Animoto Have Any Challenges? – Animoto Cons
Yes, it does. There is no product that has 100% perfect qualities. It is normal to have a few hitches. The advantages should be more than the disadvantage.
You would have to pay to suppose you desire to upgrade. You cannot get the extra features for free.
You would be required to add music in the background so that you can be able to create the video. This is mandatory therefore it limits your creativity.
It is not flexible. You cannot use it for other functions that are not described on it.
You cannot edit the image in Animoto video making software, the editing have to be done in image-editor.
Things I Like About Animoto: Review
There is no doubt that Animoto video creator is the best animation video making tool in the market. There are many features that attract me to it.
It boosts student's creativity. Since it is interesting students get engaged willingly. Once they achieve in make one they get an interest on making much more using different styles.
Submission of the work is also easy. They only send the link to the site.
The more they practice the more creative they become. They get new ways of doing it as they practice.
It is fast and convenient. It helps you in making a professional video within thirty seconds. For longer videos, it takes only ten minutes.
It has different themes and styles. They are not less than thirty-six. This makes each video you make to be different from the others.
They offer free accounts for schools. The only requirement to qualify for an account is to give out your school website.
It has many images that you can use as a background as you make your video.
It helps the students to gauge their understanding. When they make them, they are able to identify where they need clarity.
It helps the students to like teamwork. When they are learning how it is done they work together.Those who understand quickly, assist the others.
Animoto Pricing
The cost varies with the different plan that you will choose. The following are the plans that are available.
For Business – Check Plan
The package cost $49 per monthly. It has over 3000 tracks in its library for you to choose from. The video can play for 30 minutes.
Professional – Check Plan
This cost $65 if you pay monthly. When you pay for one year, you will be charged 33 dollars per month.
The video can be made in landscape shape or marketing videos. They are of HD quality. There are over 2000 tracks in the library. You can choose a style from the 100 provided.
You are allowed to attach your logo on your video.
Personal – Check Plan
You are charged $5 per month if you pay annually. For those who pay per month, they end up paying 9 dollars per month.
You can only make landscape videos. The video will get Animoto logo when you are through. You can choose a style from the 70 that are available.
The library has 500 tracks to choose from.
Animoto Promo Codes
Animoto video making tool has certain offers to entice customers as discussed below.
Customers are given 10% discounts when they subscribe annually.
For new customers, they are given a discount of 10%
25% Off for Annual Photography Plan: VIDEOALLDAY– Get now
25% Off for Annual Personal Plan: VIDEOALLDAY– Get now
25% Off for Annual Business Plan: VIDEOALLDAY– Get now
When you subscribe through Facebook, you are given time to enjoy free services for trial purposes.
Those who buy an annual personal plan they are given a discount of ten percent.
For those who go for annual professional and business plans, they get ten percent discount.
Animoto Alternatives
There are other software programs that provide the services like the one Animoto offers.
InVideo
InVideo is the best alternative to Animoto video maker. InVideo got 5000+ handcrafted premium templates, 1M stock photos, Automated text to speech features, and you can see all the features here. And here is my InVideo Review to learn more about the product.
Super Fix Studio
For you to access it you need to create an account. When you open, you will get a sign written add on the left corner.
Add your images from whichever source you would like such as the desktop. You will see a button written soundtrack whereby you will be required to add music.
Flow Vella
It is very effective on apple phone, iPod or laptop. It allows you to add a lot of images. Your video is then saved in the URL.
Animoto Review: Conclusion
For any kind of business, branding is very important. The Animoto branding is simple and could be done within minutes.
Again, Animoto video creating tool is an outstanding software that is affordable, versatile and makes high-quality videos within few seconds.Try to make a video.
I've covered everything in this Animoto Review for those who are planning to use it. Do you know any similar products like Animoto Video Maker? Comment it on the comment box.
Animoto Review
User Experience

Features

Pricing

Support

Client Reviews