Best animation video maker for making animations for your business and YouTube.
If you plan to open channels on YouTube or if you have an existing channel, you may want to make animated videos in the introduction section of your videos. Creating such videos will be easier for those using traditional video editors like Adobe Premiere or iMovie.
However, since these programs are sophisticated and complex, it will take some time to learn for beginners. If you want to create videos using a drag-and-drop method with a simpler interface instead, we have prepared a list of 17 best online animation maker free tools that will help you create animated videos in this article. You should definitely take a look.
Best Animation Video Maker
1. InVideo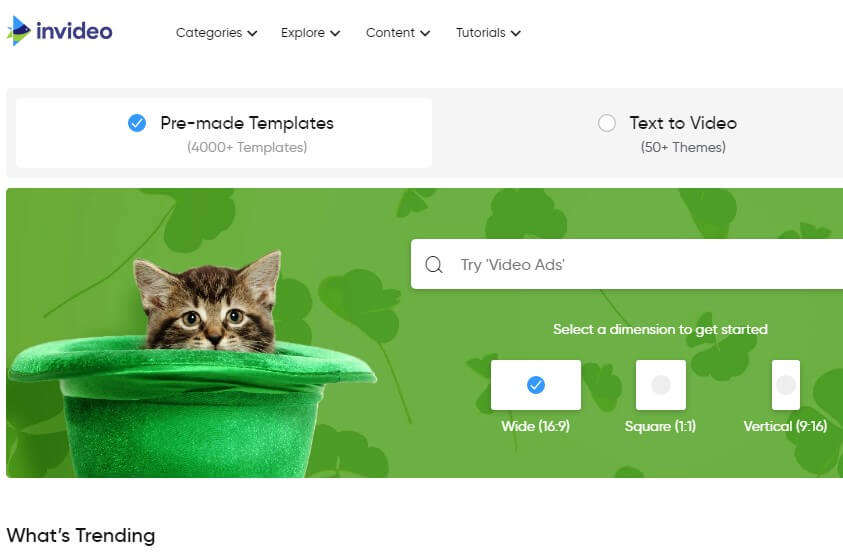 Invideo is the free animated video maker, that's why it's on the top list. You can create any type of video within 5 minutes.
Invideo.io is widely used by more than 800,000 users worldwide and this tool has more than 4000+ pre-made templates that can be added anywhere on your video to make your video more interesting and meaningful.
Things I Love about Invideo.io is
3500+ premade clips covering every industry
Automatically convert the text into videos
Make a video in any languages
What Invideo can do?
Create Brand promotional videos
Create social media video ads(Facebook, Instagram, Pinterest, Youtube, etc)
Intro maker(Youtube)
Meme generator (I love it)
Customer testimonials to gain trust
Webinar promos, offers, and discounts
and more…
I've tried this tool to create 20 seconds short video and it's worked well. You can try this tool freely or you can grab this tool with a limited 25% discount here.
2. Animoto
This is the personal tool I've been using for more than a year. Animoto best animation video maker lets you create videos easily by using the simple drag and drop video builder. You can add premium quality video clips, stock images, and high-quality music when creating videos.
By using Animoto, you can create a video related to
Business

Social media

Tutorial video

Promo video

Celebration

Community
To know more read my Animoto review | Visit Animoto.com
Producing fascinating videos to help attract your audience's attention, FlexClip has an intuitive interface that doesn't expect you to be a professional to create good videos. You can create a professional video in less than an hour with the drag and drop method.
This best animation video maker tool also offers unlimited copyrighted free music that you can use as background music in your work. Besides, you can choose from millions of royalty-free photos and footage to create your videos.
With a few mouse clicks, you can add text, overlays, logos, voiceovers, transitions, and other effects easily. Finally, FlexClip also helps you to download your videos in HD quality.
4. Animaker
Animaker allows you to create the bestdrag-and-drop animation videos in various styles, including handcrafted, information, typography, 2D, and 2.5D. It also offers the drag-and-drop features to create your videos more easily. You can add graphics, maps, statistics, and infographic elements to the videos.
Apart from these, you can also use the images and sounds on your computer in Animaker, which also offers special fonts, Premium templates, text effects, and plenty of sound effects.
Biteable, which we can describe as the free animated video maker tool, allows you to create your video using a drag-and-drop method with text, photos, colors, and sounds.
You can also post your videos on YouTube, Facebook, and Twitter after you have created them in Biteable. It also offers ready-made templates, which include many styles of scenes, such as animation and photography.
6. Wideo
Wideo is another best animation video maker tool that helps you create animated videos with the drag-and-drop method. It allows you to easily perform operations such as adding text, changing colors, and editing the logo, thanks to its easy customization options. You can also add background music and transition effects to videos in the tool.
There are ready-made templates from which you can create an animated video in a few minutes.
7. Vyond Animation Video Maker
Vyond (former GoAnimate) is presented as another of the great options to create animated videos in a simple way, with very diverse options.
The interface is also very intuitive. You can choose different types of videos. The options are really varied, so you can get the most complete videos. Of course, it will take a little longer to create animated videos, if only for the time invested in exploring and playing with the different options.
8. Animatron
Animatron allows you to tell your story with hundreds of animated characters and dozens of backgrounds, focuses on getting your audience's attention and increasing your website conversion rate.
The tool lets you download images, audio files, and even fonts to customize your videos further. It also has libraries of royalty-free audio, videos, and photos.
You can save the videos you create in GIF format, HTML5, and other video formats. Apart from that, you can place it on your websites and upload it to social media platforms such as YouTube, Facebook, and Twitter.
9. RawShorts
RawShorts is a tool that you can use to create interactive best animation videos using dozens of professionally designed templates. In a few hours, you can customize them well with drag-and-drop features.
The tool also allows you to share your videos on social media platforms and download them in MP4 format.
10. Mysimpleshow Animation Video Software
Mysimpleshow is offering thousands of illustrations to create stories and explanatory videos. The tool allows you to configure the speed of your video, also supports loading custom logo images and adding text.
In the tool, you can record your own voice and download your completed video in MP4 format.
11. VideoScribe
VideoScribe provides features such as adding media to your videos, setting animation options, recording audio, or choosing a sound, etc.
In addition, VideoScribe offers options such as choosing the size and resolution of your video, removing the logo from the video, producing videos in HD quality, and downloading videoss in MOV, WMV, and AVI formats.
Finally, you can also save your videos to your own cloud storage account and upload them to many social media platforms.
12. Moovly Studio
Moovly Studio, an advanced video editor that offers pre-animated and editable media to create your videos, gives you access to more than 500,000 media files.
Moovly Studio, which I can say as the most powerful video tool that works with the drag-and-drop method to create descriptive videos, allows you to create HD quality videos without any time limit.
Also, the features of removing the watermark and importing special media are available in Moovly Studio.
13. MakeWebVideo
MakeWebVideo is an online best animation video maker tool for creating high-quality animated videos in just 15 minutes. The design process takes very little time because there is a pre-made video template where users only need to add text to create videos for them.
MakeWebVideo is entirely web-based, so users don't need to download any software and can access videos on the browser.
14. Powtoon
You don't need to be a pro to use Powtoon, which makes it a perfect solution for those who want to make something on their own without designer help. The drag and drop features allow you to make videos easily and add royalty-free music inside it.
Their clients include Coca Cola, Pfizer, eBay, and Starbucks. It can be easily tested for someone in need of video. After you have made a video, you can easily use it on YouTube, on your website, or download it for offline use.
15. RawShorts
Rawshorts are mainly used by businesses to make demos, explainers, and video marketing. Users have the choice to use from thousands of available graphics, characters, etc. or they have the option to upload their own images, videos, etc.
You can directly share videos on YouTube, Facebook, or download them in MP4 format. Their pricing plans range from $ 0 – $ 59 per month.
16. CrazyTalk
CrazyTalk focuses mostly on facial animation and can, therefore, be referred to as animation software for entertainment. One of the best features is that one can create 3D avatars as well as full-body animations.
Not only that, you can import your own images, and CrazyTalk will create 2D or 3D avatars using 3D fitting technology.
17. iClone
iClone is an animation software that has been used by people like the FBI, Microsoft, and Ford. It is something you won't want to miss.
With features like 3D-Characterization, environment creation, and face lightning & shadow effects, this is one software that can help you create amazing animated videos. This software is available for Windows operating systems only, and prices start at $199.
Best Animation Video Maker: Conclusion
We introduced the 17 best animation video maker tools for you to create animated videos for your various works. While some of them have pocket-burning prices for professional features, you can do the kind of work that will get your audience's attention. So what is your preference? Do not forget to share it with us in the comments section!