LearnWorlds is a highly advanced course selling and learning platform wherein the students and faculty can interact closely through unlimited multimedia resources. The stimulation of real-world experience in the online environment follows the varying learning curve of the students.
You can change the pace and style of learning according to the convenience of your students and set custom schedules that are simple and easy to follow.
In this Learnworlds review i will say most important benefits and also the pros and cons. One of the vast range of options that are available from the LearnWorlds academy are e-books and checklists, weekly webinars, and of course the support articles library. You can keep adding the newly arrived resources endlessly onto your school.
The other most impressive feature of LearnWorlds is its customer support and online help. There is a group of specialized experts who are always available around to help you out of any complex situation. It could be related to course design, web design, SEO, keywords, or any other.
LearnWorlds Review: Pros & Cons
1. Complete Tools for Course Creators
I highly recommend LearnWorlds for the individual trainers, teaching communities, corporate, and business schools due to its unlimited features with no patches and version upgrade needs. You subscribe to LearnWorlds once and the entire system keeps delivering all the updates consistently and automatically.
When I started using LearnWorlds for the first time, I was a kind of overwhelmed with its vast features of page building. It has everything that is required from starting an online school to delivering a completion certificate to the students.
The best feature I found that i would to include in this Learnworlds review was its ability to plug-in third party tools to expand its ability infinitely.
Once I started using the system in steps, I was able to figure out the exact path I had to follow to get the complete benefits. The LearnWorlds environment comes with four distinct features of
Building the courses
Creating a website for the courses
Marketing the courses
Start earning name, fame, and money
2. LearnWorlds Features: Easy Page Builders + 300 Templates
I am an orator and a trainer, specializing in the fields of corporate training and public speaking for the past 25 years. I started my career with a simple whiteboard (just like in schools) and a marker pen in the initial stages. With progress in technology, I have seen many kinds of online tools from presentation-makers to entire multimedia systems.
3. Interactive Video works
If you are a Corporate or HR trainer, you might have had the experience of training high profile professionals, be it online or offline. After taking breathlessly for 15 minutes, you take a break and ask your "audience" how it is going. The first question you get is "Can you please repeat what you have said so far?"
I was usually baffled by these kinds of responses from my audiences before I started using LearnWorlds. Thank goodness I haven't had any such issues since I switched over to the LearnWorlds system. I have found the system to be particularly beneficial with relevance to some key factors of concentration building that include
High definition videos
Interactive transcripts
Completely engaging content
Undisturbed classroom sessions
4. Customizable Course Player
Today, my audiences can grasp the core content of whatever I deliver completely without any sot f doubts. I am able to build up their understanding levels from the basics to the most advanced level in gradual steps. At every level, they can build their level of
Listening and understanding
Concept development
Through the LearnWorlds I am able to provide plenty of practical examples to the audiences related to every concept that I deliver. Every example I explain is through an exclusive window or link which has no impact on the main course window. So, I can track all the interactions on every window with absolute ease.
5. Multiple Payment Options
LearnWorlds gives you multiple options to collect payments from the course through various types of cards. Every course can have a unique price tag and you can collect the payments upfront before the start of the course.
Luckily, the system has the option to connect with PayPal payment gateway. All you need to do is create a PayPal account and connect it to the payment page on your website. I don't think you will need any knowledge of coding since the system generates all the coding by itself.
If you find it difficult to do the integration, just click on the online help and the system will make it immediately easy for you to get online help for all the tasks from the start to the completion stage of integration. Once you re through with the integration, it gets linked onto the payment pages automatically.
6. LearnWorlds Affiliate Management Solution
To include in this LearnWorlds review, it give you plenty of options for multiple page types from the catalogs to affiliate programs according to your convenience and requirements. Apart from the inbuilt page templates, it is possible for you to build custom pages for the various course options.
You can design, develop, and publish the affiliate pages at any point in time according to your convenience and requirement. The unlimited options that are available within the LearnWorlds are more than enough to create any type of affiliate program. Some of the most important features of affiliate pages are
Commission tracking system
Affiliate program designs
Custom affiliate benefits
7. Unlimited Courses
One of the main issues to say in this learnworlds review is, I faced while building the courses was to organize the flow of everyday sessions. There are some key elements that are needed for the monitoring and management of sessions which are
Planning the course coverage
Making sure everyone understands
Clarify doubts and answer FAQs
Create and Handout assignments
Collect previous assignments
Organize the new and corrected assignments
Hand out the corrected assignments and get feedback
Follow up on student progress (session-wise)
Oops! These are the everyday tasks that I used to do manually before I took up LearnWorlds. Of course, I had the help of spreadsheets and documents, but the management was highly tough and sometimes I used to lose track of students. Now, all these tasks and much more have become simple, easy, and fast.
Individual Interactions – Personal as Never Before
If a classroom has more than five students, the probability of losing individual attention on the audiences is high. It could affect the participants' attention span and make them drop out on the way. The probability increases when it comes to online sessions. With LearnWorlds it is entirely different.
Customizable progress-bar
Pre-set learning path
Sequential progress
Individual monitoring
With these features on hand, the accuracy of individual monitoring and management is simply unbeatable. I have been using the interactive feature to monitor and control the progress of every individual on all my courses.
Online Assignments- Test Participants to Core
Online assignments are the most effective ways of testing the truly acquired skills of your curse participants. You want to make sure they have understood the concepts and the practical aspects clearly. For this, you may want to
Assort the questions
Add creativity
Make the assignments versatile
LearnWorlds review – It offers you all these features and much more when it comes to enhancing the interactive features of assignment management.
Online Exams – Ultimate Parameters of Certification
"How can I award a certificate of completion to the participants without direct interaction with them?" It was the first question that put some fear into my mind. It was for the simple reason that my mind was conditioned to certifications that way.
But LearnWorlds changed my entire perspective of exams and certifications from the roots. Today, I am able to use the platform effectively for the exams, evaluations, and certifications without a pinch of doubt whatsoever.
Online Course Materials – Infinite Possibilities
No matter how interactive the videos are, and how effective the audios are, the learning communities all over the world still prefer text content to be a part of the training process.
As a corporate and HR trainer, I too strongly believe in the concept which has been generating results since the first print media appeared in the education field.
Of course, times have changed and the print media has given way to the digital documents.
I am sure the learning communities have switched over comfortably to the media comfortably. With LearnWorlds, you can share plenty of e-books, PDFs. Slide-shares, and other digital course materials with your audiences.
All you need t do is utilize the various tools and software systems to create these documents and make them available for sharing and downloads. Besides, there are many other digital documents for the quizzes, exams, and assignments that you can store and share online with your audiences freely.
8. Multi-language support & Localization Options
Your audience may come from any country or continent across the globe. LearnWorlds gives you the power to communicate with them in their most comfortable language by maintaining the same level of quality and volume.
You may choose the Multilanguage translation option for all the education and training programs in your online school. The system can quickly do the complete "context-sensual" translation of the pages, videos, documents, and other materials with ease.
LearnWorlds can work on multiple hardware, software, and browser platforms across all sorts of mobile and PC devices with ease. The system loads faster and takes a minimum of memory space to run. You can also run it in parallel with other programs with the same speed and efficiency.
LearnWorlds Web Pages – Easy to Use
LearnWorlds gives you the ability to design and develop multiple web pages for your training programs independently with no hassles. You could be a person with little or no knowledge of web design, development, and programming skills.
There are multiple types of templates for every kind of school from the initial stage of a home page design to the complete website and its subsequent updates. The procedures are simple and straightforward. Once you input the basic information related to your school, it is possible to design and develop your website within few simple steps.
By default, the website comes with a landing page and an after-landing page. You can go on adding multiple pages according to your convenience at any point in time. Of course, there is also a blog page which comes along with the website design package.
Every page on the LearnWorlds website comes with its unique set of features. For example, you can consider the landing page. It comes with an inbuilt template image, featured courses list, testimonials, and multiple options to explore all the courses you offer.
9. Create Upsells
Sometimes your audiences will be in such a hurry to learn that they end up clicking all the available icons during the group sessions. It may distract your course flow and make the users jump many of the intermediate level courses from the basics until they reach the advanced levels.
If you want your audiences to go step by step in the program without having to skip any of the steps, I suggest you start using LearnWorlds.
Upselling is a wonderful filter that restricts the audiences to only certain sections of the course you are delivering. It keeps them focused on common group subjects. I have found the filter to be highly useful while handling complex subjects related to HR, psychology, and many others.
The second step after the building of course and course material is the design and development of your website. It is the platform on which the participants interact with you and other faculty members through the multimedia sessions.
10. Run Promotions with Discount Coupons
Coupon codes are the most attractive ways to increase the sales of courses. They create a deeper sense of interest and keen involvement among the participants to take up the courses. By linking the search engine optimization options with the coupons, it is possible to reach out to more number of audiences.
You may opt for individual coupons for the advanced courses wherein the number of participants could be limited.
There, you have to keep the discount level higher and the duration of coupon availability shorter. It will attract more participants to join the course within a short time.
You may opt for bulk coupons wherein the number of participants is higher. For example, consider corporate training courses in which people from a specific department may participate in the course as a group.
It is always a good practice to categorize the courses into sub-courses and sell because it is one of the easiest techniques of attracting more number of participants.
11. Search Engine Optimized Pages
The first time I used the LearnWorlds landing page builder, I found it to be highly interactive and easy to customize. My intention was to add as many images as possible to the landing page to make it highly attractive to the new visitors.
However, working with the LearnWorlds page builder over time showed me the best ways to optimize the images and videos that are to be installed on the landing page. Using the various tools on the system, I started experimenting with the design of my first landing page for my school.
All the pages of LearnWorlds are optimized for SEO across multiple search engines like Google. So, you don't need to put on any extra efforts during the organic and other forms of marketing procedures.
After Login page – Key Elements of Website
The "after login page" has plenty of options for you to share with your potential and converted audiences. It has an inbox for emails, daily news-feed, community sources, and people options. Using them it is possible to communicate with all the community members across the network with comfort and ease.
12. Conversion Tracking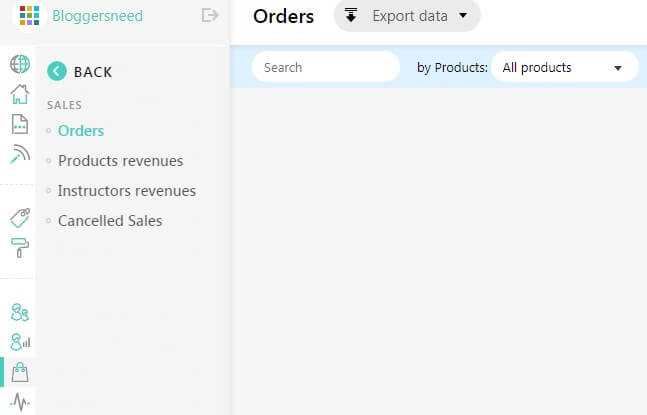 One suprise i wanat to say in this LearnWorlds review is Learn Worlds comes with a custom marketing bundle for the promotion and management from the start of your school. Infinite options exist for the leads which you may want to convert into potential sales.
I was so apprehensive at the time of starting that I thought I may not get any leads for a long time. I was for the reason that the whole interface looked so simple and easy to handle.
Once I started using the multiple features of the dashboard, manage bundles, and affiliate setup that I realized the depth of the LearnWorlds sales program. Soon I was able to reach out to hundreds of potential audiences within a short time.
Lead conversion from audiences is simple and straightforward. Of course, the rest of the program depends on how effective and efficient your course is. With consistent conversion tracking, it is possible to know how effectively your marketing programs are running.
Cons of LearnWorlds
The below are personal cons I found while using it, so I've included it in my LearnWorlds review.
1. Too Many Options – LearnWorlds Review
The control panel of LearnWorlds has too many options which may confuse an individual with no prior knowledge of web design and marketing. After successfully launching my school of corporate and HR training, I wanted my wife to follow the same program for her recipe training.
She got so confused in the initial stages that I had to help her with all the basics before she could get to know them properly.
But everyone may not be so lucky to have a helping hand that is closely available. However, the online help available at LearnWorlds can go a long way in solving many basic doubts that a beginner may come across though it takes patience and persistence on part of the individual to learn and master the techniques.
2. Canceled Sales Page Not Clear
The design of the canceled sales page is not very clear from the templates you get to see. Some of the initial users may not have a clear understanding of what it may really mean. So, it is highly essential that the designs of templates should carry the right message to the users.
The main purpose of having this page is to show and track the number of drop-outs that may have happened during the course. They could be in the initial stage, intermediate sages, or the later stages of the program. Hence, there is a need to clearly define the page.
Also, it is very important to have an input page for the page from which the users can input the canceled sales, refunds made, and other details.
3. Help on Sales Funnels Too Short
Creating sales funnels is one of the most complex and time-consuming tasks, especially for trainers who don't have enough experience or education. LearnWorlds has the top sales funnels for the creation of complete online course website.
It is better to have a detailed plan as to how online trainers can create sales funnels through channels other than the affiliate programs. Hence, it is very important to have such online help. The designers of the program could provide such help on the applicable menu which the users can access whenever required.
A step by step approach to creating a sales funnel can help the beginners until they can gain enough experience. It should be simple enough for everyone to follow and long enough to be result oriented. Once this option added, the package of LearnWorlds can be considered to be complete in all the possible aspects.
4. Marketing Analytics Takes Time to Understand
The first time when I read through the marketing analytics of LearnWorlds, I was a bit confused about how it may work. It was for the simple reason that the content was too much the steps were too many. For a beginner like me, it is important to keep the analytics data simple and limited.
It is not that I am downplaying the benefits of the program. In fact, they are highly helpful in providing me with data from various sources of sales funnels.
It is just that they need to keep the basic elements in view while designing the interfaces. Once you understand the basics completely, it is possible to make use of features like a pro and this is last con i would like to add in this LearnWorlds review.
LearnWorlds review: Conclusion.
I'm concluding my LearnWorlds review by showing both the advantage and disadvantages of this online service.
If you're a beginner and looking to start and sell your course online then you can choose learn worlds trust me your student will love this platform.
Another to say which I've forgotten to include is, you can get an app from which your student can study from their mobile phones. Good right?
Then now what? visit learnworlds.com and start your 30 days free trial.
See you…
LearnWorlds review
Pricing

Features

user Experience

support