People often use Off-page SEO techniques for effective link building purpose that could add a lot of backlinks for ranking their websites.
Some Off-page methods work but some sadly fail.
Do you know that there are more than hundreds of Off-page Optimization techniques exist? But SEO experts use the best Off-page strategy which works.
The methods they use are always safe and even loved by Google.
Do you want the best SEO tips and safe link building strategy from the SEO experts?
Then check these 10 best Off-page SEO techniques stolen from the SEO's personal Dairy.

What is Off-Page SEO?
Before discussing the Off-Page techniques lets know the real meaning of it.
We are popular about On-page SEO it is the technique we do within our website to optimize it fully for better SEO.
But in Off-page we optimize our websites by using external website links through link building.
For example: If Wikipedia links to one of your website articles then some part of Wikipedia power will transfer through your article link getting that particular article ranked in top results.
Like this, there are various link building methods carried to rank a website so called Off-Page Search Engine Optimization.
Off-Page SEO Techniques Video Explanation
I advice you to fully watch this video first from Brain Dean to understand the full concept of Off-Page SEO quickly then continue reading my article.
Here are my best Off-Page SEO factors which i do most for ranking medium and high competition keywords and almost best SEO's use this same technique.
1. Guest Posting
Guest posting is the most popular link building method where an article is written as a guest post by another website webmaster.
Where the author places his/her one of website article links inside the article in that way the link juice passes to guest post author's website.
Some SEO experts claim that Guest Posting is against Google terms and conditions.
One minute silence for those, here is the proof of Google allows guest posting on its official blog.
Take Neil Patel from NeilPatel.com he does more than 100 guest posts each year from that he builds his brand and makes dollars from that.
Also, he brings visitors to his website and converts them to clients.
Example of Neil Patel's Guest Post on Huffingtonpost.com
So do reach other webmasters relevant to your niche produce mind-blowing content publish it and link to your website.
2. Q/A link Building
People often search for the answers on the internet and several webmasters use this opportunity for link building purpose.
Take Quora the No 1 question and answers discussing website. Most visitors type their questions and get the answer.
What can you do?
Visit Quora website and create an account. Then look for questions related to your niche.
If you know the answer to the question then write it and in the middle or end of the answer link your website article.
Do like what I did in the image below.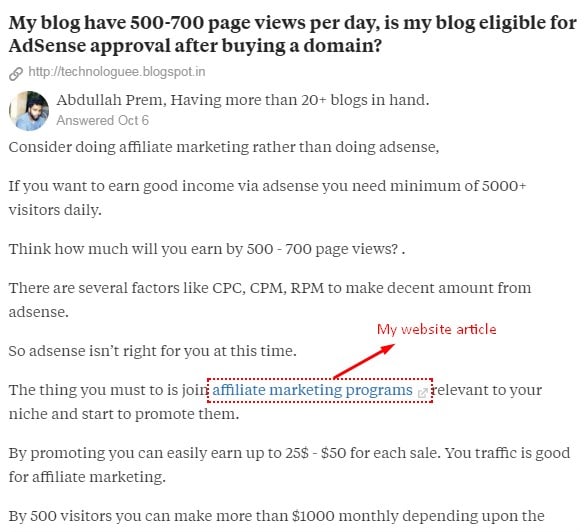 It will boost your website ranking and also visitors will click to visit to know more information.
Of course, Quora links are no follow but still, it is high citation flow and trust flow.
Move Your Site To Top Google Now
3. Social Bookmarking
Social Bookmarking is a way people use for bookmarking or store their favorite web pages, articles, videos, etc.
Many Social Bookmarking websites links are Dofollow which allow Google to follow them and rank their websites.
Social Bookmarking is an easy way to link building and can be done within minutes.
To social bookmark your article. Visit StumbleUpon.com and Under your profile click Add Page and drop your website article link and save it.
4. Blog Comments
Blog Commenting is my favorite OFF-page SEO link building method by this method you can build powerful backlinks to rank your website.
See my blog commenting on Robbie Richards blog.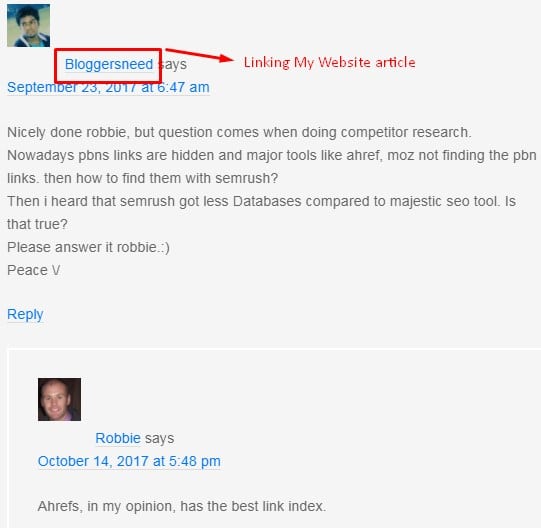 To do blog commenting search on Google for the websites which allow blog commenting.
Also, there are lots of dorks available to find blogs for commenting.
You can search in Google or in case if you want to use now

In keyword, place use your search phrase.
For example: To comment on digital marketing websites.
Search as: site:.com inURL: Digital marketing "post a comment"
After hitting Enter it will show digital marketing blogs visit the blog and comment with your website URL.
5. Press Release
Press releases are one of the effective link building strategies and it still continues to boost search engine rankings.
Through press releases your website will appear on Google news section from that you would obviously get a large amount of traffic to your website.
You can hire SEO experts from SEO Company to do press releases for link building.
Press release costs little high but it is still a good investment for gaining dofollow backlinks to our website.
6. Forums
Forum is a great way for participating and discussing with other webmasters
In the forum you can ask various questions, write an answer for questions asked, join on various discussions.
Also, you can use forums for doing Off-page SEO work.
To do link building via the forum, join relevant forums and participate in discussions, answer questions.
Repeat this for 2 to 3 weeks after making your profile super active search for the question and reply the answers and place your link in it.
Check the link building by Blackhatworld forum member below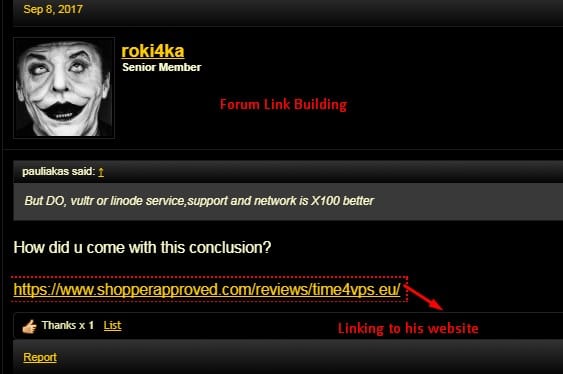 If you place your link on the day 1 itself then forum admin identify your linking article for SEO purpose then they will ban your account immediately.
So do this Off-page SEO technique carefully.
7. Web 2.0
Web 2.0 link building is the great tactics and Secret method for ranking websites.
By default, every web 2.0 websites such as WordPress, Blogger, Weebly has high page rank and Domain authority.
When we use these sites for link building it works great when done correctly.
The biggest advantage of using this Off-page SEO tactic is that you can have full control to handle the links.
By having full authority you can change links, modify anchor texts, add or even delete backlinks.
How to create web 2.0 links?
SELECT top five web 2.0 websites.
Create a website with anchor name in the domain name.
For example, if you want to rank for SEOprofiler review, create website name as Seoprofilertutorial.wordpress.com or SEOProfilertoolreview.wordpress.com
Your blog should have necessary pages like Home, About, Contact us, etc.
Then write 300 – 500 words content with perfect ON-page SEO and link to your website with powerful anchor texts.
Since web 2.0's take a long time to get indexed on Google, Use link indexing services to index your Web 2.0 articles soon.
To make even more effective bookmark web 2.0 articles on social bookmarking sites and also share on social media sites.
8. Profile links
Good profile links can improve your website ranking. It will not only act as backlink but it is most than a backlink that will increase your overall website branding.
Getting profile links from popular websites will act as a good consideration for Google to judge your website and rank on top search results.
So join the most popular social media websites with high DA and go to the settings and look for the website or Home Page box and add your website homepage URL.
Look my Twitter Profile and see my website Homepage address.
9. Directory Submission
Listing your website in directories is part of SEO to get powerful backlinks to your website.
In order to get quality backlinks, you need high PR directory submission websites which give dofollow backlinks.
Although directory submissions are easy most people find it difficult for listing their websites.
They list their website on unrelated category due to that the directory owners will delete the websites.
So always list your website in proper categories and add good title and description.
10. Resource Pages
It is another holy grail and best Off-page SEO strategy for effective link building.
By this method, you can get easy .gov and .edu backlinks to your website.
How to find resource pages?
To find resource pages Google as "Keyword" + inurl: links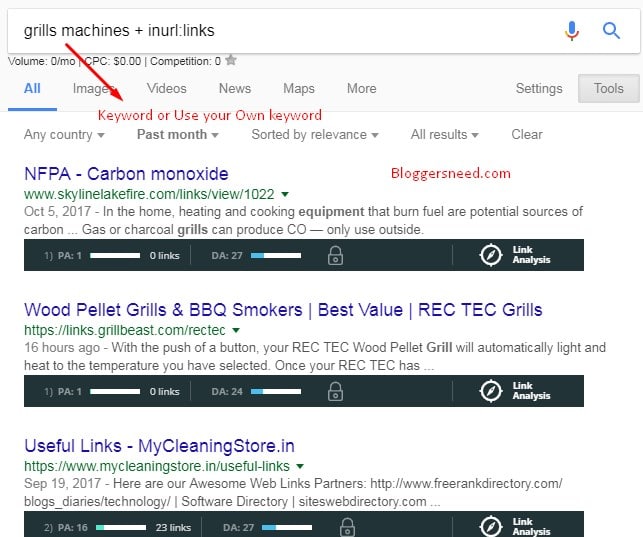 Install Moz chrome extension to find sites PA and DA.
After finding the good resource pages with good PA and DA, reach the owner of the website and ask for linking your website on their resource pages.
11. Private Blog Networks (PBN)
Believe me or not but Pbn's are the another best way to rank your websites in a short span of time. Many SEO's says that they are black hat and it will penalize websites if Google finds it.
100% Yes I agree with it. Google is smart to find it but if you know how to build Pbn's carefully without leaving any footprints which looks like a normal website then you are 100% safe.
Reasons for the penalty.
Using low-quality cheap links from Fiver (Never use it).
Building private blog networks without having knowledge.
Over optimized Exact match anchors.
Then what should I do?
Don't use Pbn if you don't know about it. Better go with guest posts.
Don't build pbn by yourself. Go and hire experts who know it very well.
Always buy pbn links from trusted sellers. They are always too costly but trust me they are safe.
Want to find the best opportunities to build your backlinks then check our best SEO tools trends.

Off-Page SEO Techniques: Conclusion.
Competitions are too much high in the digital marketing field, in order to rise above your haters you need the best Off-Page SEO strategies.
SEO is going to another level already many of them doing various Off-Page SEO techniques to beat competitors.
At the same time what we do for ranking is important and we always have to use white hat SEO otherwise, Google will obviously penalize our website completely.
Why because?
Google is always watching our movements if we do anything illegal we have to face the problems.
So when doing Off-page SEO work, don't do any black hat SEO techniques and strictly avoid it.