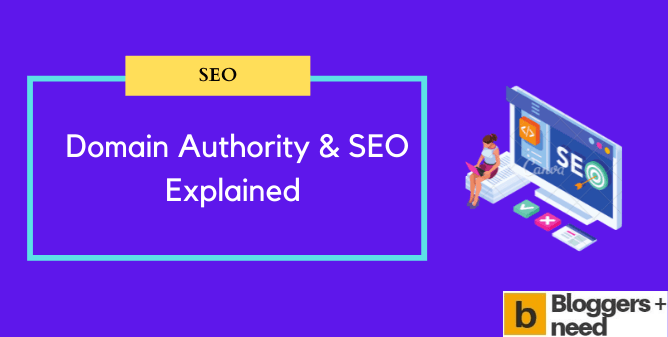 Here is the article about the Impact of Domain Authority.
The ultimate goal of every SEO strategy is to brand a website as trustworthy in the eyes of the target audience and search engines.
The success for every business begins with creating that sense of trust and credibility. When people find your online platform reliable, they feel more confident when buying your products and services.
As a result, search engines start seeing your website as credible, and they begin ranking it at the top of their search results.
There is a technical term for building trust, and it is known as the Domain Authority for a website.
When you are working on the SEO strategy for a website, one of your goals is to enhance its DA so that the website's likelihood of ranking at the top of search engines is increased.
If you are new to the term Domain Authority and wonder about its importance in SEO, this article is for you.
We will take a deep dive into the concept of Domain Authority and explain to you why it is essential for SEO.
What is Domain Authority?
Domain Authority is a ranking metric that Moz introduces. This metric is a score ranging from 0 to 100 that predicts the search engine position.
Domain Authority shows the credibility of an online website. This metric tells you how well your website is going to rank on the top of search engines.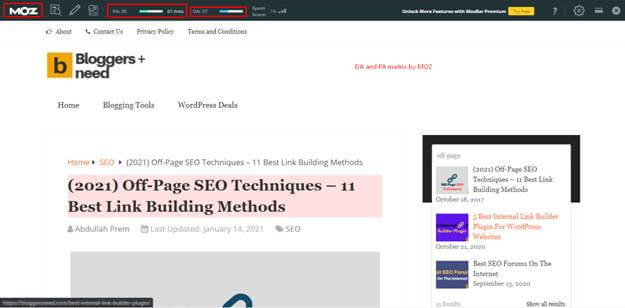 When you check the DA for a website, it shows you strong it is in the eyes of search engines. Based on the information you get by checking the DA, you can work on your SEO strategy to enhance the DA of your website.

Is Domain Authority a Crucial Factor in SEO?
Domain Authority and SEO go hand in hand. You can't talk about one of these things while leaving out the other
An off-page SEO strategy is incomplete if you don't consider the DA of your website and that of your competitor.
Learning about the DA of a website enables you to see how strong that domain is. In addition, this gives you insights into how to either enhance or maintain the current DA of your website.
How to Find Domain Authority?
Since Domain Authority analysis is precious in SEO, you need to know how to find the DA of a website. There are various online tools out there that tell you the DA of a domain.

It would be best to make sure that you always choose a trusted and reliable source for checking the DA of a website. It would be best to find a tool with a good reputation in the market for giving accurate results.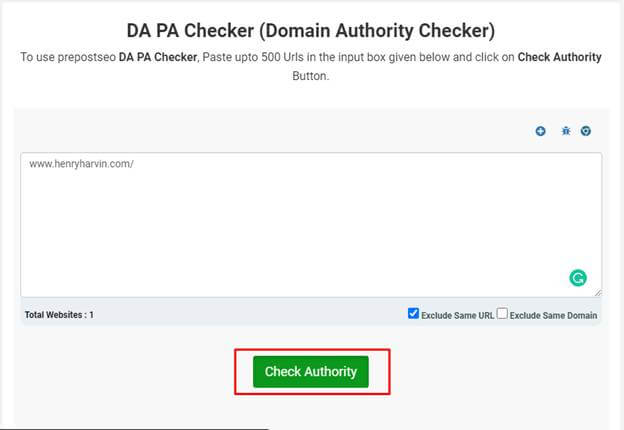 When you find such a tool, you can check DA PA of a website by simply entering the domain in the tool.

DA checking tools analyze a domain and give you the complete details about its DA score. You can go over the details provided by these tools to develop an effective SEO plan for the future.
There are some easy-to-use tools such as dapachecker.org that you can also try out when checking the DA of a website.
The bottom line is you need to find a credible online tool for checking the DA of your website. Once you have the details you need, you can start working on the next phase of your SEO strategy.

Domain Authority is Not an Official Google Ranking Metric
When talking about the DA, you should keep in mind that it is not a search engine ranking metric by Google.
Although the DA analysis has become a common practice for SEO experts, it is not the only thing that matters. For example, Google has openly declared that they don't consider DA to be a ranking factor.
And since it is just a ranking predictor, Google's take on it makes complete sense.
So, if it is not a ranking metric, then why is it important for SEO?
Domain Authority analysis helps SEO experts learn about the position of their website in the eyes of search engines. It tells them how they stand, as compared with their competition.
Domain Authority Analysis – Benefits for SEO Experts
Competitor Analysis
If you want your SEO strategy to be impeccable, you need to find out the areas where you are lacking and work on them.
And you can't do that without competitor analysis. So when you analyze the websites of your competitors, it enables you to figure out what is working.
This is why it is essential to learn about the Domain Authority for your competitor's website. When you do that, it gives you a clear understanding of what is working for them.
And if you want to get better results than your competition, you need to do better than them. This is a practical approach to DA analysis that can make a massive impact on the results of your SEO campaign.

Build Better Links
Link Building is an intrinsic part of every SEO strategy. However, search engines recommend getting natural links via creating quality, valuable content. It is not the only way to get links.
You can reach out to relevant websites and ask them to link to your website.
How does the DA analysis factor in link building?
When reaching out to websites in your niche, you need to select websites with a high DA. Then, when you get them to link to your website, it impacts your website's domain authority.
So, the DA metric can help you find potential websites with high DA that you can reach out to and ask about getting a link from them.
Come Up With Strategies to Increase Your DA
When you see a massive difference between your DA and the DA of your competitor's website, it is a clear sign that you need to work on increasing the DA of your website.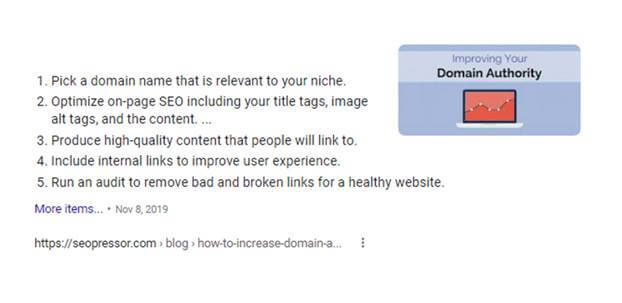 This is the only way for you to beat your competition in terms of search engine rankings.
When you have a low DA, you need to ramp up your SEO efforts. It would be best if you tried out aggressive content marketing, link building, and social media marketing strategies to increase the DA of your website.
What is Domain Authority: Final Words
So, if you want to enhance the impact of your SEO efforts and increase the leads towards your website, you need to consider the Domain Authority and its insights.
If you wish to become an SEO expert, you need a clear understanding of DA and interpret it accurately to reach your SEO goals.