Here is the List of Image Hosting Sites.
Images are essentially the most influential media of communication between individuals and communities. You may use them to share emotions, feelings, and precious moments in your life with friends and relatives.
This list of free image hosting sites create a common platform on which you can upload photos and animated Gifs without having to pay anything.
The main benefits of free sites are free storage space, backup, editing, quick upload, social media sharing, and creation of albums, etc. Almost all the sites are compatible with Smartphones and other mobile devices.
You could be a budding or professional photographer, hobbyist, or a commoner. Free image hosting sites can meet all your needs and wants of uploading and sharing multiple formats of photos.
You can benefit from the free and premium plans of the hosting sites such as professional editing; zero compression, high-speed CDN, etc.
In our listing of top 10 image hosting sites, we will review the technical and functional features of these sites which may be helpful to your needs and wants.
Top 10 List Of Image Hosting Listing
1. Google Photos
With Google Photos, you can store images up to 16 megapixels in resolution. The drag-n-Drop user interface allows you to easily upload photos within seconds. Simultaneous upload of multiple photos saves your time and effort.
Device Independence
You can upload images from your PC, laptop, or Smartphone. The procedure is very simple. The interactive menu allows you to add folders from your local storage device or camera folder which is added by default.
Flexible Resolution
You can choose between high resolution and original options. The first option gives you the maximum available resolution in the system with unlimited space. The second option lets you store the photo in its original format, even if the resolution is above the maximum allowed value.
Google Assistant
Google photo assistant can help you to create unique libraries using related photos. The auto-scanning system can identify photos based on similar characteristics like date and time, background, etc. So, you don't need to search for photos from a specific place or event (ex: Your birthday party on a specific date).
Editing and Compression
Google Photos supports many of the basic editings like cropping, sizing, lighting, etc. You can also add extra effects like deep-blue setting, saturation, tweaks, and photo-beaming, etc.
The compression ratio is among the best when you use the new Squoosh tool from Google. As of now, the tool is free. You can use the tool to convert an image in any format into PNG and JPG formats. Some of the features supported by the tool are
Color palette reduction
Smoothing
Resizing
Cross-browser compatibility
Support for multiple devices
2. A2 Hosting
A2 Hosting is a professional-grade image hosting site. It can host individual photos and albums from multiple categories. It allows you to use inbuilt software for setting up the galleries and albums with special effects of streamlining.
Notifications
A2 hosting sends you email notifications whenever there are updates to the site features. So, you always stay connected to the latest website and photo uploading features.
Server
A2 hosting has a high-speed server which makes upload and sharing fast. You can upload multiple files and folders with no limitations on the numbers and size. The storage is permanent and the server runs 24X7 without any downtime.
Editing and Resizing
A2 hosting gives you many inbuilt software apps to edit your photos. Professional grade tools allow you to add special effects and make changes to the original photos. You can have a back of the original photo and make changes to the copy.
Galleries
A2 hosting has a vast range of galleries, albums, and other grouping options. You can choose the existing categorization or choose a personalized option.
Get 60% Off To Host Unlimited Images
3. Imgur
Imgur free image hosting site has a simple user interface with provisions to add, search, and download images from the site, absolutely free of cost. You can use the main menu to upload photos, convert videos to GIF, and also to make a meme.
Gallery Profile
Gallery profile is a feature for sharing your photos with your friends. There are two options, which allow you to share the images as public or keep them private as hidden.
You can also get an option to place the photos in the favorite list. You can create folders based on multiple categories to organize your photos. A simple button allows you to sort the photos based on the latest and oldest dates of upload.
Image Albums
Imgur allows you to create personalized albums based on themes. You can also upload photos without albums. There is an option for listing photos in and out of albums. You can create any number of albums and there is no restriction on the number of photos within an album.
Auto Resize
You can set the default value of Auto-resize to avatar, thumbnail, and monitors of different sizes. The supported sizes of monitors are from 15″ to 21″. There is also an option for converting the photos to message-board size.
Imgur Apps
Imgur offers plenty of apps for Smartphone, Android, iPhone and other handheld devices like the tablets. They offer all the available features on the main website, with added benefits of options created for the phones.
Imgur Memes
Imgur meme is an interesting feature for those who want to post their images with funny and entertaining memes. You can add a title and description to the photo and share it publicly. It will be available as a part of Imgur public gallery. Or you can share the memes with a selected list of people within your groups.
4. Wix
Wix allows you to drag and drop your photos directly onto the site and lets you to host images for free. You may also create personal albums on the site for categorization into multiple themes.
Personalization
Wix has a unique feature of personalizing your photos using special effects, editing, resizing, and other free features. It has a designer showcase in which you can upload personalized photos for public or private sharing.
Layouts
Layouts are the frames into which you can fit your photos. There are platy of layouts with background settings which match perfectly with your photos.
The layouts are created by Wix for special occasions like your birthday, anniversary, Christmas, New Year, and many other customized themes.
Direct Download
After uploading the photos, you can share them with your friends and groups. They can directly download the photos from their website and mobile devices without any hassles. The biggest plus point is that all these features are free.
Photo Edit
Wix has a photo editing app. You can use the various to add special effects to the photos. There are also plenty of filters to saturate, brighten, and contrast and to add many other special effects. You can also add customized watermarks for all your photos to prevent manipulations by others.
Personalization of photos is easy with the options to add titles, memes, and other comments over the photos.
Animation
Wix allows you to add animation effects to your individual or group of photos. The inbuilt tools have transition effects for making an automatic scrolling effect. You can also choose other special effects from the templates.
5. Imgbox
Imgbox image hosting site has come a long way since its creation before seven years. Now, you can upload large size files in multiple formats from PNG, JPG, GIF, and animated versions.
Gallery
Imgbox has a vast range of image galleries. You can categorize them based on personalized options. Maximum size for each file in the gallery is 10mb as of now.
Settings
The settings menu offers options for choosing the content type between family safe and adult. Thumbnails can be from 100X100 pixels to 250X250 pixels in the square and resized formats. Now, you can upload from smallest of thumbnails to the largest possible size based on your personalized requirements.
You can create a new gallery or add photos to an existing gallery. Of course, you can also upload photos without adding them to any of the galleries.
Enabling comments can let you write an interesting text about your photos. When your friends and family members view the photos, it allows them to relate them to specific events which you want them to cherish. They can also post their comments about your photos.
Apps
Imgbox has many apps for providing compatibility for your mobile devices. You can upload multiple photos in one-shot. Aesthetics and sophistication are the two key elements added to the Imgbox apps.
6. Photobucket
Photobucket allows you to log in through Facebook and Twitter. You need to create an account before taking up the free option of the website.
One Upload
With free image hosting feature, Photobucket can link your photos to multiple forums, websites, and blogs. You have to upload the image at the main source of the website. The links can be created to all these external sites at a single click of the button.
Private Sharing
With Photobucket, your photo-sharing is by default private. You can specify the list of users who can view your images and albums. Or you can set the photos for public viewing also.
Original Photos
Photobucket stores all your photos in the uncompressed formats. That means there is no restriction on the size and types of files. You can easily store PSD, PNG, JPG, AI, and many other formats without any restrictions.
Photo Editing
Photobucket offers a vast range of online photo-editing tools. You can add filters and special effects. The dedicated editor has many other options like contrasting, cropping, light-effects, background editing, animation, and many others. You can also add captions comments and memes to your photos on Photobucket.
Social Media
Photobucket offers support for social media photo-sharing. The website stores the original image in its secure database and doesn't allow any kind of manipulations by the users with whom you share the photos on social media.
7. 500 Pixels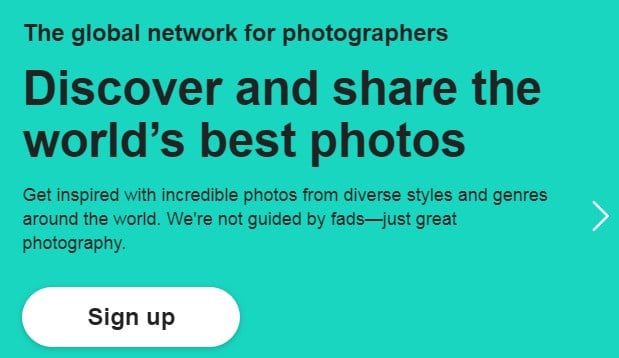 500 Pixels is a free website which allows you to log in through Google and Facebook. The moment you log in, it gives a vast range of albums with multiple genres. You may choose any of them to mark as your favorite. 500 Pixels will store them in its database for future use.
There is a "+" button on the extreme right of the menu. Click on that and you can start uploading photos. You can select from the local drive or just click and drag.
Categorization
500 Pixels gives you an option to categorize your photos into various sections from abstract to urban exploration. You can use it for filtering and searching.
SEO
500 Pixels allows you to add keywords, description, and a location with map. You can use the features to make your photos and albums optimized for search engines. Now, anyone who searches for specific keywords can find your photos on Google and other search engines.
This feature will be helpful when you want magazine editors and customers looking for professional photographers to find you on the search engine result pages.
Messenger
500 Pixels has a special feature called the Messenger. You can chat with friends and social media contacts online. You can provide links to your uploaded photos to share the photos.
Licensing
500 Pixels has a unique feature of licensing your photographs online. It is a patent which you get for your photos which you can sell to buyers at a price. The experts on the website inspect your photos and certify them to be eligible for getting the license.
There are certain simple terms which you have to follow to get the unique watermark and copyright for your photo.
8. Flickr
Flickr is a professional quality free image hosting website. It is a simple process to create your account and to get started. There are plenty of options to write about you and showcase all your albums and photos online. You can choose more than 25 photos to add in one-shot.
Upload Options
Flickr gives you the options to upload your photos into albums, streams, and onto individual frames within the general category.
Personalization
The menu "YOU" has many options from creating your autobiography text to adding favourites, galleries, groups, camera roll, and status update. It is almost like having a complete website in your name where people can search and find special photos and information about you.
Camera Roll
Camera roll is a special feature of Flickr, into which you can upload lots of photos from multiple categories and subcategories. You can also upload videos with the option.
Photo-Stream
Photo-stream is the next option you can use after uploading the photos through the camera roll. It is the portfolio, which will be visible to the public or the selected groups of viewers whom you recommend.
Favourites
It is the location, where you can store all your favorite photos. You can select the photos from your local drive or the already uploaded collections on Flickr.
Create
The Create menu lets you make a book with your Flickr photos. The button will lead you to a download link for a free photo book. You can use that app to design your magazine or book to publish your photos.
9. PostImage
PostImage is a free photo-sharing website which gives you a direct link to upload your photos on the homepage.
Grouping
You can upload one more images. Once the images get uploaded, it's simple to categorize and group them into albums and galleries.
Social Links
It is a simple process to create links to your photos from PostImage to social media sites like Facebook, Twitter, Instagram, and many others.
Upload Options
The numbers of upload options you get from PostImage are many. You can create an independent gallery on the website, link to a direct forum, connect to your website, or load it as a thumbnail to a website.
Editing and Reshaping
PostImage gives you plenty of options to edit and reshape your images in the original file. There are many apps which you can download and use on your PC or mobile devices. You can add special effects and reshape the images to your specific needs.
10. Dropbox
Dropbox is a photo hosting and sharing site which works for teams and individuals. It gives you the options to upload single or multiple files. You can use the Google account or create a new account on the Dropbox website.
Upload Options
The homepage gives you the options to upload individual photos or folders with multiple files onto the server. Accessing the photos is a simple process. You can give permissions to selected users or keep your photos on the public library to make access available to everyone.
Formatting
Formatting your photos with Dropbox is a simple procedure. My paper Doc is a special feature which allows you to type text content; add photos and create unique pages to upload. You can share them with other users.
Invite
It is a special feature of Dropbox, which allows you to send invitations to your friends and social medical contacts through email. You can enable them to edit the photos and content based on special preferences.
List of Image Hosting Sites: Conclusion
Though you can upload and share photos in many of the free image hosting sites without an account, you should create an account. It is for the simple reason that the features will be more and personalized according to your specific needs.
The list of image hosting sites shared here is completely free to use, and you can upload photos up to 20 GB for free.
Related: Download copyright free stock photos