Are you looking to get an edge over your competitors in the world of YouTube advertising? If so, then you need to check out the best YouTube ad spy tool. With these tools, it's easy to stay ahead of the competition by spying on their ads. You can quickly identify what works for them and adjust your own strategy accordingly.
In this article, we will discuss some of the top YouTube ad spy tools available today and how they can help you succeed in your marketing efforts.
Let's start.
Best YouTube Ad Spy Tool for 2023
Here are the most popular tools to spy ads on YouTube. By using these tools you can get all data like ad copies, demographics, ad images, videos, etc.
By using the tools for your business, you can make your youtube campaigns more profitable.
Poweradspy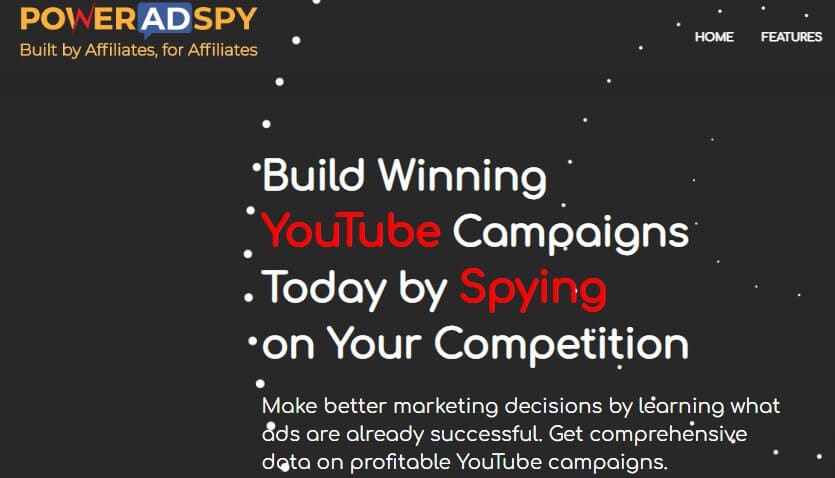 Are you looking for the no.1 best YouTube ad spy tool? Look no further than PowerAdSpy. It's a comprehensive ad spy tool that will give you valuable insights into your competitors' ads.
With advanced search and filtering options such as networks, countries, and interests, PowerAdSpy is the perfect tool to help you refine your targeting and craft compelling ad content.
Features
With PowerAdSpy, you can quickly uncover lucrative opportunities and hidden niches, so you don't have to worry about creating content or targeting campaigns.
This innovative tool offers the advantages of using automated analysis for comprehensive reports on your targeted campaigns. It provides powerful search algorithm capabilities to filter ads by position, allowing you to analyze which performs best in your niche.
You also gain complete visibility of Ads analytics with the ability to visit live ad posts directly from the platform. Plus, its data center includes millions of Ads from over 100+ countries with thousands of fresh ads added daily.
Finally, PowerAdSpy's engagement-oriented details enable you to identify successful ads while bookmarking the ones that interest you most for easy access later on. With all these features and more, this is definitely one of the best YouTube Ad Spy Tools available today!
Bigspy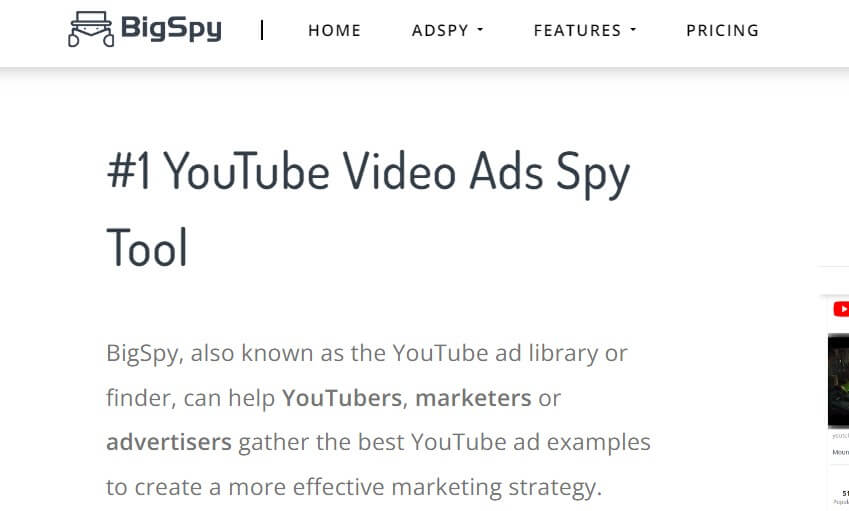 You're in luck! Bigspy has a range of features that can help you create the most successful YouTube ad campaigns.
It provides detailed insights into other ads and allows you to filter them according to industry, brand, budget, type of ad, etc.
Plus, it also offers great tools for tracking your campaigns and optimizing them in real-time.
Features
Uncover your competitors' strategies and stay ahead of the game with this must-have data tool. Bigspy is an effective YouTube Ad Spy Tool that can help you gain insight into what your competitors are doing to get ahead.
With its competitive analysis, ad analysis, audience targeting, keyword research and ad tracking features, it gives you the edge when it comes to understanding how competitor campaigns work. Bigspy's easy-to-use interface makes finding out what your competition is up to a snap.
Its comprehensive suite of tools helps you gain an advantage in the current market by allowing you to track ads that have been successful for others, discover new audiences for targeting, uncover hidden keywords and phrases that will make sure your ads reach the right people at the right time.
With Bigspy's data and insights, you'll be able to gain a better understanding of how effective other campaigns are – enabling you to make more informed decisions on where best to spend your budget.
adspyder.io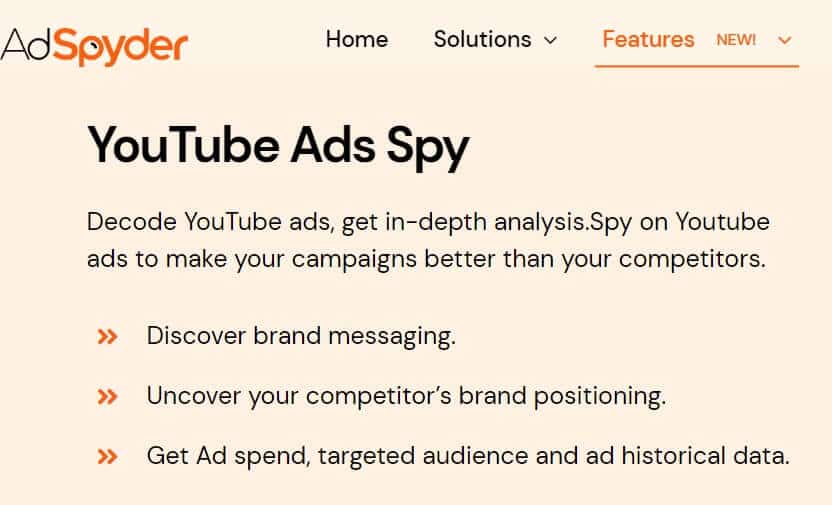 You've got the perfect tool to gain a competitive advantage with YouTube ad analysis – Adspyder.io!
This powerful spy tool provides you with comprehensive insights into competitor branding, messaging strategies, and positioning. With this data, you can create more impactful YouTube ads and maximize your ROI.
Features
Discover the insights you need to optimize your ad performance and get the edge over competitors with the comprehensive feature set.
Adspyder.io provides a suite of features that can help you gain a better understanding of your audience's behavior, as well as how your competitors are running their campaigns.
With Audience Insights, you can easily identify target audiences and create more effective targeting strategies for your ads.
Cost Analysis allows you to compare the cost of advertising on different platforms, so you know where to allocate budget for maximum ROI.
Adspyder Ad Optimization tools give you complete control over optimization settings and A/B testing so that each campaign is tailored to deliver optimal results.
Get ahead with Adspyder.io!
Vidtao
Do you want to know how to create the best YouTube ads? Vidtao is here to help!
Vidtao's proprietary Youtube ads research tool and library provide features like discovering your competitors' best ads, finding the best targeting options, and modeling frameworks for high-performing ad campaigns.
With their step-by-step guides and tutorials, you'll be able to make the most of your YouTube adspend in no time!
Features
Unlock the power of staying up-to-date on competitors' campaigns and get insights into what's working in your market with our comprehensive library of YouTube ads.
Vidtao is a great tool that offers user friendliness, ad reports, targeting options, automation benefits, and data analysis to help you stay ahead of the competition.
With Vidtao's easy-to-use interface, you can quickly search for any YouTube ads running in any market imaginable without ever leaving your desk. You'll be able to view detailed reports on each ad to determine its success rate among different target audiences.
Additionally, you can use the automated features to build custom campaigns based on specific parameters such as demographics or location.
Finally, you can take advantage of the powerful data analysis functions that give you valuable insights into what works best for engaging with potential customers.
Ad Library – Free YouTube Ads Spy Tool
Are you looking for the best YouTube ad spy tool for free?
YouTube Ads Spy is a free Chrome extension that provides access to YouTube's ad library. With this tool, marketers can search for the best ad examples and uncover winning products to gain inspiration for their own campaigns.
It streamlines the process and helps keep marketers up to date with the latest trends in YouTube advertising.
Features
Discover the secrets of your competitors' ad campaigns with this powerful tool! YouTube Ads Spy Tool is designed to bring key insights about the success of any campaign and provide a cost-effective alternative for market research.
With its comprehensive features, Ad Library allows you to:
Benefit from data analysis and target audience identification to fine tune your ad campaigns;
Make a cost comparison with other campaigns in your industry;
Access detailed analytics to assess performance over time;
Conduct market research more efficiently.
Ad Library's intuitive interface enables you to track ads that are relevant for your business and make informed decisions based on real-time data.
Get started now and stay ahead of the competition!
What is YouTube ads spy tool?
Knowing what your competitors are doing on YouTube can be like playing a game of hide-and-seek – you need a good spy tool to help you find them.
A YouTube ads spy tool is the perfect way to stay ahead of the competition and get the most out of your marketing efforts. It allows you to quickly identify and analyze ads that have been created by other brands, giving you insights into their strategies and tactics.
With this information, you can then compare it with your own campaigns in order to determine which techniques work best for your brand or product. Additionally, these tools provide cost comparison data, tracking analytics, consumer insights—all of which will help you make more informed decisions about how to invest in your advertising efforts.
By leveraging the advantages of a YouTube ads spy tool, you can ensure that your campaigns remain relevant and effective in today's competitive marketplace.
How to spy on YouTube ads?
You've heard about the power of YouTube Ads Spy tools, and now you're ready to learn how to use them.
To get started spying on YouTube ads, here are four steps:
Analyzing Competitors: Start by analyzing your competitors' ads – what's working for them? What messages do they use? What types of videos or images do they employ?
Comparing Ad Types: Once you've identified your competitors' ad strategies, compare different ad types and see which type works best for each company. Consider factors like cost-per-click (CPC) rates and clickthrough rate (CTR).
Conducting Research: Next, conduct research into the target audience of the ads you're looking at – what age group is seeing these ads? Where are they located geographically? What gender are they predominately?
Ad Optimization & Understanding Trends: Finally, after researching the target audience, optimize your own ads for maximum effectiveness. Look out for emerging trends in the market that could affect how effective your campaigns will be over time.
Conclusion
As you can see, there are plenty of options when it comes to YouTube ad spy tools. Each tool has its own unique features, so you'll want to consider what's most important to you before making a decision.
However, no matter which one you choose, they all provide an invaluable way to gain insight into the world of YouTube advertising. With these tools at your disposal, you'll be in a great position to give your campaigns the edge they need for success.
As the saying goes, "Knowledge is power." So, go ahead and choose the best YouTube ad spy tool that fits your needs and start gaining valuable knowledge today!
Also Check: