Are you looking for the best TikTok ad spy tool? You're in luck! There are plenty of tools out there that can help you track and analyze the performance of your ads.
With these tools, you'll be able to see which ads worked best, where you should focus your efforts, and what strategies will bring the highest return on investment.
From BigSpy and AdTargeting to Minea and Pipiads, we'll look at five of the top TikTok ad spy tools so you can decide which one is right for you.
Plus, we'll explore why it's important to use a spy tool and discuss what exactly a TikTok Ads Library is. So if you want to get more out of your TikTok marketing campaigns, let's dive in!
Best TikTok Ad Spy Tool for 2023
These tools are helpful for Affiliate marketers, dropshippers and advertisers.
BigSpy
BigSpy provides a comprehensive suite of features to help you succeed in your TikTok advertising goals. Bigspy data analysis capabilities provide in-depth insights into campaign performance so you can make informed decisions about how best to allocate resources and optimize results.
With competitive intelligence tools such as audience segmentation and influencer marketing strategies, BigSpy enables you to craft targeted campaigns that reach the right people with effective messaging. And finally, with their ad optimization tools ensure that you get maximum return on investment from each of your campaigns.
With BigSpy's powerful suite of features, staying ahead of the competition is easy!
You'll be amazed by the features BigSpy offers! It has massive data, covers global markets, and provides timely updates.
Plus, it comes at a low price. You can use it to track competitors' TikTok ads strategies and get ideas for new or hot products to promote.
Features
With thier feature-rich platform, you'll have access to the latest ads from top charts, new trends, playable ads, and more—allowing you to stay ahead of the competition.
Here are some of the features that Bigspy offer:
Data analysis tools for comprehensive insights on your competitors' TikTok performance
Competitive intelligence capabilities for audience segmentation and influencer marketing strategies
Ad optimization tools to maximize ROI from your campaigns
AdTargeting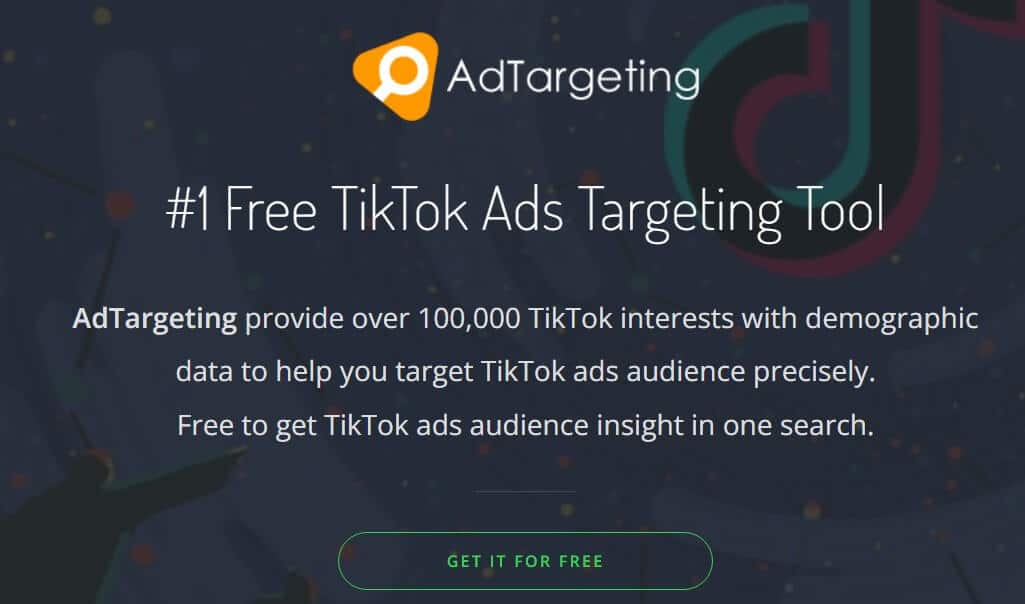 Are you looking for an effective and efficient way to manage your TikTok Ads Interest? Look no further than AdTargeting!
With one click, you can export your preferred TikTok Ads Interest list and use the hundreds of alternative terms it provides to target potential audiences precisely.
Additionally, its insights on age, gender, location, and keyword difficulty can help you optimize ROI of your TikTok ads targeting.
Features
AdTargeting.io hashtag analytics offer an unparalleled view of the TikTok landscape, with over 500 million hashtags tracked daily.
With their comprehensive tool, you can easily identify opportunities for analyzing trends, identifying needs and crafting effective targeting strategies.
Their ad spy feature helps you stay ahead of the competition by providing detailed analysis on competitors' strategies and enabling risk management.
This will help you create unique videos tailored to your audience that will quickly gain traction with the best hashtags and get your content in front of the right people.
Minea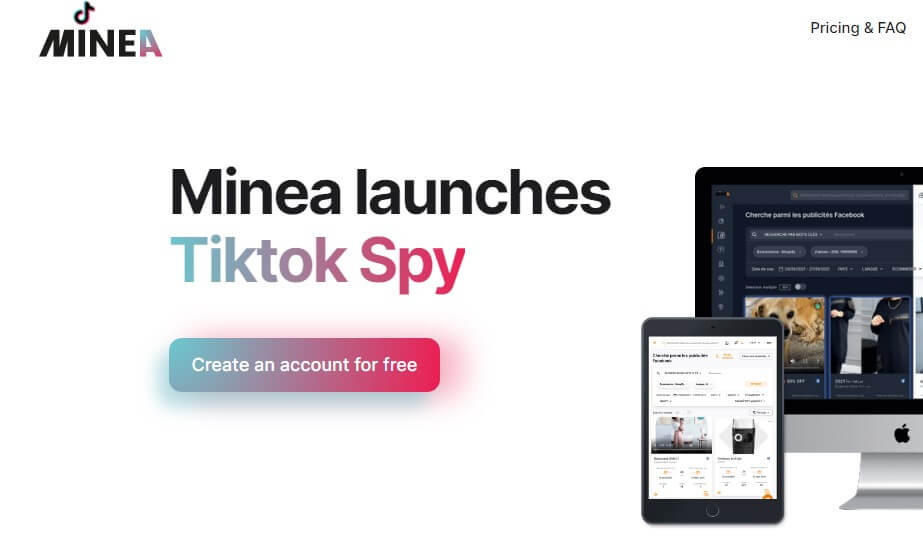 You must be wondering what features Minea has to offer.
Let me tell you: Minea has an all-in-one tool with global coverage, a powerful filter system, and an intuitive interface that makes it easy to use on any device.
With Minea, you can stay up-to-date on the latest tiktok ads and influencer product placements while having access to more than 10 million ads!
Features
Discover how our influencer marketing tool can help you gain insight into competitor shops and optimize your strategies. With Minea, you'll have access to a powerful suite of features that can help take your shop's performance to the next level.
Minea platform allows you to track likes driven growth, develop better targeting strategies, get tips for successful ad creation and uncover the latest viral trends in influencer marketing.
They also provide detailed analytics on user generated content, giving you an inside look at how different campaigns are performing.
With Minea, you have all the data needed to make informed decisions about your shop's future direction. All of this right at your fingertips so that you can focus on driving more sales and growing your business!
Pipiads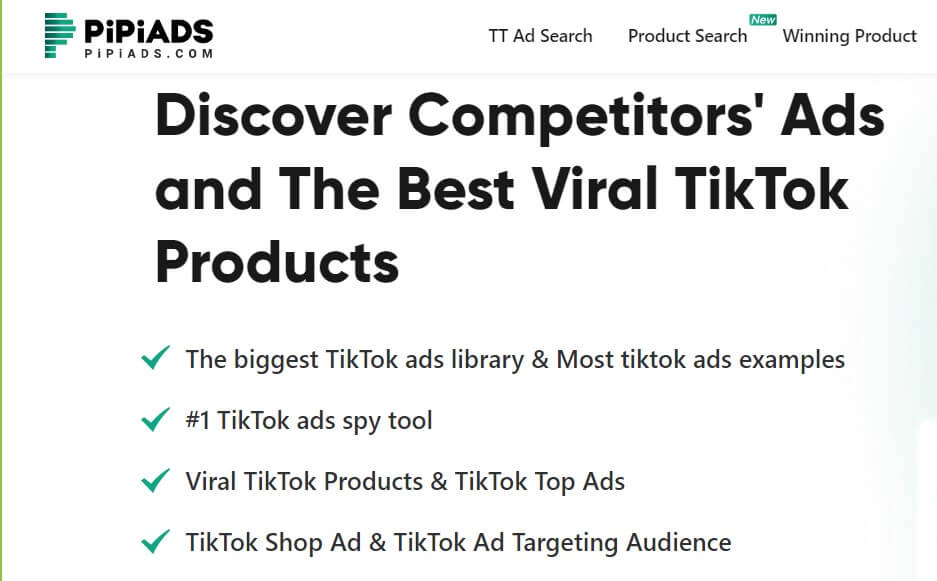 Pipiads is the best tiktok ad spy tool out there, offering an array of features to help you find and analyze ads from your competitors.
These features include the ability to monitor campaigns, track engagement metrics, and gather insights on your competitors' ad performance. Plus, you can customize search filters to narrow down results and get even more specific data – all at a low cost!
Features
Stay ahead of the game and keep tabs on your competition with our cutting-edge tiktok ad spy tool, so you can edge out the competition and have a leg up!
Pipiads includes features to help you do just that. With trend forecasting, cost analysis, audience analysis, ad optimization, and creative insights, you'll be able to quickly gain insight into what's working for your competitors and make informed decisions about how to optimize your own ads.
You'll be able to track conversions in real-time, so you can see which ads are performing well and which ones need tweaking.
You can also get detailed insights into the performance of individual campaigns as well as view competitor campaigns in order to gain valuable insight into their strategies.
With this information at hand, you'll be able to identify new opportunities for growth and create more effective campaigns that drive better results.
TThunt.com
Are you interested in becoming a successful dropshipping Shopify store owner?
TThunt.com is the #5 TikTok ad spy tool that can help you find the winning products and ads to promote your store.
With their large selection of products and advertising materials, plus their ability to find Shopify stores and contact information, TThunt will make it easy for you to get started on your journey!
TThunt Features
Get yourself set up with TThunt and start running ads on TikTok right away!
With TThunt, you'll get access to a variety of TikTok analytics, targeting strategies, audience insights, and ad performance metrics. These features will help you keep track of your campaigns, make sure they are reaching the right people, and provide creative ideas for new ways to reach your target audience.
You can also use TThunt's data-driven tools to optimize your ad campaigns in real-time for maximum effect.
So, why wait? Get started today with TThunt and take your TikTok marketing efforts to the next level!
Why you should use the tik tok ad spy tool?
Tracking trends with a TikTok ad spy tool will tantalize your target audience.
With the help of TThunt, you can make a cost-benefit analysis, understand ad targeting tips, and use audience analytics to gain beneficial insights about your target market.
Using this data, you can develop viral content strategies that will boost engagement with your brand.
Moreover, you can keep an eye on what your competitors are doing and stay one step ahead of them.
The ad spy tool is easy to use and provides detailed information that helps you create highly effective ads that engage more customers and bring in more profits.
What is Tik Tok ads Library?
The TikTok Ads Library is a treasure trove of creative ideas, giving you the opportunity to discover cutting-edge and unique content that'll make your brand stand out.
It offers an extensive database of tiktok trends, tiktok analytics, ad targeting, ad optimization and content optimization. With the Ads Library, you can easily find what works for other brands in your industry and use it as inspiration for your own campaigns.
You can also get insights on how to improve your current campaigns or refine them with new tactics for maximum ROI. Moreover, it provides detailed information about ads performance that will help you optimize them according to audience preferences and interests so that they yield the best results.
Conclusion
In conclusion, using a TikTok ad spy tool is essential for any marketer who wants to stay ahead of the competition.
With BigSpy, AdTargeting, Minea, and Pipiads all offering reliable insights into current trends on the platform, you can get an idea of what kind of content performs best.
The Tik Tok ads Library is also a great way to quickly find out what successful campaigns look like in real-time. It's like having your own personal spy in the room!
So if you're looking to maximize your time and effort on TikTok advertising, then investing in one of these tools is definitely worth it.