SEMrush vs Serpstat comparison
If you are doing SEO you must know the importance of using SEO tools that plays a major role and to be honest there are a lot of useful and ugly software that exists. And semrush and serpstat are few SEO tools that really do work like a charm.
Seriously these both tools are good for SEO and they have all options. But I see there is a lot of debate going on Facebook groups and SEO forums about these tools. One group is supporting Semrush and Other supporting Serpstat.
It is like SEMrush vs Serpstat battleground.
But which is good? Even I have this question and that's why today I'm going to compare both tools(Semrush vs serpstat) and announce you the winner. Because I'm using these both tools for more than 2 years.
SEMrush vs Serpstat
Seo tools have more than 20+ features If I compare all of those features one by one then it will take more than 5000 words to finish it and you will get bored. That's why In this serpstat vs semrush post I'm only going to compare 5 important features and going to
Let's begin the comparison.
1. Serpstat Organic Monthly Traffic
For this Serpstat vs SEMrush comparison, I'm going to first check the organic traffic of seoroundtable.com Website traffic data via Serpstat
Look at the stats of the traffic on this website and it shows the exact monthly traffic below screenshot.
It shows the visibility score, estimated organic traffic, and organic keywords report. Plus another interesting about serpstat is they also show the new and lost keyword, improved and declined keywords that lost ranking.
2. SEMrush Organic Monthly Traffic
I'm using the https://www.seroundtable.com/ website here in semrush to find out the monthly traffic report and it showed the estimated traffic result.
Below is the monthly website visitors report from semrush.
It shows the Authority rating for the domain with total no of referring domains and referring IP address and like serpstat it shows that no of lost and new keywords for that website.
So here is the result for Semrush vs serpstat for monthly traffic report for seroundtable.com
Serpstat = 44883660
Semrush = 48.7k
Both results show a huge difference so in order to find the winner I'm going to use a similar web to find the monthly traffic
It shows total visits as 529.91k, by taking this as the reference I can say that serpstat shows quite real traffic not that accurate but decent report.
So by comparing semrush and serpstat monthly traffic reports I can clearly pick serpstat as the winner.
3. Serpstat Backlink Report
Now in this check, I'm going to check the backlinks to find how many referring domains the website is getting. Finding backlinks are very important in SEO. In order to outrank the Seoroundtable website, you need to find to find backlinks.
Here is the total number of backlinks found on this website and plus serpstat has another special feature known as Malicious sites that will find the harmful links pointing to your website which will affect ranking.
You can download the links and upload it on google webmaster and disavow the links safely and gain back the authority.
4. SEMrush Backlink Report
Now I'm going to check the backlinks of the SEO roundtable website using a semrush backlink finder. And after analyzing the referring domain it shows the report below.
As you can see it has around 19k referring domains and 21.6 million backlinks. The UI of semrush is also to use and it shows all the details about the backlinks like what serpstat showed.
According to the research, you can see that
Serpstat shows 19.28k referring domains
Semrush shows 19k referring domains
As you can see that both tools show quite identical results so therefore I can close this comparison as a draw.
Want to create backlinks automatically? Then check this guide
5. Google Database
But you know what, the magical thing I found from serpstat is they have the largest database of 1 trillion and 130 million backlink base and around 230 Google database which the base is very much bigger than semrush and other tools.
Which means by using serpstat you can get stats of your website from 230 countries.
But Semrush only has around 100 Google databases so it will show less data for your website.
By taking this term I can clearly pick Serpstat has the winner and beats semrush in terms of database.
6. Serpstat Keywords Explorer
Now in this Semrush vs serpstat battle, I'm going to find the keywords explorer feature for serpstat. So I'm going to use "Affiliate marketing" as a topic and going to see how many keyword serpstat going to explore.
It shows the search volume of the term "affiliate marketing" with competition and with related keywords that people also searching for.
It shows the CPC bid for the keyword you're searching for which means you can bid on that keyword to advertise your website on the top of the Google search engine. To learn about advertising on Google using adwords then check this article.
7. SEMrush Keyword Explorer
No, let's find out the search volume of the keyword "Affiliate marketing" on semrush. And here is the result I got below, the search volume of the keyword is 40.5k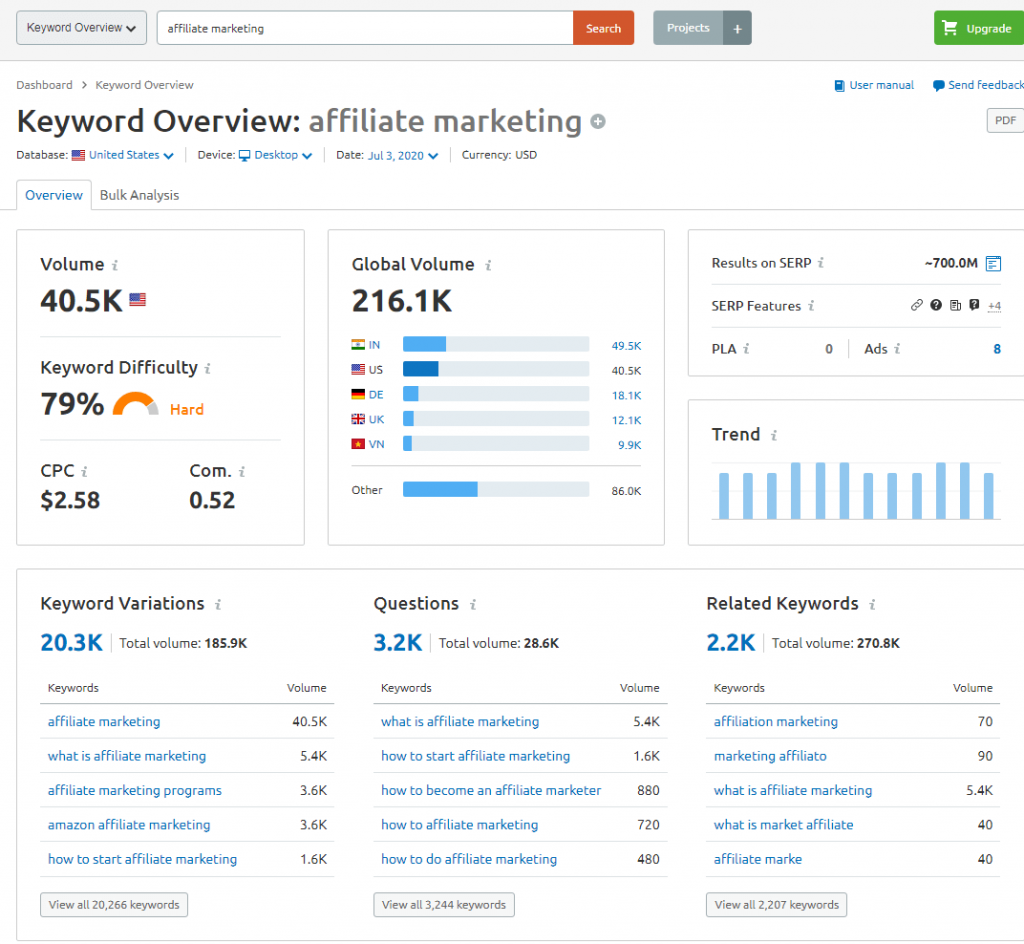 The semrush keyword explorer extracted keywords details with global search volume and country search volume.
You can change the country and get the search volume and it will collect and show you data within seconds.
Now it's time to announce the winner of this comparison.
Keyword: Affiliate marketing
Serpstat shows 49.5k search volume
Semrush shows 40.5k country-level keyword search volume and Global level search volume is 216.1k.
Both the country level search volume of these tools are identical but the interesting thing is serpstat generated 9 related keywords. But semrush generated more than 20.3k keyword variations.
So in this round, I can announce Semrush as the winner!
Let's give a big round of applause for Semrush and right now you can get semrush 30 day free trial.
8. Serpstat Rank tracker
Every blogger's most wanted thing is to track all the keywords they rank for. Serpstat has one of the best rank tracker tools to track organic and PPC keywords from 230 Google and Yandex databases.
Using serpstat you can rank global and city-based rank tracking.
Let's show you the position tracker tool from Serpstat to show the user interface of the tool.
It shows you accurate results and using this tool you can set to monitor your keywords daily, weekly, or even monthly.
The user interface of this position monitoring tool is pretty easy to track all keywords.
9. SEMrush Rank Tracker
Now I'm going to analyze the working and features of the semrush rank tracker tool. Using this keyword tracker you can check the position on Desktop, Tablet, and mobile.
It lets you track keywords on Google and Baidu search engine only. Below is the dashboard of the semrush position monitor tool.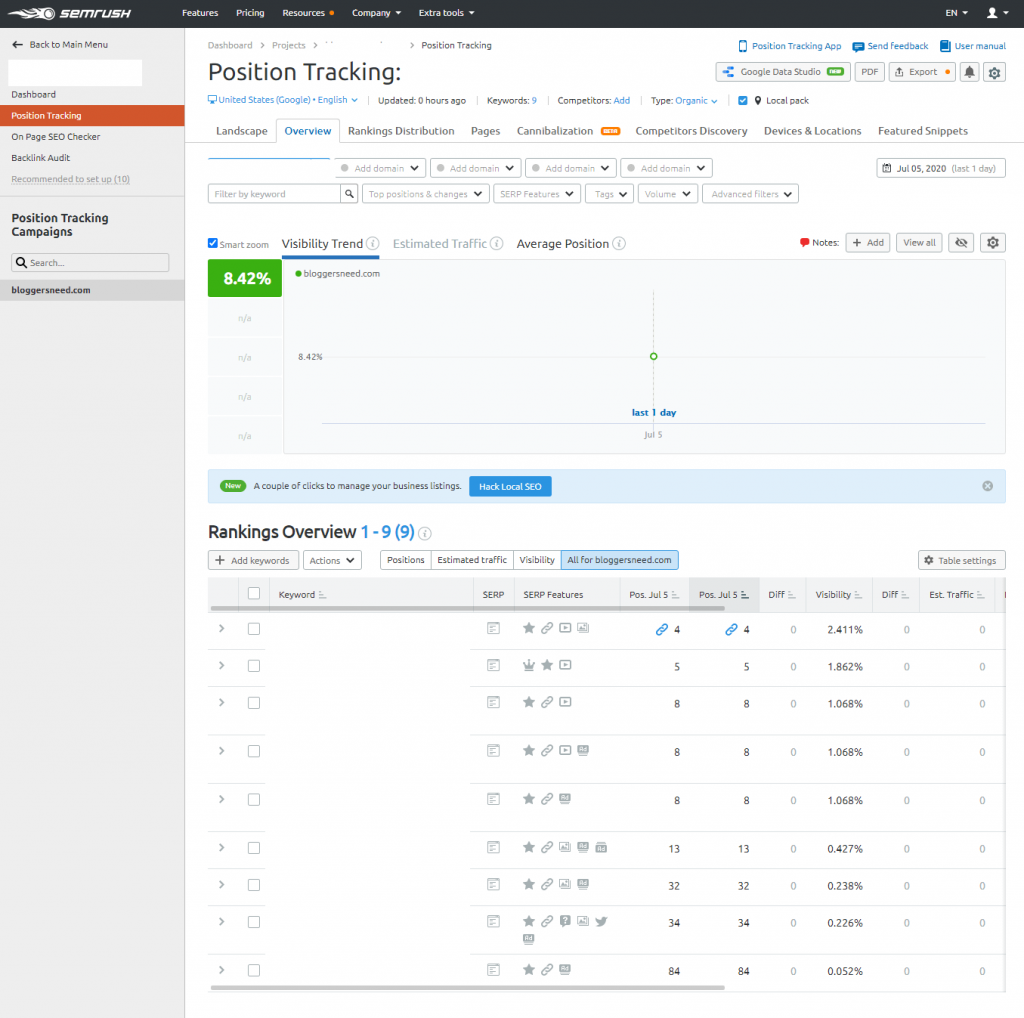 You can clearly see the keywords ranking position, visibility, and estimated traffic.
You can download the report in CSV, Excel, and pdf format.
Semrush vs Serpstat rank tracker results.
| Name | Serpstat | Semrush |
| --- | --- | --- |
| Search Engine | Google, Yandex | Google, Baidu |
| Regions | 230 | 100 |
| Devices | Mobile, Desktop | Mobile, Desktop, Tablet |
| Keywords | Organic, Paid | Organic, Paid |
| Export | Csv, excel | Csv, excel |
| Keywords to track | 1500 | 500 |
| Plan Price | $69 | $99 |
Serpstat gives 15,000 keywords to track but semrush only gives 500 keywords to track per month.
And semrush costs $99/month but serpstat costs $69/month and gives a 20% discount when billed yearly.
Serpstat vs semrush rank tracker comparison results.
Serpstat wins!
And there are a lot of features to compare but the above 4 features are very important for any type of SEO tool.
Before concluding here is the final results of SEMrush vs Serpstat comparisons
| Name | Serpstat | Semrush |
| --- | --- | --- |
| Traffic Analyser | Win | Lost |
| Backlink Report | Win | Lost |
| Keywords Explorer | Lost | Win |
| Rank Tracker | Win | Lost |
Click here to visit semrush.com
Click here to visit serpstat.com and apply coupon code BLOGGERSNEED7 to get 7 days free trial.
SEMrush vs Serpstat: Conclusion.
I have spent more than 10 hours to research and complete this Serpstat vs SEMrush comparison article. I've only chosen the top 4 features of both tools to compare to find the winner.
And from my find, I can clearly see that serpstat is cheaper than SEMrush cost. Also, the database of serpstat is larger than semrush which means it can generate more results than SEMrushSEMrush.SEMrush.
The only problem of serpstat is the keyword explorer which generates less amount of keyword compared to semrush. And from opinion, both tools are good to use but if you want to gather more data then y recommendation is surely serpstat.
Other than Semrush and serpstat I love using SEO Powersuite tool.