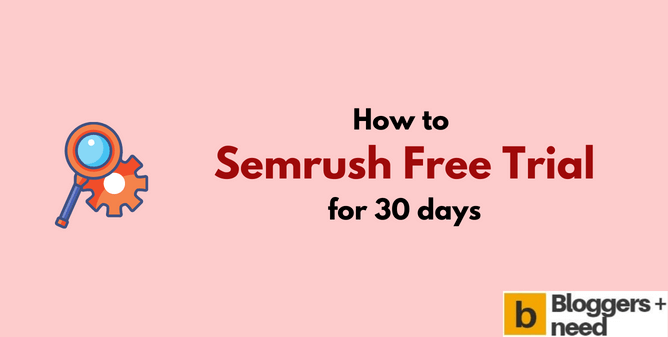 Is Semrush Free? Can I get a trial?
Every SEO knows the magic of using Semrush for the SEO projects, and it is one of the best SEO tools to do various SEO tasks for bloggers and affiliates. Due to its price, everyone can't afford it and many bloggers who can't afford it will have questions like Is Semrush free? Or how can I get Semrush 30 day free trial?
If you're having this same question, then in this article we are going to answer this question with a little surprise in the end. So let's start now!
Is Semrush Free? & How to get semrush for free?
Are you a blogger and want to get Semrush pro 30 days for free? Then this article is for you.
Off course, it is, and you can use it for a lifetime without paying a single dollar. Happy?
To get a free account, visit semrush.com, and sign up with your name and email address.
Unfortunately you won't be happy? Why?
Semrush free plan lets you see only the first 10 metrics of any website.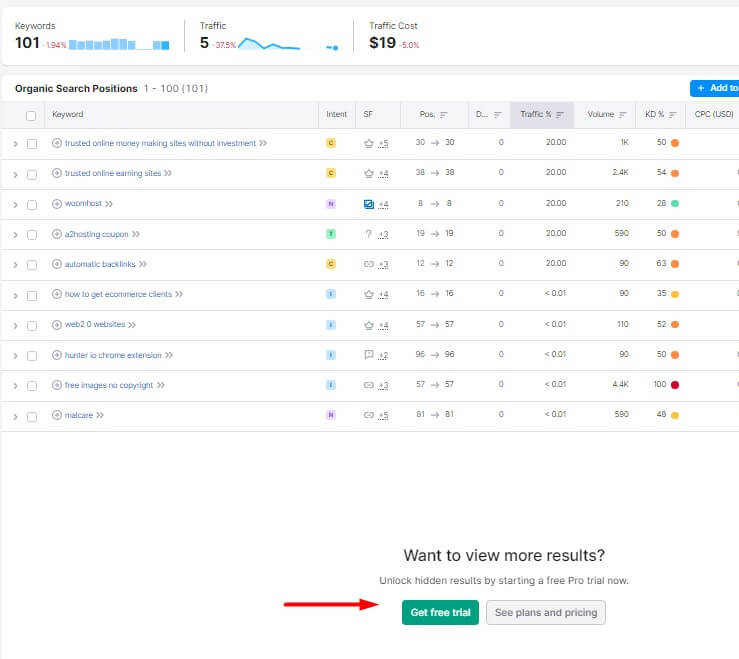 You can view only 10 keywords, 10 backlinks, etc. It won't let you see all keywords, backlinks, page views, social shares or other data.
But if you need to see historical data of any website then you can get the Semrush free trial 30 days or buy the pro Semrush account to use its advanced tools.
How do I get Semrush Pro for free?
If you're looking for the way to get SEMrush pro for free, then this blog post will help you get it. Semrush spends thousands of dollars on research and development to create the best keyword research tool and holds the largest database available on the market. That's why they can't give you the tool for free.
But fortunately we can provide you with 30 days free of Semrush Guru or pro plan. You can try the tool to analyze your website or competitor's website.
Follow the below steps to get the Semrush guru free trial.
First step is to visit or click this Semrush offer link, and it will take you to this landing page.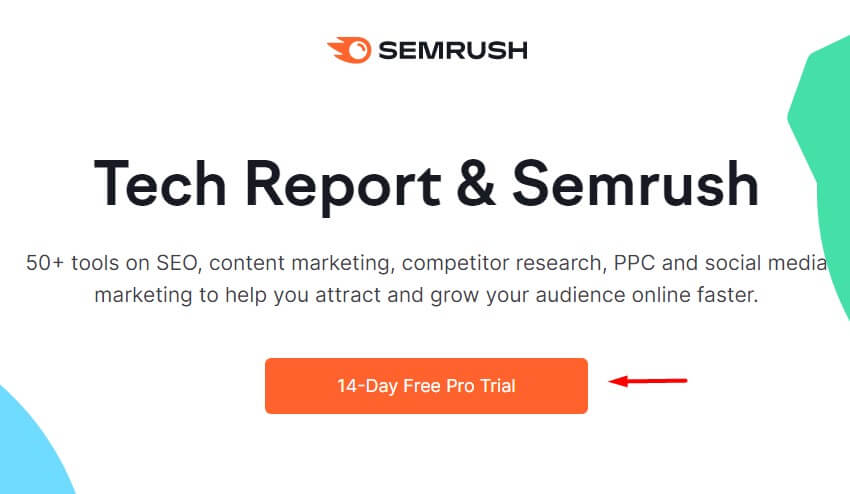 Semrush coupon code: Bloggersneed
Now it will take you to the next page where you will be asked to enter your credit card details and billing address like phone number, email, address, country, state, city and pin code.
Enter the Semrush promo code and correct information and click place the order button.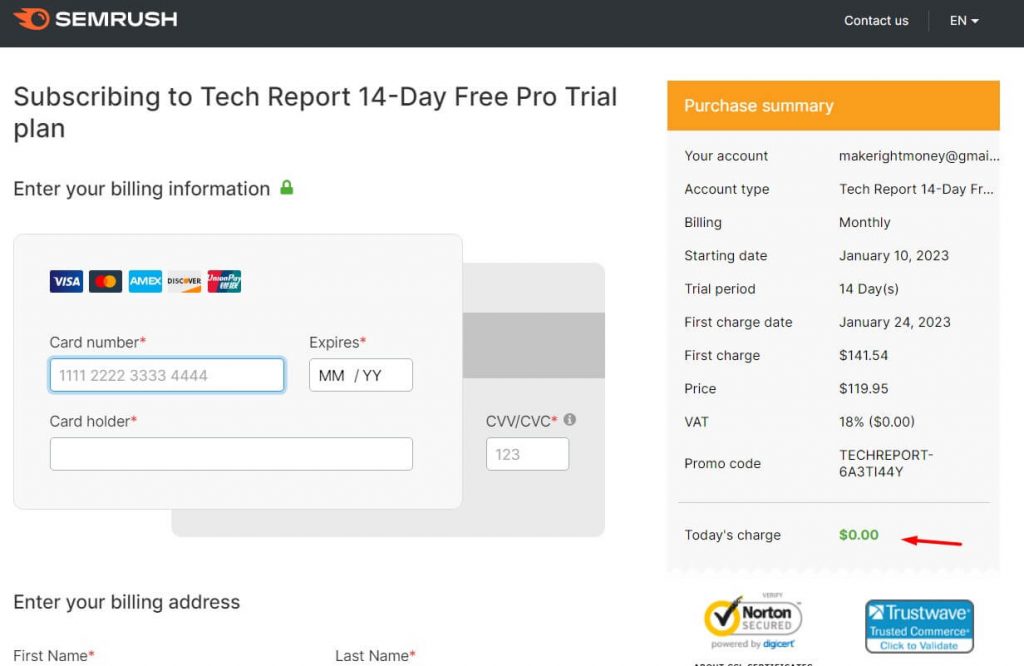 Now you will get a free Semrush trial for 14 days with zero fee, and you can do various SEO tasks and later pay if you are willing to use or cancel your subscription.
Click this link to get Semrush free trial.
What Does Semrush do?
Semrush is one of the best all-in-one tools to do various SEO tasks. The tool is used by 10 million marketing professionals and 30% of 500 fortune companies use Semrush as their marketing tool.
In short, with Semrush you do
SEO
Competitor research
PPC
Social media marketing
Now we will see all the Semrush features in detail.
SEO
When you think about search engine optimization, it probably starts with keyword research and link building. Semrush has the largest database of having 20 billion keywords and 800 million domains, covering more than 200 countries and territories. You can use their free trial to find new keywords for your website or competitor's website and research what search engines are ranking for these terms.
Let's look at some features of the SEO tool.
Competetive Research
Domain Overview – This will show you the domain's Semrush ranking, website traffic, number of keywords it ranks for, referring domains, backlinks, countries.
Traffic analytics – Using this tool you can get traffic sources from websites, search engines, and social media.
Organic Research – Get the details of the organic keywords of your competitors, their position history, etc.
Keyword Gap – Add your competitor's website and your website to find the keyword that you are missing on your website and get insights of common keywords. So you can write an article about the keyword and fill the content gap.
Backlink Gap – Find the common backlinks of your and your competitor websites. And find the backlinks that are ranking against your website.
Link building tool – Semrush provides a free link building tool that can help you find niches and keyword-rich domains for your backlinks.
Keyword Research
Keyword Overview – This is a keyword research tool, and you can enter up to 100 keywords to find out how many websites are ranking for that keyword, and find their search volume, intent and difficulty.
Keyword Manager – Get the up-to-date metrics of a keyword, evaluate their traffic potential in different regions.
Keyword Magic Tool – Find the best related keywords with trend, difficulty and the search volume.
Position Tracking – Track the keywords that you rank for in different locations.
Organic Traffic insights – Connect Semrush with your Google Search Console to get the keywords that are actually bringing traffic to your website.
Link Building
Backlink Analytics – Get the backlink data of your website using Semrush backlink database with reliable authority score.
Backlink Audit – Find the toxic backinks that are causing drop in rankings and might lead to Google penalty. You can recover from the penalty by adding these links to a list and sending them directly to Google's disavow tool right away.
Link Building Tool – Find websites to build backlinks. Collect their website information and use the Semrush email outreach template to send email to get results. You can monitor the earned backlinks to check they are active, and you can contact them if your links are taken out.
Bulk Analysis – You can check metrics of 200 domains at a time and download their results in XLSX or CSV.
On-Page & Tech SEO
Site Audit – Semrush offers an SEO audit which helps determine where on the page optimization needs to be done and how much it will cost to do so.
Listing Management – Build your local SEO and update your business name, address, phone number in all directories using Semrush tool.
SEO content Template: Generate the brief content template for the article by scraping the data of your top 10 competitors. Based on the content recommendation, write the article and outrank them using the content template recommendation.
On-Page SEO Checker – This tool recommends the ideas that you can add to your existing post or page to improve your rankings.
Log File Analyzer – Get detailed reports of how search engine crawlers interact with your website. You have the option to download and upload log files.
How much does SEMrush cost?
Here we are going to explain the Semrush pricing of all plans in detail.
Semrush has three types of plans: Guru, Pro and business. Using the Semrush 30 day free trial you can get this plan for free.
You get 17% Semrush discount for this plan when you pay for it annually.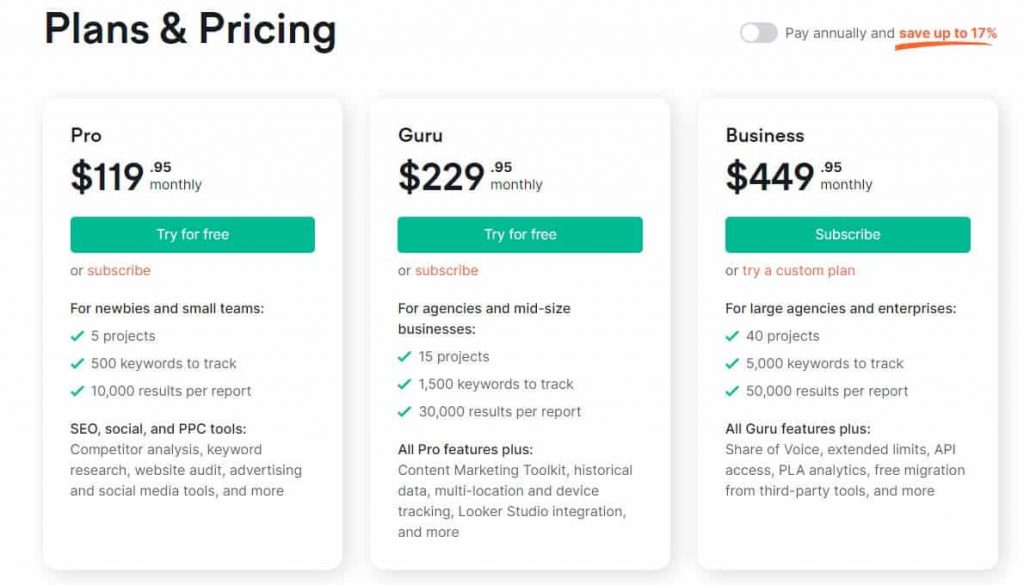 Plan
Pro
Guru
Business
Best for
For Beginners
For Agencies & Small Business Owners
For Large Business
Projects & Rank Tracker
You can add 5 websites and track up to 500 keywords.
This plan lets you use SEO, PPC and social tools
Add 15 websites and track 1500 keywords.
You get all pro tools and content marketing tools, historical data, location, device tracking, looker studio integration.
Add 40 projects and track 5000 keywords
You get all Guru features and additional features like API access, share of voice, PLA analytics and more.
Looker Studio
no
yes
yes
API Access
no
no
yes
Share of Voice
no
no
yes
Social profiles
10
30
50
Report Results
10000
30000
50000
Keyword Metrics Update
250
1000
5000
Monitor Mobile Ranking
yes
yes
yes
Keyword cannibalization report
no
yes
yes
OTI campaign
30
40
50
Price
119.95/per month
229.95/per month
449.95/per month
Get Free Trial now
Get Free Trial now
Get Free Trial now
Not convinced with this number and need a much bigger plan for your projects then try contact them here to get a custom plan.
Conclusion
Semrush is undoubtedly the best SEO tool for bloggers and affiliate marketers and the best alternative to Ahrefs, MOZ, Majestic, Serpstat, etc.
Now you know that is Semrush free for not. Off course, Semrush is free, and you can sign up with your email address and use it for a lifetime, but it is limited, and it lets you see the top 10 results.
So use this Semrush guru 30 day trial link to do backlink analysis and competitor analysis. You can buy the pro plan after the trial period, and even you can get your money back as refund with the Semrush money-back guarantee.
Semrush Free Trial FAQs
How to cancel Semrush free trial?
Absolutely you can cancel the free trial whenever you want, and you don't have to pay a penny.
Is Semrush worth the money?
Semrush is considered to be one of the best SEO tools for webmasters, that's why more than 10 million marketers pay for it. If it's not worth paying, why do 10 million people pay for it?
What are some free alternatives to SEMrush for bloggers?
There are many SEO tools on the internet, but the tools which are considered to be alternatives for Semrush are Serpstat, Ahrefs and MOZ.
Does Semrush have a free plan?
Yes, they have, but it is not worth using, they are limited in terms of what you can do with it. If you want to be able to use all the features of their plan, then it is best to buy the pro or guru plan. If you're afraid to pay, then you can use the Semrush free trial and check the tool by yourself without paying a single penny.
What is SEO Writing Assistant by Semrush?
A smart writing editor that helps you to optimize your article while writing by suggesting Target keywords and semantic-related keywords to outrank your competitor. Also, it can detect grammatical errors and check plagiarism as well. SEO writing assistant is available as an add-on, and you can enable it on WordPress, MS Word, and Google Docs.
How to cancel Semrush account?
Go to your Semrush account, and you can downgrade or cancel the account. Or you can mail or contact their customer support to delete your Semrush account.
How many searches per day with free Semrush account?
You can search for up to 10 keywords using the free plan. And, you can search any 10 websites to find its traffic, keywords, etc.
View Other Deals