Looking for the best deal to buy a Subscription Force plan for your WooCommerce website, then stop your search here to claim your Subscription Force Black Friday deal to get 70% discounts on all annual plans.
Subscription Force is the WooCommerce plugin to increase your subscribers subscriptions and grow recurring revenue for your online business. You can use this extension to grow your customer lifetime value.
Subscription Force Black Friday Deal
This is the yearly opportunity to buy the Subscription Force at the highest discounted rate, and you will not get this offer at normal time.
The Subscription Force has three plans.
Basic: This plan costs $7.99 per month and this plan is for businesses that like to grow their subscriber base and increase customer lifetime value.
Advanced: This plan costs $9.99 per month and this plan is for businesses who like to grow their recurring revenue by offering great flexibility.
Professional: This plan costs $13.99 and this plan is for the business who is looking to enhance their user experience and grow recurring revenue.
Agencies & Freelancers: The cost of this plan is slightly high and covers the features of all above plans, and it costs $349.99. The reason we give all the information about the plans and the price is to enable you to buy the right plan for your business.
You can buy a Subscription Force Black Friday deal on all annual plans and get discounts of 70% off the regular price.
Here are some important things that you need to know about this offer:
This deal is limited and will be available until stock runs out, so don't miss it!
You need to purchase the annual plan to get a 70% discount.
Here is the coupon code: SBBFCM70 and here is the discount activation link.
By using the code you get a 70% discount on all plans, and it is a yearly once-sale.
How to Activate the Subscription Force Black Friday Discount?
Now you have the coupon code to get the discount on Subscription Force Cyber Monday and BF deal, but if you don't know how to get the offer means kindly follow the below step-by-step process.
Step 1: Visit the subscriptionforce.com official website and click the pricing menu.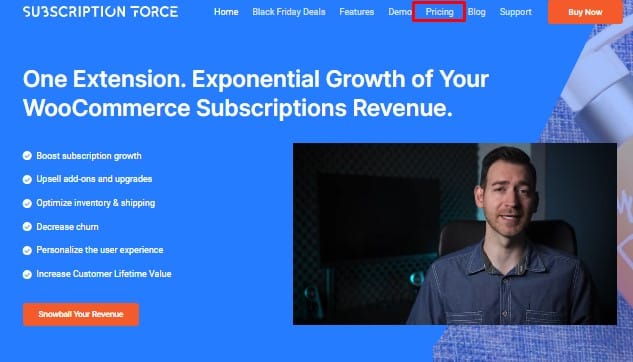 Step 2: Now it will show you the plans with price and features. For this tutorial i am selecting the Basic plan which costs $7.99 and to get the discount, you must buy the annual plan.
Now scroll down and click the Buy Now button.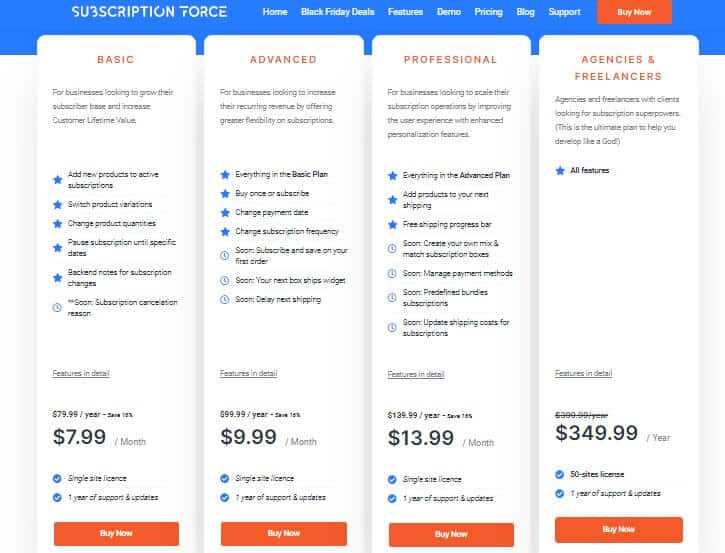 Step 3: After clicking the Buy Now button a screen will pop up and on the screen it will show you the monthly and annual cost for a single website.
In the window you will see Enter Coupon Code link, click that link and paste this coupon: SFBFCM70 and click Apply button.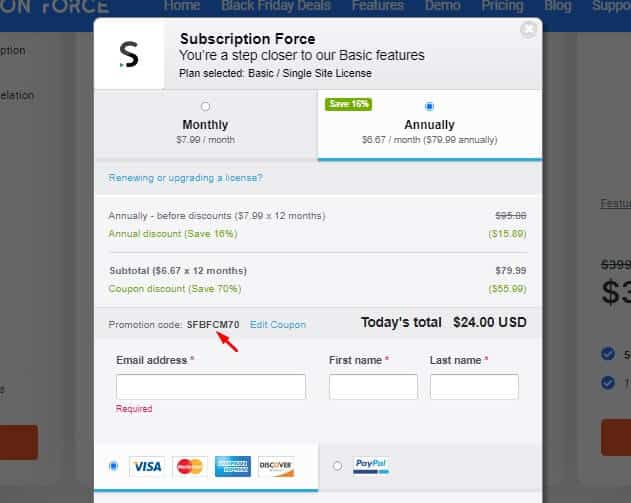 Step 4: Now enter your email address, first and last name and purchase the Subscription Force plan using PayPal or credit card.
That's all, now you successfully claimed the deal.
Subscription Force Features
Here you will know the full functionality of Subscription Force product and with it features.
Using the Subscription Force Plugin.
Customers can add new product to their existing subscription and the new price will be automatically updated to cover the expense of the new product.
Customer will have flexibility to change the product quantities according to their wish and this will give them full control and trust.
Back-end notes will allow the customer to see all their subscription changes with date and time.
Subscription cancellation reason feature will ask the customer about subscription cancellation, so that you can improve your product feature based on their feedback.
You can turn your stand-alone products into subscription packages to increase your recurring revenue without adding any extra SKUs.
Upsell feature to sell extra products when a customer buys any subscription package, this will be the nice way to earn extra money from your customers.
Free shipping bar will sell more by notifying customers to add more products to qualify for free shipping.
There are many more features about the Subscription Force plugin, and you can view them all here.
Subscription Force Cyber Monday Deal: Conclusion
Now you successfully activated your subscription force Black Friday and Cyber Monday deals and got a 70% discount on all annual plans.
Subscription force will surely help your online WooCommerce store to increase its recurring revenue, selling more products and getting more sales.
Latest Black Friday Deals