Want to get YouTube Custom URL for your channel?
Having a YouTube channel is ideal for internet marketers and big brands and additionally getting a YouTube custom URL make even powerful and adds uniqueness to your brand.
But why custom URL for YouTube?
We have analyzed around 1000 YouTube channels, and the channels with custom URL creates more exposure and great engagements than non-custom YouTube URL.
If you are a Vlogger, Internet Marketer or a big brand, then your channel must use YouTube custom URL to increase subscribers, views, and engagements.
And If you don't have one. Don't Worry.
Because In this post I will teach how to get a custom URL for your YouTube channel in easy steps.
Before going into this post, you should know YouTube has three type of URL's
Customized URL – YouTube.com/c/YouTubeCreators
ID-based URL – YouTube.com/channel/UCUZHFZ9jIKrLroW8LcyJEQQ
Legacy username URL – YouTube.com/user/partnersupport
For a single channel, you will have three types of URL's but all above URL's point to the same place.
How to get a custom YouTube URL?
YouTube is one of my favorite source of entertainment, and for everyone, it is the best place for marketing their brands to make huge profits.
For making your brand popular, you should have custom YouTube URL and to get it follow the below steps.
To claim a custom URL for YouTube channel, you need some requirements, but previously there is no barrier to getting this custom URL.
But nowadays you need some eligibility to get custom YouTube channel URL.
Criteria's are:
You must have 100 subscribers or more
Channel must have good content
Your channel must be at least one month old
Channel must have channel icon and channel art image
Once you meet the criteria's, you can get custom URL for your YouTube channel from Advance settings.
To do this:
Login to your YouTube channel
Go to YouTube Account settings
Click View Additional Features
Scroll down, and you will see Custom URL Option
6. And give any name to your channel
That's all after doing this you will have a custom URL name to your YouTube channel.
This is the official method to get YouTube custom channel URL.
Then what about the hack I said?
Yes, wait…
Now it is the hack time to get 100 YouTube subscribers within a day.
Unfortunately, you can't get your custom URL unless you have 100 subscribers on your YouTube channel.
How To Get 100 YouTube Subscribers Fast?
So here is the method to get 100 YouTube subscribers quickly within one day or sometimes within hours regarding how you work in this way.
To do this, you need to create an account in linkcollider.com
What is Linkcollider?
LinkCollider is the blog where you can get lots of SEO tools to improve your website rankings, Tools to generate traffic and Tools to Social media exchange, etc. Read LinkCollider review to know how we generated free backlinks, Youtube subscribers, social media shares from Facebook, Twitter, Pinterest, etc.
Create Linkcollider Account Now
After creating the account go to account dashboard and click Submit A Website and Choose YouTube Channel.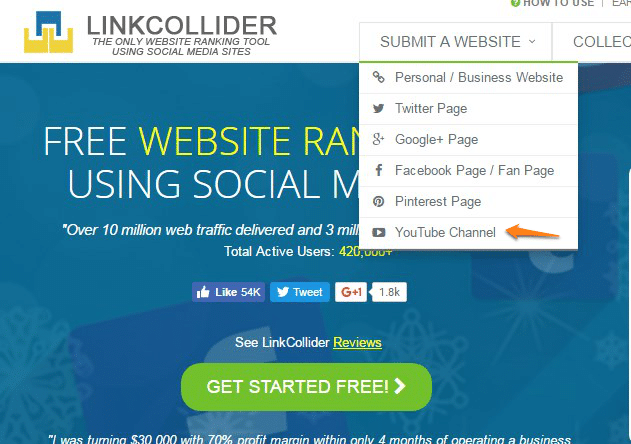 On Next screen fill up the details and Submit your website.
After doing it, you will see your YouTube channel details on the dashboard and it you will see something like.
What would you like to receive?
Under that question, you will have some bunch of options uncheck all except YouTube Subscribers Box.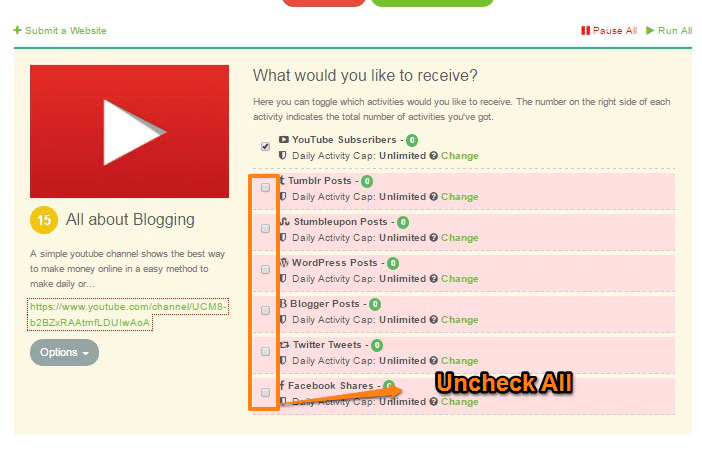 Now you will receive subscribers to your channel within seconds and wait for 100 subscribers.
Then follow my above official instructions to get YouTube custom URL for your channel.
Note: You need tokens to get subscribers, to get tokens you can buy them and for those who can't afford they can get tokens by doing some tasks.
By using this method, you will get 100 YouTube subscribers easily, and you can claim custom YouTube URL for your channel.
Get YouTube Custom URL: Wrapping It Up
This is my favorite method to get YouTube custom URL, and there no hacks to get a custom URL without 100 subscribers.
You can't cheat YouTube and their policy. Don't try any illegal methods and get banned permanently. So always be safe.
If you know, any other methods to gain YouTube subscribers instantly drop in the comment section.
I will be happy to include them in this article.
FAQs
Can I Change My YouTube channel URL?

No, you can't change your YouTube Channel URL, but you can add some letters or numbers on the name.
Can I remove custom URL and claim a new one?
Yes, you can do that, but limited to changing 3 times a year.