Are you ready to take your Amazon seller business to new heights?
There are many tools available for Amazon sellers but the two names stand out: Helium 10 and Keepa. These powerful tools offer a range of features and benefits that can help you boost your sales and gain a competitive edge.
But which one is right for you?
In this article, we'll compare Helium 10 and Keepa, giving you all the information you need to make an informed decision.
So, get ready to find out the perfect Amazon tool for your business.
Table of Contents
Overview of Helium 10 and Keepa
When comparing Helium 10 and Keepa, you'll find that both tools offer valuable insights and data for Amazon sellers.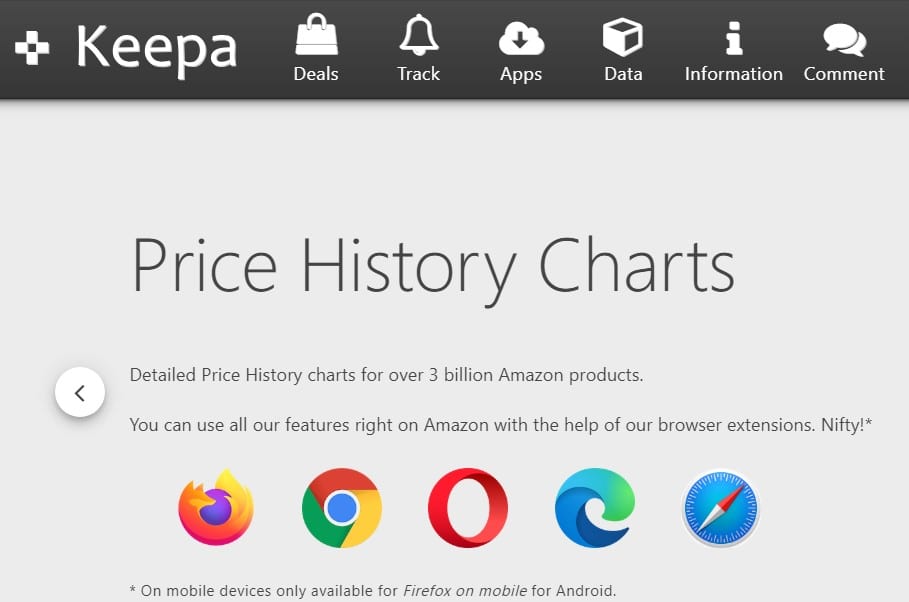 Keepa is a tool that provides sellers with timely and accurate product sales data, allowing them to track products and monitor prices on Amazon. This information is crucial for sellers to make informed decisions about pricing and inventory management.
On the other hand, Helium 10 is a comprehensive tool that goes beyond just sales data. A perfect package for amazon product sellers.
It offers features like keyword research, trend research, and competitor analysis, providing sellers with a more holistic view of the market.
With Helium 10, sellers can uncover profitable keywords using the keyword tools, identify trends, and analyze their competitors' strategies, giving them a competitive edge.
Use this Helium 10 coupon code to get 20% discount on all plans and here is the guide to use Helium 10 with Amazon.
Comparing Features(Helium 10 vs Keepa)
Let's now take a look at the features offered by both Helium 10 and Keepa. These two tools have their own unique set of features that can help you in your Amazon selling journey.
From product research to competitor analysis, understanding the features of both Helium 10 and Keepa will give you a better understanding of which tool is more suitable for your needs.
Helium 10
When we compare this both tools, Helium 10 stands out from Keepa due to its comprehensive suite of tools designed specifically for Amazon FBA sellers. It offers built-in browser extensions for Chrome and Firefox, providing all the insights and data needed to make better decisions and optimize Amazon businesses.
One standout feature is the Amazon PPC optimizer, which uses sales history to help optimize PPC campaigns and calculate the right cost per click for profitability and ROI.
Additionally, Helium 10 includes an advanced inventory management system, automatic FBA fee calculation, and free stock/inventory updates to help save money on FBA fees. With its all-in-one solution, Helium 10 is a powerful tool for Amazon FBA sellers aiming to succeed in the competitive marketplace.
Keepa
First, let's talk about the five key features that Keepa offers compared to Helium 10.
Keepa is a browser extension tool that provides a range of useful features.
It acts as a price tracker for wishlisted products, allowing you to monitor and compare prices over time.
Keepa offers a sales rank tracker, allowing you to keep an eye on the popularity and demand of specific products on platforms like Amazon or eBay.
It tracks the lowest historical prices of products, helping you make informed buying decisions.
Keepa sends price drop alerts, allowing you to take advantage of discounts and save money.
It tracks product availability and stock levels, ensuring that you never miss out on purchasing your desired items.
With these features, Keepa provides valuable insights and helps you make better decisions while shopping online.
Benefits (Helium 10 vs Keepa)
Discover the advantages of using Helium 10 over Keepa for your Amazon business.
While Keepa offers comprehensive price history graphs, price drop alerts, and international price comparisons, Helium 10 provides a wider range of tools to help you succeed.
With Helium 10, you can access sales analysis, competitor monitoring, marketing strategies, and store management features all in one place.
The free version of Helium 10 includes sales rank history charts, a revenue calculator, and X-ray analysis for product research.
It also allows you to compare competitor's inventory levels and provides insights on winning the buy box and managing inventory.
These additional features give you a more comprehensive view of your business and help you make informed decisions to drive sales and increase profitability.
Comparing Pricing of Both Tools
| Tool | Monthly Price Range | Free Version Available | Tools |
| --- | --- | --- | --- |
| Helium 10 | $29 – $229 | Yes | All Tools Included |
| Keepa | $19.50 (€19) | Yes | Only Price Tracker |
You can compare the pricing of Helium 10 and Keepa to determine which tool is more cost-effective for your Amazon business.
Helium 10 offers subscription plans that range from $29 to $229 per month, with more features available at higher price points. They also offer a free version for you to try out.
On the other hand, Keepa offers a subscription plan at €19/month (approximately $19.50/month), which is a lower price compared to Helium 10. Like Helium 10, Keepa also has a free version available for trial.
When considering the pricing of both tools, it's important to weigh the features and benefits they offer and choose the one that best fits your budget and business needs. And from this comparison we think Helium 10 has more features than Keepa.
Pros and Cons
Now let's weigh the pros and cons of both Helium 10 and Keepa.
Helium 10 offers a comprehensive suite of tools for Amazon sellers, providing features like product research, keyword research, and listing optimization.
On the other hand, Keepa focuses primarily on providing historical pricing and sales data, helping sellers make informed decisions based on market trends.
Each tool has its own strengths and weaknesses, so it's important to consider your specific needs and goals when choosing between the two.
Helium 10
While Helium 10 offers many advantages, there are also some drawbacks to consider.
Pros: On the positive side, Helium 10 provides an all-in-one platform with over 30+ tools that cater to every aspect of an Amazon seller's needs. The software is known for its speed and reliability, ensuring a smooth experience for users.
For active sellers, Helium 10 offers great value for money with its comprehensive suite of tools. Additionally, the platform provides a vast amount of training resources, allowing sellers to enhance their skills and knowledge.
Cons: However, there are a few downsides to using Helium 10. The full suite can be expensive for new sellers who may not need all the features. Moreover, due to its large user base, there's a risk of finding similar products, making it more challenging to stand out.
Keepa
Keepa has its own set of pros and cons worth considering.
Pros: On the positive side, Keepa offers an extensive free plan, making it accessible to users with limited budgets. Additionally, Keepa is known for its compatibility with all websites, allowing you to track and analyze products from various online platforms.
Another advantage is the ability to export data, which can be useful for further analysis or sharing with others. Keepa also provides graphics and analytics to support your decision-making process.
Cons: However, there are a few downsides to Keepa. Some users find the graphs overwhelming and difficult to interpret, especially for beginners.
Additionally, Keepa's navigation can be challenging for newcomers, requiring some time to familiarize yourself with the interface.
Despite these limitations, Keepa remains a popular choice for resellers, especially those involved in arbitrage and wholesale.
Conclusion: Our Choosen Tool is Helium 10
If you want to stay ahead in the game of Amazon e-commerce business, there's no better time than now to choose Helium 10 as your go-to tool.
With its comprehensive suite of features and user-friendly interface, Helium 10 is designed to help you maximize your sales and dominate the market.
One of the biggest advantages of Helium 10 is its powerful keyword research tool, which allows you to discover profitable keywords and optimize your listings for better visibility.
On the other hand, Keepa, while a useful tool for tracking price history, falls short in providing the same level of robust features and convenience that Helium 10 offers.
Make the smart choice and invest in Helium 10 to take your e-commerce business to new heights.
Frequently Asked Questions
Can Helium 10 and Keepa Be Used Together to Maximize the Benefits of Both Tools?
Yes, you can absolutely use Helium 10 and Keepa together to maximize the benefits of both tools. They complement each other well, providing valuable data and insights to help you make informed decisions and succeed in your business.
Are There Any Limitations or Restrictions When It Comes to Using Helium 10 or Keepa?
When using Helium 10 or Keepa, there are limitations to consider. However, don't let this discourage you! These tools offer invaluable insights and can greatly enhance your online business. Keep pushing forward and utilizing their benefits!
What Level of Customer Support and Assistance Is Provided by Helium 10 and Keepa?
When it comes to customer support and assistance, both Helium 10 and Keepa offer reliable help. They are committed to addressing your concerns and providing guidance whenever you need it.
Are There Any Additional Tools or Services Offered by Helium 10 or Keepa That Can Complement Their Primary Features?
Looking for additional tools or services to complement Helium 10 or Keepa? You're in luck! Both have a plethora of options to enhance your experience and take your business to the next level.
Also Read: