Want to cloak affiliate links in WordPress for free? But don't know how to do it?
Then here is the easy guide: we will teach you to create beautiful, short and brand affiliate links on your website.
This is a free method to make affiliate links to products or services on your website with and without any plugin.
Why to Cloak Affiliate Links?
Affiliate links are a great way to make money from websites on sales made through those links.
If you want to earn from affiliate marketing, then you must join any affiliate program, and they will approve your account after reviewing your website.
If your website got a lot of useful information and got traffic from search engines, then your application will be approved, and you will get an account that will contain promotional materials like affiliate links, ad banners, video ads, email templates of the product.
In order to get a commission you must use the affiliate links in your website. The affiliate links, which you might get from the program, may have an ID and referral code that could cause the links to look long and ugly.
Regualr Affiliate link url: https://bluehost.com/black-friday-2022/?utm_campaign=bf2022&aff=bloggersneed
Cloaked link url: https://bloggersneed.com/go/bluehost/
Which URL do you like? Off course the second one, right?
First link is lengthy and when you use that link on your website, visitors who visit your website won't click the link, and you miss the sale.
The second link is short and brandable, so visitors don't hesitate to click it, and you get a commission, if they buy the product.
These are the reasons to cloak an affiliate URL, now let's learn how to cloak affiliate links for free.
How to Cloak an Affiliate Links for free?
In the article, we will teach you to cloak an affiliate link using two different methods with and without using the WordPress plugin.
Method 1: Using WordPress Plugin
In the first, we are going to use a plugin known as thirsty affiliate. We are using the thirsty affiliate on this blog to cloak any affiliate URL, this plugin is perfect.
About Thirsty Affiliates
Thirsty Affiliates is the best affiliate link cloaker plugin for WordPress, the most advanced link management plugin with lots of features like auto linking, 404 checker, geolocation links, etc.
The pro version of the affiliate thirsty plugin got all the features for pro affiliates. For beginners, the free version is more than enough to use.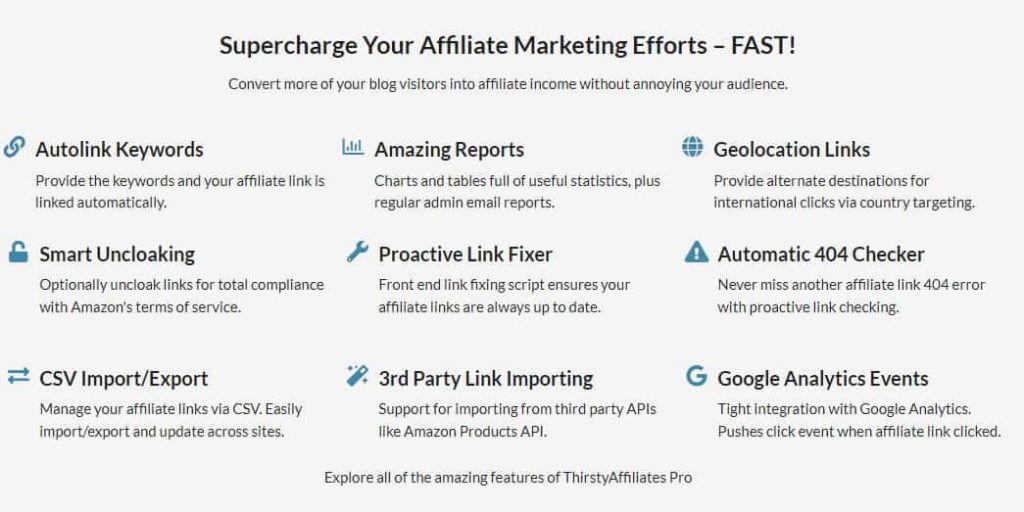 First install the thirsty affiliate plugin on your WordPress. Check this guide to add plugins to WordPress.
Now here is the thirsty affiliates recommended settings. You can use the below setting for your blog and, we use the same settings on this blog.
General settings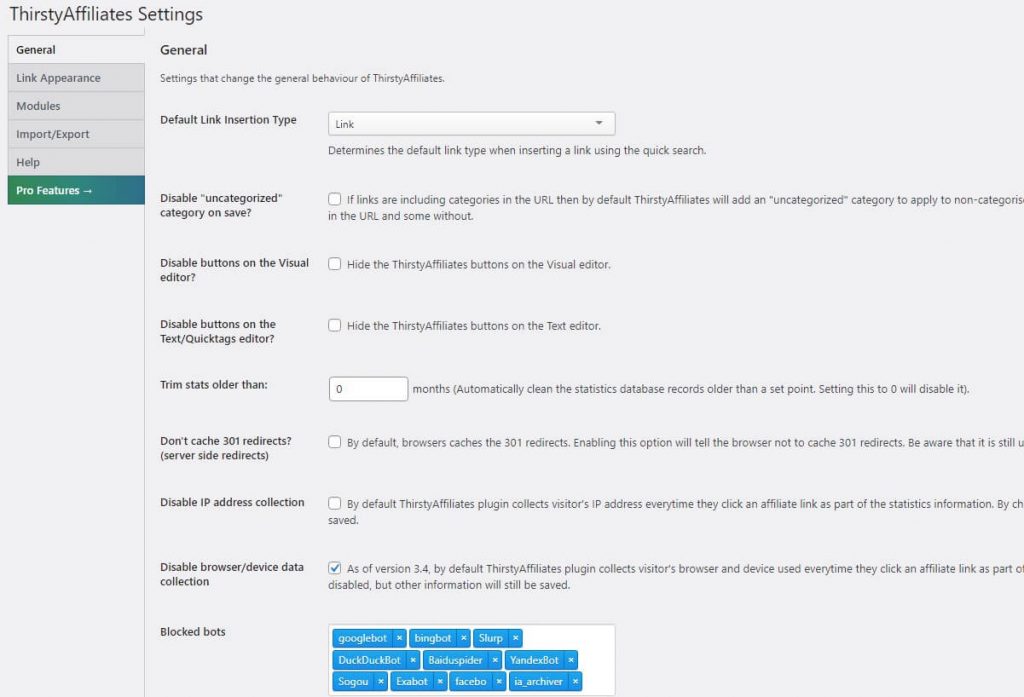 Link Appearance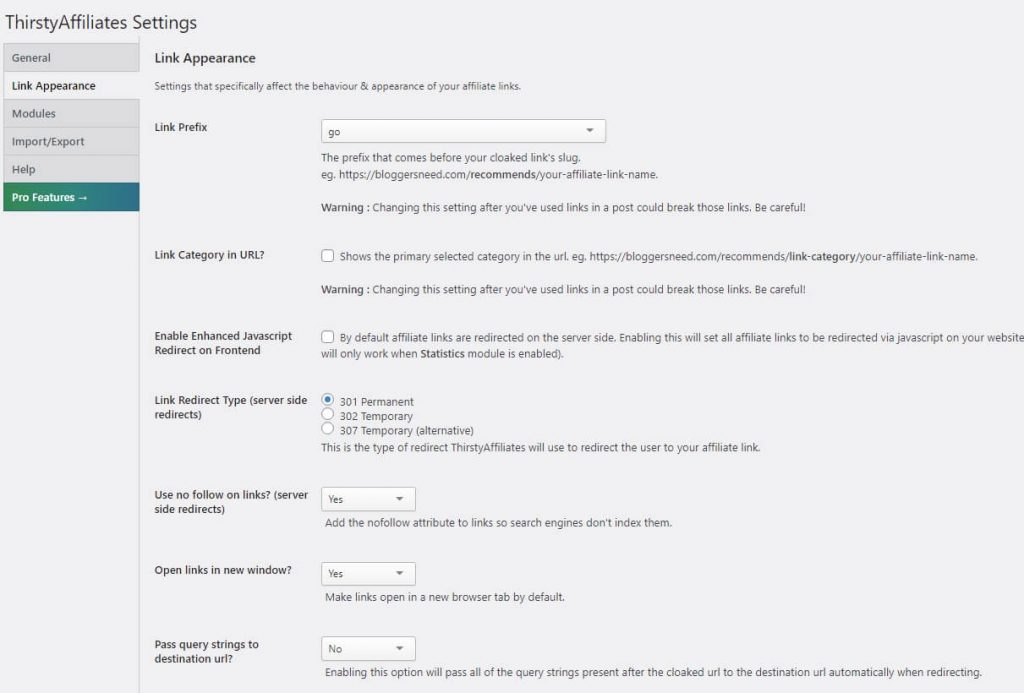 Modules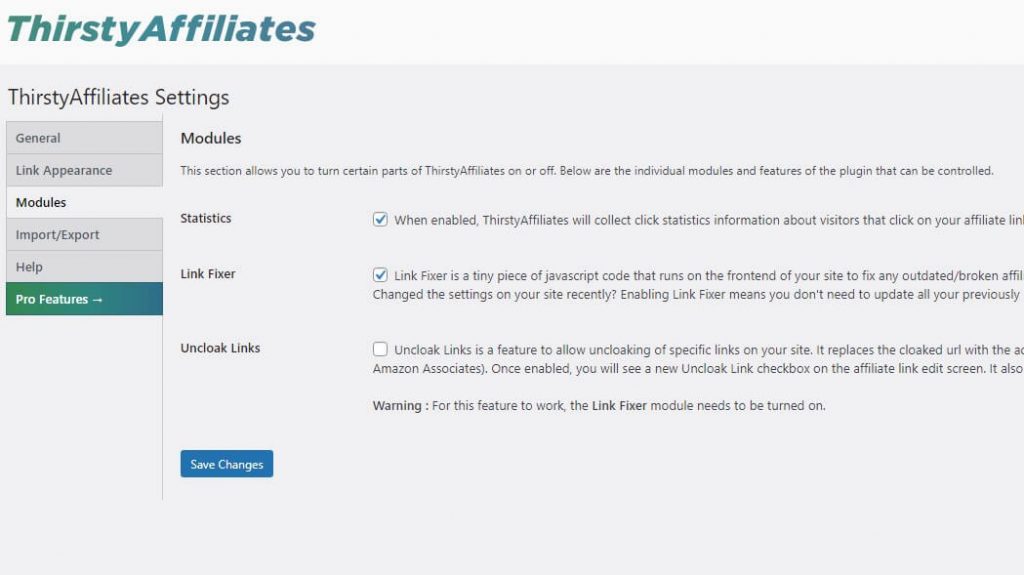 After applying all the above settings now go to your affiliate account and copy the URL. For this tutorial we are using the Domain hunter-gatherer affiliate link.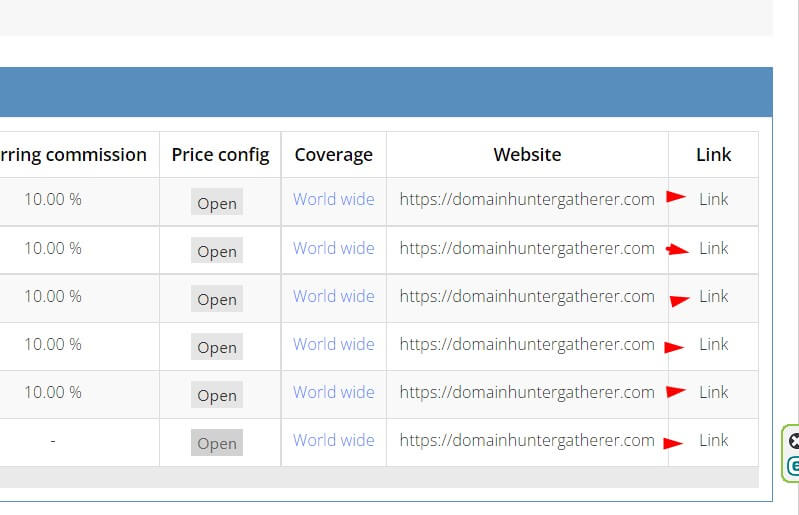 Here is the affiliate URL we copied from the affiliate account.
https://store.payproglobal.com/checkout?products[1][id]=70337&products[1][agreement-id]=9881
The URL is really long, and now we will cloak this affiliate link using Thirsty affiliates.
To do it go to the Thirsty affiliates and New Affiliate link.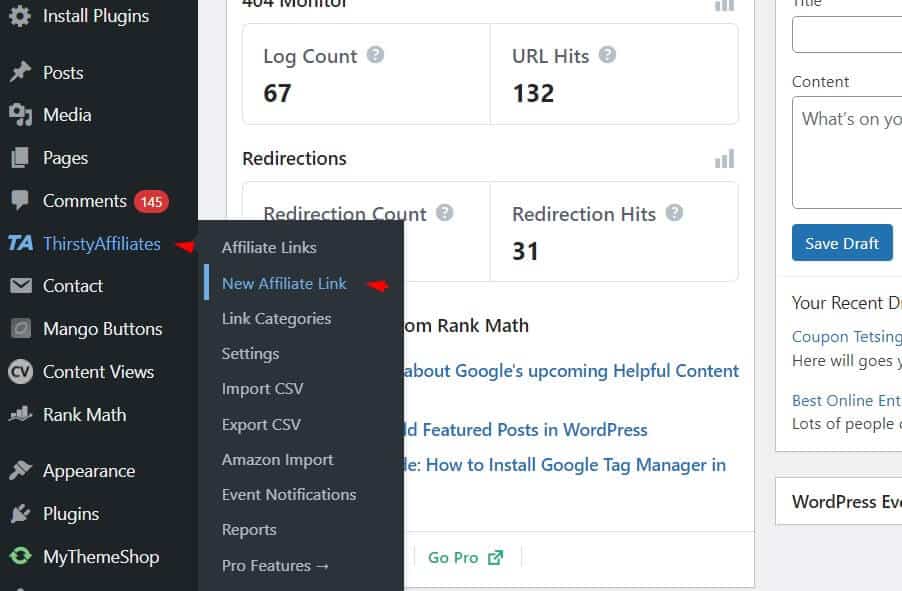 Now paste the affiliate link in the Destination URL box and give the URL to link and click the save button.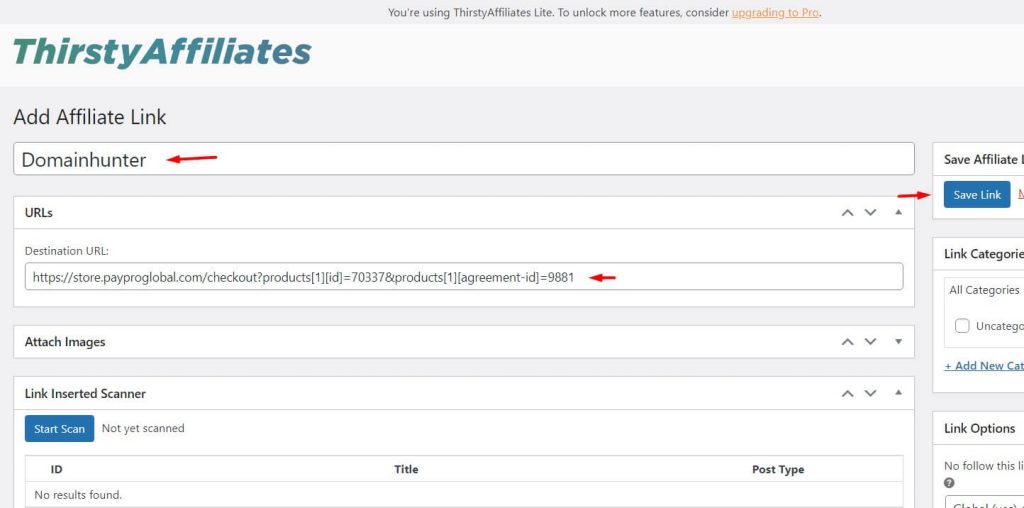 Now you will get a short and brandable cloaked link and here is what the link looks like.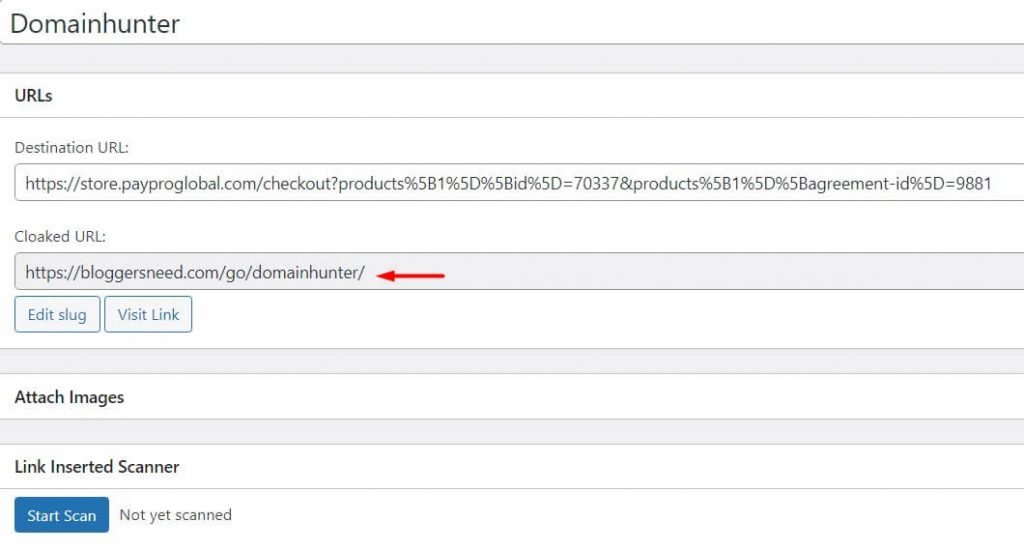 Cloaked link: https://bloggersneed.com/go/domainhunter/
If anyone clicks this link, it will be automatically redirected to the affiliate product, and you will receive the commission if they buy the product.
If you want to check whether the link is working or not, click and see it.
Note: You should no index and no follow the affiliate link to not allow the Googlebot to crawl. You can also use the cloaking plugin to do this task.
Method 2: How to Cloak Affiliate URL Without Plugin
You can easily cloak an affiliate link without use of any WordPress plugin and this method is very simple and effective.
To do this visit Bitly.com and create an account using your email and password. Now go to the dashboard and click Create New button.
Now put the affiliate link in the destination box and also give a name to your URL or if you want Bitly to create a unique URL don't put anything on that field and click create button.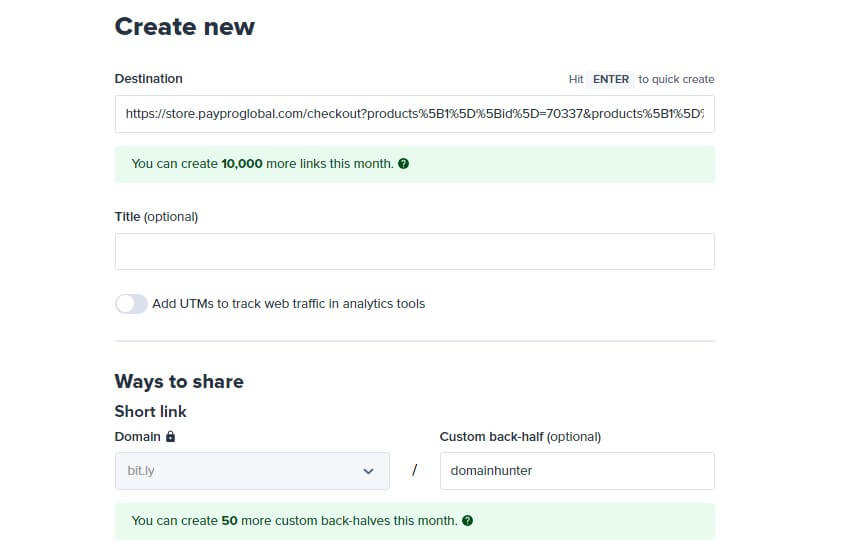 Now you've successfully cloaked an affiliate without using the WordPress plugin. Bitly has paid and free plans and the free version allows you to create 10,000 shorter URLs and 50 custom URLs per month.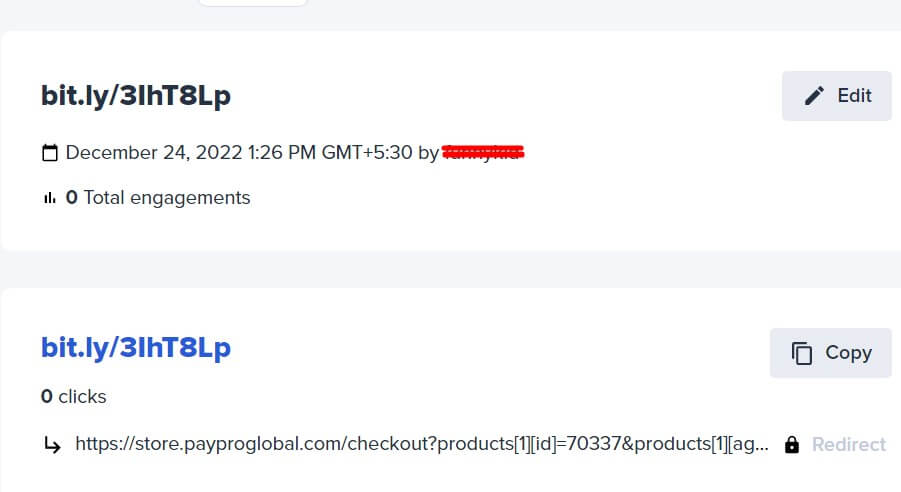 If you want to create more links and all the pro features, then upgrade to their paid version.
Conclusion
Having long and ugly affiliate links in your article will make the visitors not to click it and close your website. You will miss making commissions with affiliate products. And that is the reason every blog will cloak the affiliate links and of course we do the same.
So use one of the two methods given in this post to cloak affiliate URLs to not miss any sales and commissions.
More WordPress Guides