This is the post regarding the Leadpages Black Friday deal and If you are looking for a Leadpages exclusive discount, then this is the post that you have been waiting for. It has everything that you need to know about the offer and how it works.
Leadpages Black Friday Deal.
For this year Black Friday offer Leadpages is going to give 2 types of discounts for the new users who are looking to buy it.

The Pretty Good Deal: 30% Off for the new users who are looking to buy Leadpages Standard Plan and Pro Plan.

The Big Deal: This massive discount is only for their regular use and email subscribers for a limited period. For the 60% off for the Standard, Pro, and Advanced plan.

These two discounts will be available for and Black Friday sale and I don't know whether this deal will be still available till the leadpages Cyber Monday sale.
What is Leadpages?
Leadpages is one of the most popular page builders. It helps you to create an amazing blog with the help of a drag and drop page builder.

You can create unlimited pages, add any design to them, and then you can use them on your website. You can also use this landing page builder for creating product pages, service pages and can integrate it to top productivity tools like Google Analytics, Mailchimp, Infusionsoft, Zapier, and so on.
Why you should take this limited time Subscription offer?
The reason to use this leadpages black Friday sale is because of the normal pricing. Their Standard plan cost around $37 and their Pro plan costs $79 per month.
Here is the cost of the Leadpages tool on normal days and you will get some discounts when you buy their annual plan. That's all.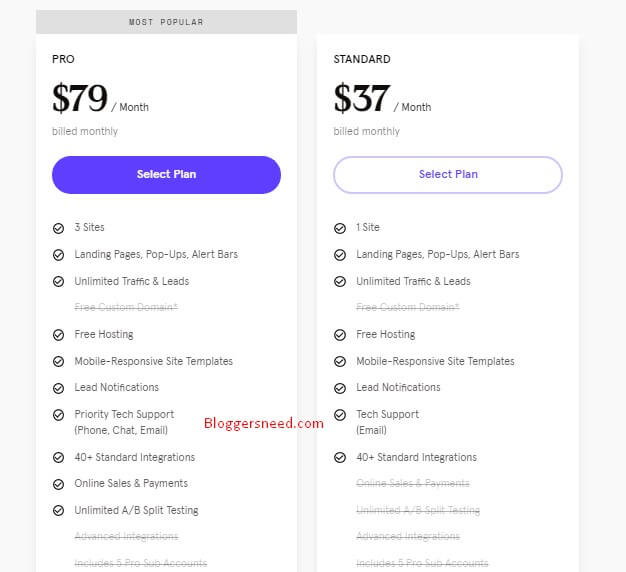 But on this sale and by using these massive discounts you can save 60% of your money and use that for your next projects.
Another thing is that you don't need any third-party plugins for this drag and drop builder because Leadpages come with advanced features to build your entire website.
Once you buy the annual plan, you will see all the tools to create your blog on your leadpages account.
I hope you got my point and why you should not pay any additional cost.
What are the benefits of using Leadpages?
Unlimited Traffic: Leadpages comes with an unlimited traffic plan which means there is no limit to your users and they can browse your website as much as they can. For Example, if your website is getting around 500,000 visitors a day. Leadpages can handle it smoothly. Pro Tip: You can also see your referral stats and you can analyze the traffic of your pages in your google analytics account.
Unlimited Free Templates: You can use any design beautiful landing pages with the pre-built templates with the click of the button and if you still need any customization you can do it as you want.
A/B Testing: Leadpages comes with the A/B testing tool to create 2 different versions of a page to find out which page is getting a high conversion rate.
Pop-ups: Leadpages also comes with a pop-ups feature that you can set on your webpage and when users view your product or service, attractive pop-ups with discounts and offers will trigger the user to purchase your product.
Leadpages Black Friday Deal: Conclusion.
This is the right time to get Leadpages Black Friday deal, with this exclusive offer, and it is only for a limited time. So think smart and get this deal and create awesome websites for your business and clients.
If you're an affiliate marketer or a blogger you can use leadpages to create single-page websites and also use the pop-ups feature to share your affiliate links to boost your sale.
Leadpages Black Friday Sale FAQ
Related Deals