Here is the article about How to Disable Comments in WordPress Blog.
Having a lot of spam comments on the comment section and want to completely disable it. Then you should check this article to fully block all posts.
By default WordPress allows readers to comment their opinions about your blog post and some may ask a question if they have some questions that are not covered in your article, and it's completely ok with it.
But at the same time, some users post completely irrelevant comments and drop links on the comment section. In that case, why don't we disable it permanently or at least for a specific period?
Can't understand what I'm saying? See the below image 🙁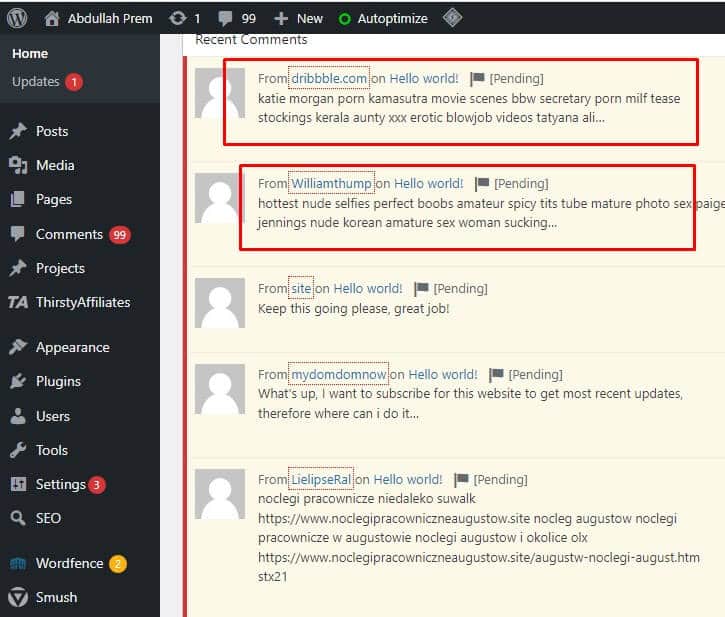 Then i came across with a good solution to disable comments manually with default comment settings and with the help of WordPress plugin.
And you're going to do it by yourself with the help of this guide.
Why you should not allow comments?
WordPress has an option which allows readers can create new comments and then delete those if they annoy or not interested in that post content etc… However following this by default, You will have useless comments on every single WordPress posts.
Early we all allow people to add their opinion about our blog post on the comment section and it also helped our blog to gain rankings.
Blog with lot of comments ranked on search engines and blog with less comments ranked low. That was few years ago but now everything.
Nowadays for the sake of link building spammers and black hat SEO's posting links related to gambling, porn using automated software.
Which is clearly annoying and if you allow those links your blog will negatively impact and loose rankings.
Having lot of comments on WordPress site will reduce the load time of your website and it will not pass core web vitals test.
And these are the reason to not allow anyone to write comments on your WordPress website.
Now I'm gonna to teach you how to disable comments in step by step.
To Delete Comments on all Published Posts
This will delete the entire comments on your website and it is
Step: 1: Login in your WordPress site – Dashboard > Comments > Select all > Bulk action and click Move to trash to delete all the comments on your blog posts and it is one way process and once you fully delete you can't able to restore it.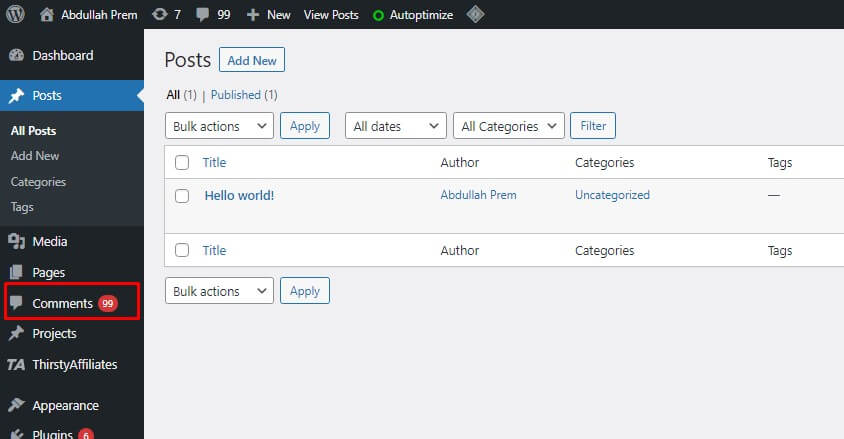 To Disable Comments on Future Posts
Step: 1 : Login in your WordPress site – Dashboard > Settings > Discussion > and on the default post settings, uncheck all the boxes and click save changes.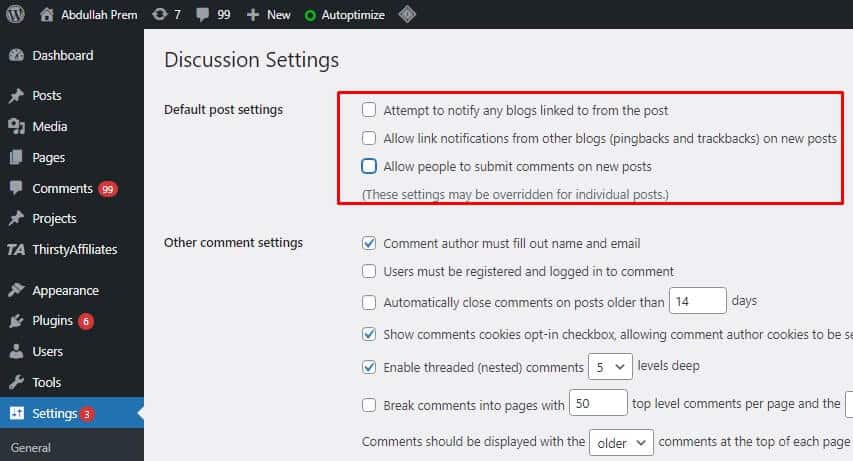 This setting will only disable the comment section for the future posts which means the present comments won't be disabled or deleted it.
To Disable Comments on Individual Posts
In the new WordPress Guternbeg editor you have the option to disable comments for individual posts without using any WordPress plugin.
To do it Create a Post or Page on WordPress and on the left sidebar you will see "Discussion" and you will have the option to Allow comments and allow pingbacks & trackbacks. Uncheck both of the option and publish your post.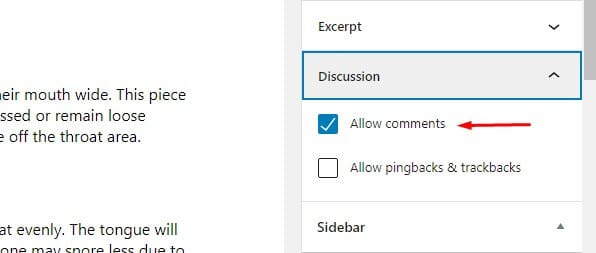 Personally i like this setting on Guternberg editor to enable and disable comment section as per need. Its totally my wish.
Disable WordPress Comments After x Days
This option will close your comments section after your preferred days. And this option is used for some blogs where they publish a well researched content and notify them via emails.
Where high numbers of users will read the content and comment their opinions and it will increase their page size and will increase their page load time. To avoid it they can use this setting to close the comment section after 10 or 20 days.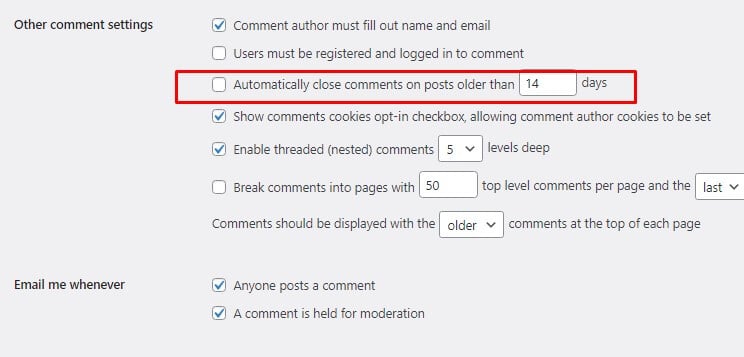 To do it. Go to Settings > Discussion and in the Other comment settings and check the box which says "Automatically close comments on posts older than days" and in the box put mention the days.
Disable Comments on WordPress Media Files
Some WordPress blogs will rank for images for specific posts and it will receive lot of comments. To prevent the comments our on WordPress images and videos, you can disable these media files to be displayed.
To do it Go to Settings > Media Library and choose any image and click edit and disable comments for the image and video files.
As this setting disables all comment section which includes regular posting pages (Posts) as well as image Galleries.
Disabling Comments using WordPress Plugins
If you're a plugin lover and don't want to do the manually then you can disable comments with some WordPress plugins.
To do it Go to Plugins > Add New and install Disable comments – Remove comments & Stop comments by WPDeveloper.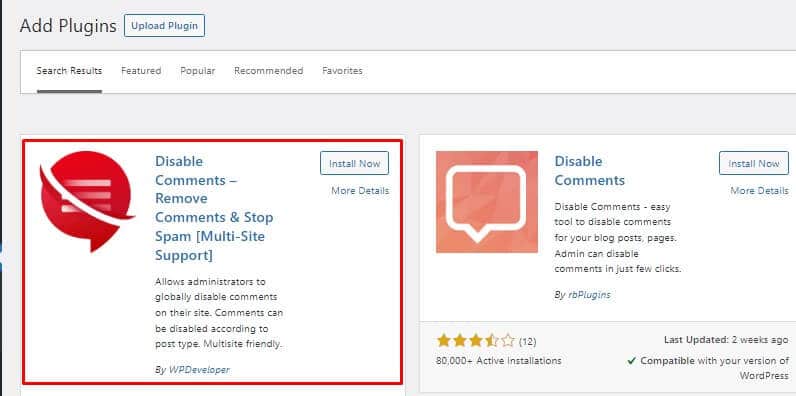 This plugin got 1 million users, so you can trust 'this plugin, install it and set the numbers of days which you want.
It will disable all comments on both to posts & images, movie uploads as well as gallery post submission form. In this plugin you can also remove spam contents by setting link in comment box with special tag line " Spam".
That's why we consider this a must-have WordPress Plugin for bloggers who dislike comments.
Features of the plugin is
You can delete whole website comments.
Disable comments on individual posts or pages or media or projects
Block certain types of comments
Permanently delete all spam comments
Disable avatar images on all posts and pages
Disable comments Via XML-RPC and Rest API
This is a good WordPress plugin to disable comments from your website. And if you don't know how to use this plugin, you can refer to their official website where they got some nice tutorials about the Disable comment plugin.
How to Disable Comments in WordPress Blog: Conclusion
Disabling comments on your website can be done with different WordPress plugins or by using the WordPress settings. You can choose either any of the ways, but it's important to make sure that your blog doesn't have any spam comments.
If you any other easy way to do it, kindly mention it the comment box and i would like to know it and if its interesting i would happily include it inside this article.