Are you looking to increase your Instagram followers?
Whether you're a business, influencer, or just someone trying to build an online presence, having more followers can help you reach your goals.
With the right strategies and tools, it's easy to increase your following.
Here's a guide on how to do it!
You'll learn how to:
Create an attractive profile
Post captivating content
Use relevant hashtags and analytics tools
Collaborate with influencers
Cross-promote on other social platforms
Plus, you'll discover ways to buy shoutouts for even faster results.
Now let's get started!
Create Good Looking Instagram Profile
Crafting a good-looking Instagram profile is key to attracting potential followers, so don't forget to 'dress for success' and make sure your profile reflects your brand!
Start by selecting an eye-catching username and adding a compelling bio that accurately describes what you offer. Add a professional profile picture that best represents your brand. Then switch to a business account to access features like the contact button as well as valuable insights about your followers.
To further increase engagement, create visuals that are in line with your branding and optimize posts with targeted ads. Leveraging stories will help boost engagement even more.
With these tips, you can create an effective Instagram profile that will attract more followers in no time!
Post Interesting Content
You can captivate your audience by crafting interesting content that tells a story and evokes emotion, thus helping to build a devoted following.
To make your content stand out from the rest and increase followers, focus on creating engaging captions, coming up with original ideas, adding creative visuals, and using quality images.
You should also aim to maintain consistency in posting while keeping a consistent aesthetic. This'll help you gain customer loyalty over time as followers will recognize your account for its great content.
Utilize Relevant Hashtags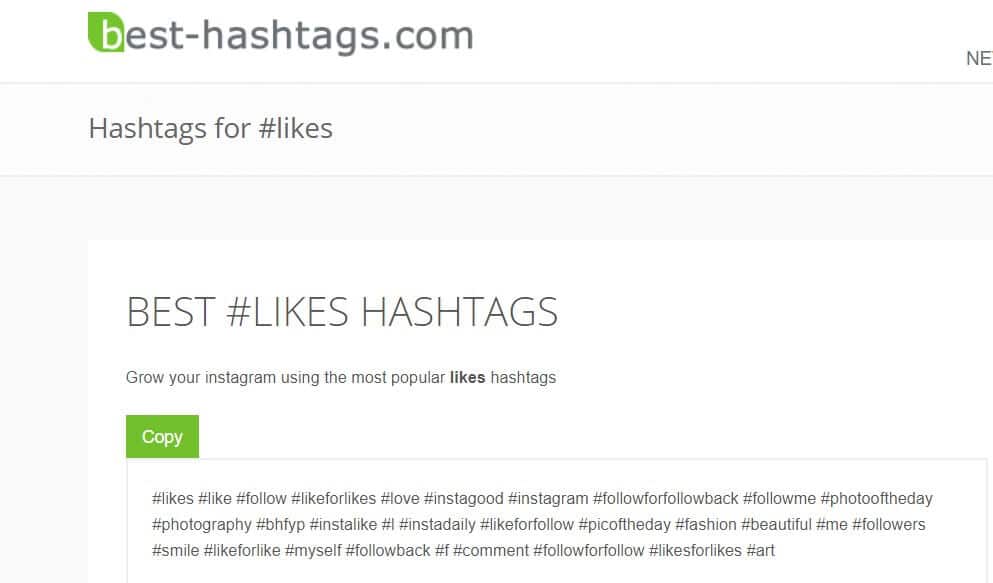 Image credit: best-hashtags.com
Leveraging the right hashtags is like dropping a pebble in a pond – it'll create ripples that reach far and wide, helping your content spread to potential viewers.
To increase followers on Instagram, research and include popular and relevant hashtags that are related to your content or industry. You can strike a balance between using popular and niche-specific hashtags to reach target audiences.
Curate content with visual storytelling; create creative captions; and leverage trends in order to build engagement. Utilizing these elements will help you effectively utilize relevant hashtags so as to maximize exposure of your posts.
Engage with Your Audience
Connecting with your viewers and responding to their comments shows that you value their engagement, creating a sense of community and fostering loyalty. To increase your Instagram followers, interactive stories can be used to engage followers.
Sponsored posts can be created with creative captions that are relevant to the ad's target audience. Additionally, running relevant ads on Instagram will also help generate more followers:
| Emotion | Description | Example |
| --- | --- | --- |
| Joyful | People feel happy and content when they are included in conversations or activities. Use language that is positive and inviting. | "We'd love for you to join us! Let's get together and have some fun!" |
| Excited | People react positively when they feel like something is new or exciting. Use language that conveys enthusiasm for the activity or conversation at hand. | "This is going to be great! I'm so excited about this upcoming event!" |
| Connected | People want to feel connected with others who share similar interests or values as them. Use language that acknowledges common ground between yourself and potential followers. | "Let's come together and make a difference in our community!" |
Collaborate with Influencers
Partnering with influencers can catapult your reach to the stratosphere, exponentially expanding your brand's presence! Working with influencers in your niche is a great way to increase followers and get more eyes on your content.
To start engaging with influencers, build relationships by commenting on their posts and liking their content. You can even advertise on their stories or run contests for them. This will help to create connections that lead to collaboration opportunities like sponsored posts, takeovers, or shout-outs.
Additionally, you can also use polls for audience engagement and see what kind of content resonates better with users who follow an influencer's account. Ultimately, collaborating with influencers is a great way to attract new followers and generate more exposure for your brand.
Post User-Generated Content on your Profile
Reposting user-generated content on your profile not only recognizes your followers, but also fosters a sense of community. It is an effective way to increase your Instagram following by engaging with current and potential followers.
User-generated content provides authentic visuals that showcase the brand's story, while timely updates keep users interested in what's new. Furthermore, targeted ads and relevant captions help ensure consistent branding across all platforms.
By posting user-generated content regularly, you create an inviting atmosphere for others to join the conversation and take part in your brand's journey.
Use Instagram Insights and Analytics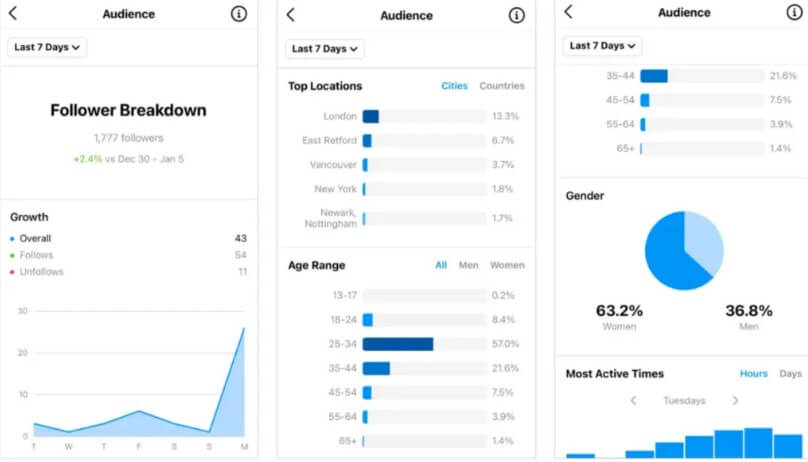 Analyzing your Instagram Insights and analytics can help you uncover the truth behind a theory, so you can craft content that resonates with your audience and drives better results.
By leveraging data from Instagram Insights, you can determine what type of content is engaging to your followers and what posts are likely to attract new followers. You can also track the success of your branding efforts on social media and measure how effective they are in terms of engagement rates, post reach, and other metrics.
This will provide valuable insights into which strategies work best for growing your audience on Instagram. With this information at hand, you can refine your approach accordingly and maximize the impact of each post to increase followership.
Utilize Instagram Growth Tools:
Leveraging powerful tools can turbo-charge your social media efforts, helping you skyrocket engagement and attract new fans.
When it comes to growing an Instagram account, utilizing the plethora of available growth tools is a great way to increase followers. Not only do these platforms enable you to easily schedule posts in advance, they also provide valuable insights into how your followers are engaging with your content.
Additionally, some of these platforms allow you to partner with brands and influencers for sponsored posts or collaborations. You can also track follower growth trends over time which will help you better understand what type of content resonates most with your audience.
Other features such as creating stories, running competitions, using polls and hashtag research can all be used to further engage with potential customers and build brand awareness.
By taking advantage of these Instagram growth tools, you can maximize your efforts while saving time – ultimately leading to increased followers and fan engagement on your account.
Cross-Promote on Other Social Media Platforms
Don't miss out on potential customers – cross-promote your account across other social media platforms to reach new audiences and get them excited about your content!
Share updates with existing followers on different channels, encouraging them to like and follow you on Instagram. Use stories, explore trends, run competitions, and engage followers by sharing experiences.
This is an effective way of getting more eyes on your page, which can lead to increased followers, likes, comments, and ultimately more conversions.
By leveraging your presence across multiple platforms and connecting with a diverse audience base, you can maximize the impact of your Instagram profile and amplify its reach.
Buy Shoutouts
You can turbocharge your social media presence by purchasing shoutouts from influencers with large followings – and get the wheels turning on a snowball effect of likes, comments, and conversions.
Buying shoutouts is an effective way to increase followers quickly and cost-effectively. You can leverage popular influencers to extend your reach. Finding influencers in your niche with the most engagement will help you optimize posts for maximum impact.
Sharing content through shoutouts helps create hashtags that attract more attention to your account. You can negotiate the price for shoutouts based on the number of followers they have — usually paying $50 for accounts with 100k followers or more.
Conclusion
It's time to give your Instagram account a boost! By following these steps, you can increase your followers in no time.
You'll need to create an attractive profile, post interesting content, use relevant hashtags, engage with your audience, collaborate with influencers and use analytics.
Don't forget to cross-promote on other social media platforms or even buy shoutouts for extra reach.
Lastly, don't be afraid to step into the 21st century and utilize modern tools like Instagram growth tools for more success.
With all of these tips and tricks under your belt, you'll be seeing those followers rise faster than one could say 'boom!'