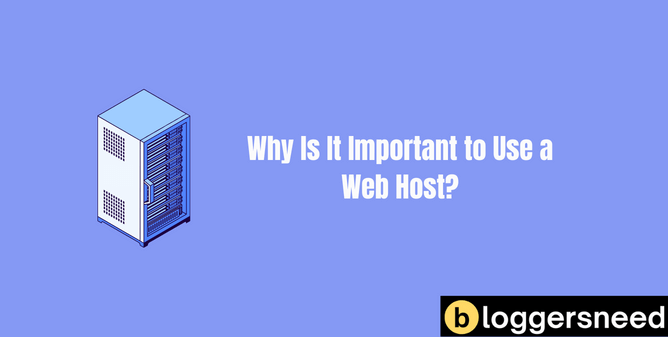 You may be wondering why you need to use a web host for your website. After all, couldn't you just host it on your own server?
While it's possible, it comes with risks and other drawbacks that make it a less-than-ideal solution.
Let's look at the benefits of using a web host, as well as how to choose the best one, so you can make the right decision for your website.
Table of Contents
Why do I need a web host for my website?
You need to use a web host to make sure your website is visible and accessible to visitors.
Web hosting provides the necessary platform for websites to be stored on a server and accessed by users.
Web hosting company offers a variety of features such as domain name registration, web design, and security.
This is essential for any online business, as it allows the website to be seen by the public through browsers.
With a web host, you can ensure that your website is secure and reliable, and can be easily found by potential customers.
In case of emergency a web host provides the necessary technical support and resources needed to keep your website running smoothly.
Without a web host, your website could be lost in the crowd, and your visitors may not be able to find it.
Therefore, having a web host is essential for any online business looking to succeed.
What happens if I don't use a web host?
Without a web host, your website won't be visible to the public, it can't be found on search engines, and it could even become vulnerable to security threats.
Here are three key points to consider:
If your website isn't hosted on a web server, no one can access it.
Search engines can't index websites without a web host, so potential customers or visitors will never find it.
Without a web host, your website is also exposed to security risks, such as malicious attacks from hackers.
In short, a web host is essential in order to make sure your website is safe, secure, and visible to the public.
Don't take risks by not using one!
Can I host a website on my own server?
Are you technically savvy?
Do you have the resources needed to build and maintain your own server?
Are you able to afford the costs associated with building and maintaining your own server?
Lastly, do you have the skills to set up and manage the security settings for your server?
If so, then hosting a website on your own server may be an option for you.
But take a look at the below questions.
Got Technical Knowledge?
Despite having technical knowledge, you may not necessarily want to host a website on your own server.
Hosting a website requires a lot of time and effort. This includes setting up and managing the server, configuring the server network, and updating software and ensuring security. It can be a full-time job.
Plus, if you don't have the right hardware and software, hosting a website can be expensive.
That's why it's often more sensible to enlist the help of a web hosting provider. They will manage the server for you and ensure your website is up and running.
You'll have to pay for the service, but it's often a small price to pay for peace of mind.
Plus, the provider will have the right experience and expertise to ensure your website is always available. In other words, using a web host is often a smart choice.
Resources Required?
Do you have the resources to host a website on your own server? It's possible, but it certainly isn't for everyone.
Before taking the plunge, ask yourself if you have the technical knowledge and expertise, as well as the time and money to maintain a server.
You'll need to know how to install and configure software, manage updates and security patches, and monitor system performance.
If you don't have the skills or the resources to do this, it's best to invest in a web hosting service that can provide the necessary support.
Be sure to research the provider to make sure they offer reliable service and features that meet your needs.
By choosing the right web host, you can ensure your website remains secure and accessible.
Have Money to Build Your Own Server?
Frequently, you may wonder if it's possible to host a website on your own server, but it's important to consider the resources and expertise required to do so.
Building your own server requires:
Enough money to purchase the necessary hardware.
Access to reliable internet service with sufficient bandwidth.
Technical knowledge to configure and maintain the server.
These resources are often beyond the reach of many individuals and small businesses.
That's why I recommend hiring an experienced web hosting service is typically the best approach to ensure your website's success.
So it is better to buy a hosting for your website to save your money from building your own server. Never do that!
Able to Sort Out Security Issues?
Are you able to handle the security issues that come with hosting a website on your own server?
Self-hosting can be risky due to the potential for malicious attacks, the need to maintain firewalls, and the potential for data breaches.
| Pros | Cons |
| --- | --- |
| Increased control | High risk |
| Lower costs | Time consuming |
| Access to all files | Potentially high security costs |
Web hosting services provide a safe, secure, and reliable platform for hosting websites without the need to worry about security threats.
Additionally, they take care of all the technical aspects of running a website, such as hardware and software maintenance, backups, and updates.
If your website is affected by viruses then the website hosting company will have team of security experts and they will scan your database and delete viruses and malicious software if found.
I've told the security issues that you will face when building server of your own. Now it is up to you.
Want to secure your website, check out this best security plugin for WordPress websites.
Benefits of using a web host
By using a web host, you can benefit from increased uptime, faster page loads, better security, backups, and helpful support.
Here are some of the advantages of using a web host:
Uptime: Most web hosting providers offer a 99.9% uptime guarantee, ensuring your website is always online and accessible.
Speed: Web hosts optimize their servers for fast page loads, using SSDs, caching, and content delivery networks.
Security: Web hosting companies provide security features such as firewalls, malware scans, and SSL certificates to protect your website from cyber threats.
With a web host, you can also benefit from software and tools, regular backups, and 24/7 technical support. All these features come at an affordable cost, making it a great value for the money.
How to choose the best web hosting service
Choosing the right web hosting service can be a difficult task. When selecting a service, it's important to research the company's reputation, features, and customer service. Additionally, consider the type of hosting your website needed and the cost.
To ensure the best decision is made, read reviews and compare different hosting services. Even in this blog we have written many hosting review and compared each hosting with other.
Check out our reviews here
It's also beneficial to take advantage of free trials or money-back guarantees. Lastly, make sure to ask questions if anything is unclear.
Doing all this research upfront can save time and headaches in the future. With the right information, you can find a web host that meets your needs and fits your budget.
Conclusion
I hope now you know the importance of using a web host for your website . Without one, your site won't be visible to the public, and you'll miss out on all the benefits that come with a reliable web host.
Not to mention, the right web host can make or break your online presence. So take your time, do your research, and make sure to choose a web hosting service that fits your needs – it could make all the difference.
Need a cheap hosting for your website? Check this budget hosting