Are you looking to take your online business to the next level? Then, you've come to the right place!
Push spy tools are a great way for entrepreneurs and marketers to stay ahead of their competition. With these powerful tools, gaining valuable insights into your competitor's strategies is easier than ever before.
In this article, we will explore some of the best push spy tools available on the market today.
So, let's get started and find out what makes them so great!
Best Push Spy Tools in 2023
Anstrex Push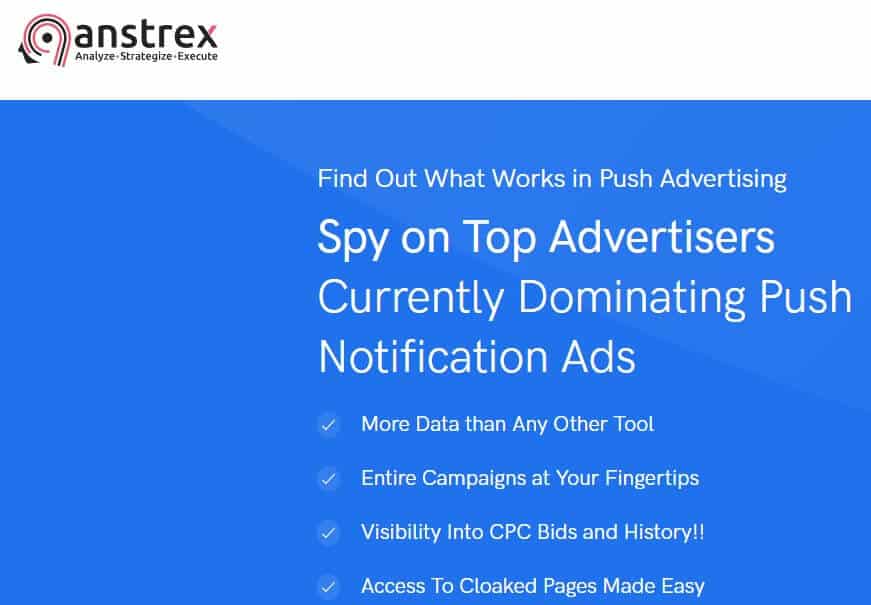 Anstrex Push is the ideal tool for your push advertising needs. It has more data than any other tool, allowing you to spy on top advertisers and see campaigns at your fingertips.
Plus, it provides visibility into CPC bids and history and gives you easy access to cloaked pages – what more could you want?
Anstrex Push is the perfect choice for anyone looking to get the most out of their push advertising.
Features
Keyword Searches: Find the top-performing ads by using the keywords. For example, by just typing the word dating in the search bar you will get thousands of dating push offers that are run by other marketers.
Big Data: Anstrex got many countries and ad networks on its database, which means you will get more in-depth data from advertisers and publishers.
Advanced Filtering and Sorting Options: You can use the option to filter ads based on language, country, format, etc.
Mobidea Spy Push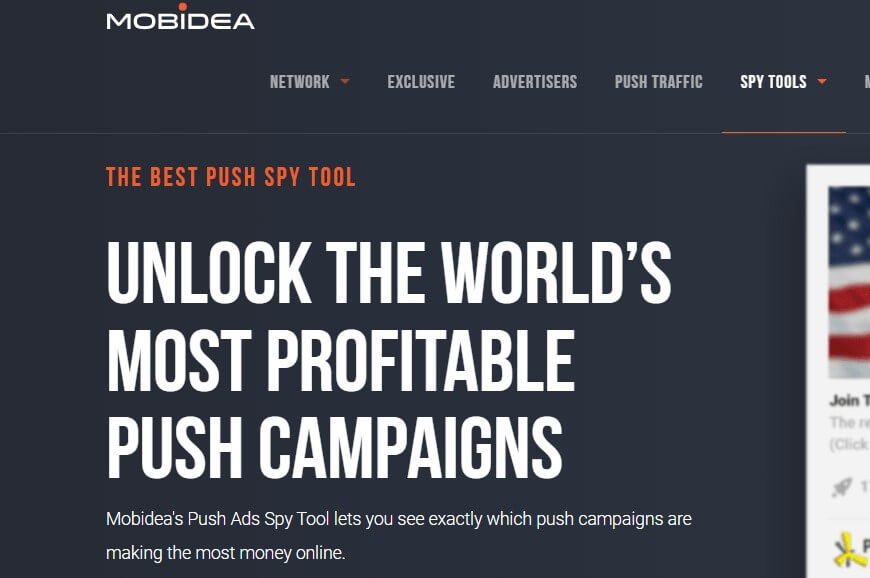 With Mobidea Spy Push, you can quickly uncover winning ads and traffic sources to inspire your own campaigns. This powerful tool provides users with real-time bidding history, allowing them to see how much their competition is bidding for clicks and what targeting they're using.
With this information at hand, you can easily discover the creatives and landing pages that top media buyers are using to generate millions of dollars in ad revenue.
Plus, Mobidea Spy Push offers advanced features such as mobile tracking, push analytics, spy tips, ad optimization, and campaign strategies that'll help you maximize your ROI on your advertising spend.
All of these features combined make Mobidea Spy Push one of the best push spy tools currently available on the market today!
AdPlexity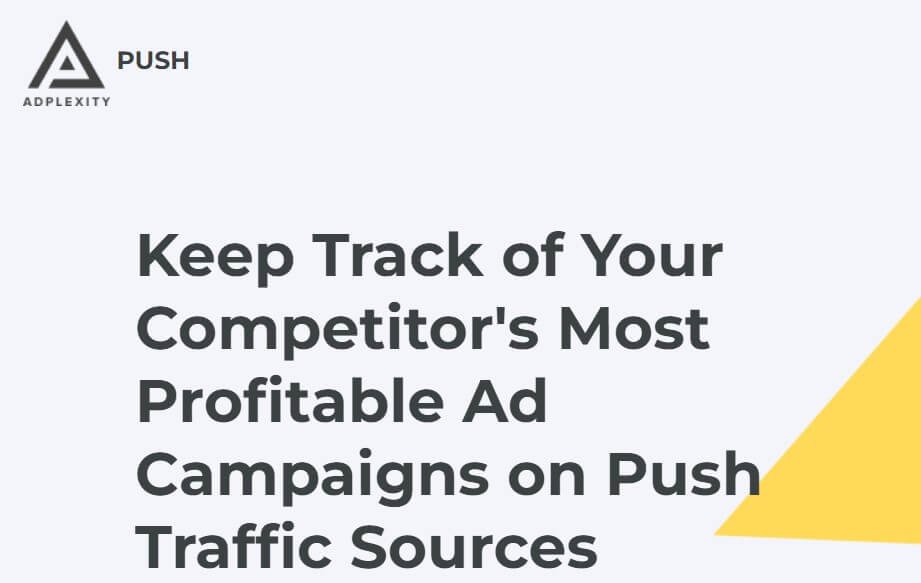 Discover how AdPlexity Push can help you uncover profitable campaigns from over 80 countries and gain insight into competitor strategies.
With comprehensive data on successful push campaigns, AdPlexity Push allows users to track metrics, analyze data, optimize techniques, budget correctly, and get creative insights for their own campaigns.
The platform offers filters to search by keyword, advertiser, publisher, and affiliate network, making it easy to find ads promoting affiliate offers from 100+ networks.
Furthermore, with AdPlexity, you're able to monitor carrier campaigns with strong infrastructure and download landing pages with page dependencies in a .zip file.
With no trial period required but a refund available within the first 24 hours of signing up, AdPlexity provides one flat monthly rate with no hidden fees.
This way, you can discover thousands of successful campaigns in an instant.
SpyPush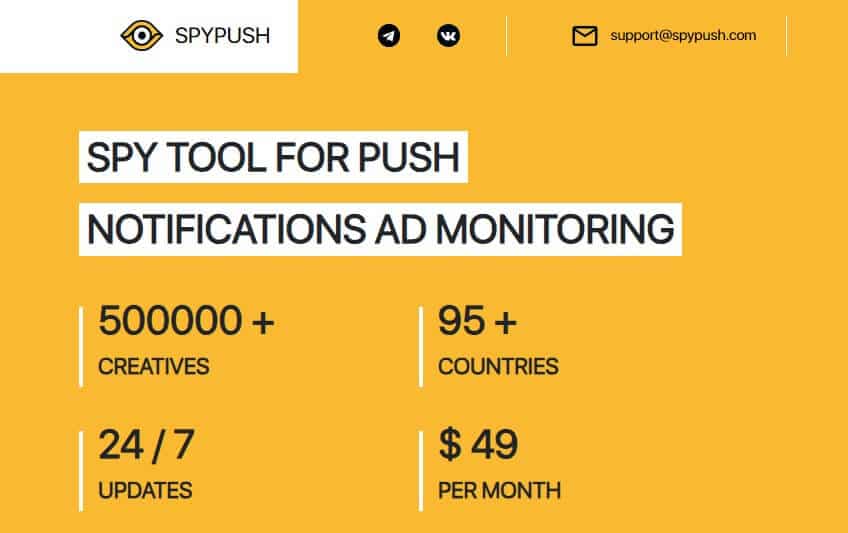 SpyPush is a must-have tool for any serious marketer looking to stay ahead of the competition and uncover profitable campaigns.
With its affordable pricing, essential functions, and free trial offer, SpyPush provides an unbeatable combination of push monetization, tracking, optimization, performance, and integration tools.
Spypush.com ensures that all users have access to the latest features in no time. Plus, with Mr. Spy as CEO, you can rest assured that your data is secure and your campaigns will reach their utmost potential.
With SpyPush's low price tag and top spy tool features, it's an easy choice for anyone seeking success in the world of push ads.
AdPeriscope
AdPeriscope is the essential tool for adult advertising, offering an unbeatable combination of extensive inventory, powerful search capabilities, and affordable pricing.
With over 50 countries covered, all major adult networks, 150+ mobile carriers, and the ability to search by keywords and ad-network country, device type, language, and more – AdPeriscope provides everything you need to succeed in your adult ad campaigns.
It even offers custom sorting options like duration, ad strength, date seen, and Alexa rank of the landing page – giving you a greater level of control over your campaigns than ever before.
The advantages AdPeriscope brings are clear: access to tons of types of push ads from around the world; insight into performance metrics so you can optimize your strategies; and unparalleled convenience thanks to its customizable sorting options.
All this at an extremely affordable price point makes it a must-have for any serious adult advertiser looking to stay ahead of their competitors in terms of reach and effectiveness.
How to use the push ad spy tool?
Push ad spy is easy to use – just launch it and start spying! With this tool, you can analyze results, collect data, track campaigns, compare ads, and optimize strategies.
The intuitive dashboard allows you to quickly analyze the performance of your campaigns and ads so that you can make adjustments as needed.
You can also easily track the success of your competitor's campaigns by observing their results and adjusting your own strategy accordingly.
Additionally, push ad spy helps you identify profitable keywords used in successful campaigns so that you can focus on those areas when optimizing for better ROI.
All these features make push ad spy a powerful tool for any user looking to get the most out of their marketing efforts.
Why you should use the push spy tool?
By leveraging the insights of top media buyers, you can quickly discover which creatives and landing pages are generating the most money—but why should you use a push spy tool?
Push spy tools provide an invaluable resource for any business looking to gain a competitive edge in their marketing campaigns.
With access to real-time data about audience targeting, push ads, and competitive strategies, you can optimize your campaigns for cost efficiency and automation benefits.
Plus, you'll have the ability to monitor competitors' performance so that you can always stay one step ahead of them. The power that comes with using a push spy tool is undeniable – it's time to take advantage of it!
Conclusion
Using push spy tools can be an invaluable asset for any online marketer. You'll be able to track what the competition is doing and gain insight into their strategies. Plus, you'll be able to get ahead of them by finding new, untapped sources of leads.
But it's important to understand how to use these tools properly in order to reap all of the benefits they offer. With a bit of knowledge and practice, you can become an expert at using push spy tools and stay one step ahead of your competition.
So don't wait – take advantage of these amazing resources today!