How to make money on Instagram Is that possible?
Yes!!!!!!!!!
Social media is the only source where you get real human traffic for promoting your affiliate product from popular affiliate programs and if you are serious in this method. Damn sure you are going to learn it easily.
I am not going to ask for money.
Happy right. 🙂
Let's learn how to earn on Instagram.
Read: Tutorial To Create Online Store On Instagram
How To Make Money On Instagram?
STEP 1: Niche Selection
Choose any niche which suits best for you. If you don't know anything about it then no problem The Google Sniper course will teach everything about money making through niche sites easily.
NOTE – In this example, I am choosing "shoes" as the Niche.
Pro Tip: Always choose a product which gives you a minimum $20 commission through sale. Doing this will give you $100 for making 5 sales per day.
STEP 2: Account Creation
Go to Instagram.com
Create an Instagram account and Create username Or put your niche name.
When creating an account on Instagram, use the niche or product name as a username. For example, if you sell laptops, then choose usernames like Qualitylaptops, cheaplaptops, etc.
And pick a profile pic that looks real, not downloaded from stock image sites.
You can hold your laptop in hand and take a picture using your mobile. By doing this your profile will look authentic, and it would make users trust your account.
Tip: Never use copyright protected photos from Google! Rather use these royalty-free photo sites.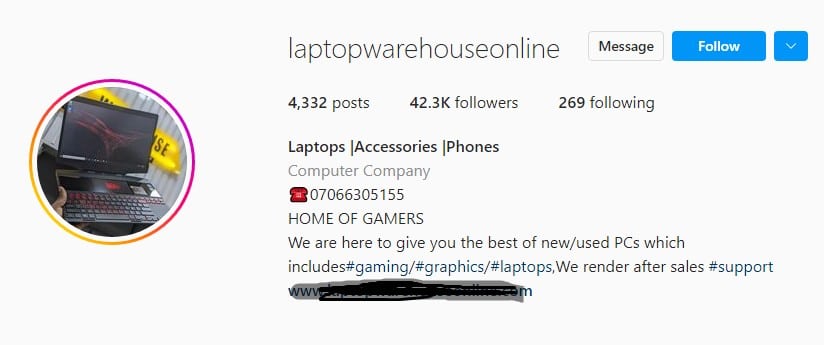 Step 3: Bio & Description
Enter a Perfect Bio for Your account. Please provide a helpful description because the more valuable information you provide on your bio the more valuable followers you will gain. And shorten your website link or product link using Bitly URL shortener.
STEP 4: Following other accounts
Find some popular niche accounts on Instagram. Suppose you are choosing to promote shoes, then follow some famous Instagram accounts like Puma, Reebok, etc. and follow their followers if they are interested in your account they will start to follow you.
Daily follow minimum 50-100 accounts and wait for some day once you get more than 200 followers, and it's time to promote your products.
STEP 5: Creating Affiliate Link
Go to popular sites like Amazon or Ebay.com and create an affiliate account. Click here to create an Amazon affiliate account.

Once the account is created, go to the shoe section and pick some shoes and download the shoe images and also copy the URL of the shoe.
STEP 6: Creating Product Page
Go to your Instagram account and upload the pic of the shoe and in caption Type like" Summer sale is going on Get 50% off on the Particular category ".
And insert your affiliate link in the Caption and Post on Instagram. Surely your post will attract some people, and they will click your affiliate link and buy the shoe, and you will some commission for the sale and make some beautiful posts and repeat the step and start to earn money from Instagram.
Note that the Instagram links are not clickable, but it will become clickable if you share that post on Twitter, Facebook, Tumblr, etc.
Other Ways to Make Money on Instagram
In the above article I told how to make money on Instagram using affiliate marketing. In this section I will introduce other ways on how to earn on Instagram.
Selling Photos
The best way to make money from Instagram is to sell your photos online. If you have a decent camera or mobile phone, you can take pictures of products or others and post them on your account.
If your followers see your photos, there is a chance that they will contact you and ask you to take the same type of photos. It's easy to get started on this side hustle.
Editing Photos
If you have a good photo editing skill, then you can give your follower permission to edit his/her photos and post them on your account after editing and tag that follower. If other followers like that photo edit, then they will ask you for the same type of photo, and you can sell this service and make money on Instagram.
Drawing Faces
Draw other's faces and gift them for free but in return ask them to tag your account by crediting you as the artist. By doing this, followers will contact you with a personal message and ask you to draw their faces. Ask like $10 – $20 for one face and make money.
Promote yours or others' business
If you are having an online or offline business, you can promote it by using Instagram ads or sell your service to your followers. Even you can promote other businesses on your Instagram account and charge them money.
Shout-Outs
This method will work if you have huge followers on Instagram, above 100k. Nowadays, most people want to have a celebrity status. So they are willing to do anything to increase their followers count.
You can use this opportunity and contact them and say that you can advertise their profile on your account for n number of days and ask them to pay you around $50 to $100 for placing them on your account for 2-3 days.
Earn Through Sponsorships on Instagram
It is one of the best ways to get on Instagram. If you surf on Instagram you have noticed that some celebrities will advertise some products on their account in exchange for money.
Football superstar Cristiano Ronaldo charges $1 million per post for advertising products or services on his Instagram account. Here is the list of the highest paid celebrities on Instagram.
How To Make Money On Instagram: Conclusion.
Instagram has 500 million active users daily sharing their photos and stories. If you know to utilize this opportunity, then you're going to make a lot of money.
But many people don't know how to make money on Instagram, So that's why I created this post on how to earn money on Instagram.
Pick any of the above ways I mentioned in this article and earn passive money on Instagram.