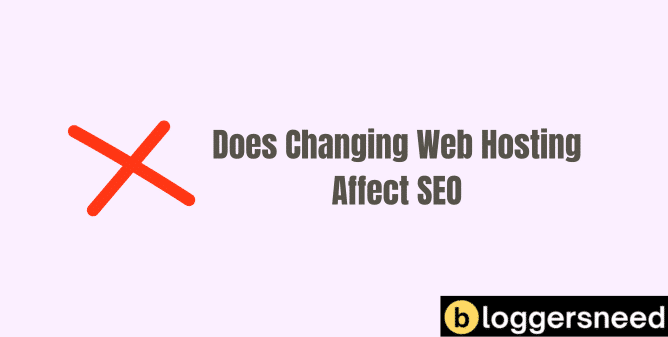 Do you want to change your web hosting but are worried about how it might affect your SEO? Don't panic!
In this article, we'll explain how switching hosting can affect SEO and what you should consider when choosing a new host.
We'll also provide tips to help you make the change without harming your SEO.
Read on to learn more and keep your SEO efforts intact.
Related Article: Know when to Change your Hosting
Table of Contents
SEO effect on Changing Web Host
Changing web hosting can have a negative effect on your SEO. This includes website downtime, loss of website ranking, broken image and 404 errors due to missing files, slower website loading speed, and even website de-indexing.
It is important to consider the impact of a web hosting change on your SEO before making the switch.
Downtime
You may experience up to 5 – 12 hours of downtime when switching web hosts, which can negatively impact your SEO.
During website migration, it's important to consider the potential impact of server maintenance on user experience, website security, and website analytics.
You website will lose its ranking due to downtime. So you should always choose a best web hosting to prevent downtime and from my experience, WP Engine is the perfect hosting with 100% uptime guarantee and their technical team will migrate your website for free.
Loss In Website Ranking
When switching web hosts, you may experience a loss in website ranking as a result of SEO. This can be due to a negative impact on organic traffic, as well as changes in backlinks and website authority.
Another factor to consider is the effect on mobile optimization, which can affect user experience and increase bounce rate.
All of these elements need to be taken into account when switching web hosts.
Additionally, having a plan in place to address any potential issues can help ensure that there's minimal disruption in website rankings and organic traffic.
Taking the time to properly plan the transition can help ensure a smooth and successful transition when changing web hosts.
Broken Image and 404 Errors Due to Missing Files
Though 404 errors and broken image links can occur when changing web hosts, these issues can be avoided with careful planning.
The impact on user experience, potential loss of backlinks, negative impact on website authority, difficulty in re-crawling and re-indexing, and effect on website trustworthiness must be considered when migrating web hosting.
To ensure a smooth transition, it's important to have a clear understanding of the process, perform thorough testing, and plan for any contingencies.
Properly redirecting the old domain to the new one, providing a 301 redirect map, and maintaining the same website structure can help prevent broken links.
Additionally, monitoring the website performance after migration can help identify any potential issues.
Affect Website Loading Speed
Frequently, website loading speed is affected when changing web hosting, and this can have an impact on SEO rankings.
Website optimization, website performance, and website speed testing should be examined when changing web hosting to ensure the best possible website loading speed.
Content delivery networks and caching techniques can also be implemented to help minimize the effect of a web hosting change on website loading speed.
It's important to consider the effect of changing web hosting on website loading speed before making such a change in order to ensure the website is still performing optimally and remains competitive within the search engine rankings.
Website Gets De-Indexed
If you change your web hosting without taking the proper precautions, your website could become de-indexed and SEO rankings could suffer. Before changing hosting providers, ensure your server migration and content migration is complete:
Server Migration:
Ensure server optimization settings are still in place.
Make sure the same server software versions are running.
Content Migration:
Map domains as needed.
Update DNS records.
Choosing the right hosting provider can be crucial for maintaining search engine visibility.
Not all hosting providers offer the same level of service and support. Take the time to research your options before making a decision. Make sure to properly migrate your server and content to prevent de-indexing and ensure SEO rankings aren't affected.
How to Change Hosting Without Affecting SEO
To successfully change web hosting without negatively impacting your SEO, there are several steps you must take.
Start by setting up proper redirects from old URLs to new ones.
Then, inform search engines about the server change through an updated XML sitemap.
Monitor website performance and address any issues promptly.
Make sure to update internal links and point them to the new server.
Lastly, submit the updated sitemap to search engines for crawling.
Website migration, SEO best practices, server location, website security, and website backup are all important factors to consider while making the transition.
With careful attention to the details, you can ensure a seamless transition without compromising your SEO.
Factors to Consider When Choosing a Web Host
Once you've established the proper redirects and updated the sitemap, the next step is to choose the right web host for your website; it's important to consider factors such as uptime, speed, security, and customer service.
When selecting a web host, there are a few key elements to consider:
Website security: Make sure the web host provides necessary security measures to protect your website from hackers and malicious attacks.
Data backup options: Ensure the web host offers data backup options in case of an emergency.
Scalability and flexibility: Look for a web host that can accommodate the growth of your website.
Server location and performance: Make sure the server is located in a reliable location and offers good performance.
Pricing and value for money: Compare prices and ensure you're getting the best value for your money.
Conclusion
Changing web hosting can have an effect on your SEO. However, with careful consideration of the factors involved, you can make the switch with minimal disruption.
It's important to research the reliability and speed of the new host, as well as the technical support available. Taking the time to plan the transition and implement best practices can ensure that your SEO remains intact.